WordTips Menu 2013 Archive (Table of Contents)
Summary: WordTips is a weekly newsletter that provides tips on how to best use Microsoft's word processing software. At the beginning of every year we put together an archive of all the tips published the previous year. Here is the complete table of contents for the archive for the WordTips (menu) newsletter for the year 2013.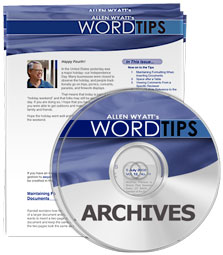 WordTips Menu 2013 Archive includes hundreds of valuable tips. The following is the Table of Contents for the archive:
Introduction
What's In This E-Book?
Need More Tips?
A Special Note of Thanks
Sharing this Document
General Tips
Jumping to the End of Page after Enter
Working With Document Panes
Splitting the Window
Removing a Split Window
Viewing Multiple Pages
Viewing Your Entire Document Width
Nifty Zooming with the Mouse
The Standard on the Ruler
Controlling Display of the Status Bar
Concise Directory of Available Symbols
Button for Leaving Full-Screen Mode
Customizing a Toolbar
Changing Toolbar Buttons
Changes to Toolbars aren't Persistent
Quickly Removing a Toolbar Button
Getting Rid of Custom Toolbars
Using the Function Key Display Toolbar
Quickly Customizing the Keyboard
Unwanted Keyboard Configuration Change
Shortcut for Show/Hide
Forcing the Properties Dialog Box to Appear
Changing Measurement Units
Making Word Remember My Settings
Missing Top and Bottom Margins
Creating Custom Document Properties
Displaying Shortcut Keys in ScreenTips
Turning Off ScreenTips
Small Red Dots under Addresses
Automatic Sound Clips
Displaying Actual Font Faces
Selecting a Language
Calculating Expressions
The Case of the Vanished Menu Bar
Where Are Word's Settings Stored?
Factory Default Settings for Word
Fatal Errors in Word
Editing Tips
Turning Off Automatic Capitalization
Capitals After Colons
Capitalizing the First Letter after a Colon
Moving Text Using the Mouse
Creating New Windows
Understanding the Document Map
Browsing by Heading
Redoing an Object Browse
Using Go To with a Percentage
Understanding Hard and Soft Returns
Different Ways of Inserting Dates
Messed-up Typing
Strip Trailing Spaces
Using the Spike to Edit
Inserting Special Spaces
Plain Text Pasting as the Default
Overlining Characters
Using Extend Mode
Sticking with the Dashes
Creating the 'Mils' Symbol
Comparing Documents Top and Bottom
Using Correct Apostrophes
Talking to Yourself
Scrolling Text Sideways
Viewing More of the Left Margin Area
Using Consistent References
Using Document Properties to Ensure Consistent References
Non-breaking Em Dashes
Counting Document Lines
Inserting a Non-Breaking Space
Adding Tabs at the Beginning of a Line
Getting Rid of the Paste Options Box
Adding an Optional Break
Typing Pronunciations of Words
Understanding the No-Width Characters
Quickly Finding Synonyms
Changing a Heading to Body Text
Changing the Number of Headings in an Outline
Changing Body Text to a Heading
Searching Tips
Searching for Formatting
Changing the Formatting of All Instances of a Word
Searching for Special Characters
Removing Entire Paragraphs from Your Document
Removing Extra Paragraph Marks
Quick and Dirty Paragraph Count
Moving Footnote References Using Find and Replace
Replacing with a Subscript
Replacing Multiple Spaces with Tabs
Special Differences when Searching
Using Find and Replace to Change Text Case
Finding and Deleting Rows
Adding Many No-Width Optional Breaks
Removing HTTP from URLs
Adding Tags to Text
Markup Tips
Viewing Comments
Allowing Only Comments In a Document
Viewing Comments From a Specific Reviewer
Comments in Endnotes
Converting Paragraphs to Comments
Changing How Changes are Noted in Word
Using Different Colors with Tracked Changes
Multiple Document Users
Consolidating Changes under a Single User
Correcting Student Papers
Tracked Changes Won't Go Away
Preventing the Loss of Personal Information
Getting a Warning for Markup
Auto Tips
Using AutoText
Deleting an AutoText Entry
AutoText Entries Don't Stick
Sharing AutoText Entries
Editing AutoText Entries Directly
Changing Fonts for AutoText Entries
Macro-Inserted AutoText Doesn't Set Style
Using the Organizer to Manage AutoText
Word Won't Capitalize Some Sentences
AutoFormatting a Document
Changing AutoFormatting Rules
Can't Use AutoRecover with a Document
Bookmark Tips
Understanding and Using Bookmarks
Deleting a Bookmark
Character Formatting Tips
Edits Cause Text to Switch to Odd Fonts
Making Text Bold
Protecting Hidden Text
Adjusting Small Caps Text
Intelligent Title Case
Animating Your Text
Changing Kerning
X-ing Out Text
Complex Compound Formatting
Making Live URLs Into Normal Text
Paragraph Formatting Tips
Resetting Paragraph Formatting
Centering a Paragraph with the Keyboard
Using Dot Leaders in a Paragraph
Deleting Paragraph Borders
Quickly Displaying the Tabs Dialog Box
Changing Default Tab Stops
Deleting Tab Stops
Getting the Expected Space Before a Heading
Controlling Widows and Orphans
Forcing a Page Break Before a Paragraph
Turning Off Paragraph Hyphenation
Flush Left and Flush Right On the Same Line
Lines that Don't Change When You Type
Keep with Previous
Creating an Inline Heading
Creating a Hanging Indent
Turning Off Automatic Bulleted Lists
Applying Bullets from the Keyboard
Fixing Mismatched Bullets and Numbers
Increasing Space between Numbers and Text in a List
Section and Document Formatting Tips
Unable to Set Margins in a Document
Getting Identical Margins
Adjusting Margins in Print Preview
Adding Columns to Your Page Layout
Changing the Number of Columns
Self-Adjusting Column Widths
Double-Spacing Your Document
Squeezing Everything In
Changing the Starting Page Number
Letters and Numbers in Page Numbers
Two Page Numbering Schemes in the Same Document
Starting a New Section on an Odd Page Number
Adjusting Bottoms of Pages
Avoiding a Section Break Booby Trap
Automatic Blank Pages at the End of a Section
Styles and Templates Tips
Shortcuts for Basic Style Formatting
Quickly Copying Styles
Losing All Formatting in a Document
Working with Other People's Files
Automatically Updating Styles
Inserting a Cross-Reference to the First Style on a Page
Cleaning Up a Document that Mixes Styles with Direct Formatting
Preserving Style Formatting in a Merge
Printing a Style Sheet
Word Freezes when Updating Styles
Stepping Through Head Formats
Adding Individual Styles to the Template
Editing a Template
Working on Shared Templates
Tables Tips
Creating a Table Using the Keyboard
Resizing Your Table
Tables within Tables
Quickly Inserting Tables that Don't Go From Margin to Margin
Keeping Tables on One Page
Designing Standard Tables
Clearing the Contents of a Table
Converting Tables to Text
Entering Tabs in a Table
Keeping Table Rows Together
Repeating the First Column of a Table
Changing Spacing Between Table Cells
Protecting a Table Column
Hiding Gridlines
Adding Diagonal Borders
Limiting Lines in a Table Cell
Jumping to Tables
Adjusting Column Width Using Menus
Differing Column Widths when Pasting
Aligning Positive and Negative Whole Numbers in a Column
Quickly Removing Table Borders
Picking a Contiguous Range of Table Cells
Table Borders Won't Print
Headings On Your Printout
Setting a Default Table Border Width
Blank Lines Before Tables
Space after a Table
Table Header Rows after a Manual Page Break
Freezing Cell Size when Inserting Pictures
Quickly Accessing the Column Tab
Squaring Table Cells
Shading Table Rows
Automatically Adding Captions
Formatting Captions
Changing Existing Captions
Different Table Captions on Multiple Pages
Deleting Caption Labels
Alphabetizing By Last Name
Sorting Dates Numerically
Controlling How Word Sorts Text
Customized Tables of Contents
Adding Column Headings to a Table of Contents
Two-Line Headings in a TOC
Footnotes and Endnotes Tips
Using Cross-References in Footnotes
Shortcut to Return to Document Text
Including Footnotes and Endnotes in Word Counts
Adding Footnotes to Endnotes
Reference to a Range of Endnotes
Adding Endnotes in Text Boxes
Endnotes in a Separate Document
Endnotes by Chapter
Formatting Endnote Reference Marks
Header and Footer Tips
Changing Headers and Footers
Deleting a Header or Footer
Entering a Name in the Header of a Locked Form
Form Fields in Headers and Footers
Making Wider Footer Margins
Using Last-page Headers and Footers
Different AutoText Entries in Header and Footer
Fields and Forms Tips
Copying and Pasting Field Codes
Removing Specific Fields
Cross-referencing to an Automatic Number
Understanding the COMPARE Field
Referencing a Page Number In Another Document
Displaying Blanks when Summing to Zero
Word and Character Count Information
Creating an AutoText List
Inserting a Dynamic Word Count in Your Document
Inserting a Document's Location
Jumping Between Fields
Inserting the Name of the Last Person to Save the Document
Setting Up an Array with Fields
Entering Many Items In a Drop-Down Form Field
Protecting Parts of a Document
Printing Tips
Printing AutoCorrect Entries
Booklet Printing in Word
Documents Printing Out of Order
Changing the Default 'Print What' Setting
Fonts Unavailable in Word
Adding One More Line
Understanding Page Sizes
Printout Doesn't Match Preview
Stable Layout on Different Printers
Unwanted Cover Pages with Print Jobs
Misbehaving Leader Dots
Print Preview Freezes Word
Printing Copy Numbers
Peculiar Font Differences
Printing a Draft of a Document
Printing Only Selected Pages
Printing Style Sheets
Toggling Print Preview
Printing Non-Printing Characters
Printing Show/Hide Characters
Printing XML Tags
Printing Only Changed Pages
Creating an AutoText Reference List
Changing the Return Address Location
Printing Multiple Envelopes
Creating Labels
Creating One-time Labels
Formatting Labels
Using Only Odd Page Numbers
Beginning a Mail Merge
Selecting Different Trays in a Mail Merge
Graphics Tips
Selecting Drawing Objects
Selecting Lots of Graphics
Positioning Graphics Evenly
Searching and Replacing Graphics
Default Picture Settings
Adjusting Shadow Settings
Resize Graphics Outside of Word
Easily Changing Links in Documents
Changing the Size of a Drawing Object
Scaling Graphics in a Macro
Using AutoShape Connectors
Moving an AutoShape Connector
Using the Drawing Grid
Understanding the Drawing Canvas
Problems Pasting Large Pictures
Wrapping Text Around a Graphic
Permanent Watermarks in a Document
Adding a Drop Shadow to a Text Box
Selecting a Graphic Behind a Text Box
Creating See-Through Text Boxes
Wrapping Text Around a Text Box or Frame
Converting a Text Box to a Frame
Changing the Orientation of Your Chart
Adding Titles to a Chart
Changing Borders for Data Series
Including a Data Table with Your Chart
Fonts in WordArt
Specifying a Font in WordArt
Saving WordArt Graphics as Files
Files Tips
Moving Master and Subdocuments
Creating Two Versions of the Same Document
Too Many Temporary Files
Deleting an Old Document Version
Options in Creating New Files
Opening Documents in Print Layout View
Having Numbered Lists in Subdocuments Restart their Numbering
Documents Opening in the Wrong Program
File Sizes In Word
Problems Opening Documents from Explorer
Understanding MRU Files
Combining Word Documents
Saving All Open Documents
Saving in PostScript Format
Extra Document File Being Saved
Embedding TrueType Fonts
Read-Only Embedded Fonts
Using a Standard Format in a Suggested File Name
Blocking the First Sentence from File Info
Making Common Information Accessible
Determining if a Document is Corrupt
Noticeable Delays when Switching Documents
Getting Rid of Hidden Text in Many Files
Online and Other Programs Tips
Maintaining Proper Hyperlinks in Word 2000 and Later
Adding a Background to Your Document
Hyperlinks in Protected Documents
Adding a ScreenTip
Weird Hyperlink Behavior
Creating a Hyperlink that Opens the Linked Object
Setting Web Fonts
ScreenTips without Hyperlinks
Differences in Behavior of Links
Spelling and Grammar Tips
Spelling Errors Resulting from Erroneous Spaces
Hiding Errors
Catching Single-Letter Spelling Errors
Spell Checking with Text Boxes
Correctly Repeated Words
Checking Up On Numbers
Allowing for Words that Contain Numbers
Editing While Spell-Checking
Expanding a Custom Dictionary
Backing Up Your Custom Dictionaries
Allowing Passive Voice in Writing
Getting Rid of Fragment Warnings
Checking for Gender-Specific Grammar
Noting Formatting Inconsistencies
Tools Tips
Creating an Index Entry
Printing Index Field Codes
Adding Quoted Words to an Index
Specifying Index Section Dividers
Specifying an Index Entry Separator
Cross-Referencing Index Entries
Understanding the Hot Zone
Hyphenating a Selection
Word Count in Multiple Selections
Cross-Referencing to Line Numbers
Creating Categories for Your Table of Authorities
Fixing Word
Creating an Executive Summary
Starting the Equation Editor
Equation Editor Font Color
Aligning Equation Elements
Setting Bracket Clearance Spacing in the Equation Editor
Setting a Spacing Adjustment in the Equation Editor
Setting Embellishment Spacing in the Equation Editor
Setting Spacing for Radicals in the Equation Editor
Macros Tips
Deleting a Macro
Understanding Document Variables
Understanding Precedence
Continuing Macro Lines
Understanding the Select Case Structure
Adding a Macro to a Toolbar
Determining a Random Value
Determining an Integer Value
Determining the Current Page Number
Determining the Number of Pages in Your Document
Determining if Overtype Mode is Active
Determining the Day of the Month
Determining the Day of the Year
Calculating a Future Date
Determining the Hour of the Day
Determining the Week of the Year
Displaying a Message in the Status Bar
Running Word Counts
Converting Numbers to Strings
Changing Roman Numerals to Arabic
Aligning a Paragraph in a Macro
Setting the Right Indent of a Paragraph in a Macro
Selecting a Bookmark in a Macro
Changing Directories in a Macro
Creating a Directory
Copying a File in VBA
Creating a New Document in VBA
Saving a Document in a Macro
Moving to the Start or End of the Real Document
Creating a Document Font List
Adding Quotes
Controlling the Italic Text Attribute
Controlling the Hidden Text Attribute
Determining How Many Styles are Available
Trimming Spaces from Strings
Counting the Instances of a Text String
Moving the Insertion Point to the Beginning of a Line
Determining the Horizontal Position of the Insertion Point
Jumping to the Top of a Page
Moving Through a Table in a Macro
Order Your WordTips Archives Today!
Each download item shown below includes the size of the download file. If you have a slow connection to the Internet, you can save precious time by ordering your archives on CD-ROM, instead of as a download.

The WordTips archives include PDF documents. To read these documents, you need to have either Adobe Acrobat or Adobe Reader on your system. Adobe Reader is free to download; click the link to get the latest version.
Archive Year
Dates Covered
Tips
CD
Download
WordTips Menu 2012
(for Word 97, 2000, 2002, and 2003 users)
7 Jan 12 — 29 Dec 12
415 tips

(499 pages)
$32.99

(6.8 MB)
$24.99
WordTips Ribbon 2012
(for Word 2007 and 2010 users)
7 Jan 12 — 29 Dec 12
414 tips

(485 pages)
$32.99

(9.6 MB)
$24.99
WordTips Menu 2013
(for Word 97, 2000, 2002, and 2003 users)
5 Jan 13 — 28 Dec 13
416 tips

(478 pages)
$32.99

(6.8 MB)
$24.99
WordTips Ribbon 2013
(for Word 2007, 2010, and 2013 users)
5 Jan 13 — 28 Dec 13
416 tips

(553 pages)
$32.99

(8.0 MB)
$24.99
WordTips Menu 2014
(for Word 97, 2000, 2002, and 2003 users)
4 Jan 14 — 27 Dec 14
312 tips

(346 pages)
$32.99

(5.7 MB)
$24.99
WordTips Ribbon 2014
(for Word 2007, 2010, and 2013 users)
4 Jan 14 — 27 Dec 14
415 tips

(482 pages)
$32.99

(6.5 MB)
$24.99
WordTips Menu 2015
(for Word 97, 2000, 2002, and 2003 users)
3 Jan 15 — 26 Dec 15
208 tips

(217 pages)
$32.99

(3.3 MB)
$24.99
WordTips Ribbon 2015
(for Word 2007, 2010, 2013, and 2016 users)
3 Jan 15 — 26 Dec 15
416 tips

(526 pages)
$32.99

(7.2 MB)
$24.99
WordTips Menu 2016
(for Word 97, 2000, 2002, and 2003 users)
2 Jan 11 — 31 Dec 16
212 tips

(248 pages)
$32.99

(3.8 MB)
$24.99
WordTips Ribbon 2016
(for Word 2007, 2010, 2013, and 2016 users)
2 Jan 11 — 31 Dec 16
207 tips

(294 pages)
$32.99

(4.6 MB)
$24.99
You can also order any of the WordTips archives by calling our order line: 307-200-0450.