WordTips Menu 2018 Archive (Table of Contents)
Summary: WordTips is a weekly newsletter that provides tips on how to best use Microsoft's word processing software. At the beginning of every year we put together an archive of all the tips published the previous year. Here is the complete table of contents for the archive for the WordTips (menu) newsletter for the year 2018.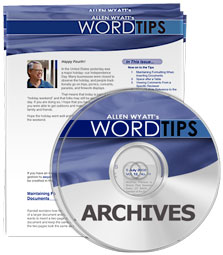 WordTips Menu 2018 Archive includes hundreds of valuable tips. The following is the Table of Contents for the archive:
Introduction
What's In This E-Book?
Need More Tips?
A Special Note of Thanks
Sharing this Document
General Tips
Selecting Tabs in Dialog Boxes
Word Won't Start Right
Keeping Word Open after Closing Documents
Dotted Letter Fonts
Letters Turn Into Squares
Changing a Toolbar Button Image
Changing Toolbar Buttons
Editing a Toolbar Button Image
Changes to Toolbars aren't Persistent
Stupid Web Toolbar
Finding a Missing Toolbar
Shortcut for Show/Hide
Displaying ScreenTips
Unwanted Graph Paper Effect
Alternative Ways of Creating Random Text
Nifty Zooming with the Mouse
Changing the Office Assistant
Changing Built-in Word Commands
Editing Tips
Moving Text Using the Mouse
Understanding Hard and Soft Returns
Using Correct Apostrophes
Turning Off Automatic Capitalization
Strip Trailing Spaces
Automatically Selecting Words
Understanding the Document Map
Quickly Changing Document Windows
Arranging Paragraphs
Overlining Characters
Comparing Documents Top and Bottom
Hyperlinks Not Found
Plain Text Pasting as the Default
Browsing by Heading
Sharing Headings with Others
Creating Traditional Forms
Putting a Bullet In the Middle of a Sentence
Transposing Two Characters
Creating Compound Characters
Selective Undo
Sticking with the Dashes
Displaying a Live Word Count
Searching Tips
Searching for Characters
Searching for Special Characters
Searching for Footnote and Endnote Marks
Searching for Adjectives and Adverbs
Ordering Search and Replace
Adding an Ellipsis to the Beginning of Some Paragraphs
Preserving Bookmarks During Replace Operations
Counting a Particular Word
Markup Tips
Changing Strikethrough Lines
Hiding Formatting Changes in Track Changes
Counting Changed Words
Viewing Comments
Printing Documents without Markup
Auto Tips
Storing AutoText Entries with a Document
Deleting Multiple AutoText Entries
Using the Organizer to Manage AutoText
Character Formatting Tips
Quickly Changing Font Sizes
Adding Vertical Lines at the Sides of a Word
Underlining Quoted Text
Replacing Quoted Text with Italics
Default Font for Page Numbers
Superscript and Subscript at the Same Place
Turning Off Highlighter Display
Using a Macro to Change the Formatting of All Instances of a Word
Formatting Differences between Word Versions
Paragraph Formatting Tips
Understanding Justification
Centering a Paragraph with the Keyboard
Double-Spacing Your Document
Cut and Paste Formatting
Keeping Paragraphs on the Same Page
Precise Ruler Adjustments
Applying Numbers from the Keyboard
Hanging Indent Shortcut
Formatting All Headings At Once
Creating an Inline Heading
Applying Formatting in Lists
Changing the Bullet Type
Continuing Your Numbering
Compound List Formatting
Automatically Setting Right Leader Tabs
Setting Decimal Tabs in a Table Using the Keyboard
Accurately Setting Tabs Using the Ruler
Clearing All Tab Stops
Section and Document Formatting Tips
Determining Page Layout
Creating a Full-Page Border
Making Wider Footer Margins
Odd Page Numbers Disappearing
Styles and Templates Tips
Applying Styles in Word 2002 and Word 2003
Making Sure Styles Don't Update Automatically
Protecting Styles
Cleaning Up a Document that Mixes Styles with Direct Formatting
Tables Tips
Converting Text Into a Table
Formatting an ASCII Table with Spaces
Adjusting Table Row Height
Distributing Table Rows Evenly
Keeping Table Rows Together
Adding Borders to Cell Contents
Fitting Text Into Cells
Repeating the First Column of a Table
Summing a Table Column
Entering Tabs in a Table
Expanding Width of All Tables
Hiding Gridlines
Adding Captions
Index Number for the Active Table
Footnotes and Endnotes Tips
Inserting Footnotes
Changing How Footnote References Appear
Formatting Footnote Reference Marks
Adding Information after the Endnotes
Jumping to a Relative Endnote
Returning to Your Document after Adding an Endnote
Formatting Footnote and Endnote References
Adding Footnotes to Endnotes
Fields and Forms Tips
Inserting Fields
Selecting a Field
Copying and Pasting Field Codes
Inserting the Date Your Document Was Last Saved
Inserting a Page Number Field
Field in Footer Won't Update
Tools to View Field Codes
Reverse Numbered Lists
Using Fields for Fractions
Field Calculations in Locked Forms
Safely Relocking Forms
Printing Tips
Printing to a File
Printing Document Properties
Printing a Bookmark List with Contents
Non-Printing Hyperlinks
Disabling Printer Notifications
Fonts Unavailable in Word
Booklet Printing in Word
Controlling the Printing of Highlighting
Using Sequential Document Serial Numbers
Preventing Printing
Documents Printing Out of Order
Setting the Return Address Used in Word
Getting Rid of Addresses
Maintaining Delivery Address Information for Envelopes
Automatically Printing an Envelope
Beginning a Mail Merge
Can't Place Merge Field in Header of a Catalog Merge Document
Graphics Tips
Making Pictures Show in Word
Duplicating Drawing Objects
Understanding Fill Effects
Adding Titles to a Chart
Searching for Floating Graphics
Removing Pictures from Multiple Files
Working With OLE Graphics
Stopping Text from Jumping Around
Automatically Formatting Graphics and AutoShapes
Missing Left Border
Using Different Shapes in WordArt
Using AutoShape Connectors
Moving an AutoShape Connector
Grouping Drawing Objects
Changing Orientation of a Text Box
Including Text Box Text In Word Counts
Converting a Text Box to a Frame
Files Tips
Setting a Document Naming Convention
Setting a Default Document Format
Saving Documents as Read-Only by Default
Opening a Document as Read-Only in Windows Explorer
Saving in MS-DOS Text Mode
Combining Documents
Opening a Backup File
Leading Spaces in Document File Names
Saving Document Versions
Listing Documents with Passwords
Recovering Corrupt Document Files with StarOffice
Importing a Text File and Inserting after a Bookmark
Online and Other Programs Tips
Maintaining Proper Hyperlinks in Word 2000 and Later
Getting Rid of the Ctrl+Click Message
Hyperlinks in Protected Documents
Hyperlinking to a Specific Excel Worksheet
Picking Which Outlook Address to Use in Word
Converting PDF to Word Documents
Spelling and Grammar Tips
Changing Colors of Spelling and Grammar Underlines
Spell-checking Uppercase Words
Limiting a Spelling Check
Editing Custom Dictionaries
DLL Problem with Spell Check
Tools Tips
Improper Index Page Numbers
Creating an Index Entry
Creating a Normal Index
Creating a Table of Authorities
Setting Spacing for Radicals in the Equation Editor
Word Count for a Section
Auto Creation of an Acronym List
Right-Clicking for Synonyms
Macros Tips
Word's Object Model
Understanding Subroutines
Making Macros Run Faster
Setting the Right Indent of a Paragraph in a Macro
Aligning a Paragraph in a Macro
Swapping Two Strings
Converting Inches to Points
Converting Numbers to Text
Running Macros Based on Keywords
Determining If the End of a Text File Has Been Reached
Converting Paragraphs to Comments
Moving the Insertion Point to the Beginning of a Line
Can't Save a Macro
Using Call to Run VBA Macros
Determining the Day of the Year
Determining the Hour of the Day
Creating a Document Font List
Copying a File in VBA
Running Word Counts
Order Your WordTips Archives Today!
Each download item shown below includes the size of the download file. If you have a slow connection to the Internet, you can save precious time by ordering your archives on CD-ROM, instead of as a download.

The WordTips archives include PDF documents. To read these documents, you need to have either Adobe Acrobat or Adobe Reader on your system. Adobe Reader is free to download; click the link to get the latest version.
To celebrate the release of the WordTips archives for 2019, for a limited time (through January 22, 2020) you can download your own copy of the archives for any of the following years at 30% off the regular price. Get your discount; place your order today!
Archive Year
Dates Covered
Tips
CD
Download
WordTips Menu 2015
(for Word 97, 2000, 2002, and 2003 users)
3 Jan 15 — 26 Dec 15
208 tips

(217 pages)


$32.99

$23.06

(3.3 MB)


$24.99

$17.49
WordTips Ribbon 2015
(for Word 2007, 2010, 2013, and 2016 users)
3 Jan 15 — 26 Dec 15
416 tips

(526 pages)


$32.99

$23.09

(7.2 MB)


$24.99

$17.49
WordTips Menu 2016
(for Word 97, 2000, 2002, and 2003 users)
2 Jan 11 — 31 Dec 16
212 tips

(248 pages)


$32.99

$23.09

(3.8 MB)


$24.99

$17.49
WordTips Ribbon 2016
(for Word 2007, 2010, 2013, and 2016 users)
2 Jan 11 — 31 Dec 16
207 tips

(294 pages)


$32.99

$18.49

(4.6 MB)


$24.99

$12.49
WordTips Menu 2017
(for Word 97, 2000, 2002, and 2003 users)
7 Jan 17 — 30 Dec 17
208 tips

(221 pages)


$32.99

$23.09

(3.3 MB)


$24.99

$17.49
WordTips Ribbon 2017
(for Word 2007, 2010, 2013, and 2016 users)
7 Jan 17 — 30 Dec 17
208 tips

(301 pages)


$32.99

$23.09

(4.6 MB)


$24.99

$17.49
WordTips Menu 2018
(for Word 97, 2000, 2002, and 2003 users)
6 Jan 18 — 29 Dec 18
208 tips

(258 pages)


$32.99

$23.09

(4.4 MB)


$24.99

$17.49
WordTips Ribbon 2018
(for Word 2007, 2010, 2013, 2016, 2019, and Office 365 users)
6 Jan 18 — 29 Dec 18
248 tips

(341 pages)


$32.99

$23.09

(5.9 MB)


$24.99

$17.49
WordTips Menu 2019
(for Word 97, 2000, 2002, and 2003 users)
5 Jan 19 — 28 Dec 19
208 tips

(226 pages)


$32.99

$23.09

(4.0 MB)


$24.99

$17.49
WordTips Ribbon 2019
(for Word 2007, 2010, 2013, 2016, 2019, and Office 365 users)
5 Jan 19 — 28 Dec 19
311 tips

(467 pages)


$32.99

$23.09

(8.3 MB)


$24.99

$17.49
You can also order any of the WordTips archives by calling our order line: 307-200-0450.