WordTips Menu 2015 Archive (Table of Contents)
Summary: WordTips is a weekly newsletter that provides tips on how to best use Microsoft's word processing software. At the beginning of every year we put together an archive of all the tips published the previous year. Here is the complete table of contents for the archive for the WordTips (menu) newsletter for the year 2015.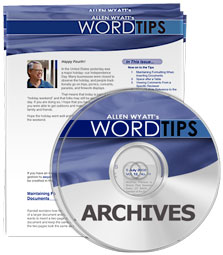 WordTips Menu 2015 Archive includes hundreds of valuable tips. The following is the Table of Contents for the archive:
Introduction
What's In This E-Book?
Need More Tips?
A Special Note of Thanks
Sharing this Document
General Tips
Getting Context-Sensitive Help
Canceling a Command
Viewing Your Document Full-Screen
Entering Units of Measurement in Dialog Boxes
Removing Author Information
Displaying Nonprinting Characters
Hiding and Displaying Hidden Text
Hiding a Stubborn Toolbar
Hiding the Reviewing Toolbar
How to Turn Add-in Toolbar off by Default
Problem with Menus Crashing Word
Animated Menus
Deleting Menu Items
Navigating a Collection of Selected Items
Understanding Views
Using Text Boundaries
Controlling Document Properties
Setting Your Default Document Directory
Replacing Text Selections
Resetting a Function Key
Folder Locations for Add-Ins
Getting Rid of the Task Pane on Startup
Editing Tips
Understanding the At and Ln Indicators
Transposing Two Words
Changing Paragraph Order
Deleting a Page
Repeating Actions
Repeating Your Typing
Entering a Degree Sign
Generating a List of Dates
Entering a Page Break from the Keyboard
Picking Up in the Last Document Edited
Jumping to a Relative Section
Emoticons in Word
Deleting All Text in Linked Text Boxes
Searching Tips
Finding an Unknown Character
Find and Replace in a Column or Row
Searching for Tabs
Searching for Breaks
Formatting Partial Results of a Search
Quicker Multiple Replace Operations
Updating to Smart Quotes
Markup Tips
Showing Only Added Text with Track Changes
Changing Revision Bar Thickness
Disabling Track Changes Completely
Auto Tips
Understanding the Big Three Autos in Word
System Won't Save AutoText
Removing Confusion When Using AutoCorrect
Character Formatting Tips
Understanding Point Sizes
Accurate Font Sizes
Understanding Strikethrough Formatting
Adding a Little Color
Resetting Default Character Formatting
Using Non-Printing Notes
Engraving Text
Paragraph Formatting Tips
Understanding Leading
Understanding At Least Line Spacing
Indenting a Paragraph
Removing Space before Paragraphs
Quickly Adjusting Paragraph Spacing
Selecting Default Paragraph Formatting
Indent and Justify Command
Combining First and Second Numbered Levels on One Paragraph
Resetting to Factory Defaults for Bulleted Lists
Making All Lines in a Paragraph the Same Height
Automatic Question Numbering
Getting Rid of Choppiness in Justified Text
Aligning Borders with the Page Margins
Removing Tabs Used to Indent a Paragraph
Understanding Default Tab Stops
Changing Tabs Using the Ruler
Section and Document Formatting Tips
Ensuring Consistent Lines on Each Page
Using Chapter Numbers with Page Numbers
Making Sure a Document Always Has an Even Number of Pages
Margins for All Documents Changing
Unable to Set Margins in a Document
Leaving Even Pages Blank
Extra Shaded Lines
Changing Column Width
Adding Vertical Lines between Columns
Columns in a Text Box
Removing Line Numbering
Styles and Templates Tips
Developing Style Families
Finding Unused Styles
Deleting a Large Number of Styles
Using the Style Area
Intelligently Starting a New Paragraph
Ensuring that Spell Checking is Enabled in All Styles
Listing All Styles in the Style Drop-Down List
Retaining Explicit Formatting after Applying Styles
Printing a List of Custom Styles
Putting Style Names Next to Paragraphs on a Printout
Fixing Persistent Template Corruption
Tables Tips
Jumping to the Ends of Table Columns
Jumping to the Ends of Table Rows
Moving Table Rows Quickly
Copying Rows and Columns with the Mouse
Moving Rows and Columns with the Mouse
Line Numbering and Tables
Erroneous Table Math
Unwanted Vertical Lines in a Table
Putting Something in Every Cell of a Table
Sorting Text
Footnotes and Endnotes Tips
Jumping to a Footnote
Inserting Footnotes Using Custom Footnote Marks
Copying and Moving Footnotes
Footnotes within Footnotes
Converting Footnotes to Endnotes
Formatting the Space after an Endnote Number
Standardizing Note Reference Placement
Header and Footer Tips
Inserting the Date in a Header or Footer
Fields and Forms Tips
Finding Fields
Controlling the Format of Cross-References
Sequentially Numbering Elements in Your Document
Forcing the Date to the Next Wednesday
Putting Document Names in Headers or Footers
Understanding Forms
Saving and Using a Form
Valid Numbers in Form Fields
Using Mandatory Form Fields
Updating Calculated Fields in a Form
Calculating Form Fields
Printing Tips
Printing Reversed Images
Two Page Numbers per Physical Page
Collating Copies
Printing a Font List
Selecting a Paper Source
Guidelines for Laser Printer Letterhead
Printer Name on the Status Bar
Printing Personalized Copies of a Document
Great Gray Tones from a Black and White Printer
Discovering Printer Drift
Working with Multiple Printers
Reversing Print Order
Conditionally Adding a Period in a Mail Merge
Wrong Values Merged from Excel
Calculated Dates
Graphics Tips
Changing the Size of a Graphic
Moving Images behind Text
Understanding Object Anchors
Moving Object Anchors
Anchoring Objects by Default
Only Inline Figures Can be Seen and Printed
Extracting Pictures from a Document
Graphics and Line Height
Drawing a Curve
Inserting from the Clip Art Gallery Doesn't Work
Word Freezes When Working with Lots of Clip Art
Setting the Wrapping Default for Objects
Rotating Fractions in a Text Box
Removing All Text Boxes In a Document
Selecting Text in Linked Text Boxes
Using Callouts
Changing Defaults for Text Boxes and Callouts
Changing WordArt Text
Aligning Text in WordArt
Applying Text Options in WordArt
Getting Rid of the Jaggies in WordArt
Picking a Number Format for an Axis
Specifying an Axis Scale in Microsoft Graph
Specifying Colors in a Chart
Inserting Datasheet Rows or Columns
Files Tips
Saving Personalized Copies of a Document
Jumping Around Folders
Sizing the Preview Pane
Saving Everything
Automatically Saving Versions
Automatically Saving Document Copies on Floppy
Specifying a Location To Save Automatic Backup Files
Recovering Password-Protected Documents
Removing Hidden Personal Information From a Document
Moving Quickly Between Directories
Formatting Text in Custom Document Properties
Saving Information in a Non-Document Text File
Inserting a File Name without an Extension
Printing a File List
Recovered Document becomes Default
Online and Other Programs Tips
Getting Rid of Many Hyperlinks
Controlling URL Formatting
Replacing Plain Text with a Hyperlink
Spelling and Grammar Tips
Setting Spell-Checking Options
Spell Checking Forms
Tools Tips
Counting Characters in Text Boxes
Versions Not Saving Correctly
When to Hyphenate Your Document
Choosing What You See in the Equation Editor
Setting Numerator Height Spacing in the Equation Editor
Setting Limit Line Spacing in the Equation Editor
Macros Tips
Intelligible Names for Macros
Renaming a Macro
Clean Up Your Macro List
Repeating In a Macro
Comparing Strings
Inserting a Paragraph from within a Macro
Determining the Number of Paragraphs in a Document
Setting the Left Indent of a Paragraph in a Macro
Changing the Default Drive
Locating the My Documents Folder
Screen Flip Flop with VBA
Quickly Clearing Array Contents
Determining If a Number is Odd or Even
Assigning a Macro to a Button in Your Text
Adding Hyphens to Phrases
Examining Tracked Changes in a Macro
Printing Summary Information from a Macro
Printing Shortcut Key Assignments from a Macro
Printing Styles in a Macro
Printing a Bookmark List
Order Your WordTips Archives Today!
Each download item shown below includes the size of the download file. If you have a slow connection to the Internet, you can save precious time by ordering your archives on CD-ROM, instead of as a download.

The WordTips archives include PDF documents. To read these documents, you need to have either Adobe Acrobat or Adobe Reader on your system. Adobe Reader is free to download; click the link to get the latest version.
To celebrate the release of the WordTips archives for 2019, for a limited time (through January 22, 2020) you can download your own copy of the archives for any of the following years at 30% off the regular price. Get your discount; place your order today!
Archive Year
Dates Covered
Tips
CD
Download
WordTips Menu 2015
(for Word 97, 2000, 2002, and 2003 users)
3 Jan 15 — 26 Dec 15
208 tips

(217 pages)


$32.99

$23.06

(3.3 MB)


$24.99

$17.49
WordTips Ribbon 2015
(for Word 2007, 2010, 2013, and 2016 users)
3 Jan 15 — 26 Dec 15
416 tips

(526 pages)


$32.99

$23.09

(7.2 MB)


$24.99

$17.49
WordTips Menu 2016
(for Word 97, 2000, 2002, and 2003 users)
2 Jan 11 — 31 Dec 16
212 tips

(248 pages)


$32.99

$23.09

(3.8 MB)


$24.99

$17.49
WordTips Ribbon 2016
(for Word 2007, 2010, 2013, and 2016 users)
2 Jan 11 — 31 Dec 16
207 tips

(294 pages)


$32.99

$18.49

(4.6 MB)


$24.99

$12.49
WordTips Menu 2017
(for Word 97, 2000, 2002, and 2003 users)
7 Jan 17 — 30 Dec 17
208 tips

(221 pages)


$32.99

$23.09

(3.3 MB)


$24.99

$17.49
WordTips Ribbon 2017
(for Word 2007, 2010, 2013, and 2016 users)
7 Jan 17 — 30 Dec 17
208 tips

(301 pages)


$32.99

$23.09

(4.6 MB)


$24.99

$17.49
WordTips Menu 2018
(for Word 97, 2000, 2002, and 2003 users)
6 Jan 18 — 29 Dec 18
208 tips

(258 pages)


$32.99

$23.09

(4.4 MB)


$24.99

$17.49
WordTips Ribbon 2018
(for Word 2007, 2010, 2013, 2016, 2019, and Office 365 users)
6 Jan 18 — 29 Dec 18
248 tips

(341 pages)


$32.99

$23.09

(5.9 MB)


$24.99

$17.49
WordTips Menu 2019
(for Word 97, 2000, 2002, and 2003 users)
5 Jan 19 — 28 Dec 19
208 tips

(226 pages)


$32.99

$23.09

(4.0 MB)


$24.99

$17.49
WordTips Ribbon 2019
(for Word 2007, 2010, 2013, 2016, 2019, and Office 365 users)
5 Jan 19 — 28 Dec 19
311 tips

(467 pages)


$32.99

$23.09

(8.3 MB)


$24.99

$17.49
You can also order any of the WordTips archives by calling our order line: 307-200-0450.