ExcelTips Menu 2013 Archive (Table of Contents)
Summary: ExcelTips is a weekly newsletter that provides tips on how to effectively use Microsoft's best-selling spreadsheet program. At the beginning of every year we put together an archive of all the tips published the previous year. Here is the complete table of contents for the ExcelTips (menu) newsletter archive for 2013.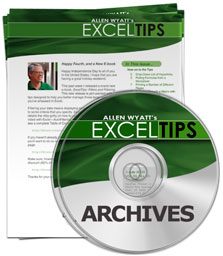 ExcelTips Menu 2013 Archive includes hundreds of valuable tips. The following is the Table of Contents for the archive:
Introduction
What's In This E-Book?
Need More Tips?
A Special Note of Thanks
Sharing this Document
General Tips
Precision in Excel
Precision and Number Display
Rounding in Results
Canceling a Command
Specifying the Behavior of the Enter Key
Choosing Direction After Enter On a Workbook Basis
Default Cell Movement when Deleting
Changing Your Name
Changing Your Company Name
Subtotals Option Grayed Out
Removing Personal Information
Displaying a Count of Zeros on the Status Bar
Turning Off Display of Zeros for All Worksheets
Always Open at 100% Zoom
Zooming with the Keyboard
Slowing Down Mouse Selection
Getting Rid of Spreadsheet Panes
Seeing Excel's Program Window
Tasks for Each Workbook
Appearance of Excel on the Taskbar
Simultaneous Scrolling
Changing Horizontal Orientation
Picking Worksheets Quickly
Changing the Reference in a Named Range
Saving Versions
Splitting Your Spreadsheet Window Into Panes
Viewing Same Cells on Different Worksheets
Changing Input Conventions
Drop-Down List Font Sizes
Getting Rid of the Startup Spreadsheet
Changing Gridline Color
Making Short Work of Menu Names
Changing the Shortcut Menu
Animated Menus
Resetting Dynamic Menus
Adding a Little Animation to Your Life
Controlling Display of the Formula Bar
Displaying Toolbars
Renaming a Toolbar
Large Toolbar Buttons
Changing a Toolbar Button Image
Editing a Toolbar Button Image
Controlling the Display of Toolbars
Quickly Removing a Toolbar Button
Synchronized Workbook and Worksheet Names
Editing Tips
Inserting Cells
Inserting a Row or Column
Inserting Rows
Quickly Deleting Rows and Columns
Removing Duplicate Rows
Quickly Entering Data
Using an Input Mask
Shortcut to Merge Cells
Transposing and Linking
AutoFilling with the Alphabet
AutoFilling with Weekdays
Inserting Different Dashes
Jumping to a Range
Deleting Duplicate Columns
Flipping Data
Selecting a Word
Turning Off Capital Corrections
Ensuring Standard Units During Data Entry
Maintaining Accuracy of Significant Digits
Understanding Names
Defining a Name
Deleting Names
Applying Range Names to Formulas
Removing Cells from a Selected Range
Fixing the Decimal Point
Can't Copy Data between Workbooks
Copying Between Instances of Excel
Copying to Very Large Ranges
Replacing Links with Values
Uncovering and Removing Links
Pasting Leading Zeroes
Ignoring Paragraph Marks when Pasting
Capitalizing Just a Surname
Getting Rid of Spaces in Cells
Splitting Text to Multiple Cells
Selecting the Current Region
How Many Rows and Columns Have I Selected?
Adjusting a Range's Starting Point
Shortcut for Selecting a Data Range
Limiting Choices in a Cell
Using Go To to Jump to a Chart Sheet
Deleting Everything Up to a Character Sequence
Automatically Moving from Cell to Cell when Entering Data
Find and Replace Tips
A Fast Find-Next
Searching by Columns, by Default
Superscripts in Find and Replace
Searching Through Many Workbooks
Finding All Instances of a Value
Find and Replace in Headers
Crashing when Searching
Searching for Wildcards
Formatting Tips
Unable to Format Cells
Copying Formatting
Using Copy and Paste for Formatting
Understanding Monospace Fonts
Changing Character Spacing
Adding Borders to Cells
Removing Borders
Adding Drop Shadows to Cells
Changing Font Color
Changing Font Size Using a Shortcut Key
Changing the Font Size in Combo Boxes
Determining Font Formatting
Embedding Fonts in Excel
Underlining Text in Cells
Wrapping Your Text
Applying Table Formats
Coloring Cells with Formulas
Fill Color Doesn't Display
Understanding Color and Conditional Formatting Codes
Setting Orientation of Cell Values
When is Currency Not Currency?
Excel Applies Scientific Notation to Imported Data
Better Use of Heading Space
Changing the Starting Page Number
Displaying Zeros
Highlighting Values in a Cell
Formatting Subtotal Rows
Adjusting Row Height for a Number of Worksheets
Creating Two-Line Custom Formats
Applying a Style
Changing an Existing Style
Copying Styles
Flashing Cells
Conditional Formatting Tips
Changing Font Face and Size Conditionally
Conditionally Formatting an Entire Row
Understanding Conditional Formatting Conditions
Detecting Errors in Conditional Formatting Formulas
Conditionally Formatting for Multiple Date Comparisons
Conditional Formats that Distinguish Blanks and Zeroes
Sorting or Filtering by Conditional Format Results
Conditionally Making a Sound
Header and Footer Tips
Default Headers and Footers
Copying Headers and Footers
Header and Footer Data Codes
Header and Footer Formatting Codes
Using Color in Headers and Footers
Header and Footer Background Color
Leading Zeros in Page Numbers
Changing Page Number Format
Putting Cell Contents in Footers
Deleting a Footer
Online Tips
Adding a ScreenTip
Opening an HTML Page in a Macro
Hyperlinks that Open in a Different Browser Window
Jumping to Text in Worksheet from an Index
Converting a Range of URLs to Hyperlinks
Extracting URLs from Hyperlinked Images
Changing Huge Numbers of Hyperlinks
Get Rid of Web Stuff
Worksheet Tips
Jumping to a Specific Worksheet
Jumping to Alphabetic Worksheets
Referencing a Worksheet Name
Ordering Worksheets Based on a Cell Value
Protecting a Single Worksheet
Unprotecting Groups of Worksheets
Selecting Combo Boxes in Locked Worksheets
Preventing Someone from Recreating a Protected Worksheet
Locking All Non-Empty Cells
Hiding and Protecting Columns
Running a Macro when a Worksheet is Activated
Worksheet Function Tips
Nesting IF Worksheet Functions
Functions Within Functions
Determining the Least Common Multiple
Specifying Different Weekends with NETWORKDAYS
Returning an ANSI Value
Large Numbers in the MOD Function
Working with Roman Numerals
Determining a Value of a Cell
Adding Up Tops and Bottoms
Rounding to the Nearest $50
Using the WEEKNUM Function
Indirect References to a DSUM Parameter
Selecting Random Names
Converting Radians to Degrees
Converting to Octal
Counting within Criteria
Returning Blanks with VLOOKUP
Using VLOOKUP to Access Information to the Left
Formula Tips
Understanding Operators
Formulas Don't Calculate as Formulas
Avoiding Rounding Errors in Formula Results
Displaying Messages When Automatic Data Changes
Checking for Messages in Cells
Listing Combinations
Deleting Duplicate Text Values
Looking Up Names when Key Values are Identical
Using a Formula to Replace Spaces with Dashes
Referring to the Last Cell
Finding the Address of the Lowest Value in a Range
Complex Lookup Formulas
Returning a Blank Value
Returning the Smallest Non-Zero Value
Deriving Antilogs
Totaling Across Worksheets
Combining Numbers and Text in a Cell
Splitting Cells by Case
Concatenating Names with Delimiters
Determining a State from an Area Code
Averaging a Non-Contiguous Range
Median of Selected Numbers
Deriving Monthly Median Values
Determining a Simple Moving Average
Counting Odds and Evens
Counting with Two Criteria
Getting a Count of Unique Names
Selective Summing
Summing Absolute Values
Saving Common Formulas
PivotTable Tips
Too Many Rows or Columns in a PivotTable
Maintaining Formatting when Refreshing PivotTables
Removing Subtotals from Many PivotTable Fields
Bogging Down with Calculated Items
Missing PivotTable Data
Conditional Formatting in PivotTables
Updating Multiple PivotTables at Once
Sorting and Filtering Tips
Sorting ZIP Codes
Sorting by Fill Color
Controlling Sorting Order
Sorting Huge Lists
Determining Sorting Criteria
Creating a Sort Order
Automatically Sorting as You Enter Information
Using AutoFiltering
Turning Off AutoFiltering
Advanced Filtering
Copying the Results of Filtering
Filtering Columns
Filtering Columns for Unique Values
Removing Duplicates Based on a Partial Match
Comment Tips
Searching Comments
Changing the Comment Color
Anchoring Comment Boxes in Desired Locations
Setting the Default Font Size for Comment Balloons
Placing Formula Results in a Comment
Date and Time Tips
Unique Date Displays
Deciphering a Coded Date
Converting Coded Dates into Real Dates
Unique Military Date Format
Displaying a Number as Years and Months
Ages in Years and Months
Determining Month Names for a Range of Dates
Elapsed Days as Years, Months and Days
Calculating the Last Day in a Week Number
Calculating the Day of the Year
Leap Years and Fiscal Periods
Incrementing Months in Dates
Working with Minutes
Formatting for Hundredths of Seconds
Noting Inactivity within a Timeframe
Graphics Tips
Creating an AutoShape
Changing an AutoShape
Creating a Drawing Object
Inserting Multiple Drawing Objects
Moving Drawing Objects
Sending Drawing Objects to the Back or Front
Moving and Copying Graphics Objects
Changing Line Color in a Drawing Object
Filling a Drawing Object
Inserting a Picture in Your Workbook
Adding Drop Shadows
Understanding Fill Effects
Determining Mouse Cursor Coordinates On a Graphic
Using a Graphic for a Background
Watermarks in Excel
Using WordArt in Excel
Specifying a Font in WordArt
Capturing a Screen
Sizing Text Boxes and Cells the Same
Charting Tips
Creating a Chart
Make that Chart Quickly!
Excluding Some Data from a Chart
Easily Changing Chart Data Ranges
Automatically Updating Charts for Additional Data
Changing the Pattern Used in a Data Series
Using the Mouse to Adjust Your View of 3-D Graphs
Noting a False Zero On a Chart
Moving Groups of Data Labels at One Time
Changing the Axis Scale
Y-Axis Chart Titles are Truncated
Specifying the Size of Chart Objects
Converting Charts to GIF Files
Excel Charts in PowerPoint
Printing Tips
Changing Page Orientation
Setting Default Print Margins
Printing a Range of Pages
Printing Only Selected Pages
Printing Limited Pages from a Range of Worksheets
Printing a Short Selection
Printing Selected Worksheets
Printing More than One Copy
Collating Copies
Setting Print Quality
Using Print Preview
Working With Multiple Printers
Specifying a Paper Tray in a Macro
Printout Doesn't Match Display for Some Cells
Multiple Print Areas on a Single Printed Page
Sequential Page Numbers Across Worksheets
Printing a Draft of a Worksheet
Flipping Landscape Orientation when Printing
Printing Workbook Properties
Fitting Your Printout on a Page
Printing a Chart
Printing to a Disk File
Conditional Printing
Workbook and File Tips
How Excel Treats Disk Files
Use Filenames That Sort Properly
Seeing Full File Names in the Files Menu
Speeding Up Opening and Saving a Workbook
Can't Open Multiple Workbooks from the Desktop
Opening Multiple Workbooks at Once
Merging Many Workbooks
Tying Workbooks Together
Protecting an Entire Folder of Workbooks
Jumping Around Folders
Cannot Double-Click to Open a Workbook
Importing Huge Data Files
Big File Memory Blues
Getting Rid of "Copy of"
Renaming a Workbook
Adding a File Path and Filename
Saving in Multiple Locations
Protecting an Entire Workbook
Opening a Workbook with Two Windows
Unwanted Read-Only Workbook Status
Stopping Excel from Converting UNC Paths to Mapped Drives
Stopping Date Parsing when Opening a CSV File
Getting Rid of Empty Rows after Importing
Getting Rid of Extra Quote Marks in Exported Text Files
Checking for the Existence of a File
Determining If a File Exists
Fixing "Can't Find Files" Errors
Appending to a Non-Document Text File
Opening Non-Excel Files
Protecting Excel Files from Word
Working with Lotus 1-2-3 Spreadsheets
Saving Worksheets in Lotus 1-2-3 Format
Tools Tips
Goal Seeking
Creating Scenarios
Showing a Scenario
Understanding Auditing
Accessing Dependent and Precedent Information
Updating Links
Changing Links
Backing Up Your AutoCorrect Entries
Comparing Lists for Duplicates
Counting All Characters
Speaking the Contents of Cells
Adding and Using a Combo Box
Formatting Combo Box Text
Non-Printing Controls
Answering Questions in Order
Macro Tips
Understanding Macros
Recording a Macro
Relative References when Recording Macros
Relative VBA Selections
Declaring Variables
Continuing Macro Lines
Renaming a Macro
Debugging a Macro
Turning Off Screen Updating
Inserting Worksheet Values with a Macro
Using InputBox to Get Data
Offering Options in a Macro
Understanding the While...Wend Structure
Clean Up Your Macro List
Adding a Macro to a Toolbar
Self-Deleting Macros
Deleting Macros from within a Macro
Generating a List of Macros
Counting Shaded Cells
Setting Row Height in a Macro
Skipping Hidden Rows in a Macro
Automatically Opening Macro Workbooks when Using a Shortcut Key
Displaying the "Last Modified" Date
Finding Workbooks Containing Macros
Trimming Spaces from Strings
Triggering an Event when a Worksheet is Deactivated
Deleting Every X Rows
Reversing Cell Contents
Converting Strings to Numbers
Using Named Ranges in a Macro
Selecting the First Cell In a Row
Finding the Path to the Desktop
Macro for Month Name
Engineering Calculations
Fixing Macro Button Behavior in Protected Worksheets
List of Macro Shortcuts in All Open Workbooks
Using BIN2DEC In a Macro
Creating a Photo Catalog from a Folder of Photos
Pulling Cell Names into VBA
Running a Macro in a Number of Workbooks
Dissecting a String
Replacing and Converting in a Macro
Changing Macro Cell References Based on Edits
Using Macros in Protected Workbooks
Checking if a Workbook is Already Open
Resizing Checkboxes
Deleting Worksheets in a Macro
Unhiding or Listing All Objects
Deriving the Worksheet Name
Getting Big Macros to Run
Splitting Information into Rows
Selecting Visible Cells in a Macro
Converting Text to Numbers
Displaying a Set Column Range
Determining if Calculation is Necessary
Preserving the Undo List
Recovering Macros from Corrupted Workbooks
Order Your ExcelTips Archives Today!
Each download item shown below includes the size of the download file. (When you're dealing with hundreds and hundreds of pages per archive volume, files can get large.) If you have a slow connection to the Internet, you can save precious time by ordering your archives on CD-ROM, instead of as a download.

The ExcelTips archives include PDF documents. To read these documents, you need to have either Adobe Acrobat or Adobe Reader on your system. Adobe Reader is free to download; click the link to get the latest version.
Archive Year
Dates Covered
Tips
CD
Download
ExcelTips Menu 2014
(for Excel 97, 2000, 2002, and 2003 users)
4 Jan 14 — 27 Dec 14
312 tips

(357 pages)
$32.99

(4.4 MB)
$24.99
ExcelTips Ribbon 2014
(for Excel 2007, 2010, and 2013 users)
4 Jan 14 — 27 Dec 14
415 tips

(524 pages)
$32.99

(8.2 MB)
$24.99
ExcelTips Menu 2015
(for Excel 97, 2000, 2002, and 2003 users)
3 Jan 15 — 26 Dec 15
208 tips

(205 pages)
$32.99

(3.4 MB)
$24.99
ExcelTips Ribbon 2015
(for Excel 2007, 2010, 2013, and 2016 users)
3 Jan 15 — 26 Dec 15
416 tips

(499 pages)
$32.99

(6.1 MB)
$24.99
ExcelTips Menu 2016
(for Excel 97, 2000, 2002, and 2003 users)
1 Jan 11 — 31 Dec 11
211 tips

(236 pages)
$32.99

(3.6 MB)
$24.99
ExcelTips Menu 2017
(for Excel 97, 2000, 2002, and 2003 users)
1 Jan 17 — 30 Dec 17
208 tips

(241 pages)
$32.99

(3.1 MB)
$24.99
ExcelTips Ribbon 2016
(for Excel 2007, 2010, 2013, and 2016 users)
1 Jan 11 — 31 Dec 11
212 tips

(259 pages)
$32.99

(3.2 MB)
$24.99
ExcelTips Ribbon 2017
(for Excel 2007, 2010, 2013, and 2016 users)
1 Jan 17 — 30 Dec 17
208 tips

(276 page)
$32.99

(3.8 MB)
$24.99
ExcelTips Menu 2018
(for Excel 97, 2000, 2002, and 2003 users)
6 Jan 18 — 29 Dec 18
208 tips

(250 pages)


$32.99

$23.09

(3.9 MB)


$24.99

$17.49
ExcelTips Ribbon 2018
(for Excel 2007, 2010, 2013, 2016, 2019, and Office 365 users)
6 Jan 18 — 29 Dec 18
249 tips

(321 pages)


$32.99

$23.09

(4.0 MB)


$24.99

$17.49
You can also order any of the ExcelTips archives by calling our order line: 307-200-0450.