ExcelTips Menu 2018 Archive (Table of Contents)
Summary: ExcelTips is a weekly newsletter that provides tips on how to effectively use Microsoft's best-selling spreadsheet program. At the beginning of every year we put together an archive of all the tips published the previous year. Here is the complete table of contents for the ExcelTips (menu) newsletter archive for 2018.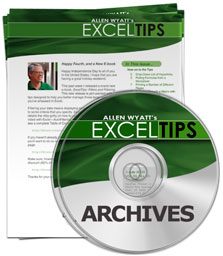 ExcelTips Menu 2018 Archive includes hundreds of valuable tips. The following is the Table of Contents for the archive:
Introduction
What's in This E-Book?
Need More Tips?
A Special Note of Thanks
Sharing this Document
General Tips
Seeing Excel's Program Window
Changing Toolbar Location
Resetting Toolbars to Their Default
Determining Your Serial Number
Changing Your Company Name
Changing Your Name
Excluding a Specific Add-In at Startup
Starting in Safe Mode
Hanging When Opening a Workbook
Odd Arrow Key Behavior
Weird Actions for Arrow Keys and Enter
Tab Key Jumps a Screen at a Time
Status Bar Summing No Longer Available
Displaying a Count of Zeros on the Status Bar
Tasks for Each Workbook
Excel Won't Display Different Windows in the Taskbar
Precision and Number Display
Saving Non-Existent Changes
Ignoring Other Applications
A Ruler in Excel
Resetting Dynamic Menus
Easily Deploying Customizations
Identifying Merged Cells
Editing Tips
Selecting a Word
Moving Cells Using the Mouse
Undoing an Edit
Inserting a Row or Column
Clearing and Deleting Cells
Creating a Shortcut for Pasting Values
Reference Shortcut
Entering Dates in Excel
Quickly Entering Dates and Times
Ensuring Unique Values in a Column
Checking for an Entry in a Cell
Skipping Rows when Filling
AutoFilling with Weekdays
AutoFill Won't Work as Expected
Using the Fill Handle from the Keyboard
Limiting Entry of Names
Using an Input Mask
Deleting Everything Except Formulas
Entered Values are Divided by 100
Picking a Group of Cells
Jumping to a Range
Conditionally Deleting Rows
Removing Duplicate Rows
Pasting Multiple Paragraphs Into a Single Cell
Maintaining Accuracy of Significant Digits
Copying Subtotals
Ensuring Standard Units During Data Entry
Errors when Copying References to External Cells
Highlighting the Rows of Selected Cells
Formatting Tips
Removing All Formatting
Unable to Format Cells
Making All Occurrences Bold
Getting Rid of Negative Zero Amounts
Converting from Numbers to Text
Fill Color Doesn't Display
Highlighting Cells Containing Specific Text
Accurate Font Sizes
Changing Font Size Using a Shortcut Key
Flashing Cells
Sorting ZIP Codes
Handling Leading Zeros in CSV Files
Hiding and Unhiding Columns
Setting Cell Width and Height Using the Keyboard
Adjusting Cell Margins for More White Space
Creating 3-D Formatting for a Cell
Rounded Corners on Cells
Converting Forced Text to Numbers
Using an Exact Number of Digits
Decimal Tab Alignment
Applying a Style
Changing an Existing Style
Copying Styles
Conditional Formatting Based on Date Proximity
Copying Conditional Formatting
Understanding Conditional Formatting Conditions
Removing Conditional Formats, but Not the Effects
Web and Online Tips
Opening Sites in a Browser
Hyperlinks to Charts
Changing Link References
Finding Unknown Links
Don't Update Links to Other Programs
Printing Web Discussions
Worksheet Tips
Relative Worksheet References
Turning Off Worksheet Tabs
Increasing Font Size in Worksheet Tabs
Hiding and Unhiding Worksheets
Ordering Worksheets Based on a Cell Value
Creating a Copy without Formulas
Disabling Moving Between Worksheets
Worksheet Function Tips
Specifying Different Weekends with NETWORKDAYS
Using the TRUNC Worksheet Function
Using the REPT Function
Summing Only Visible Values
Adding Up Tops and Bottoms
Indirect References to a DSUM Parameter
SUMIF Doesn't Recalc Automatically
Counting the Number of Blank Cells
Determining a Value of a Cell
Converting to ASCII Text
Random Numbers in a Range
Rounding to the Nearest $50
Returning Blanks or Asterisks from a Lookup
Returning Blanks with VLOOKUP
Making VLOOKUP Trigger a Macro
Making VLOOKUP Case Sensitive
Formula Tips
Understanding Operators
Dealing with Long Formulas
Looking Up Names when Key Values are Identical
Stopping a Formula from Updating References
Using a Formula to Replace Spaces with Dashes
Counting with Two Criteria
Selective Summing
Reversing Names In Place
Extracting a Pattern from within Text
Ignoring Case in a Comparison
Listing Combinations
Deleting Duplicate Text Values
Referring to the Last Cell
Generating Random Strings of Characters
Sorting and Filtering Tips
Creating a Sort Order
Sorting by Fill Color
Ignoring Selected Words when Sorting
Counting within Criteria
Checking for Duplicate Rows Based on a Range of Columns
Removing Duplicates Based on a Partial Match
Date and Time Tips
Backwards Date Parsing
Calculating the Day of the Year
Calculating the Last Day in a Week Number
Calculating a Date Five Days before the First Business Day
Displaying a Number as Years and Months
Every Second Tuesday
Converting UNIX Date/Time Stamps
Converting European Dates to US Dates
Deciphering a Coded Date
Converting Coded Dates into Real Dates
Combining and Formatting Times
Graphics and Charting Tips
Inserting a Picture in Your Workbook
Inserting a Watermark Behind Merged Cells
Inserting from a Camera or Scanner
Inserting Video into Worksheets
Using a Graphic for a Background
Adding Text to an AutoShape
Controlling the Plotting of Empty Cells
PivotTable Tips
Maintaining Formatting when Refreshing PivotTables
Weighted Averages in a PivotTable
Error in Linked PivotTable Value
Removing Subtotals from Many PivotTable Fields
Printing Tips
Using Print Preview
Printing Multiple Selections
Printing a Portion of a Worksheet
Printing a Short Selection
Working with Multiple Printers
Specifying a Paper Tray in a Macro
Locking the Print Area
Printout Doesn't Match Display for Some Cells
Printing Just the Visible Data
Scaling Your Printing
Centering Your Worksheet
Printing Workbooks in a Folder
Showing Filter Criteria on a Printout
Workbook and File Tips
Opening Multiple Workbooks at Once
Can't Open Multiple Workbooks from the Desktop
Automatically Hiding the Personal Workbook
Merging Many Workbooks
Protecting Excel Files from Word
Working with Lotus 1-2-3 Spreadsheets
Saving in Two Locations
Finding the Parent Folder
Converting PDF to Excel
Setting a Default File Format
Full Path Names in Headers or Footers
Comment Tips
Viewing Comments
Changing the Comment Color
Counting Comments in a Worksheet
Tools Tips
Goal Seeking
Setting Data Validation Input Messages
Specifying a Data Validation Error Message
Contingent Validation Lists
Macro Tips
Continuing Macro Lines
Declaring Variables
Converting Strings to Numbers
Using InputBox to Get Data
Using Named Ranges in a Macro
Selecting a Specific Cell in a Macro
Selecting the First Cell In a Row
Selecting a Cell in the Current Row
Finding the Last-Used Cell in a Macro
Comparing Strings
Trimming Spaces from Strings
Reversing Cell Contents
Converting Phone Numbers
Automating Copying Macros
Displaying the "Last Modified" Date
Waiting for Update Completion
Finding the Number of Significant Digits
Replacing Some Formulas with the Formula Results
Jumping to Alphabetic Worksheets
Getting a File Name
Hiding Excel in VBA
Deleting Every X Rows
Making Common Functions Available to Others
Copying Pictures with a Macro
Generating Unique, Sequential Names
Triggering an Event when a Worksheet is Deactivated
Macro Fails after AutoFilter
Order Your ExcelTips Archives Today!
Each download item shown below includes the size of the download file. (When you're dealing with hundreds and hundreds of pages per archive volume, files can get large.) If you have a slow connection to the Internet, you can save precious time by ordering your archives on CD-ROM, instead of as a download.

The ExcelTips archives include PDF documents. To read these documents, you need to have either Adobe Acrobat or Adobe Reader on your system. Adobe Reader is free to download; click the link to get the latest version.
To celebrate the release of the ExcelTips archives for 2018, for a limited time (through January 16, 2019) you can download your own copy of the archives for any of the following years at 30% off the regular price. Get your discount; place your order today!
Archive Year
Dates Covered
Tips
CD
Download
ExcelTips Menu 2014
(for Excel 97, 2000, 2002, and 2003 users)
4 Jan 14 — 27 Dec 14
312 tips

(357 pages)


$32.99

$23.09

(4.4 MB)


$24.99

$17.49
ExcelTips Ribbon 2014
(for Excel 2007, 2010, and 2013 users)
4 Jan 14 — 27 Dec 14
415 tips

(524 pages)


$32.99

$23.09

(8.2 MB)


$24.99

$17.49
ExcelTips Menu 2015
(for Excel 97, 2000, 2002, and 2003 users)
3 Jan 15 — 26 Dec 15
208 tips

(205 pages)


$32.99

$23.09

(3.4 MB)


$24.99

$17.49
ExcelTips Ribbon 2015
(for Excel 2007, 2010, 2013, and 2016 users)
3 Jan 15 — 26 Dec 15
416 tips

(499 pages)


$32.99

$23.09

(6.1 MB)


$24.99

$17.49
ExcelTips Menu 2016
(for Excel 97, 2000, 2002, and 2003 users)
1 Jan 11 — 31 Dec 11
211 tips

(236 pages)


$32.99

$23.09

(3.6 MB)


$24.99

$17.49
ExcelTips Menu 2017
(for Excel 97, 2000, 2002, and 2003 users)
1 Jan 17 — 30 Dec 17
208 tips

(241 pages)


$32.99

$23.09

(3.1 MB)


$24.99

$17.49
ExcelTips Ribbon 2016
(for Excel 2007, 2010, 2013, and 2016 users)
1 Jan 11 — 31 Dec 11
212 tips

(259 pages)


$32.99

$23.09

(3.2 MB)


$24.99

$17.49
ExcelTips Ribbon 2017
(for Excel 2007, 2010, 2013, and 2016 users)
1 Jan 17 — 30 Dec 17
208 tips

(276 page)


$32.99

$23.09

(3.8 MB)


$24.99

$17.49
ExcelTips Menu 2018
(for Excel 97, 2000, 2002, and 2003 users)
6 Jan 18 — 29 Dec 18
208 tips

(250 pages)


$32.99

$23.09

(3.9 MB)


$24.99

$17.49
ExcelTips Ribbon 2018
(for Excel 2007, 2010, 2013, 2016, 2019, and Office 365 users)
6 Jan 18 — 29 Dec 18
249 tips

(321 pages)


$32.99

$23.09

(4.0 MB)


$24.99

$17.49
You can also order any of the ExcelTips archives by calling our order line: 307-200-0450.