ExcelTips Menu 2015 Archive (Table of Contents)
Summary: ExcelTips is a weekly newsletter that provides tips on how to effectively use Microsoft's best-selling spreadsheet program. At the beginning of every year we put together an archive of all the tips published the previous year. Here is the complete table of contents for the ExcelTips (menu) newsletter archive for 2015.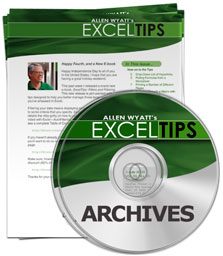 ExcelTips Menu 2015 Archive includes hundreds of valuable tips. The following is the Table of Contents for the archive:
Introduction
What's In This E-Book?
Need More Tips?
A Special Note of Thanks
Sharing this Document
General Tips
Working With Multiple Workbooks
Viewing More Than Two Places in a Worksheet
Stopping Help from Using Online Resources
Understanding Manual Calculation
Adding an Equal Sign Tool
Embedding Your Phone Number in a Workbook
Setting the Calculation Default
Task Pane Doesn't Appear Properly
Limiting Precision
Empty Cells Triggers Error
Slow Excel Response Times
Getting Rid of Workbook Links
Turning Off AutoFill
Floating Information in a Frozen Row
Grabbing a User's Name from Excel
Working with Imperial Linear Distances
Defining and Using Custom Colors
Moving Items On a Menu
Disabling the F1 Key
Buttons for Workbooks
Disappearing Toolbar Buttons for Macros
Controlling the Behavior of the Mouse Wheel
Editing Tips
Switching Editing Location
Using Overtype Mode
Selecting a Row
Controlling Where You Edit Cell Contents
Defining Shortcut Keys for Symbols
Quickly Deleting Cells
Automatically Capitalizing Day Names
Displaying Letter Grades
Displaying Row and Column Labels
Can't Empty the Clipboard
Setting a Length Limit on Cells
Limiting Entry of Prior Dates
Relative Worksheet References when Copying
Inserting Dashes between Letters and Numbers
Deleting Every X Rows without a Macro
Copying Cells to Fill a Range
Finding Wayward Links
Quickly Updating Values
Find and Replace Tips
Limiting Searching to a Column
Finding and Replacing in Text Boxes
Replacing Characters at the End of a Cell
Formatting Tips
Defeating Automatic Date Parsing
Deleting a Style
Placing Limits on AutoFormat
Copying Formats to a New Worksheet
Changing Column Width
Hiding Columns Not within a Date Range
Adjusting Row Height for Your Text
Adjusting Row Height when Wrapping Text
Displaying Latitude and Longitude
Formatted Data Appears Differently on Different Systems
Shortcut Key for Format Painter
Indenting Cell Contents
Replacing Cell Formats
Specifying Superscript Text
Getting Rid of Leading Zeros in a Number Format
Using a Custom Format to Add Dashes
Handling Negative Numbers in a Complex Custom Format
Problems with Custom Views
Conditional Formatting Tips
Automatic Lines for Dividing Lists
More than Three Conditional Formats
Counting Colors from Conditional Formats
Header and Footer Tips
Putting Headers and Footers on Multiple Worksheets
Changing Section Headers
Moving Part of a Footer Down a Line
Online Tips
Links to Hyperlinks
Deleting a Hyperlink
Extracting Hyperlink Information
Worksheet Tips
Moving a Worksheet
Shortcut to Move between Two Worksheets
Testing for an Empty Worksheet
Freezing Worksheet Tabs
Stopping the Deletion of Cells
Worksheet Function Tips
Understanding Functions
Calculating Fractions of Years
The EDATE Function
Using the SUBTOTAL Function
Using GEOMEAN With a Large List
Determining Columns in a Range
Returning the MODE of a Range
Using the CONCATENATE Worksheet Function
Using the IF Worksheet Function
Converting Codes to Characters
Formula Tips
Starting Out Formulas
Summing Every Fourth Cell in a Row
Alerts About Approaching Due Dates
Checking for Either of Two Text Values
Alphabetic Column Designation
Calculating the Distance between Points
Combining Cell Contents
Number of Terms in a Formula
Developing Reciprocal Conversion Formulas
Deriving High and Low Non-Zero Values
Iterating Circular References
Deriving a Secant and Cosecant
Determining "Highest Since" or "Lowest Since"
Using a Numeric Portion of a Cell in a Formula
Extracting a State and a ZIP Code
Where Is that Text?
Counting Unique Values
Averaging the Last Numbers in a Column
Adding Dashes between Letters
Counting Cells with Specific Characters
Finding the Sum of a Sequential Integer Range
Calculating the Interval Between Occurrences
Finding the Smallest Even Value
PivotTable Tips
Excluding Zero Values from a PivotTable
Counting with PivotTables
Editing PivotTables without Underlying Data
Sorting and Filtering Tips
Sorting by Five Columns
Sorting Dates by Month
Sorting while Ignoring Leading Characters
Limits to Filtering
Copying Comments when Filtering
Comment Tips
Editing a Comment Close to Its Cell
Formatting Text in Comment Boxes
Date and Time Tips
Converting an Unsupported Date Format
Parsing Non-Standard Date Formats
Finding the Dates for Minimums and Maximums
Adding Ordinal Notation to Dates
Monthly Close-Out Dates
Calculating the First Business Day of the Month
Calculating a Group Retirement Date
Checking for Time Input
Rounding to the Nearest Quarter Hour
Dealing with Large Numbers of Seconds
Graphics Tips
Displaying the AutoShapes Menu
Drawing Lines
Resizing a Picture
Nudging a Graphic
Pasting a Graphic to Multiple Worksheets
Pulling AutoShape Text from a Worksheet Cell
Grouping and Ungrouping Objects
Exporting a Graphics Group
Positioning a Graphic in a Macro
Charting Tips
Changing Chart Types
Unselecting a Chart Item
Using Dynamic Chart Titles
Plotting Times of Day
Identifying Scatter Plot Points
Adjusting Your View of 3-D Graphs
Controlling Chart Gridlines
Turning the Legend On and Off
Printing Tips
Speeding Up Printing
Using Less Paper on Printouts
Adding the Set Print Area Tool
Setting Print Ranges for Multiple Worksheets
Clearing the Print Area
First and Last Names in a Page Header
Printing Columns and Rows
Specifying an Order for Page Printing
Printing a Chart Across Multiple Pages
Out of Kilter Borders
Repeating Rows at the Bottom of a Page
Workbook and File Tips
Closing Multiple Files
Saving a Workbook Using Passwords
Visually Showing a Protection Status
Jumping to the Real Last Cell
Sorting Files
Grabbing the MRU List
Comma-Delimited Differences for PC and Mac
Comma-Delimited and MS-DOS CSV Variations
Reducing File Size
Displaying Path Names in the Menu Bar
Tools Tips
Using List Box Controls
Editing the Custom Spelling Dictionaries
Understanding Outlining
Fixed-Width Settings when Converting Text to Columns
Macro Tips
Writing a Macro from Scratch
Editing Macros
Develop Macros in Their Own Workbook
Understanding Phantom Macros
Workbook Events
Hiding Macros
Running a Macro when a Workbook is Closed
Opening a Workbook but Disabling Macros
Swapping Two Strings
Using SUM In a Macro
Running Macros on Hidden Worksheets
Unhiding Multiple Worksheets
Setting Column Width in a Macro
Using Seek In a Macro
Quickly Dumping Array Contents
Converting Cells to Proper Case
Adding Leading Zeroes to ZIP Codes
Adjusting Values with Formulas
Friendly and Informative Error Handling
Finding Other Instances of Excel in a Macro
Word Documents from Excel Macros
Determining a Random Value
Requiring Input
Creating a Plus/Minus Button
Converting Numbers to Strings
Determining an Integer Value
Spreading Out a Table
Pulling Apart Cells
DOS From Macros
Deleting a File in a Macro
Noting the Workbook Creation Date
Determining the RGB Value of a Color
Clearing the Undo Stack in a Macro
Removing a Directory
Resizing a Text Box in a Macro
Specifying Location for a Message Box
Removing Pictures for a Worksheet in VBA
Expiration Date for Excel Programs
Order Your ExcelTips Archives Today!
Each download item shown below includes the size of the download file. (When you're dealing with hundreds and hundreds of pages per archive volume, files can get large.) If you have a slow connection to the Internet, you can save precious time by ordering your archives on CD-ROM, instead of as a download.

The ExcelTips archives include PDF documents. To read these documents, you need to have either Adobe Acrobat or Adobe Reader on your system. Adobe Reader is free to download; click the link to get the latest version.
To celebrate the release of the ExcelTips archives for 2018, for a limited time (through January 16, 2019) you can download your own copy of the archives for any of the following years at 30% off the regular price. Get your discount; place your order today!
Archive Year
Dates Covered
Tips
CD
Download
ExcelTips Menu 2014
(for Excel 97, 2000, 2002, and 2003 users)
4 Jan 14 — 27 Dec 14
312 tips

(357 pages)


$32.99

$23.09

(4.4 MB)


$24.99

$17.49
ExcelTips Ribbon 2014
(for Excel 2007, 2010, and 2013 users)
4 Jan 14 — 27 Dec 14
415 tips

(524 pages)


$32.99

$23.09

(8.2 MB)


$24.99

$17.49
ExcelTips Menu 2015
(for Excel 97, 2000, 2002, and 2003 users)
3 Jan 15 — 26 Dec 15
208 tips

(205 pages)


$32.99

$23.09

(3.4 MB)


$24.99

$17.49
ExcelTips Ribbon 2015
(for Excel 2007, 2010, 2013, and 2016 users)
3 Jan 15 — 26 Dec 15
416 tips

(499 pages)


$32.99

$23.09

(6.1 MB)


$24.99

$17.49
ExcelTips Menu 2016
(for Excel 97, 2000, 2002, and 2003 users)
1 Jan 11 — 31 Dec 11
211 tips

(236 pages)


$32.99

$23.09

(3.6 MB)


$24.99

$17.49
ExcelTips Menu 2017
(for Excel 97, 2000, 2002, and 2003 users)
1 Jan 17 — 30 Dec 17
208 tips

(241 pages)


$32.99

$23.09

(3.1 MB)


$24.99

$17.49
ExcelTips Ribbon 2016
(for Excel 2007, 2010, 2013, and 2016 users)
1 Jan 11 — 31 Dec 11
212 tips

(259 pages)


$32.99

$23.09

(3.2 MB)


$24.99

$17.49
ExcelTips Ribbon 2017
(for Excel 2007, 2010, 2013, and 2016 users)
1 Jan 17 — 30 Dec 17
208 tips

(276 page)


$32.99

$23.09

(3.8 MB)


$24.99

$17.49
ExcelTips Menu 2018
(for Excel 97, 2000, 2002, and 2003 users)
6 Jan 18 — 29 Dec 18
208 tips

(250 pages)


$32.99

$23.09

(3.9 MB)


$24.99

$17.49
ExcelTips Ribbon 2018
(for Excel 2007, 2010, 2013, 2016, 2019, and Office 365 users)
6 Jan 18 — 29 Dec 18
249 tips

(321 pages)


$32.99

$23.09

(4.0 MB)


$24.99

$17.49
You can also order any of the ExcelTips archives by calling our order line: 307-200-0450.