Excel Conditional Formatting
Summary: Conditional formatting allows you to modify how information is displayed based upon criteria that you define. Excel Conditional Formatting is the definitive resource for understanding how to take advantage of this powerful feature of Excel.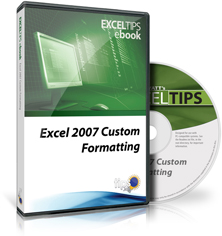 Virtually everyone knows that you can use Excel to store and calculate values. Just about as many people also know that you can format the information stored in a worksheet. You can control all sorts of ways that the information in a cell (or range of cells) is displayed—change the font size, the weight of the font, the color used, how many decimal places it uses, its alignment in the cell, and on and on.
What if you wanted the way that a cell appears to be based on some condition, however? For instance, you might want the text in a cell to be bold if the value is above some threshold or you might want the typeface to be red if the value is negative. This is where conditional formatting comes into play—the application of formats based upon criteria that you specify.
The conditional formatting capabilities of Excel are impressive and can be very powerful. All you need to do is picture how you want your data to appear, and then figure out the criteria that should be met in order for the formatting to be applied. Whenever the values change on which your conditional formatting is based, Excel changes the formatting to reflect those changed values.
To make conditional formatting even more powerful, Excel allows you to define multiple criteria to be applied to a cell or range of cells. Each criterion can have different formatting characteristics associated with that criterion. The way in which you can use conditional formatting is limited only by your imagination.
Excel Conditional Formatting discusses how you can start using those conditional formatting capabilities right away. There are three versions of Excel Conditional Formatting: One for users of Excel 2013, one for users of Excel 2010, and a third for users of Excel 2007. Each version is over 110 pages in length!
Regardless of which version you choose, you'll discover how easy it really is to apply formatting based upon criteria that you specify. The e-books introduce you to the power of conditional formatting, how to define conditional formats, how to edit them, how to manage them, and how to think "outside the box" when it comes to this type of formatting. Take a look at the table of contents for each version:
In Excel Conditional Formatting you'll find plenty of information about conditional formatting, but it is not the dry, lifeless information you'll often find in computer books. The book zeroes in on what you need to know to understand and put conditional formatting to work right away. You'll also find ideas on how to make conditional formatting fit your needs. You'll discover ways to stretch your knowledge and enhance how you can present the data in your worksheets.
Excel Conditional Formatting is provided in both Microsoft Word and Adobe Acrobat (PDF) formats, regardless of whether you get a download or CD-ROM. In these formats you enjoy the following features:
The ability to view, search, and print the book.
Screen shots that illustrate what you see in Excel as you follow the step-by-step instructions.
The ability to select and copy sections of text, such as macro code.
Hyperlinks to internal content (in the book itself) and referenced resources on the Web.

Since the electronic book is provided in Adobe Acrobat (PDF) format, you need to either have Acrobat or the free Adobe Acrobat Reader. Many computer systems already have the reader installed. If you do not, you can get it free, directly from Adobe.
Excel Conditional Formatting provides a valuable resource for focused information that can't be matched by any other single source or computer book.
Description
CD
Download
Excel 2013 Conditional Formatting

ISBN 978-1-61359-328-8 (119 pages)
$24.99

ISBN 978-1-61359-327-1 (1.3 MB)
$19.99
Excel 2010 Conditional Formatting

ISBN 978-1-61359-326-4 (114 pages)
$24.99

ISBN 978-1-61359-325-7 (2.9 MB)
$19.99
Excel 2007 Conditional Formatting

ISBN 978-1-61359-324-0 (115 pages)
$24.99

ISBN 978-1-61359-323-3 (2.6 MB)
$19.99
Excel Conditional Formatting Ribbon Pack

Great deal! Three versions
(Excel 2007, 2010, and 2013)
for the price of two (you get one free).

ISBN 978-1-61359-330-1 (427 pages)
$49.98

ISBN 978-1-61359-329-5 (6.8 MB)
$39.98
You can also order Excel Conditional Formatting by calling our order line: 307-200-0450.