Excel 2007 Custom Formats (Table of Contents)
Summary: The fundamental building block to displaying your data is the feature known as custom formats. Here is the table of contents for Excel 2007 Custom Formats, Second Edition, the definitive guide to mastering the formatting power in Excel.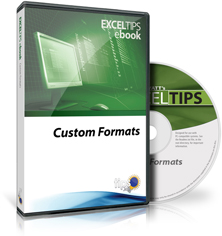 Excel 2007 Custom Formats, Third Edition, includes 68 information-packed pages that will help you discover and master the custom formatting capabilities of Excel. The following is the Table of Contents:
Introduction
A Word about Versions
Need More Tips?
Sharing this E-Book
Custom Formatting Basics
Understanding Custom Formatting
Understanding Number Formatting Codes
Understanding Date and Time Formatting Codes
Understanding Color and Conditional Formatting Codes
Adding a Custom Format to those Offered by Excel
Saving Custom Formats
Creating Two-Line Custom Formats
Too Many Formats when Sorting
Numeric Formatting
Displaying Negative Percentages in Red
Altering the Displayed Format of Numbers to the Nearest 100
Formatting Currency
Getting Rid of Leading Zeros in a Number Format
Notation for Thousands and Millions
Entering Data as Thousands
Custom Formats for Scientific Notation
Handling Negative Numbers in a Complex Custom Format
Incrementing Numeric Portions of Serial Numbers
Stopping Fractions from Reducing
Numbers in Base 12
Moving Custom Formats to Number Formatting Categories
Date and Time Formatting
Unique Date Displays
Entering Dates without Separators
Dates with Periods
Macro for Month Name
Sorting Dates by Month
Entering Large Time Values
Displaying a Result as Minutes and Seconds
Formatting for Hundredths of Seconds
Dealing with Small Time Values
Using an Input Mask
Formatting Techniques and Ideas
Easy Value Hiding
Hiding Individual Cells
Hiding a Hyperlink on a Printout
Using a Custom Format to Add Dashes
Partially Blocking Social Security Numbers
Superscripts in Custom Formats
Engineering Calculations
Changing the Percent Symbol
Inserting a Radical Symbol
Decimal Tab Alignment
AutoFilling Numbers with a Trailing Period
Adjusting Cell Margins for More White Space
Labeling X-Y Scatter Plots
Description
CD
Download
Excel 2013 Custom Formats

ISBN 978-1-61359-308-0 (74 pages)
$24.99

ISBN 978-1-61359-307-3 (1.0 MB)
$19.99
Excel 2010 Custom Formats

ISBN 978-1-61359-306-6 (74 pages)
$24.99

ISBN 978-1-61359-305-9 (1.4 MB)
$19.99
Excel 2007 Custom Formats

ISBN 978-1-61359-304-2 (75 pages)
$24.99

ISBN 978-1-61359-303-5 (1.3 MB)
$19.99
Excel Custom Formats Ribbon Pack

Great deal! Three versions
(Excel 2007, 2010, and 2013)
for the price of two (you get one free).

ISBN 978-1-61359-310-3 (223 pages)
$49.98

ISBN 978-1-61359-309-7 (3.7 MB)
$39.98
You can also order Excel 2007 Custom Formats by calling our order line: 307-200-0450.