Excel 2010 Graphics and Charts (Table of Contents)
Summary: Excel allows you to add all sorts of graphics to your worksheets or to convert your data into meaningful charts. Here's the table of contents for the definitive guide to adding the persuasive power of charts and graphics to your worksheets.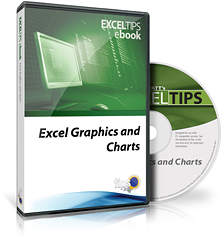 Excel 2010 Graphics and Charts, Third Edition, includes 171 pages jam-packed with info that will help you create, manage, and work with graphics and charts. The following is the Table of Contents:
Introduction
A Word about Versions
Need More Tips?
Sharing this E-Book
Adding Graphics to Worksheets
Inserting a Picture in Your Worksheet
Adding Graphics to a Header or Footer
Capturing a Screen
Taking a Picture
Inserting Video into Worksheets
Creating an Organization Chart
Moving and Positioning Graphics
Selecting Drawing Objects
Moving Drawing Objects
Nudging a Graphic
Sending Drawing Objects to the Back or Front
Specifying an Order for Drawing Objects
Positioning Graphics Evenly
Grouping and Ungrouping Objects
Placing a Picture in a Comment
Modifying and Formatting Graphics
Editing Graphics Objects
Cropping Graphics
Changing the Size of a Graphic
Symmetric Resizing of Graphics
Making an Image Color Transparent
Adding Drop Shadows
Hiding Graphics
Resize Graphics Outside of Excel
Protecting a Graphic
Deleting All Graphics
Exporting a Graphics Group
Web Graphics and Your Worksheets
Pop-Up Comments for Graphics
Extracting URLs from Hyperlinked Images
ScreenTip for an Image
Graphics and Your Data
Sorting with Graphics
Displaying Images based on a Result
Hiding Graphics when Filtering
Deleting Graphics when Deleting a Row
Getting Rid of Fixed Objects
Graphics as Watermarks
Watermarks in Excel
Inserting a Watermark behind Merged Cells
Non-Tiled Background Pictures
Using Macros with Graphics
Positioning a Graphic in a Macro
Copying Pictures with a Macro
Pasting a Graphic to Multiple Worksheets
Assigning Macros to Graphics
Unhiding or Listing All Objects
Creating a Photo Catalog from a Folder of Photos
Removing Pictures for a Worksheet in VBA
Moving Comment Background Pictures to Cells
Shifting Objects Off a Sheet
Determining Mouse Cursor Coordinates On a Graphic
Changing the Comment Indicator Color
Creating Shapes
Creating a Drawing Object
Drawing Lines
Drawing Simple Objects
Duplicating Drawing Objects
Quickly Duplicating Drawing Objects
Formatting Shapes
Changing a Shape
Rotating a Drawing Object
Flipping a Drawing Object
Changing the Size of a Drawing Object
Filling a Drawing Object
Understanding Fill Effects
Setting the Default Fill Color for a Shape to None
Changing How Arrows Look
Styles for Lines, Dashes, and Arrows
Setting Default Attributes for Lines and Arrows
Changing Line Color in a Drawing Object
Pictures inside Shapes
Adding Text to a Shape
Pulling Text from a Cell and Placing It in a Shape
Rounded Corners on Cells
Using Text Boxes
Using Text Boxes
Sizing Text Boxes and Cells the Same
Adding a Drop Shadow to a Text Box
Counting All Characters
Finding Text in Text Boxes
Finding and Replacing in Text Boxes
Resizing a Text Box in a Macro
Placing Text Box Text into a Worksheet
Adding Text Boxes to Charts
Changing Text in Text Boxes on a Chart
Using the Camera
Adding the Camera
Taking Pictures
Multiple Print Areas on a Single Printed Page
Using the Camera in VBA
Creating Charts
Creating a Chart
Make that Chart Quickly!
Changing Chart Location
Creating a Log/Log Chart
Understanding Custom Chart Templates
Creating Custom Chart Templates
Using Go To to Jump to a Chart Sheet
Controlling Chart Gridlines
Creating Venn Diagrams with Excel Data
Creating Sparklines
Modifying and Formatting Charts
10 Commandments for Excel Charts
Tip 1: KISS
Tip 2: Use Color to Emphasize, not Blind
Tip 3: White Is the New Black
Tip 4: Axis Labels Should be Horizontal
Tip 5: Don't Go All Fancy with Fonts
Tip 6: Don't Lie with Your Charts
Tip 7: Alignment
Tip 8: Location, Location, Location
Tip 9: Know Your Audience
Tip 10: Pie Charts are Fools Gold
Selecting Fonts for a Chart
Unselecting a Chart Item
Colorizing Charts
Changing Chart Types
Changing Chart Size
Controlling the Plotting of Empty Cells
Using Chart Titles
Using Dynamic Chart Titles
Turning the Legend On and Off
Moving a Chart's Legend
Putting a Chart Legend On Its Own Page
Adjusting the Order of Items in a Chart Legend
Formatting the Border of a Legend
Adding Data Labels to Your Chart
Labeling X-Y Scatter Plots
Locking Callouts to a Graph Location
Moving Groups of Data Labels at One Time
Formatting How an Axis Appears
Changing Axis Tick Marks
Changing the Axis Scale
Modifying Axis Scale Labels
Two-Level Axis Labels
Numeric Value and Percentage Value in a Graph Column
Unwanted Weekend Dates in Chart
Plotting Times of Day
Graphically Charting Geographic Data
Adjusting Your View of 3-D Graphs
Exploded Pie Chart Sections
Deleting a Chart
Working with Chart Data
Excluding Some Data from a Chart
Dynamic Data Based on Chart Changes
Automatically Creating Charts for Individual Rows in a Data Table
Smoothing Out Data Series
Adjusting Trendlines in a Chart
Using Graphics to Represent Data Series
Reordering the Display of a Data Series
Easily Changing Chart Data Ranges
Automatically Updating Charts for Additional Data
Identifying Scatter Plot Points
Reading Values from Graphs
Negatives in Pie Charts
Positive and Negative Colors in a Chart
Converting Charts to GIF Files
Excel Charts in PowerPoint
Embedding an Excel Chart in a Word Document
Copying a Chart and Related Shapes to a Word Document
Printing Charts
Printing a Chart
Preparing a Chart Sheet for Printing
Printing a Chart across Multiple Pages
Exporting Black and White Charts
Using Macros with Charts
Creating Charts in VBA
Specifying Chart Sizes
Specifying the Size of Chart Objects
Unlocking Charts
Changing Elements in Lots of Charts at One Time
Detecting Types of Sheets in VBA
Hyperlinks to Charts
Description
Download
CD
Excel 2013 Graphics and Charts

ISBN 978-1-61359-337-0 (2.4 MB)
$24.97

ISBN 978-1-61359-338-7 (178 pages)
$34.97
Excel 2010 Graphics and Charts

ISBN 978-1-61359-335-6 (4.7 MB)
$24.97

ISBN 978-1-61359-336-3 (171 pages)
$34.97
Excel 2007 Graphics and Charts

ISBN 978-1-61359-333-2 (4.1 MB)
$24.97

ISBN 978-1-61359-334-9 (170 pages)
$34.97
Excel Graphics and Charts Ribbon Pack

Great deal! Three versions
(Excel 2007, 2010, and 2013)
for the price of two (you get one free).

ISBN 978-1-61359-339-4 (11.2 MB)
$49.97

ISBN 978-1-61359-340-0 (519 pages)
$59.97
You can also order Excel Graphics and Charts by calling our order line: 307-200-0450.