WordTips Menu 2016 Archive (Table of Contents)
Summary: WordTips is a weekly newsletter that provides tips on how to best use Microsoft's word processing software. At the beginning of every year we put together an archive of all the tips published the previous year. Here is the complete table of contents for the archive for the WordTips (menu) newsletter for the year 2016.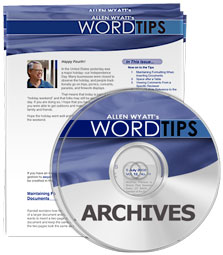 WordTips Menu 2016 Archive includes hundreds of valuable tips. The following is the Table of Contents for the archive:
Introduction
What's In This E-Book?
Need More Tips?
A Special Note of Thanks
Sharing this Document
General Tips
Changing from Pirated to Permitted Software
Word Won't Maximize
Shortcut for Full-Screen Mode
Turning Off Background Repagination
Changing Toolbar Location
Locking the Position of Tools
Too-Big Toolbars
Resetting Word Menus
Changing Dialog Box Pull-Down List Item Order
Stopping Smart Tags from Being Saved
Hiding Smart Tags
Automatically Updating Fields and Links
Helpful Pop-up Screen Tips
Editing Tips
Jumping to the End of a Word
Understanding Smart Cut and Paste
Differences Between Deleting, Clearing, and Cutting
Quickly Moving Text with the Mouse
Extra Space after Quotation Mark when Pasting
Jumping to a Line Number
Collecting Highlighted Text Selections
Transposing Letters
Transposing Two Paragraphs
Capitalizing the Word "I"
Two Keys with the Press of One
Navigating In the Document Map
Quickly Inserting the Date Your Way
Generating a Count of Word Occurrences
Searching Tips
Searching for Character Formatting
Searching for Paragraph Formatting
Searching for Text Not Using a Certain Style
Finding Formatted Bulleted Paragraphs
Finding the Previous Occurrence
Replacing Text with a Graphic
Specifying a Number of Matches
Markup Tips
Accepting All Formatting Changes
Turning Track Changes Off for Selected Areas
Changing Existing Highlighting
Adding Comments to Your Document
Changing the User Name in Existing Comments
Getting Rid of "Comment" in Comments
Comment Dates Updated Inappropriately
Auto Tips
Backing Up Your AutoCorrect Entries
Making Sure Word Doesn't Capitalize Anything Automatically
Using AutoCorrect to Start Macros
Editing AutoCorrect ACL Files
Superscripted Registered Trademark Symbol
AutoText Behaving Erratically
Character Formatting Tips
Copying Character Formatting
Font Substitution Problems
Changing the Height of a Font
Creating Custom Underlines
Quickly Displaying Formatting Specs
Changing the Highlighting Color
Expanding Colors Available for Highlighting
Formatting Page Numbers
Consistent Formatting Between Word Versions
Paragraph Formatting Tips
Adding Borders to Paragraphs
Creating a Double Hanging Indent
Precisely Adjusting Tab Stops
Understanding Decimal Tabs
No Space Before at the Top of a Page
Eliminating "Before Spacing" at the Top of a Page
Adding Line Numbers
Turning Off Line Numbering
Setting the Starting Line Number
Numbering on New Paragraph Doesn't Work as Expected
Following a Number with Different Characters
Changing the Types of Numbers in a Numbered List
Outline Numbering
Section and Document Formatting Tips
Quickly Displaying the Page Setup Dialog Box
Changing Page Margins
Understanding the Gutter Margin
Using a Single-Column Heading in a Multi-Column Layout
Moving Section Breaks
Moving Breaks Quickly
Getting Rid of Section Breaks, but Not Section Formatting
Removing Breaks
Using Text as a Page Border
Turning Off Default First Page Numbering
Page Numbers are Zeros
Styles and Templates Tips
One Change Affects Everything
Duplicating Styles without Dependency
Renaming a Style
Preventing Changes to Styles in Documents
Unwanted Styles
Getting Rid of Modify Style Message
How Word Treats Normal.dot
Determining the Template Attached to a Document
Batch Template Changes
Tables Tips
Deleting Cells
Merging Table Cells
Viewing Formulas in Table Cells
Repeating Table Rows with Manual Page Breaks
Last-Row Border Formatting
Distributing Columns Evenly
Deleting Table Columns with Track Changes Turned On
Validating Data
Getting Rid of Background Color in All Tables
Suppressing a Zero In a Calculated Sum
Converting Tables to Charts
Finding an Optimal Table Height
Footnotes and Endnotes Tips
Disappearing Footnotes
Center-column Footnotes
Footnotes in Two Columns
Brackets around Footnote References
Changing the Footnote Continuation Notice
Deleting Footnotes and Endnotes
Inserting Endnotes
Converting to Automatic Endnotes
Changing the Way Endnotes Are Numbered
Putting Your Index after Your Endnotes
Header and Footer Tips
Positioning Headers and Footers
Missing Header and Footer Toolbar
Headers and Footers in Subdocuments
Changing the Type of Page Numbers Used in Headers or Footers
Fields and Forms Tips
Displaying Fields
Deleting All Fields
Protecting Fields
Keeping Fields and Text Together
Limiting Directories in the FILENAME Field
Using RD Fields with Chapter Headings
Including Section Numbers in an Index
Inserting a Document's Size
Understanding Default DATE Field Formatting
A Quick-and-Dirty Word Count
Standard Text before a Sequence Number
Counting Fields in a Document
Referencing Fields in Another Document
Working with Form Fields
Updating Fields in Locked Forms
Entering Calculations in a Form Field
Signing a Protected Form
Printing Tips
Printing without Headings
Printing a Document's Mirror Image
Specifying a Paper Tray in a Macro
Unwanted Lines on Printout
Removing Comment Brackets for Printing
Automatic Font Color Won't Print Properly
Grouping Records in a Mail Merge
Conditional Processing During a Mail Merge
Merging Formatted Data
Getting Rid of Spaces in Merged Data
Merging Graphics into Word Documents
Saving an Envelope for Future Use
Technique for Adding a Text Box to an Envelope
Picking a Starting Label
Adding Addresses To a Set of Address Labels
Graphics Tips
Capturing a Screen
Selecting a Graphic that is Behind Text
Understanding Page Border Art
Choosing an Insert Method for Pictures
Placing Many Graphics in a Document
Vertical Alignment of an Inline Graphic
Hiding Graphics
Curving Text Around the Edge of a CD
Dragging and Dropping Pictures in a Document
Printing Graphic Thumbnails
Determining Picture Size in a Macro
Keeping a Picture Title with the Picture
Understanding WordArt
Changing Color in WordArt
Removing the Box from a Text Box
Creating Sideheads
Wrapping Text around a Graphic in a Text Box
Files Tips
Changing the Startup Directory
Opening a Document as Read-Only
Creating a Document Clone
Renaming a Document
Size Limit for Documents
Last Document Saves Not Saved
Positioning the Cursor in a New Document
Changing Information in Multiple Documents
Password Protection Loophole
Cannot Convert a Document File to a Readable Document
Dates Updating when Converting
Online and Other Programs Tips
Building Your Own Web Page
Controlling the Program Used with Hyperlinked Images
Working with Document Links
Updating Document Links
Word Link to Create a New Excel Workbook
Spelling and Grammar Tips
Quickly Accessing Spelling and Grammar Options
Turning Off Spell Checking
Spell-Checking Abbreviations
Spell Check Misses Misspelled Words
Dictionary Shortcut Key
Creating a Spelling Exclusion List
Separating Grammar-Checking from Spell-Checking
Tools Tips
Ignoring Hyphens in Word Counts
Wrong Characters Printed in Equations
Turning Off Figure Caption Numbering
Condensing Figure Caption References
Inserting a Voice Annotation in Your Document
Using the Discussion Pane
Filtering a Discussion
Using Multiple Tables of Contents
Sorting a Text Selection
Reusing a Bookmark
Protecting Bookmarks
Removing All Bookmarks
Macros Tips
Disabled Macros
Changing a Macro Description
Understanding Functions
Passing Parameters to Functions
Using Message Boxes
Hiding Macros
Printing the Active Document from a Macro
Finding and Changing Word's Internal Commands
Updating an Entire TOC from a Macro
Determining Word Frequency
Numbers to Text, Take Three (Over a Million)
Bypassing the Startup Macro
Automatically Running a Macro
Order Your WordTips Archives Today!
Each download item shown below includes the size of the download file. If you have a slow connection to the Internet, you can save precious time by ordering your archives on CD-ROM, instead of as a download.

The WordTips archives include PDF documents. To read these documents, you need to have either Adobe Acrobat or Adobe Reader on your system. Adobe Reader is free to download; click the link to get the latest version.
To celebrate the release of the WordTips archives for 2019, for a limited time (through January 22, 2020) you can download your own copy of the archives for any of the following years at 30% off the regular price. Get your discount; place your order today!
Archive Year
Dates Covered
Tips
CD
Download
WordTips Menu 2015
(for Word 97, 2000, 2002, and 2003 users)
3 Jan 15 — 26 Dec 15
208 tips

(217 pages)


$32.99

$23.06

(3.3 MB)


$24.99

$17.49
WordTips Ribbon 2015
(for Word 2007, 2010, 2013, and 2016 users)
3 Jan 15 — 26 Dec 15
416 tips

(526 pages)


$32.99

$23.09

(7.2 MB)


$24.99

$17.49
WordTips Menu 2016
(for Word 97, 2000, 2002, and 2003 users)
2 Jan 11 — 31 Dec 16
212 tips

(248 pages)


$32.99

$23.09

(3.8 MB)


$24.99

$17.49
WordTips Ribbon 2016
(for Word 2007, 2010, 2013, and 2016 users)
2 Jan 11 — 31 Dec 16
207 tips

(294 pages)


$32.99

$18.49

(4.6 MB)


$24.99

$12.49
WordTips Menu 2017
(for Word 97, 2000, 2002, and 2003 users)
7 Jan 17 — 30 Dec 17
208 tips

(221 pages)


$32.99

$23.09

(3.3 MB)


$24.99

$17.49
WordTips Ribbon 2017
(for Word 2007, 2010, 2013, and 2016 users)
7 Jan 17 — 30 Dec 17
208 tips

(301 pages)


$32.99

$23.09

(4.6 MB)


$24.99

$17.49
WordTips Menu 2018
(for Word 97, 2000, 2002, and 2003 users)
6 Jan 18 — 29 Dec 18
208 tips

(258 pages)


$32.99

$23.09

(4.4 MB)


$24.99

$17.49
WordTips Ribbon 2018
(for Word 2007, 2010, 2013, 2016, 2019, and Office 365 users)
6 Jan 18 — 29 Dec 18
248 tips

(341 pages)


$32.99

$23.09

(5.9 MB)


$24.99

$17.49
WordTips Menu 2019
(for Word 97, 2000, 2002, and 2003 users)
5 Jan 19 — 28 Dec 19
208 tips

(226 pages)


$32.99

$23.09

(4.0 MB)


$24.99

$17.49
WordTips Ribbon 2019
(for Word 2007, 2010, 2013, 2016, 2019, and Office 365 users)
5 Jan 19 — 28 Dec 19
311 tips

(467 pages)


$32.99

$23.09

(8.3 MB)


$24.99

$17.49
You can also order any of the WordTips archives by calling our order line: 307-200-0450.