ExcelTips Menu 2016 Archive (Table of Contents)
Summary: ExcelTips is a weekly newsletter that provides tips on how to best use Microsoft's word processing software. At the beginning of every year we put together an archive of all the tips published the previous year. Here is the complete table of contents for the archive for the ExcelTips (menu) newsletter for the year 2016.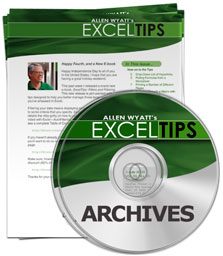 ExcelTips Menu 2016 Archive includes hundreds of valuable tips. The following is the Table of Contents for the archive:
Introduction
What's In This E-Book?
Need More Tips?
A Special Note of Thanks
Sharing this Document
General Tips
Changing Excel's Background Color
Controlling Display of the Scroll Bars
A Shortcut for Switching Focus
Viewing Your Work Full-Screen
Workaround for Multiple Rows of Worksheet Tabs
Speeding Up Large Worksheets
Forcing Manual Calculation For a Workbook
Going to the Corners of a Selected Range
Removing Items from a Context Menu
Running Out of Memory
Weird Mouse Shortcut
Finding the Analysis ToolPak Add-In
Disabling the Insert Key
Changing the Color Used to Denote Selected Cells
Backing Up Your Customized Toolbars
Rounding Religious Wars
Random Resetting of the Standard Toolbar
Where is Toolbar Customization Information Stored?
Turning Off Error Checking
Library Not Registered Error
Changing Coordinate Colors
Cycling through Colors
Editing Tips
Selecting an Entire Worksheet
Canceling an Edit
Dragging to Clear Cells
Editing the Same Cell in Multiple Sheets
Converting from Relative to Absolute
Finding the End of the Worksheet
Creating New Windows
Character Limits for Cells
Inserting and Deleting Rows in a Protected Worksheet
Controlling Entry Order on Unprotected Cells
Forcing Input to Uppercase
Working in Feet and Inches
Keep Your Headings in View
Cleaning Up Lists
Increasing Undo Levels
Getting Rid of Non-Printing Characters Intelligently
Using Named Formulas or Constants
Inserting Large Numbers of Checkboxes
Quickly Selecting Cells
Copying Formulas using a Pattern
Getting Rid of 8-Bit ASCII Characters
Turning Off Automatic Capitalization
Correcting a Capital Mistake
Deleting Old Data from a Worksheet
Making PROPER Skip Certain Words
Shortening ZIP Codes
Pasting a Comment into Your Worksheet
Formatting Tips
Setting Text Attributes
Changing the Default Font
Using Strikethrough Formatting
Changing Fonts in Multiple Workbooks
Number Formatting Shortcuts
Understanding Column Widths
Double-Clicking to Widen Columns Won't Work
Centering Across Columns
Hiding Columns Based on a Cell Value
Setting Horizontal Alignment
Too Many Cell Formats
Preventing Changes to Formatting and Page Size
Creating Styles
Custom Formatting Tips
Saving Custom Formats
Altering the Displayed Format of Numbers to the Nearest 100
Understanding Number Formatting Codes
Conditional Formatting Tips
Diagonal Borders in a Conditional Format
Conditionally Highlighting Cells Containing Formulas
Changing Shading when a Column Value Changes
Header and Footer Tips
Adding Page Numbers
Putting Spreadsheet Names in Headers or Footers
Dynamic Headers and Footers
Putting a Different Date in a Header
Inserting the Saved Date In a Header or Footer
Web and Online Tips
Using Drag-and-Drop to Create a Hyperlink
Copying a Hyperlink to Lots of Worksheets
Dynamic Hyperlinks in Excel
Tying a Hyperlink to a Specific Cell
Extracting URLs from Hyperlinks
Hyperlinks in Shared Workbooks
Converting to Hyperlinks in a Shared Workbook
Getting Rid of All Hyperlinks
Getting Rid of Hyperlinks without a Macro
Removing Hyperlinks without a Macro
ScreenTip for an Image
Generating a Web Page
Setting Web Fonts
Worksheet Tips
Moving a Worksheet to Another Workbook
Freezing Top Rows and Bottom Rows
Using a Protected Worksheet
Checking Lock Status of Cells
Shifting Objects Off a Sheet
Locking Worksheet Names
Counting the Times a Worksheet is Used
Changing the Color of Worksheet Gridlines
Worksheet Function Tips
Understanding the VLOOKUP Function
Cleaning Text
Exact Matches with DSUM
Counting Displayed Cells
Checking for Text
Getting the Name of the Parent Workbook
Formula Tips
Rounding to Two Significant Digits
Ignoring N/A Values in a Sum
Calculating Monthly Interest Charges
Pulling a Phone Number with a Known First and Last Name
Filling References to Another Workbook
Errors when Subtracting
Adding a Missing Closing Bracket
Finding the Nth Occurrence of a Character
Adjusting Test Scores Proportionately
Counting Cells According to Case
Rounding To the Nearest Even Integer
Averaging Values for a Given Month and Year
Determining Business Quarters from Dates
Generating Double-Digit Random Numbers
Combinations for Members in Meetings
Returning Least-Significant Digits
Finding the First Non-Digit in a Text Value
Pulling Formulas from a Worksheet
Excluding Values from Averaging
Referencing the Last Six Items in a Formula
Checking for Proper Entry of Array Formulas
PivotTable Tips
Refreshing PivotTable Data
Formatting a PivotTable
Setting Stable Column Widths in a PivotTable
Suppressing Zero Values in PivotTables
Sorting and Filtering Tips
Sorting Letters and Numbers
Sorting with Graphics
Too Many Formats when Sorting
Sorting Data Containing Merged Cells
Sorting Data on Protected Worksheets
Finding Rows with Values in Two Columns
Date and Time Tips
Dates with Periods
Counting Jobs Completed On a Date
Modifying Default Year for Dates
Calculating Averages by Date
Entering Large Time Values
Inserting the Current Time with Seconds
Displaying Negative Times
Converting UTC Times to Local Times
Converting Time Notation to Decimal Notation
Graphics Tips
Positioning Graphics Evenly
Hiding Graphics
Drawing Simple Objects
Duplicating Drawing Objects
Quickly Duplicating Drawing Objects
Flipping a Drawing Object
Adjusting Picture Appearance
Resize Graphics Outside of Excel
Using Text Boxes
Using the Camera in VBA
Charting Tips
Positive and Negative Colors in a Chart
Exporting Black and White Charts
Creating Venn Diagrams with Excel Data
Negatives in Pie Charts
Reordering the Display of a Data Series
Using Graphics to Represent Data Series
Formatting Axis Patterns
Changing Axis Tick Marks
Two-Level Axis Labels
Moving a Chart's Legend
Locking Callouts to a Graph Location
Creating Charts in VBA
Printing Tips
Printing without Opening
Automatic Selection of Portrait or Landscape
Printing Only Non-Blank Worksheets
Automatically Printing a Range
Printing Multiple Pages On a Piece of Paper
Printing a Number of Different Pages
Printing an Entire Workbook by Default
Hiding Errors on Printouts
Workbook and File Tips
Closing a Read-Only Workbook
Sudden Increases in Workbook File Size
Saving a Workbook with a Preview
Correctly Saving Delimited Files
Getting Input from a Text File
Disabling Shift Key Use when Opening a Workbook
Tools Tips
Evaluating Formulas
Using Data Forms
Printing Reports
Adding Buttons to Your Worksheet
Changing the Office Assistant
Searching a Workbook by Default
Increasing the Capacity of AutoCorrect
Setting Spell-Checking Options
Adjusting Spell Check for Internet Addresses
Spell-checking Uppercase Words
Spell-Checking in a Protected Worksheet
Backing Up Custom Dictionaries
Single-Use Drop-Down List
Creating Dependent Drop-Lists
Macro Tips
Deleting a Macro
Removing All Macros
Getting Rid of the "Enable Macros" Notice
Understanding the For ... Next Structure
Trouble Recording Paste Special Formula
Using Message Boxes
Displaying the Print Dialog Box in a Macro
Aborting a Macro and Retaining Control
Moving Macros from the Personal Workbook
Playing with a Full Deck
Deriving an Absolute Value in a Macro
Digital Signatures for Macros
Converting Numbers Into Words
Jumping to the Start of the Next Data Entry Row
Macro Runs Slowly, but Steps Quickly
Searching for Leading Apostrophes
Running a Macro when a Worksheet is Deactivated
Counting Precedents and Dependents
Positioning a Column on the Screen
Storing a User's Location before Running a Macro
Renaming a File
Order Your ExcelTips Archives Today!
Each download item shown below includes the size of the download file. If you have a slow connection to the Internet, you can save precious time by ordering your archives on CD-ROM, instead of as a download.

The ExcelTips archives include PDF documents. To read these documents, you need to have either Adobe Acrobat or Adobe Reader on your system. Adobe Reader is free to download; click the link to get the latest version.
To celebrate the release of the ExcelTips archives for 2018, for a limited time (through January 16, 2019) you can download your own copy of the archives for any of the following years at 30% off the regular price. Get your discount; place your order today!
Archive Year
Dates Covered
Tips
CD
Download
ExcelTips Menu 2014
(for Excel 97, 2000, 2002, and 2003 users)
4 Jan 14 — 27 Dec 14
312 tips

(357 pages)


$32.99

$23.09

(4.4 MB)


$24.99

$17.49
ExcelTips Ribbon 2014
(for Excel 2007, 2010, and 2013 users)
4 Jan 14 — 27 Dec 14
415 tips

(524 pages)


$32.99

$23.09

(8.2 MB)


$24.99

$17.49
ExcelTips Menu 2015
(for Excel 97, 2000, 2002, and 2003 users)
3 Jan 15 — 26 Dec 15
208 tips

(205 pages)


$32.99

$23.09

(3.4 MB)


$24.99

$17.49
ExcelTips Ribbon 2015
(for Excel 2007, 2010, 2013, and 2016 users)
3 Jan 15 — 26 Dec 15
416 tips

(499 pages)


$32.99

$23.09

(6.1 MB)


$24.99

$17.49
ExcelTips Menu 2016
(for Excel 97, 2000, 2002, and 2003 users)
1 Jan 11 — 31 Dec 11
211 tips

(236 pages)


$32.99

$23.09

(3.6 MB)


$24.99

$17.49
ExcelTips Menu 2017
(for Excel 97, 2000, 2002, and 2003 users)
1 Jan 17 — 30 Dec 17
208 tips

(241 pages)


$32.99

$23.09

(3.1 MB)


$24.99

$17.49
ExcelTips Ribbon 2016
(for Excel 2007, 2010, 2013, and 2016 users)
1 Jan 11 — 31 Dec 11
212 tips

(259 pages)


$32.99

$23.09

(3.2 MB)


$24.99

$17.49
ExcelTips Ribbon 2017
(for Excel 2007, 2010, 2013, and 2016 users)
1 Jan 17 — 30 Dec 17
208 tips

(276 page)


$32.99

$23.09

(3.8 MB)


$24.99

$17.49
ExcelTips Menu 2018
(for Excel 97, 2000, 2002, and 2003 users)
6 Jan 18 — 29 Dec 18
208 tips

(250 pages)


$32.99

$23.09

(3.9 MB)


$24.99

$17.49
ExcelTips Ribbon 2018
(for Excel 2007, 2010, 2013, 2016, 2019, and Office 365 users)
6 Jan 18 — 29 Dec 18
249 tips

(321 pages)


$32.99

$23.09

(4.0 MB)


$24.99

$17.49
You can also order any of the ExcelTips archives by calling our order line: 307-200-0450.