WordTips Menu 2017 Archive (Table of Contents)
Summary: WordTips is a weekly newsletter that provides tips on how to best use Microsoft's word processing software. At the beginning of every year we put together an archive of all the tips published the previous year. Here is the complete table of contents for the archive for the WordTips (menu) newsletter for the year 2017.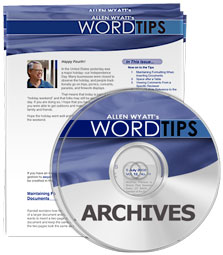 WordTips Menu 2017 Archive includes hundreds of valuable tips. The following is the Table of Contents for the archive:
Introduction
What's In This E-Book?
Need More Tips?
A Special Note of Thanks
Sharing this Document
General Tips
Arranging Document Windows
Viewing Document Statistics
Changing How Word Presents Your Document
Changing the Insertion Point Cursor
Status Bar Icons
Avoiding the Update Links Message
Fonts in the Font Drop-Down List
Understanding ASCII and ANSI Characters
Notification when Caps Lock is Active
Stubborn Thumbnails
Getting Word to Remember the Default Date and Time Format
Removing Errant Buttons
Changing ToolTips for a Macro Button
Setting User Information
Resetting Toolbars to Their Default
Resetting Menus to Their Default
Editing Tips
Understanding Nonprinting Characters
Symbols for Non-Printing Characters
Understanding Click and Type
Inserting a Special Symbol
Selecting Sentences
Selecting an Entire Section
Jumping to a Section
Jumping to the End without Repaginating
Automatically Determining a Due Date
Pasting a Hyperlink
Inserting Different Dashes
Searching Tips
When Replace Doesn't Work
Initiating a New Search
Searching for Styles
Finding Text Not Using a Particular Font
Saving Find and Replace Operations
Selective Formatting using Find and Replace
Smart Quotes are Incorrectly Replaced
Searching for Multi-Byte Hex Codes
Setting Table Values to Three Decimal Places
Finding Quoted Text in VBA
Markup Tips
Setting Default Options for Track Changes
Rejecting Changes in a Document
Select All Changes by a Particular Reviewer
Changing the Comment Color
Jumping To a Comment
Comments Use Tiny Font when Printed
Comments In Text Boxes
Deleting All Comments
Comparing Document Versions
Auto Tips
Turning Off Word's Second Guessing with Quote Marks
Organizing AutoText Entries
AutoText Limits
Replacing All AutoCorrect Entries
Managing the AutoCorrect List
Using AutoComplete Tips
Character Formatting Tips
Understanding Monospace Fonts
Changing Character Color
Creating a Drop Cap
Using the Highlighter
Applying Formatting to Words
Underlining Section References Automatically
Adjusting the Width of Characters
Copying Formats
Discovering the RGB Value of a Custom Text Color
Paragraph Formatting Tips
Copying Paragraph Formatting with the Mouse
Setting Tab Stops Using the Tabs Dialog Box
Lining Up Numbered List Numbers
Problems Using Words as Bullets
Numbering Only Certain Lines
Adding Paragraph Numbering
The Line that Won't Go Away
Converting Automatic Numbering to Manual Numbering
Section and Document Formatting Tips
Changing Sections
Formatting a Cover Page
Rotating a Page of Text
Determining a Column Width
Setting Up Multi-page Columns
Styles and Templates Tips
Understanding Styles
Preventing Styles from Changing
TOC Heading Numbers Always Show in Bold
Paragraph Numbers in a TOC
Can't Select Style Instances
Saving a Preview with Your Template
Updating Many Template References
Finding Where Templates Are Stored
Continually Saving Normal.dot
Tables Tips
Putting Tables within Margins
Adjusting Column Widths on Joined Tables
Splitting Table Cells
Unwanted Numbering on Pasted Tables
Automatic Initial Capitals in Tables
Quickly Inserting Table Rows
Repeating Rows for a Table Footer
Counting Values in Table Cells
Rounded Table Edges
Footnotes and Endnotes Tips
Viewing Footnotes
Viewing Footnotes and Endnotes
Controlling Footnote Placement
Different Layouts for Footnotes
Jumping to a Relative Footnote
Copying and Moving Footnotes and Endnotes
Changing the Footnote Separator
Printing without Footnotes
Selectively Changing Endnotes to Footnotes
Header and Footer Tips
Editing Headers and Footers
Odd & Even Headers and Footers
Including a Printer's Name in a Footer
Pulling Headers and Footers from Other Files
Fields and Forms Tips
Inserting the User's Address
Inserting the User's Name
Adding a Dynamic Total in Your Document
Inserting the Document Revision Number
Copying Form Field Contents
Using the GotoButton Field
PRIVATE Fields in WordPerfect Documents
Field Reference to Number of Prior Pages
Understanding DATE Field Formatting
Stopping Enter from being Pressed In a Form
Saving Form Data for a Database
Printing Tips
Multi-Page Print Preview
Setting the Default Print Preview Zoom Factor
Printing Very Large Paper Sizes
Margins Incorrect When Printing
Printing Summary Information
Printing Custom Properties
Printing a Key Assignment List
Printing Shortcut Key Assignments
Sending Printer Commands
Changing Print Dialog Box Defaults
Forcing Printouts to Black and White
Selecting Printing of Color Pictures
Preparing Files for a Commercial Printer
Creating a Mail Merge Data File
Proper Comparisons for Dates in Merge Fields
Merging Only a Date from Access
Merging and Printing
Speeding Up Mail Merges
Can't Merge Alphanumeric Data Correctly
Getting Rid of Blank Labels in a Filtered Merge
Making Use of Extra Labels
Delivery Address Won't Print on Envelopes
Adding Text to an Envelope
Increasing Envelope Address Lines
Adding a Horizontal Watermark with a PostScript Printer
Adding a Diagonal Watermark with a PostScript Printer
Printing via Macro without Messages
Graphics Tips
A Picture Is Worth a Thousand Words
Displaying Thumbnails and Full-Size Images
Changing an AutoShape
Changing Compression Print Resolution
Finding an Invisible Text Box
Creating Usable Figure Captions
Turning Off Borders for Data Series
Files Tips
Opening Multiple Documents at Once
Creating Multiple Blank Documents in One Step
An Automatic File Name
Using Header Information as the Filename
Deleting the Open Document File
Keeping the Flash Drive Occupied
Making Backup Copies
Modifying the Backup Copy File Name
Controlling Names of Backup Files
Opening the Document Map by Default
Opening a Text File and Template from the Command Line
Read-Only Documents without a Password
Opening Word 2007 Files in Older Versions
Can't Save Edited Document
Saving Portions of Files
Appending to a Non-Document Text File
Determining the Length of a Non-Document Text File
Removing a Subdocument From a Master Document
Online and Other Programs Tips
Creating Hyperlinks from E-mail Addresses
Creating a Hyperlink to a Specific Page
Associating a Name with a Position
Closing Documents after a Hyperlink
Checking for Valid Hyperlinks
Spelling Errors on Internet Addresses
Pop-up Windows in Word
Embedding an Excel Worksheet
Reliable Conversion to WordPerfect
Spelling and Grammar Tips
Spell-Checking from the Keyboard
Setting Grammar-Checking Options
Enforcing a Do-Not-Use Word List
Updating the Spelling Exclusion List Automatically
Symbols in Words Added to the Dictionary
Tools Tips
Odd Sorting
Sorting Single-Column Addresses
Randomly Resetting Numbering
Setting Defaults in Cross-reference Dialog Box
Changing between English Variants
Finding Related Words
Random OLE Bookmarks
Setting a Default for the Object Browser
Macros Tips
Understanding the While...Wend Structure
Quickly Dumping Array Contents
Converting Strings to Numbers
Making Macros Readily Available
Deriving an Absolute Value
Determining if a Text Selection Exists
Counting Open Document Windows
Disappearing Macro Menus
Adding Smart Quotes through Macro Text
Order Your WordTips Archives Today!
Each download item shown below includes the size of the download file. If you have a slow connection to the Internet, you can save precious time by ordering your archives on CD-ROM, instead of as a download.

The WordTips archives include PDF documents. To read these documents, you need to have either Adobe Acrobat or Adobe Reader on your system. Adobe Reader is free to download; click the link to get the latest version.
To celebrate the release of the WordTips archives for 2019, for a limited time (through January 22, 2020) you can download your own copy of the archives for any of the following years at 30% off the regular price. Get your discount; place your order today!
Archive Year
Dates Covered
Tips
CD
Download
WordTips Menu 2015
(for Word 97, 2000, 2002, and 2003 users)
3 Jan 15 — 26 Dec 15
208 tips

(217 pages)


$32.99

$23.06

(3.3 MB)


$24.99

$17.49
WordTips Ribbon 2015
(for Word 2007, 2010, 2013, and 2016 users)
3 Jan 15 — 26 Dec 15
416 tips

(526 pages)


$32.99

$23.09

(7.2 MB)


$24.99

$17.49
WordTips Menu 2016
(for Word 97, 2000, 2002, and 2003 users)
2 Jan 11 — 31 Dec 16
212 tips

(248 pages)


$32.99

$23.09

(3.8 MB)


$24.99

$17.49
WordTips Ribbon 2016
(for Word 2007, 2010, 2013, and 2016 users)
2 Jan 11 — 31 Dec 16
207 tips

(294 pages)


$32.99

$18.49

(4.6 MB)


$24.99

$12.49
WordTips Menu 2017
(for Word 97, 2000, 2002, and 2003 users)
7 Jan 17 — 30 Dec 17
208 tips

(221 pages)


$32.99

$23.09

(3.3 MB)


$24.99

$17.49
WordTips Ribbon 2017
(for Word 2007, 2010, 2013, and 2016 users)
7 Jan 17 — 30 Dec 17
208 tips

(301 pages)


$32.99

$23.09

(4.6 MB)


$24.99

$17.49
WordTips Menu 2018
(for Word 97, 2000, 2002, and 2003 users)
6 Jan 18 — 29 Dec 18
208 tips

(258 pages)


$32.99

$23.09

(4.4 MB)


$24.99

$17.49
WordTips Ribbon 2018
(for Word 2007, 2010, 2013, 2016, 2019, and Office 365 users)
6 Jan 18 — 29 Dec 18
248 tips

(341 pages)


$32.99

$23.09

(5.9 MB)


$24.99

$17.49
WordTips Menu 2019
(for Word 97, 2000, 2002, and 2003 users)
5 Jan 19 — 28 Dec 19
208 tips

(226 pages)


$32.99

$23.09

(4.0 MB)


$24.99

$17.49
WordTips Ribbon 2019
(for Word 2007, 2010, 2013, 2016, 2019, and Office 365 users)
5 Jan 19 — 28 Dec 19
311 tips

(467 pages)


$32.99

$23.09

(8.3 MB)


$24.99

$17.49
You can also order any of the WordTips archives by calling our order line: 307-200-0450.