ExcelTips Menu 2017 Archive (Table of Contents)
Summary: ExcelTips is a weekly newsletter that provides tips on how to best use Microsoft's word processing software. At the beginning of every year we put together an archive of all the tips published the previous year. Here is the complete table of contents for the archive for the ExcelTips (menu) newsletter for the year 2017.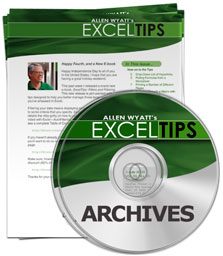 ExcelTips Menu 2017 Archive includes hundreds of valuable tips. The following is the Table of Contents for the archive:
Introduction
What's In This E-Book?
Need More Tips?
A Special Note of Thanks
Sharing this Document
General Tips
Enlarging the Formula Bar
Maintaining the Active Cell
Nifty Zooming
Date Last Edited
Viewing Workbook Statistics
Turning Headers On and Off
Turning Off ScreenTips
Turning Off Names
Turning on Placeholders
Forcing Stubborn Recalculation
Clearing Large Clipboard Entries
Where Is that Name?
Saving All Open Workbooks
Selecting Tabs in Dialog Boxes
Problem with Missing Context Menu Option
Countering Compressed Columns
Deleting a Toolbar
Disabling a Function Key
Editing Tips
Disabling Dragging and Dropping
Changing Multiple Cells at Once
Selecting Noncontiguous Ranges with the Keyboard
Counting Words
Combining Multiple Rows in a Column
Deleting All Names but a Few
Relative References to Cells in Other Workbooks
Formatting Canadian Postal Codes
Automatically Breaking Text
Ensuring Rows and Columns are Empty
Converting Text to Values
Unique Name Entry, Take Two
Turning Off Paste Options
Updating Links in Copied Files
Selecting Formulas
Three-Dimensional Transpositions
Pasting without Updating References
Typing Check Marks into Excel
Removing Spaces
Checking for a Value in a Cell
Using Subtotals and Totals
Turning Off AutoFill for a Workbook
Using Slashed Zeroes
Unwanted Data Changes
Finding Text in Text Boxes
Formatting Tips
Hiding and Unhiding Rows
Hiding Individual Cells
Formatting Currency
Setting Vertical Alignment
Drawing Borders
Adding Diagonal Borders
Changing Cell Patterns
Partially Blocking Social Security Numbers
Selecting a Paper Size
Changing the Percent Symbol
Referencing External Cell Colors
Shading Rows with Conditional Formatting
Notation for Thousands and Millions
No More Custom Formats Can Be Added
Header and Footer Tips
Creating a Footer
Using a Different Footer on Secondary Pages
Last Saved Date in a Footer
Adding Ampersands in Headers and Footers
Adding Graphics to a Header or Footer
Web and Online Tips
Turning Off Hyperlink Activation
Editing a Hyperlink
Getting Rid of Many Hyperlinks
Changing Portions of Many Hyperlinks
Automatic Text in an E-mail
Specifying Your Target Monitor
Refreshing Web Discussions
Worksheet Tips
Copying a Worksheet
Protecting Worksheets from Deletion
Referencing Worksheet Tabs
Getting the Name of the Worksheet Into a Cell
Identifying the Last Cell Changed in a Worksheet
Switching Headers in a Frozen Row
Worksheet Function Tips
Getting Help when Entering Functions
Rounding Numbers
Rounding by Powers of 10
Using the MROUND Worksheet Function
Replacing Dashes with Periods
Colors in an IF Function
Finding the Nth Root of a Number
Counting with Formulas
Finding the Lowest Numbers
Establishing a FLOOR and CEILING
Converting Units
Strange ATAN Results
Formula Tips
Exact Formula Copies
Getting Rid of Everything Except Numbers
Summing Based on Formatting in Adjacent Cells
Summing Based on Part of the Information in a Cell
Counting Employees in Classes
Counting Wins and Losses
Counting Non-Blank Cells
Picking Different Random Numbers from a Range
Separating Names into Individual Columns
Reordering Last Name and First Name
Determining Winners, by Category
Figuring Out the Low-Score Winner
Finding Columns of a Certain Width
Determining a Name for a Week Number
Cell Address of a Maximum Value
Last Non-Zero Value in a Row
Determining Combinations to Make a Total
Incrementing Numeric Portions of Serial Numbers
Only Showing the Maximum of Multiple Iterations
Returning a Weight and a Date
Sorting and Filtering Tips
Sorting a Range of Cells
Sorting Decimal Values
Fixing Odd Sorting Behavior
Incomplete and Corrupt Sorting
Recalculating when Filtering
Filtering to a Date Range in the Past
Filtering for Comments
Setting Up Custom AutoFiltering
Date and Time Tips
How Excel Stores Dates and Times
Changing Excel's Starting Date
Automatically Converting to GMT
Forcing Dates Forward
Counting Dates in a Range
Tombstone Date Math
Calculating Future Workdays
The Last Business Day
Finding the Date Associated with a Negative Value
Using Excel for Timing
Graphics Tips
Setting Default Attributes for Lines and Arrows
Specifying an Order for Drawing Objects
Non-Tiled Background Pictures
Hiding Graphics when Filtering
Pictures in AutoShapes
Pop-Up Comments for Graphics
Charting Tips
Selecting Fonts for a Chart
Adding Text Boxes to Charts
Formatting the Border of a Legend
Labeling X-Y Scatter Plots
Creating a Log/Log Chart
Embedding an Excel Chart in a Word Document
Printing Tips
Selecting a Paper Source
Setting Page Margins
Setting Print Titles
Using Multiple Print Settings
Protecting Print Settings
Disabling Printing
Printing Based on Cell Contents
Printing a Draft Watermark
Repeating Rows on a Printout Except On the Last Page
Printing Row Numbers
Workbook and File Tips
Duplicate Workbooks Opening
Comparing Workbooks
Open Workbooks Don't Display
Accessing a Problem Shared Workbook
Limiting Who Can Delete Data
Accessing Old Excel Data
Loading Unwanted Files at Startup
Importing Many Files Into Excel
Creating Individual Workbooks
Personal.xls File Not Opening
Locked File Puzzle
Comment Tips
Editing Comments
Finding and Replacing Text in Comments
Moving Comment Background Pictures to Cells
Linking Comments to Multiple Cells
Tools Tips
Using AutoCorrect
Using AutoSave in Excel
Watching Cell Values
Using Data Validation
Stopping Validated Data from being Overwritten
Importing Custom Lists
Turning Off Track Changes without Unsharing
Adding a Report
Using Stored Views
Can't Update Excel 2007 PivotTables in Excel 2003
Macro Tips
Understanding Subroutines
Understanding Functions in Macros
Understanding Variables in VBA Macros
Understanding the Select Case Structure
Exiting a For ... Next Loop Early
Getting User Input in a Dialog Box
Forcing a Macro to Run when a Worksheet is Recalculated
Selecting a Range of Cells Relative to the Current Cell
Stepping Through a Macro with a Worksheet Visible
Working while a Macro is Running
Documenting Changes in VBA Code
Creating Worksheets with a Macro
Copying Worksheets in a Macro
Retrieving Worksheet Names
Telling which Worksheets are Selected
Selecting All Visible Worksheets in a Macro
Detecting Types of Sheets in VBA
Sheets for Days
Sheets for Months
Automatically Loading Add-ins
Out of Memory Errors when Accessing the VBA Editor
Saving Changes when Closing
Limiting Scroll Area
Self-Aware Macros
Finding Cells Filled with a Particular Color
Saving a Workbook in a Macro
Default Worksheet when Opening
Filling a Range of Cells with Values
Macros in Template Files
Determining How Many Windows are Open
Switching Windows in a Macro
Magnifying Only the Current Cell
Page Numbers in VBA
Conditionally Playing an Audio File
Using a Progress Indicator in Macros
Preparing Data for Import into Access
Order Your ExcelTips Archives Today!
Each download item shown below includes the size of the download file. If you have a slow connection to the Internet, you can save precious time by ordering your archives on CD-ROM, instead of as a download.

The ExcelTips archives include PDF documents. To read these documents, you need to have either Adobe Acrobat or Adobe Reader on your system. Adobe Reader is free to download; click the link to get the latest version.
To celebrate the release of the ExcelTips archives for 2018, for a limited time (through January 16, 2019) you can download your own copy of the archives for any of the following years at 30% off the regular price. Get your discount; place your order today!
Archive Year
Dates Covered
Tips
CD
Download
ExcelTips Menu 2014
(for Excel 97, 2000, 2002, and 2003 users)
4 Jan 14 — 27 Dec 14
312 tips

(357 pages)


$32.99

$23.09

(4.4 MB)


$24.99

$17.49
ExcelTips Ribbon 2014
(for Excel 2007, 2010, and 2013 users)
4 Jan 14 — 27 Dec 14
415 tips

(524 pages)


$32.99

$23.09

(8.2 MB)


$24.99

$17.49
ExcelTips Menu 2015
(for Excel 97, 2000, 2002, and 2003 users)
3 Jan 15 — 26 Dec 15
208 tips

(205 pages)


$32.99

$23.09

(3.4 MB)


$24.99

$17.49
ExcelTips Ribbon 2015
(for Excel 2007, 2010, 2013, and 2016 users)
3 Jan 15 — 26 Dec 15
416 tips

(499 pages)


$32.99

$23.09

(6.1 MB)


$24.99

$17.49
ExcelTips Menu 2016
(for Excel 97, 2000, 2002, and 2003 users)
1 Jan 11 — 31 Dec 11
211 tips

(236 pages)


$32.99

$23.09

(3.6 MB)


$24.99

$17.49
ExcelTips Menu 2017
(for Excel 97, 2000, 2002, and 2003 users)
1 Jan 17 — 30 Dec 17
208 tips

(241 pages)


$32.99

$23.09

(3.1 MB)


$24.99

$17.49
ExcelTips Ribbon 2016
(for Excel 2007, 2010, 2013, and 2016 users)
1 Jan 11 — 31 Dec 11
212 tips

(259 pages)


$32.99

$23.09

(3.2 MB)


$24.99

$17.49
ExcelTips Ribbon 2017
(for Excel 2007, 2010, 2013, and 2016 users)
1 Jan 17 — 30 Dec 17
208 tips

(276 page)


$32.99

$23.09

(3.8 MB)


$24.99

$17.49
ExcelTips Menu 2018
(for Excel 97, 2000, 2002, and 2003 users)
6 Jan 18 — 29 Dec 18
208 tips

(250 pages)


$32.99

$23.09

(3.9 MB)


$24.99

$17.49
ExcelTips Ribbon 2018
(for Excel 2007, 2010, 2013, 2016, 2019, and Office 365 users)
6 Jan 18 — 29 Dec 18
249 tips

(321 pages)


$32.99

$23.09

(4.0 MB)


$24.99

$17.49
You can also order any of the ExcelTips archives by calling our order line: 307-200-0450.