WindowsTips Annual Archives
Summary: WindowsTips is a weekly newsletter that provides tips on how to effectively use the latest Windows operating systems. At the beginning of every year we put together an archive of all the tips published the previous year.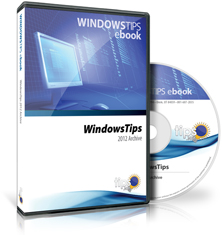 Thousands of people currently benefit from receiving a free issue of WindowsTips on a weekly basis. Past issues of WindowsTips are available in our convenient WindowsTips annual archives. Imagine having your own enhanced archive of WindowsTips to use at any time! Imagine how much you will learn with all that information at your fingertips!
Contents
Each download volume of the WindowsTips archives includes the following valuable items:
Individual tips organized by subject in an electronic book, in PDF format.
The original issues of WindowsTips (in plain-text format).
The electronic book version of WindowsTips is especially helpful. The book is provided in Adobe Acrobat (PDF) format. In this format you enjoy the following features:
Updated content not originally in the electronic newsletters.
Screen shots that illustrate what you see on your screen as you follow the step-by-step instructions.
The ability to view, search, and print the book.
The ability to select and copy sections of text.
Hyperlinks to internal content (in the book itself) and referenced resources on the Web.
If you purchase an archive on CD-ROM, you get everything that is in the download (above), plus you receive two versions of the archive e-book in Microsoft Word format. One version works with the newest versions of Word (DOCX format) and the other works with older versions (DOC format). Both Word versions contain the exact same content as in the PDF version. The Word versions are not provided with the download because they would make the download file too large.
Both the Word-formatted and PDF versions are suitable for printing and maintaining your own book of WindowsTips.
Volumes Available
WindowsTips archives are published annually, so each volume covers a specific year. To get an idea of what each volume contains, click on the volume name in the table below. You will see a complete table of contents for each volume, organized by topic.
Prices
WindowsTips archives are available for the low price of only $19.99 each. If you prefer, you can order your archives on CD-ROM for only $27.99. Compare that to regular computer books which can easily cost more for less information. Plus, the WindowsTips archives give you the power and convenience of having electronic files.
Order Your WindowsTips Archives Today!
Each download item shown below includes the size of the download file. (When you're dealing with hundreds and hundreds of pages per archive volume, files can get large.) If you have a slow connection to the Internet, you can save precious time by ordering your archives on CD-ROM, instead of as a download.

The WindowsTips archives include PDF documents. To read these documents, you need to have either Adobe Acrobat or Adobe Reader on your system. Adobe Reader is free to download; click the link to get the latest version.
Archive Year
Dates Covered
Tips
CD
Download
WindowsTips 2016
(includes tips for users of Windows 7, Windows 8, and Windows 10)
2 Jan 16 — 26 Dec 16
160 tips

(294 pages)
$27.99

(13.9 MB)
$19.99
WindowsTips 2017
(includes tips for users of Windows 7, Windows 8, and Windows 10)
2 Jan 17 — 25 Dec 17
156 tips

(296 pages)
$27.99

(13.5 MB)
$19.99
WindowsTips 2018
(includes tips for users of Windows 7, Windows 8, and Windows 10)
1 Jan 18 — 31 Dec 18
194 tips

(434 pages)
$27.99

(15.3 MB)
$19.99
You can also order the WindowsTips archive by calling our order line: 307-200-0450.