WindowsTips 2012 Archive (Table of Contents)
Summary: WindowsTips is a weekly newsletter that provides tips on how to best use the Windows operating system. At the beginning of every year we put together an archive of all the tips published the previous year. Here is the complete table of contents for the archive for the WindowsTips newsletter for the year 2012.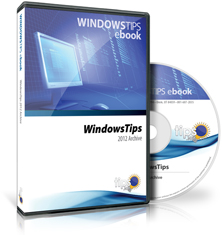 WindowsTips 2012 Archive includes 100 valuable tips. The following is the Table of Contents for the archive:
Introduction
Need More Tips?
Sharing this Document
Desktop Tips
Using Desktop Themes
Changing the Desktop Background
Using Your Own Pictures as Wallpaper
Arranging Desktop Windows
Moving and Resizing Windows
Maximizing a Window to Fill the Entire Screen
Minimizing All Open Windows in One Step
Quick Ways to Get Back to Your Desktop
Customizing the Start Menu
Changing How Tasks Appear on the Taskbar
Understanding Desktop Widgets
Adding and Removing Desktop Widgets
Finding New Desktop Widgets
Mouse Tips
Finding the Mouse Pointer
Controlling the Mouse Pointer Speed
Making the Mouse Pointer More Visible
Swapping Mouse Buttons for Left-Handed Users
Tips for Files, Folders, and Drives
Understanding File Types and Extensions
Creating Your Own File Folders
Renaming or Deleting File Folders
Turning On the Display of File Extensions
Displaying Hidden and System Files in a Folder
Understanding and Using File Attributes
Displaying All the Files in a Folder using Windows Explorer
Displaying All the Files in a Folder using the Command Prompt
Recovering a Deleted File
Permanently Deleting Items
Changing the Program Associated with a File Type
Creating and Using Compressed Folders
Where Is that File I Just Downloaded?
Displaying Details about a Graphics File
Displaying Details about an Audio File
Displaying the Number of Files or Folders within a Folder
Using the Disk Cleanup Wizard
Getting Rid of Hidden Thumbs.db Files
Customizing the Explorer's File List Display
Refreshing the Explorer Window
Accessing a Network Drive
Sharing Resources on a Network
Creating a Disk Partition
Checking a Disk Drive for Free Space
Tips for Using USB Drives
Changing a Disk Drive's Name
Backing Up Your Files
Configuring Windows to Do Backups on a Schedule
Understanding Libraries
Creating a Library
Deleting a Library
Saving Search Queries
Deleting a Saved Search
Understanding the Search Index
Multimedia Tips
Adjusting Speaker Volume
Hiding and Displaying the Volume Control
Changing Behavior for Audio CDs
Ripping Songs from Audio CDs
Burning an Audio Disc
Copying Files to a CD or DVD
Creating a CD/DVD Archive
Configuration Tips
Understanding Windows Aero
Changing Screen Resolution
Understanding the Windows Experience Index
Understanding Regional Settings
Renaming Your Computer
Using Two Monitors with Windows
Adding and Deleting Fonts
Changing Font Size in a Command Prompt Window
Understanding Windows Update
Configuring Automatic Windows Updates
Understanding and Changing AutoPlay Settings
Resizing the Recycle Bin
Clearing Items from the Recently Used Documents List
Using the Control Panel to Remove Programs
Running a Program as Administrator
Running Older Programs in Windows 7
Changing Your Windows 7 Password
Tips for Controlling How Windows Starts
Modifying the General Startup Process
Modifying What is Started when You Start Windows
Modifying Windows Startup Services
Using the System Configuration Utility
Using Windows in Safe Mode
Task Manager Tips
Regaining Control of Your System
Understanding the Task Manager
Understanding Processes in the Task Manager
Ending a Process Using the Task Manager
Evaluating System Performance Using the Task Manager
Registry Tips
Backing Up the Windows Registry
Exporting a Portion of the Registry
Importing a Portion of the Registry
System Protection Tips
Understanding Windows Firewall
Understanding Windows Defender
Removing Spyware with Windows Defender
Setting a Restore Point
Restoring Your System from a Restore Point
Understanding Remote Assistance
Miscellaneous Tips
Stopping or Deleting a Print Job
Creating Additional Clocks
Performing Simple Calculations Using the Calculator
Performing Complex Calculations Using the Scientific Calculator
Using the Character Map
Defragmenting a Hard Drive
Order Your WindowsTips Archives Today!
Each download item shown below includes the size of the download file. (When you're dealing with hundreds and hundreds of pages per archive volume, files can get large.) If you have a slow connection to the Internet, you can save precious time by ordering your archives on CD-ROM, instead of as a download.

The WindowsTips archives include PDF documents. To read these documents, you need to have either Adobe Acrobat or Adobe Reader on your system. Adobe Reader is free to download; click the link to get the latest version.
Archive Year
Dates Covered
Tips
CD
Download
WindowsTips 2012
(includes tips specifically for Windows 7 users)
16 Jul 12 — 31 Dec 12
100 tips

(207 pages)
$27.99

(10.7 MB)
$19.99
WindowsTips 2013
(includes tips for both Windows 7 and Windows 8 users)
7 Jan 13 — 30 Dec 13
208 tips

(351 pages)
$27.99

(12.9 MB)
$19.99
WindowsTips 2014
(includes tips for both Windows 7 and Windows 8 users)
6 Jan 14 — 29 Dec 14
172 tips

(324 pages)
$27.99

(8.3 MB)
$19.99
WindowsTips 2015
(includes tips for users of Windows 7, Windows 8, and Windows 10)
5 Jan 14 — 28 Dec 14
155 tips

(290 pages)
$27.99

(11.5 MB)
$19.99
You can also order the WindowsTips archive by calling our order line: 307-200-0450.