WindowsTips 2017 Archive (Table of Contents)
Summary: WindowsTips is a weekly newsletter that provides tips on how to best use the Windows operating system. At the beginning of every year we put together an archive of all the tips published the previous year. Here is the complete table of contents for the archive for the WindowsTips newsletter for the year 2017.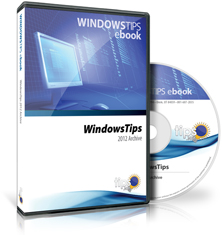 WindowsTips 2017 Archive includes 156 valuable tips. The following is the Table of Contents for the archive:
Introduction
A Word About Versions and Authors
Need More Tips?
Sharing this Document
General Tips
Using the Contact Support App
Creating a Selection Set
Picking a Desktop Icon Size
Moving and Resizing Windows
Minimizing All Open Windows in One Step
Quick Ways to Get Back to Your Desktop
Displaying the Windows 8 Control Panel
Adding and Deleting Fonts
Hiding Fonts
Using the Control Panel to Remove Programs
Ending a Frozen Program
How To Enable Jump Lists
Clearing Your Jump Lists
What is Bluetooth?
Changing Time Settings
Understanding Notifications in the Windows 10 Action Center
Permanently Deleting Items
What is a Desktop.ini File?
Changing the User Interface Language
Disabling Automatic Updates
Disabling Automatic Reboot after a Windows Update
Using the System Information Tool
Using the System Configuration Utility
Understanding Computer Names
Improve Performance by Turning Off 3D Effects
Starting Windows 10 in Safe Mode
Modifying the General Startup Process
Modifying What is Started when You Start Windows
How the Registry is Organized
Understanding Registry Value Data Types
Start Menu, Lock Screen, and Taskbar Tips
Adding the Administrative Tools Option
Windows 7
Windows 8
Windows 10
Understanding the Start Menu Search Box
How to Remove Cortana's Search Box
Creating Additional Clocks
Getting Rid of the Lock Screen
Changing Lock Screen Apps
Changing the Size of Start Screen Tiles
Removing a Tile from the Start Screen
Pinning a File to the Taskbar
Tips about Accessories, Apps, and Utilities
How to Find Apps Faster
Changing App Notifications
Checking the Size of Apps
Understanding ReadyBoost
Performing Simple Calculations Using the Calculator
Performing Complex Calculations Using the Scientific Calculator
Everything
How to Password Protect a File or Folder via Zip
KeePass Password Safe
Dropbox
Launchy
Cathy
DesktopOK
Toggl
AutoRuns
ConFavor
Xplorer2
WizTree
Agent Ransack
Using Maps
WizMouse
M8 Free Clipboard
CutePDF Writer
SyncToy
Using Resource Monitor
Understanding Process Monitor
Using Process Monitor
Process Explorer
Web and Online Tips
Understanding DHCP
Using a Blank Page as your Browser's Home Page
Resetting a Web Browser to Its Default Settings
Understanding IP Addresses
Using the Hosts File to Block Content
Scanning Your System for Open Ports
Multimedia Tips
Creating an Auto Playlist
Understanding Types of CDs
Understanding Types of DVDs
Understanding ISO Images
Using Windows DVD Maker
Drive and File System Tips
Checking a Disk Drive for Free Space
Freeing Up Disk Space by Deleting Old OS Files
Resizing a Disk Partition
File and Folder Tips
Understanding File Types and Extensions
Changing the Program Associated with a File Type
Understanding and Using File Attributes
Editing File Properties
Renaming Files Using the Command Line
Using Offline Files
Using File History
Displaying Hidden and System Files in a Folder
Understanding the Pictures Folder
Understanding the Music Folder
Understanding the Videos Folder
Resizing the Recycle Bin
Rebuilding the Search Index
Changing the Hidden Attribute for a File
Understanding Indexed Search
Adding Locations to the Search Index
Adding File Types to the Search Index
Removing Locations from the Search Index
Saving a Windows Search
Creating Your Own File Folders
Using Folder Templates
Encrypting a File Folder
Working with Compressed Files and Folders via Zip
How to Encrypt a File or Folder via NTFS
Working with Compressed Files and Folders via NTFS Compression
Robocopy and XCopy Tips
Understanding Robocopy
Copying Data with Robocopy
Using Robocopy to Copy Entire Directories
Using Robocopy to Mirror Directories
Checking the Archive Attribute with Robocopy
Specifying a Copy Schedule in Robocopy
Using Robocopy with File Sizes and Ages
Logging Robocopy Operations
Copying Data with XCopy
Command Line Tips
Changing Font Size in a Command Prompt Window
Copying Files Using the Command Line
Moving Files Using the Command Line
Understanding the Command Line For Loop
Displaying All the Files in a Folder using the Command Prompt
Using the Task Scheduler from the Command Line
Introduction to Regular Expressions
Tips about Devices
Updating a Device Driver
Choosing How to Use Multiple Monitors
Connecting to an External Screen
Disabling a Laptop's Touchpad
Limiting when Others Can Use Your Shared Printer
Creating a Printer Pool
Understanding XPS Documents
Creating an XPS Document
Finding the Mouse Pointer
Swapping Mouse Buttons for Left-Handed Users
Controlling the Mouse Pointer Speed
Connecting a Bluetooth Device
Checking for Faulty RAM
System Administration and Protection Tips
Switching between Users in Windows
Using the Sign Out Feature
Limiting the Number of Login Attempts
Getting a List of User Accounts
Recovering a Forgotten Administrator Password
Understanding Windows SIDs
Determining the MAC Address for a Network Device
Changing the MAC Address for a Network Adapter
Changing Your Windows 8 Account Picture
Using Windows Defender Offline
Batch File Tips
Creating a Simple Batch File
Using Batch Files, Part 1
Using Batch Files, Part 2
Using Batch Files, Part 4: The CALL Statement
Using the FOR Statement
Using the SHIFT Statement
Running a Batch File at a Scheduled Time
Passing Parameters to a PowerShell Script
PowerShell Input and Output
Event Log Tips
What is the Purpose of the Security Event Log?
What is the Purpose of the Application Event Log?
Order Your WindowsTips Archives Today!
Each download item shown below includes the size of the download file. (When you're dealing with hundreds and hundreds of pages per archive volume, files can get large.) If you have a slow connection to the Internet, you can save precious time by ordering your archives on CD-ROM, instead of as a download.

The WindowsTips archives include PDF documents. To read these documents, you need to have either Adobe Acrobat or Adobe Reader on your system. Adobe Reader is free to download; click the link to get the latest version.
Special Offer: To celebrate the release of the 2018 WindowsTips archive, for a limited time you can download your own copy of any WindowsTips archive (for any year) for 30% off the regular price. This offer is good only through February 6, 2019.
Archive Year
Dates Covered
Tips
CD
Download
WindowsTips 2014
(includes tips for both Windows 7 and Windows 8 users)
6 Jan 14 — 29 Dec 14
172 tips

(324 pages)


$27.99

$19.59

(8.3 MB)


$19.99

$13.99
WindowsTips 2015
(includes tips for users of Windows 7, Windows 8, and Windows 10)
5 Jan 15 — 28 Dec 15
155 tips

(290 pages)


$27.99

$19.59

(11.5 MB)


$19.99

$13.99
WindowsTips 2016
(includes tips for users of Windows 7, Windows 8, and Windows 10)
2 Jan 16 — 26 Dec 16
160 tips

(294 pages)


$27.99

$19.59

(13.9 MB)


$19.99

$13.99
WindowsTips 2017
(includes tips for users of Windows 7, Windows 8, and Windows 10)
2 Jan 17 — 25 Dec 17
156 tips

(296 pages)


$27.99

$19.59

(13.5 MB)


$19.99

$13.99
WindowsTips 2018
(includes tips for users of Windows 7, Windows 8, and Windows 10)
1 Jan 18 — 31 Dec 18
194 tips

(434 pages)


$27.99

$19.59

(15.3 MB)


$19.99

$13.99
You can also order the WindowsTips archive by calling our order line: 307-200-0450.