ExcelTips Menu 2014 Archive (Table of Contents)
Summary: ExcelTips is a weekly newsletter that provides tips on how to effectively use Microsoft's best-selling spreadsheet program. At the beginning of every year we put together an archive of all the tips published the previous year. Here is the complete table of contents for the ExcelTips (menu) newsletter archive for 2014.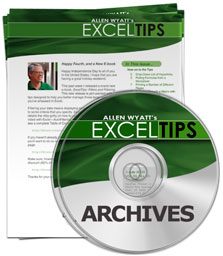 ExcelTips Menu 2014 Archive includes hundreds of valuable tips. The following is the Table of Contents for the archive:
Introduction
What's In This E-Book?
Need More Tips?
A Special Note of Thanks
Sharing this Document
General Tips
Arranging Workbook Windows
Jumping To a Specific Page
Scrolling Up and Down
Moving from Sheet to Sheet with the Keyboard
Understanding Lists
Understanding R1C1 References
Viewing Formulas versus Results
Determining Your Version of Excel
Getting Context-Sensitive Help
Disabling Excel's Help System
Getting Audible Feedback
Canceling a Menu
Selecting Multiple Cells by Mistake
Controlling How Excel Interprets Percentages
Inserting the User's Name in a Cell
Reducing the Size of the Save As Dialog Box
Generating Random Testing Data
Controlling Display of Page Breaks
Saving Changes in Personal.xls
Changing an Invalid Autosave Folder
Creating a New Toolbar
Customizing a Toolbar
Getting Rid of Stubborn Icons
Deleting Menu Items
Adding Items to a Context Menu
Disappearing Status Bar
Saving Valuable Toolbar and Screen Space
Making the Formula Bar Persistent
Removing Add-ins
Editing Tips
Displaying a Hidden First Column
Zooming In On Your Worksheet
Forcing Editing to Be Done in a Cell
Entering Numbers in Excel
Entering the Current Time
Recording a Data Entry Time
Entering Data as Thousands
Sequentially Inputting Information
Easily Entering Dispersed Data
Picking a Contiguous Range of Cells
Copying a Cell without Formatting
Removing Duplicate Cells
Generating Unique Sequential Numbers
Quick AutoFill Variations
Clearing Everything Except Formulas
Segregating Numbers According To Their Sign
Using AutoComplete with Disjointed Lists
Counting with Subtotals
Moving Subtotals
Excel Refuses to Put Page Breaks between Subtotal Groups
Synchronizing Lists
Incrementing References by Multiples when Copying Formulas
Noting When a Workbook was Changed
Merging Cells to a Single Sum
Find and Replace Tips
Searching for All
Changing Default Search Settings
Limitations On Finding Characters
Searching for Line Breaks
Formatting Tips
Hash Marks Displayed Instead of Cell Contents
Converting Text Case
Changing Page Margins
Working with Fonts
Changing Font Sizes
No New Fonts Error
Undoing an AutoFormat
Changing the Color of a Cell Border
Easy Value Hiding
Checking All Cell Formatting in VBA
Random Width and Height Changes
Replacing Background Colors in Cells
Automatically Copying Formatting
Understanding Cell Indenting
Professional Looking Fractions
Removing Dashes from ISBN Numbers
Repeating Cell Contents
Understanding Underlines
Making Squares
Formatting Raw Data
Exporting Latitude and Longitude
Matching Formatting when Concatenating
Using Custom Number Formats
Understanding Date and Time Formatting Codes
Custom Formats for Scientific Notation
Superscripts in Custom Formats
Adding a Custom Format to those Offered by Excel
Moving Custom Formats to Number Formatting Categories
Conditional Formatting Tips
Conditional Formatting
Conditional Formatting for Errant Phone Numbers
Conditionally Formatting Non-Integers
Conditional Formatting with Data Imported from Access
Conditional Page Breaks
Leaving a Cell Value Unchanged If a Condition Is False
Header and Footer Tips
Creating a Header
Setting Header/Footer Margins
Positioning Headers and Footers
Multiple Line Headers and Footers
Specifying Date Formats in Headers
Online Tips
Inserting Hyperlinks
Activating a Hyperlink
Pasting a Hyperlink
Putting More than One Hyperlink in a Cell
Special Characters In Hyperlinks
Showing Visited Hyperlinks
Unwanted Hyperlinks
Can't Use Hyperlinks
References to Hyperlinks aren't Hyperlinks
Sending Single Worksheets via E-mail
Specifying a Browser in a Hyperlink
Can't Delete Web Page Created by Excel
Worksheet Tips
Dynamic Worksheet Tab Names
Colors and Fonts for Worksheet Tabs
Changing the Height of Worksheet Tabs
Combining Worksheets from Many Workbooks
Protecting Worksheets
Protecting Individual Worksheets, by User
Functioning Check Boxes in a Protected Worksheet
Worksheet Function Tips
Using the ABS Function
Using the FORECAST Function
Adjusting the VLOOKUP Function
Using the XIRR Function
Returning the Left-most Characters
Phantom Counts
Rounding to Even and Odd Values
An Average that Excludes Zero Values
Counting Records Matching Multiple Criteria
Formula Tips
Rounding to the Nearest Half Dollar
Calculating Months of Tenure
Finding Differences Between Lists
Numbers in Base 12
Extracting Street Numbers from an Address
Counting Groupings Below a Threshold
Simulating Alt+Enter in a Formula
Pulling Initial Letters from a String
Calculating Statistical Values on Different-Sized Subsets of Data
Finding the Directory Name
Extracting File Names from a Path
Solving Simultaneous Equations
Summing Only the Largest Portion of a Range
Counting Asterisks
Breaking Up Variable-Length Part Numbers
External Data Validation
Problems with Nested Subtotals
Using Named Formulas Across Workbooks
Simple Relative References in External Links
Concatenating Values from a Variable Number of Cells
Maintaining Text Formatting in a Lookup
Retrieving the Last Value in a Column
Character Replacement in Simple Formulas
Relative References within Named Ranges
PivotTable Tips
Rows in a PivotTable
Pointing PivotTables to Different Data
Reducing File Sizes for Workbooks with PivotTables
Sorting and Filtering Tips
Recognizing a Header Row when Sorting
Storing Sorting Criteria
Sorting for a Walking Tour
Sorting by Columns
Sorting by Colors
Sorting Worksheets
Moving Cell Borders when Sorting
Quickly Identifying Applied AutoFilters
Changing AutoFilter Drop-Down Arrow Colors
Extracting Targeted Records from a List
Printing Rows Conditionally
Comment Tips
Static Sizes for Comment Boxes
Comments Don't Appear when Cell is Pointed To
Date and Time Tips
Inserting Tomorrow's Date
Finding the Previous Work Day
Weekdays in a Month
Date for Next Wednesday
Pulling All Fridays
Calculating Weekend Dates
Adjusting Date Values by Keypress
Converting Between Buddhist and Gregorian Calendar Systems
ISO Week Numbers in Excel
Calculating Months for Billing Purposes
Converting Mainframe Date Formats
Dealing with Small Time Values
Adjusting Times for Time Zones
Calculating Time Differences between Two Machines
Calculating TV Time
Graphics Tips
Adding AutoShapes
Editing Graphic Objects
Changing the Size of a Drawing Object
Symmetric Resizing of Graphics
Positioning Graphics Evenly
Protecting a Graphic
Cropping Pictures
Deleting All Graphics
Changing How Arrows Look
Styles for Lines, Dashes, and Arrows
Taking Pictures
Setting a Transparent Color for an Image
Hiding Objects
Creating an Organization Chart
Pixels in a Text String
Adding a Drop Shadow to a Text Box
Charting Tips
Changing Chart Type
Creating Custom Chart Formats
Changing Chart Size
Using the Keyboard to Select and Resize a Chart Object
Deleting a Chart
Dynamic Data Based on Chart Changes
Changing Elements in Lots of Charts at One Time
Numeric Value and Percentage Value in a Graph Column
Modifying Axis Scale Labels
Putting a Chart Legend On Its Own Page
Smoothing Out Data Series
Automatically Creating Charts for Individual Rows in a Data Table
Multiple Data Points in a Chart Column
Exploded Pie Chart Sections
Printing Tips
Defining a Custom Paper Size
Resetting Page Setup
Specifying a Print Tray for a Worksheet
Adding Page Borders to a Printout
Printing a List of Named Ranges
Printing Odd or Even Pages
Preventing Printing
Printing Multiple Worksheets on a Single Page
Printing a Single Column in Multiple Columns
Specifying Print Quantity in a Cell
Adjusting Comment Printouts
Hiding a Hyperlink on a Printout
Black and White Blues
Roman Numerals for Page Numbers
Workbook and File Tips
Opening a Recently Used Workbook
Opening a Workbook as Read-Only
Closing All Open Workbooks
Seeing All Open Workbook Names
Who Has the File Open?
Finding the Size of a Workbook
Selectively Importing Records
Short-Lived Book1
Discovering Dependent Workbooks
Tracking Down Invalid References
Creating a Workbook Clone
Full Path Names in Excel
Faster Text File Conversions
Making Changes in a Group of Workbooks
Problems with Default Workbook and Worksheet Templates
Using a Single Password for Multiple Workbooks
Sharing Your Workbook
Turning Off Sharing
Odd Behavior when Opening a Shared File with a Shortcut
Setting Your Default Directory
Saving Information in a Text File
Determining the Length of a Text File
Creating a CSV File
Aligning Cells when Importing from CSV
Tools Tips
Editing a Scenario
Creating Scenario Summaries
Handling Validation for Proper Latitude
Spell Checking Your Worksheet
Tracing Errors
Hiding Outline Symbols
Tracing Dependent Cells
Tracing Precedent Cells
Undoing Smart Tag Exclusions
Using Revision Tracking
Making Revisions
Resolving Revisions
Using Check Boxes
Turning Off Speech Capabilities
Inserting a Voice Annotation in Your Worksheet
Inserting a Sound File in Your Worksheet
AutoFill with Random Numbers
Macro Tips
Assigning a Macro to a Keyboard Combination
Removing a Macro from a Shortcut Key
Assigning Macros to Graphics
Maximum Length Limit for a Macro
Creating a String in a Macro
Worksheet Events
Mouse Click Event in VBA
Running a Procedure when a Workbook is Opened
Running a Macro When a Worksheet is Activated
Controlling Display of Toolbar Buttons
Running Macros in the Background
Swapping Two Numbers
Making a Cell's Contents Italics within a Macro
Making a Cell's Contents Bold within a Macro
Controlling the Printer in a Macro
Unlocking Charts
One Shortcut for Two Macros
Error Using ATAN2 Function in Macro
Stepping Through a Non-Contiguous Range of Cells
Reorganizing Data
Delimited Text-to-Columns in a Macro
Specifying a Delimiter when Saving a CSV File in a Macro
Conditionally Displaying a Message Box
Determining Differences Between Dates
Determining the Day of the Month
Determining the Hour of the Day
Showing RGB Colors in a Cell
Copying Worksheet Code Automatically
Easily Adding Blank Rows
Progression Indicator in a Macro
Counting Commas in a Selection
Deleting Worksheet Code in a Macro
Getting Rid of Alphabetic Characters
Updating Automatically when Opening Under Macro Control
Determining an ANSI Value in a Macro
Hiding Entries in an InputBox
Official Color Names in VBA
Counting Cells with Text Colors
Don't Allow Empty Cells
Changing the Default Drive
Changing Directories in a Macro
Easily Changing the Default Drive and Directory
Creating a Directory in a Macro
Determining the Current Directory
Automatically Changing References to VBA Libraries
Understanding Add-Ins
Creating Add-Ins
Using Custom Add-Ins
Order Your ExcelTips Archives Today!
Each download item shown below includes the size of the download file. (When you're dealing with hundreds and hundreds of pages per archive volume, files can get large.) If you have a slow connection to the Internet, you can save precious time by ordering your archives on CD-ROM, instead of as a download.

The ExcelTips archives include PDF documents. To read these documents, you need to have either Adobe Acrobat or Adobe Reader on your system. Adobe Reader is free to download; click the link to get the latest version.
To celebrate the release of the ExcelTips archives for 2018, for a limited time (through January 16, 2019) you can download your own copy of the archives for any of the following years at 30% off the regular price. Get your discount; place your order today!
Archive Year
Dates Covered
Tips
CD
Download
ExcelTips Menu 2014
(for Excel 97, 2000, 2002, and 2003 users)
4 Jan 14 — 27 Dec 14
312 tips

(357 pages)


$32.99

$23.09

(4.4 MB)


$24.99

$17.49
ExcelTips Ribbon 2014
(for Excel 2007, 2010, and 2013 users)
4 Jan 14 — 27 Dec 14
415 tips

(524 pages)


$32.99

$23.09

(8.2 MB)


$24.99

$17.49
ExcelTips Menu 2015
(for Excel 97, 2000, 2002, and 2003 users)
3 Jan 15 — 26 Dec 15
208 tips

(205 pages)


$32.99

$23.09

(3.4 MB)


$24.99

$17.49
ExcelTips Ribbon 2015
(for Excel 2007, 2010, 2013, and 2016 users)
3 Jan 15 — 26 Dec 15
416 tips

(499 pages)


$32.99

$23.09

(6.1 MB)


$24.99

$17.49
ExcelTips Menu 2016
(for Excel 97, 2000, 2002, and 2003 users)
1 Jan 11 — 31 Dec 11
211 tips

(236 pages)


$32.99

$23.09

(3.6 MB)


$24.99

$17.49
ExcelTips Menu 2017
(for Excel 97, 2000, 2002, and 2003 users)
1 Jan 17 — 30 Dec 17
208 tips

(241 pages)


$32.99

$23.09

(3.1 MB)


$24.99

$17.49
ExcelTips Ribbon 2016
(for Excel 2007, 2010, 2013, and 2016 users)
1 Jan 11 — 31 Dec 11
212 tips

(259 pages)


$32.99

$23.09

(3.2 MB)


$24.99

$17.49
ExcelTips Ribbon 2017
(for Excel 2007, 2010, 2013, and 2016 users)
1 Jan 17 — 30 Dec 17
208 tips

(276 page)


$32.99

$23.09

(3.8 MB)


$24.99

$17.49
ExcelTips Menu 2018
(for Excel 97, 2000, 2002, and 2003 users)
6 Jan 18 — 29 Dec 18
208 tips

(250 pages)


$32.99

$23.09

(3.9 MB)


$24.99

$17.49
ExcelTips Ribbon 2018
(for Excel 2007, 2010, 2013, 2016, 2019, and Office 365 users)
6 Jan 18 — 29 Dec 18
249 tips

(321 pages)


$32.99

$23.09

(4.0 MB)


$24.99

$17.49
You can also order any of the ExcelTips archives by calling our order line: 307-200-0450.