WordTips Menu 2014 Archive (Table of Contents)
Summary: WordTips is a weekly newsletter that provides tips on how to best use Microsoft's word processing software. At the beginning of every year we put together an archive of all the tips published the previous year. Here is the complete table of contents for the archive for the WordTips (menu) newsletter for the year 2014.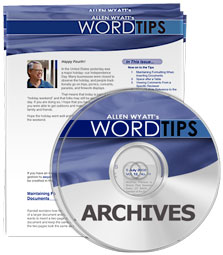 WordTips Menu 2014 Archive includes hundreds of valuable tips. The following is the Table of Contents for the archive:
Introduction
What's In This E-Book?
Need More Tips?
A Special Note of Thanks
Sharing this Document
General Tips
Program Opens without the Desired Document
Fonts Missing in Word
Embedding Your Phone Number in a Document
Speeding Up Cursor Movement
Speeding Up Document Display
Delay in Dialog Box Appearing
An Unruly Ruler
Detailed Measurements
Canceling a Menu
Finding a Lost Menu Bar
Displaying Path Names in the Menu Bar
Forcing Custom Toolbars to Stay in Position
Using Large Toolbar Buttons
Displaying the Outlining Toolbar by Default
Horizontally Viewing All Your Text
Wrapping Spaces
Can't Split the Document View
Automatically Saving Changes to Defaults
Potential Shortcut Key Problems
Condensing and Expanding Headings
Formatting In Your Outline
Getting Help in Dialog Boxes
Stubborn Foreign Languages
Turning On Property Information Prompting
Increasing the Size of the Draft Font
Changing the Company Name
Getting Rid of Wizards and Templates
Editing Tips
Picking Up Where You Left Off
Jumping to a Specific Page
Jumping to a Relative Line Number
Easily Extending Selections
Selecting a Sentence
Selecting a Text Block
Overcoming Automatic Word Selection
What Line Am I On?
Easily Inserting a Section Mark
Inserting a Copyright Mark
Inserting a Bullet
Inserting an Em Dash
Inserting Foreign Characters
Adding Half Spaces to Punctuation
Unable to Edit Document with Embedded Fonts
Controlling Overtype Mode
Deletions Don't Work as Expected
Highlighting Duplicate Words
Replacing Random Text with Your Own Text
Changing Many Link Locations
Keyboard Changes to Unwanted Foreign Language
Line Breaks After a Slash
Moving Text without Affecting the Clipboard
Using the Copy or Move Text Keys
Searching Tips
Selective Formatting in Searches
Selective Formatting in Replacements
Replacing a Colon in a Sequence
Replacing an X with a Check Mark
Replacing with Plain Text
Ignoring Accented Characters in Searches
Searching for Optional Hyphens
Find and Replace in Text Boxes
Mass Search and Replace
Markup Tips
Using Track Changes
Using the Reviewing Toolbar
Noting Changes at the Left of the Text
Formatting Comments
Changing the Language of Comment Boxes
Printing Comments
Turning Off Comment Color when Printing
Auto Tips
Adding an AutoText Entry
Renaming an AutoText Entry
Restoring or Recreating AutoText Entries
Saving AutoText Entries with Each Document
Backing Up Your AutoText Entries
Easily Backing Up AutoText Entries
Sharing AutoText Entries
Sharing AutoText Entries in a Network
Extra Spaces after AutoText Substitutions
Table Borders not Stored in AutoText
Ensuring Consistent References with AutoText
AutoCorrecting for Your Common Errors
Make AutoCorrect Pay Attention to Character Case
Using AutoText and AutoCorrect Effectively
Changing AutoComplete Words
Turning Off AutoComplete for Dates
Character Formatting Tips
Understanding Font Styles
Changing Font Size Using a Shortcut Key
Changing the Default Font
Finding Missing Fonts
Smushing Text Together
Reversed Bolding
Absolutely Getting Rid of Formatting
Changing Text Case Many Times
Automatically Formatting Text within Quotes
Stubborn Highlighting
Paragraph Formatting Tips
Understanding Paragraph Alignment
Controlling Automatic Indenting
Indenting a Paragraph to the Next Tab Stop
Paragraph Formatting Shortcuts
Copying Paragraph Formatting
Stubborn Phantom Paragraphs
Turning Off Automatic Numbered Lists
Underlining Tabs In Numbered Lists
Hanging Indents in Wrapped Text
Highlighting Information Using Shading
Adding Drop-Shadows to Paragraphs
Adding Horizontal Lines at the Sides of a Word
Section and Document Formatting Tips
Different Layout for a Portion of a Page
Adding a Break to Your Document
Selecting a Paper Size
Watermarks in Columns
Adding Page Numbers
Adding Page Numbers in Headers or Footers
Getting Page Number Formatting Changes to Stick
Creating Point Pages
Quickly Formatting Multiple Documents
Styles and Templates Tips
Defining Styles
Style Names Can Affect Style Definitions
Removing Unused Styles
Using Alternating Styles
Turning Off a Dictionary for a Style
Creating a Letterhead Template
Managing Corporate Templates
Starting with a Different Template
Word Won't Take 'No' for an Answer
Tables Tips
Adding Gridlines to a Table
Hiding Table Gridlines, by Default
Table Won't Flow to Second Page
Working with Table Columns and Rows
Resizing Table Columns with the Mouse
Adjusting Column Width from the Keyboard
Centering Information in Table Cells
Selecting Individual Cells in a Table
Finding a Cell Reference
Overriding Automatic Numbering of Tables
Creating a Split Page
Formatting an ASCII Table with Tabs
Converting a Table into Text
Filling Table Cells with a Macro
Changing Sort Order
Footnotes and Endnotes Tips
Sequentially Numbering Footnotes
Footnotes Don't Automatically Renumber
Mixing Note Numbering
Formatting Footnotes and Endnotes
Heavy-Duty Footnotes
Moving Footnote Text into the Document
Where Do You Want Your Endnotes?
Header and Footer Tips
Floating Footer
Dynamic Path and Filename in a Footer
Automatically Changing Tab Stops in the Footer
Insert AutoText Tool Unavailable on Header and Footer Toolbar
Basing Headers and Footers on the Previous Section
Paragraph Numbers in Headers or Footers
Fields and Forms Tips
Special Characters in Fields
Locking a Field
Understanding the ADVANCE Field
Exactly Positioning Text
Using the SYMBOL Field
Using TC Fields for Notes
Numbering With Sequence Fields
Differences between SEQ and LISTNUM Fields
Using Continued Lines
Implementing a Dynamic Document Control Table
Starting Chapters on Odd-Numbered Pages
Age Calculation with Fields
Inserting a Cross-Reference to an Item in a List
Inserting a Cross-Reference to the Last Style on a Page
Using Merge Fields
Converting Forms to Regular Documents
Printing Tips
Printing the Current Page
Printing All Open Documents
Previewing Before You Print
Getting a Double-Spaced Printout
Duplex by Default
Duplexing Documents, by Default
Printing a Circle Using PostScript
Printing a Full Style Sheet
Upside-Down Printing
Dealing with the X of Y Bug
Problem Printing Quotation Marks
Transferring Fonts
Setting Default Label Formats
Doubling Your Money
Printing Return Address Labels
Changing Label Printing Order
Changing Label Sizes
Converting WordPerfect Labels to Word
Handling Long Lines in Address Labels
Graphics Tips
Displaying the AutoShapes Menu
Inserting Multiple Drawing Objects
Moving Drawing Objects
Nudging a Graphic
Absolutely Positioning a Graphic
Turning On Picture Placeholders
Understanding Graphic Linking
Using MPF Graphic Files
Boxes in Boxes
Unlinking an Excel Chart Automatically
Placing WordArt Over Graphics
Starting Microsoft Graph
Selecting a Custom Chart
Selecting Text Orientation for an Axis in Microsoft Graph
Picking a Chart Type
Selecting Fonts for a Chart
Adding Data Labels to a Chart
Displaying a Chart Legend
Changing the Perspective of Your Chart
Controlling Chart Gridlines
Editing the Color Palette in Chart
Changing the Default Chart Type
Adjusting Chart Size
Selecting a Chart Pattern
Changing Shapes in Microsoft Graph
Controlling the Display of Chart Axes in Microsoft Graph
Files Tips
Opening a Word Document when Starting the Computer
Word Slow to Open Documents
Cannot Open Multiple Word Documents
Opening Only a Merge Document
Embedding TrueType Fonts by Default
Grabbing the MRU List
Specifying a Backup Location
Limits on Path Length in Word
Can't Get Rid of Unwanted Recovery File
Error Message about WRS File
Understanding Master and Subdocuments
Creating a Master Document Using Existing Subdocuments
Collapsing and Expanding Subdocuments
Changing Subdocument Status
Online and Other Programs Tips
Stopping Word from Accessing the Internet
Specifying Your Target Monitor
Previewing Your Web Page
Saving Your Web Page
Getting Rid of 'Mail To:' in E-mail Links
Accessing Excel through a PDF File
Spelling and Grammar Tips
Spell-Check Won't Work
Spell Checking when Closing Documents
Inconsistent Adding of Words to a Custom Dictionary
Merging Custom Dictionaries
Adding Phrases to the Grammar Checker
Changing to the Right Thesaurus
Checking for Sentences Beginning with Conjunctions
Tools Tips
Understanding the Organizer
Using the Organizer to Manage Styles
Using the Organizer to Manage Macros
Word Count is Zero
Word Counts for a Group of Documents
Displaying Edits by Date
Creating a Quick Letter
Changing Document Links
Breaking a Document Link
Automatic Scrolling
Hyphenating Your Document
Adding Caption Labels
Automatic Periods after a Caption
Changing Caption Numbering Styles
Specifying a Table of Contents Entry
Creating a Table of Contents from TOC Fields
Two Types of Page Numbers in a TOC
Creating an Index Entry for a Range of Pages
Inconsistent Formatting in an Index
Specifying Sub-entries in an AutoMark File
Specifying an Index Page-Range Separator
Equation Editor Tips
Adding an Equation Editor Tool
Choosing an Equation Style
Entering a Measurement in the Equation Editor
Placing Numbers Over Other Numbers
Nudging an Equation
Numbering Equations
Adding Lines in an Equation Editor Matrix
Setting Superscript Height in the Equation Editor
Setting Subscript Depth in the Equation Editor
Setting Matrix Column Spacing in the Equation Editor
Choosing a Character Size in the Equation Editor
Entering Regular Text in the Equation Editor
Setting Limit Depth Spacing in the Equation Editor
Setting Line Spacing in the Equation Editor
Setting Gap Spacing in the Equation Editor
Setting Denominator Depth Spacing in the Equation Editor
Setting Matrix Row Spacing in the Equation Editor
Setting Fraction Bar Overhang Spacing in the Equation Editor
Setting Fraction Bar Thickness in the Equation Editor
Setting Prime Height Spacing in the Equation Editor
Macros Tips
Understanding Variables
Setting a VBA Variable From a Bookmark
Understanding the If ... End If Structure
Removing a Macro from a Shortcut Key
Inserting Text with a Macro
Moving the Insertion Point to the End of a Line
Jumping to the Start or End of a Document
Dissecting a String
Turning Off Screen Updating
Attaching Macros to Documents
Printing Comments from a Macro
Determining a Paragraph's Style in VBA
Printing a List of AutoCorrect Entries
Invisible Macros
Clearing the Undo Stack in a Macro
Cleaning Up Text in a Macro
Controlling Repagination in Macros
Renaming a File
Removing a Directory
Pulling Out Spelling Errors
Controlling the Bold Text Attribute
Printing a Macro List
Inserting a Break with a Macro
Temporarily Changing the Printer in a Macro
Repaginating in a Macro
Determining the Size of a File
Displaying the Document Title Right Away
Replacing Text in a Macro
Highlighting Every Thousandth Character
Turning on Large Icons in a Macro
Finding Long Lines
Consistent Spacing
Order Your WordTips Archives Today!
Each download item shown below includes the size of the download file. If you have a slow connection to the Internet, you can save precious time by ordering your archives on CD-ROM, instead of as a download.

The WordTips archives include PDF documents. To read these documents, you need to have either Adobe Acrobat or Adobe Reader on your system. Adobe Reader is free to download; click the link to get the latest version.
To celebrate the release of the WordTips archives for 2018, for a limited time (through January 16, 2019) you can download your own copy of the archives for any of the following years at 30% off the regular price. Get your discount; place your order today!
Archive Year
Dates Covered
Tips
CD
Download
WordTips Menu 2014
(for Word 97, 2000, 2002, and 2003 users)
4 Jan 14 — 27 Dec 14
312 tips

(346 pages)


$32.99

$23.09

(5.7 MB)


$24.99

$17.49
WordTips Ribbon 2014
(for Word 2007, 2010, and 2013 users)
4 Jan 14 — 27 Dec 14
415 tips

(482 pages)


$32.99

$23.09

(6.5 MB)


$24.99

$17.49
WordTips Menu 2015
(for Word 97, 2000, 2002, and 2003 users)
3 Jan 15 — 26 Dec 15
208 tips

(217 pages)


$32.99

$23.06

(3.3 MB)


$24.99

$17.49
WordTips Ribbon 2015
(for Word 2007, 2010, 2013, and 2016 users)
3 Jan 15 — 26 Dec 15
416 tips

(526 pages)


$32.99

$23.09

(7.2 MB)


$24.99

$17.49
WordTips Menu 2016
(for Word 97, 2000, 2002, and 2003 users)
2 Jan 11 — 31 Dec 16
212 tips

(248 pages)


$32.99

$23.09

(3.8 MB)


$24.99

$17.49
WordTips Ribbon 2016
(for Word 2007, 2010, 2013, and 2016 users)
2 Jan 11 — 31 Dec 16
207 tips

(294 pages)


$32.99

$18.49

(4.6 MB)


$24.99

$12.49
WordTips Menu 2017
(for Word 97, 2000, 2002, and 2003 users)
7 Jan 17 — 30 Dec 17
208 tips

(221 pages)


$32.99

$23.09

(3.3 MB)


$24.99

$17.49
WordTips Ribbon 2017
(for Word 2007, 2010, 2013, and 2016 users)
7 Jan 17 — 30 Dec 17
208 tips

(301 pages)


$32.99

$23.09

(4.6 MB)


$24.99

$17.49
WordTips Menu 2018
(for Word 97, 2000, 2002, and 2003 users)
6 Jan 18 — 29 Dec 18
208 tips

(258 pages)


$32.99

$23.09

(4.4 MB)


$24.99

$17.49
WordTips Ribbon 2018
(for Word 2007, 2010, 2013, 2016, 2019, and Office 365 users)
6 Jan 18 — 29 Dec 18
248 tips

(341 pages)


$32.99

$23.09

(5.9 MB)


$24.99

$17.49
You can also order any of the WordTips archives by calling our order line: 307-200-0450.