WordTips Menu 2019 Archive (Table of Contents)
Summary: WordTips is a weekly newsletter that provides tips on how to best use Microsoft's word processing software. At the beginning of every year we put together an archive of all the tips published the previous year. Here is the complete table of contents for the archive for the WordTips (menu) newsletter for the year 2019.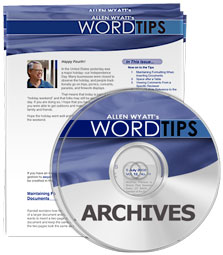 WordTips Menu 2019 Archive includes hundreds of valuable tips. The following is the Table of Contents for the archive:
Introduction
What's In This E-Book?
Need More Tips?
A Special Note of Thanks
Sharing this Document
General Tips
Understanding View Options
Understanding the Clipboard
Displaying the Ruler
A Shortcut for Switching Focus
Turning Off a Startup Sound
Turning Off ScreenTips
Fatal Errors in Word
Zooming with the Keyboard
Forcing the Properties Dialog Box to Appear
Floating Menus
Custom Menu Stays, but Options Disappear
Getting Rid of Custom Toolbars
Changing Characters on Keyboard Keys
Understanding Default Insert Date Formatting
Creating a Hyperlink that Opens the Linked Object
Accessing the Source of a Document Link
Differences in Behavior of Links
Editing Tips
Understanding Sections
Quickly Selecting Text
Using Extend Mode
Default Click and Type Paragraph Style
Pasting Clean Text
Inserting the Date and Time
Inserting a Non-Breaking Hyphen
Adding Quotes
Getting Rid of Automatic Page-Break Lines
Removing Entire Paragraphs from Your Document
How Word Handles Abbreviations
Searching for Special Hyphens
Jumping Between Columns
Controlling the Outline In the Document Map
Adding an Optional Break
Making Bookmarks Bold
Searching Tips
Keyboard Control of the Find and Replace Dialog Box
Using Search Text in the Replacement
Understanding Pattern Matching
Special Characters in Pattern Matching
Searching for Non-Black Text
Searching for White Space
Finding Text Boxes
Erratic Behavior of Ctrl+PgDn
Markup Tips
Getting a Warning for Markup
Tracked Changes Won't Go Away
Tracked Changes Notification when Opening
Auto Tips
Editing an AutoText Entry
Editing AutoText Entries Directly
Renaming an AutoText Entry
Macro-Inserted AutoText Doesn't Set Style
AutoText Entries Don't Stick
Store Common Addresses in AutoText Entries
Saving AutoText Entries with Each Document
Toggling AutoCorrect Settings
Can't Use AutoRecover with a Document
Changing AutoFormatting Rules
Character Formatting Tips
Quickly Increasing Point Size
Changing Kerning
Reversing Type
Adding Fonts to the Context Menu
Paragraph Formatting Tips
Understanding How Word Stores Paragraph Formatting
Double Indenting
Keeping Part of a Paragraph with the Next Block of Text
Put Your Space Before or After?
Squeezing Everything In
Resetting Paragraph Formatting
Creating a List
Creating a Numbered List
Automatic Numbers with Leading Zeroes
Turning Off Line Numbering
Aligning Text on a Specific Character
Deleting Tab Stops
Section and Document Formatting Tips
The Standard on the Ruler
Shifting Margins Evident in Word 2002
Quickly Changing Columns
Changing the Number of Columns
Mixing Column Formats On a Page
Chopped Off Page Borders
Styles and Templates Tips
Jumping to Styles in the Task Pane
Templates and Page Setup
Getting Rid of Persistent Templates
Tables Tips
Creating a Table Using the Keyboard
Drawing a Table
Keeping Tables on One Page
Formatting Lots of Tables
Quickly Removing Table Borders
Table Borders Won't Print
Designing Standard Tables
Deleting a Table
Selecting a Column or Row in a Table
Adding Table Columns to Columns with Merged Cells
Adjusting Column Width Using Menus
Quickly Accessing the Column Tab
Repeating Column Information on Each Page
Automatically Referencing Info Entered in a Table
Table Won't Flow to Second Page
Controlling Sorting Order
Alphabetizing By Last Name
Sorting Dates Numerically
Footnotes and Endnotes Tips
Understanding Footnotes and Endnotes
Automatically Adding Tabs in Footnotes
Using Cross-References in Footnotes
Positioning the Footnote Separator
Deleting All Footnotes
Default Numbering Format for Endnotes
Comments in Endnotes
Endnotes in a Separate Document
Shortcut to Return to Document Text
Fields and Forms Tips
Controlling Field Shading
Printing Field Codes
Displaying Blanks when Summing to Zero
Dynamic Path and Filename in a Footer
Inserting the Document Creation Date
Inserting the Edit Time
Inserting the User's Initials
Inserting the Author Name
Calculating Dates with Fields
Locating Locked Fields
Updating a Field in a Text Box
Placing Numbers Over Other Numbers
Maintaining Fields in a Merged Document
Protecting Parts of a Document
Entering a Name in the Header of a Locked Form
Printing Tips
Understanding Background Printing
Printing a Draft of a Document
Print Preview Freezes Word
Formatting Labels
Canceling Printing
Printing Hidden Text
Controlling Where a Full-page Border is Printed
Using Unique Document Serial Numbers
Printing Color Separations with VBA
Multiple Pages Per Sheet
Making Banners in Word
Limiting Document Page Count
Checking Your Data File
Merging with Two Data Sources
Mail Merge and Data Source Documents become Unattached
Creating Files with Mail Merge
Graphics Tips
Default Picture Settings
Positioning Graphics Evenly
Creating a Drawing Object
Filling A Drawing Object
Rotating a Drawing Object
Sending Drawing Objects to the Back or Front
Searching and Replacing Graphics
Horizontal Alignment Errors for Graphics
Adding a Border Around Text in a Chart
Creating Oval Pictures
Getting Pictures Out of Word
Adding a Drop Shadow to a Text Box
Adding Sidebars
Columns Within Text Boxes
Files Tips
Understanding Background Saving
Noticeable Delays when Switching Documents
File Sizes In Word
Embedding TrueType Fonts
Deleting an Old Document Version
Having Numbered Lists in Subdocuments Restart their Numbering
Getting Input from a Text File
Using Seek In a Macro
Spelling and Grammar Tips
Spell Checking Your Document
Rechecking Spelling and Grammar
Editing While Spell-Checking
Limiting Spell Checking
Configuring Spell Check for Internet Addresses
Turning Off Proofing for Superscripts
Hiding Errors
Backing Up Your Custom Dictionaries
Context Menus, Spell Checking, and Common Tasks
Spell-Check Won't Work
Tools Tips
Creating a Simple TOC
Customized Tables of Contents
Putting Bold Words in an Index
Chapter Numbers in Indexes and TOAs
Generating a Table of Authorities
Creating Categories for Your Table of Authorities
Importing Excel Information Into Chart
Automatically Adding Captions
Understanding the Hot Zone
Understanding Outlining in Word
Controlling How Body Text is Displayed
Choosing an Equation Style
Setting a Spacing Adjustment in the Equation Editor
Only Showing Readability Statistics
Macros Tips
Declaring Variables
Understanding the For ... Next Structure
Debugging a Macro
Saving in Document Format from a Macro
Displaying a Message in the Status Bar
Determining an ANSI Value
Checking for a Text Selection Length
Occurrences of a Text String within a Document
Determining the Number of Fonts Available
Counting Words the Old Fashioned Way
Moving Through a Table in a Macro
Determining the Current Directory
Understanding Document Variables
Determining the Month of the Year
Toggling Font Assignments in a Macro
Calculating a Future Date
Automatically Inserting Brackets
Creating a Command List
Editing Word's Built-in Commands
Invisible Macros
Finding Long Sentences
Determining the Horizontal Position of the Insertion Point
Ignoring Smart Quotes when Comparing Text
Changing Roman Numerals to Arabic
Checking for a Security Certificate
Order Your WordTips Archives Today!
Each download item shown below includes the size of the download file. If you have a slow connection to the Internet, you can save precious time by ordering your archives on CD-ROM, instead of as a download.

The WordTips archives include PDF documents. To read these documents, you need to have either Adobe Acrobat or Adobe Reader on your system. Adobe Reader is free to download; click the link to get the latest version.
To celebrate the release of the WordTips archives for 2019, for a limited time (through January 22, 2020) you can download your own copy of the archives for any of the following years at 30% off the regular price. Get your discount; place your order today!
Archive Year
Dates Covered
Tips
CD
Download
WordTips Menu 2015
(for Word 97, 2000, 2002, and 2003 users)
3 Jan 15 — 26 Dec 15
208 tips

(217 pages)


$32.99

$23.06

(3.3 MB)


$24.99

$17.49
WordTips Ribbon 2015
(for Word 2007, 2010, 2013, and 2016 users)
3 Jan 15 — 26 Dec 15
416 tips

(526 pages)


$32.99

$23.09

(7.2 MB)


$24.99

$17.49
WordTips Menu 2016
(for Word 97, 2000, 2002, and 2003 users)
2 Jan 11 — 31 Dec 16
212 tips

(248 pages)


$32.99

$23.09

(3.8 MB)


$24.99

$17.49
WordTips Ribbon 2016
(for Word 2007, 2010, 2013, and 2016 users)
2 Jan 11 — 31 Dec 16
207 tips

(294 pages)


$32.99

$18.49

(4.6 MB)


$24.99

$12.49
WordTips Menu 2017
(for Word 97, 2000, 2002, and 2003 users)
7 Jan 17 — 30 Dec 17
208 tips

(221 pages)


$32.99

$23.09

(3.3 MB)


$24.99

$17.49
WordTips Ribbon 2017
(for Word 2007, 2010, 2013, and 2016 users)
7 Jan 17 — 30 Dec 17
208 tips

(301 pages)


$32.99

$23.09

(4.6 MB)


$24.99

$17.49
WordTips Menu 2018
(for Word 97, 2000, 2002, and 2003 users)
6 Jan 18 — 29 Dec 18
208 tips

(258 pages)


$32.99

$23.09

(4.4 MB)


$24.99

$17.49
WordTips Ribbon 2018
(for Word 2007, 2010, 2013, 2016, 2019, and Office 365 users)
6 Jan 18 — 29 Dec 18
248 tips

(341 pages)


$32.99

$23.09

(5.9 MB)


$24.99

$17.49
WordTips Menu 2019
(for Word 97, 2000, 2002, and 2003 users)
5 Jan 19 — 28 Dec 19
208 tips

(226 pages)


$32.99

$23.09

(4.0 MB)


$24.99

$17.49
WordTips Ribbon 2019
(for Word 2007, 2010, 2013, 2016, 2019, and Office 365 users)
5 Jan 19 — 28 Dec 19
311 tips

(467 pages)


$32.99

$23.09

(8.3 MB)


$24.99

$17.49
You can also order any of the WordTips archives by calling our order line: 307-200-0450.