WindowsTips 2015 Archive (Table of Contents)
Summary: WindowsTips is a weekly newsletter that provides tips on how to best use the Windows operating systems. At the beginning of every year we put together an archive of all the tips published the previous year. Here is the complete table of contents for the archive for the WindowsTips newsletter for the year 2015.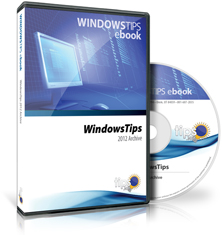 WindowsTips 2015 Archive
includes 155 valuable tips. The following is the Table of Contents for the archive:
Introduction
A Word About Versions and Authors
Need More Tips?
Sharing this Document
General Tips
Understanding Windows Aero
Turning Off Aero
Selecting a Window
Arranging Desktop Windows
Moving and Sizing Windows Using the Keyboard
Using Flip 3D
Quick Screen Clear
Selecting Objects
Refreshing the Explorer Window
Customizing the Explorer's File List Display
Customizing File Explorer's Display
Understanding the WinX Menu
Customizing the Send To Menu
Tips for Using USB Drives
Running Older Programs in Windows
Should I Leave My Computer On All the Time?
Understanding Properties
Differences between Hibernate and Sleep
Using the Magnifier
Understanding Jump Lists
Modifying the Number of Jump List Items
Adjusting the Cursor Blink Rate
Sharing Resources on a Network
Using Desktop Themes
Changing Your Screen Saver
Wielding the Power
Changing How the Power Button Behaves
Changing the Default Desktop Icons
Changing the Size of Icons Used by Windows
Renaming and Deleting Icons
Changing Icons
Understanding Shortcuts
Creating Shortcuts
Changing Shortcut Properties
Deleting Shortcuts
Understanding the Recycle Bin
Restoring Items in the Recycle Bin
Changing the Characteristics of the Recycle Bin
Understanding Virtual Memory
Controlling the Size of the Windows Page File
Start Menu and Taskbar Tips
Moving the Taskbar to a Different Edge of the Screen
Hiding the Taskbar when It is Not in Use
Changing the Size of the Taskbar
Choosing an Icon Size for the Taskbar
Adding a Toolbar to the Taskbar
Changing How Tasks Appear on the Taskbar
Understanding the Notification Area
Locking and Unlocking the Taskbar
Adjusting Sound Volume
Displaying the Start Menu Using the Keyboard
Date and Time Tips
Changing Your System Date and Time
Specifying a Time Server for Windows to Use
Hiding the System Date and Time
Deleting Additional Clocks
Displaying a Calendar
Setting an Alarm
Multimedia Tips
Understanding and Changing AutoPlay Settings
Playing DVDs On Your System
Understanding Windows Slide Show
Burning an Audio Disc
Ripping Songs from Audio CDs
Changing Your Sound Theme
Changing Sounds Associated with Windows Events
Web and Online Tips
Where Is that File I Just Downloaded?
Figuring Out Your IP Address
Tips for Files, Folders, and Drives
Turning On the Display of File Extensions
Renaming Multiple Files
Backing Up Your Files
Configuring Windows to Do Backups on a Schedule
Understanding the Search Index
Displaying Details about a Graphics File
Displaying Details about an Audio File
Getting Information about Files Searched For
Recovering a Deleted File
Permanently Deleting a File
Deleting a Library
Getting Rid of Old Windows Updates
Changing the Program that Opens a File
Creating a CD/DVD Archive
Copying Files to a CD or DVD
Changing a Disk Drive's Name
Clearing Items from the Recently Used Documents List
Organizing the All Programs Menu
Using the DiskPart Utility
Creating a Disk Partition
Creating a Bootable USB Flash Drive
Creating a System Repair Disc
Creating a System Repair Disk on a USB Flash Drive
Repairing Your System Using a System Repair Disk
Creating a System Image
Creating a List of Files in a Directory
Displaying the Number of Files or Folders within a Folder
Creating a Hierarchy Map of Your Hard Drive
Renaming or Deleting File Folders
Creating and Using Compressed Folders
Tips about Devices
Using the Device Manager
Changing the Mouse Pointer
Adjusting the Mouse Double-Click Speed
Specifying How Clicking Works
Adjusting Mouse Click Sensitivity
Using a Dvorak Keyboard with Windows
Making Sure Num Lock is On
Creating a Custom Power Management Plan
Choosing a Power Management Plan
Deleting a Power Management Plan
Printers and Printing Tips
Adding a Printer
Specifying the Default Printer
Changing Your Printer Settings
Deleting a Printer
Printing a Test Page
Stopping or Deleting a Print Job
Tips about Accessories, Apps, and Utilities
Finding New Desktop Widgets
Using Notepad
Using the Snipping Tool
Capturing a Screen Shot
Using the Disk Cleanup Wizard
Using Windows Easy Transfer
Using Microsoft Fix It
System Administration and Protection Tips
Running a Program as Administrator
Easily Running a Program as the Administrator
Understanding the Control Panel
Putting the Control Panel on the Desktop
Uninstalling a Program
Displaying the Command Prompt Window
Understanding Windows Update
Configuring Automatic Windows Updates
Modifying Windows Startup Services
Understanding Windows Defender
Removing Spyware with Windows Defender
Understanding Windows Firewall
Enabling and Disabling Windows Features
Understanding the Windows Experience Index
Understanding the Task Manager
Understanding Processes in the Task Manager
Evaluating System Performance Using the Task Manager
Understanding the Task Scheduler
Scheduling a Program to Run on a Schedule
Modifying or Deleting a Program's Schedule
Regaining Control of Your System
Understanding Data Execution Prevention
Modifying How Windows Notifies You of Impending Changes
User Account Tips
Adding a User Account
Understanding User Account Types
Changing a User's Account Type
Understanding the Guest Account
Deleting a User Account
Adding a Password to a User Account
Changing an Account's Picture
Using Your Own Picture as an Account Picture
Getting Rid of Your Windows 7 Password
Registry Tips
Backing Up the Windows Registry
Editing the Windows Registry
Editing Registry Values
Finding Information in the Registry
Creating Registry Keys or Values
Order Your WindowsTips Archives Today! Each download item shown below includes the size of the download file. (When you're dealing with hundreds and hundreds of pages per archive volume, files can get large.) If you have a slow connection to the Internet, you can save precious time by ordering your archives on CD-ROM, instead of as a download.

The WindowsTips archives include PDF documents. To read these documents, you need to have either Adobe Acrobat or Adobe Reader on your system. Adobe Reader is free to download; click the link to get the latest version.
Special Offer: To celebrate the release of the 2018 WindowsTips archive, for a limited time you can download your own copy of any WindowsTips archive (for any year) for 30% off the regular price. This offer is good only through February 6, 2019.
Archive Year
Dates Covered
Tips
CD
Download
WindowsTips 2016
(includes tips for users of Windows 7, Windows 8, and Windows 10)
2 Jan 16 — 26 Dec 16
160 tips

(294 pages)
$27.99

(13.9 MB)
$19.99
WindowsTips 2017
(includes tips for users of Windows 7, Windows 8, and Windows 10)
2 Jan 17 — 25 Dec 17
156 tips

(296 pages)
$27.99

(13.5 MB)
$19.99
WindowsTips 2018
(includes tips for users of Windows 7, Windows 8, and Windows 10)
1 Jan 18 — 31 Dec 18
194 tips

(434 pages)
$27.99

(15.3 MB)
$19.99
You can also order the WindowsTips archive by calling our order line: 307-200-0450.