Word Find and Replace (Table of Contents)
Summary: The Find and Replace tool is one of the most-used tools provided by Word. However, few people know how to effectively, efficiently, and completely use the tool to enhance their use of the program. Here is the complete table of contents for Word Find and Replace.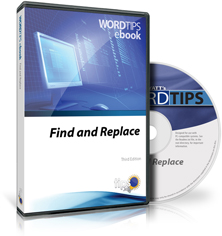 Word Find and Replace includes 234 information-packed pages. The tips provided in this title are applicable to Word 2007, Word 2010, Word 2013, and Word 2016. The following is the table of contents:
Introduction
What's Your Version?
Need More Tips?
A Special Note of Thanks
Sharing this Document
Basic Searching and Replacing
Searching Differences Starting with Word 2010
Making Ctrl+F Work Traditionally
Initiating a New Search
Keyboard Control of the Find and Replace Dialog Box
Using Search Text in the Replacement
A Fast Find-Next
Finding the Previous Occurrence
Saving Find and Replace Operations
Replacing Long Blocks of Text
When Replace Doesn't Work
Quicker Multiple Replace Operations
Keeping a Replace Operation Displayed
Using Extend Mode
Searching for ASCII and ANSI Characters
Pay Attention to Case when Searching for ASCII Codes
Moving Found Text Down On a Page
Navigating a Collection of Selected Items
Displaying the Navigation Pane when Opening a Document
Special Characters
Searching for Special Characters
Searching for White Space
Searching for Breaks
Searching for Tabs
Searching for Special Hyphens
Searching for Multi-Byte Hex Codes
Ignoring Accented Characters in Searches
Updating to Smart Quotes
Smart Quotes are Incorrectly Replaced
Replacing Some Smart Quotes
Protecting Hidden Text
Replacing Hidden Text
Getting Rid of Hidden Text in Many Files
Searching for Paragraph Marks and Line Breaks
Removing Extra Paragraph Marks
Strip Trailing Spaces
Finding Fields
Counting Fields in a Document
Locating Locked Fields
Searching for a Specific Field
Removing Specific Fields
Getting Rid of All TA Fields
Wildcard Searches and Pattern Matching
Understanding Pattern Matching
Searching for Characters
Special Characters in Pattern Matching
Specifying a Number of Matches
Matching at the Beginning or End of a Word
Ordering Search and Replace
Special Differences when Searching
Count of Underlined or Struck-Through Words
Replacing Two Tabs with a Space in Limited Situations
Adding an Ellipsis to the Beginning of Some Paragraphs
Replacing Spaces in Part Numbers with Dashes
Changing Pronoun Gender
The Object Browser
Using the Object Browser
Erratic Behavior of Ctrl+PgDn
Redoing an Object Browse
Setting a Default for the Object Browser
Searching for Comment Marks
Formatting
Searching for Formatting
Searching for Character Formatting
Searching for Paragraph Formatting
Searching for Styles
Searching for Text Not Using a Certain Style
Quickly Changing Tab Alignment
Removing Tabs Used to Indent a Paragraph
Consistent Spacing
Changing the Formatting of All Instances of a Word
Using a Macro to Change the Formatting of All Instances of a Word
Selective Formatting using Find and Replace
Replacing and Formatting at the Same Time
Selective Formatting in Searches
Selective Formatting in Replacements
Formatting Partial Results of a Search
Searching for Text with a Certain Format
Finding Text Not Using a Particular Font
Searching for Text that Does Not Have a Certain Format
Searching for Non-Black Text
Searching for Explicit Formats
Finding Formatted Bulleted Paragraphs
Getting Rid of Manual Paragraph Numbering
Replacing and Renumbering
Searching for Borders
Selectively Find and Replace Page Borders
Changing Existing Highlighting
Highlighting Duplicate Words
Replacing Highlighted Words
Changing Text Case Many Times
Using Find and Replace to Change Text Case
Replacing Text and Capitalizing a Letter in One Step
Replacing with a Subscript
Easily Finding Superscripts
Automatically Formatting Text within Quotes
Replacing with Plain Text
Replacing Quoted Text with Italics
Underlining Quoted Text
Underlining Section References Automatically
Formatting All Headings At Once
Retaining Explicit Formatting after Applying Styles
Reapplying Styles Seamlessly
Graphics
Replacing Text with a Graphic
Searching for Floating Graphics with a Macro
Searching and Replacing Graphics
Replacing Graphics with Graphics
Placing Many Graphics in a Document
Finding Text Boxes
Find and Replace in Text Boxes
Grammar, Sentences, and Document Structure
Removing Entire Paragraphs from Your Document
Searching for Adjectives and Adverbs
Ignoring the Spelling of Proper Nouns
Capitalizing the Word "I"
Turning Off Proofing for Superscripts
Searching for Periods Not Followed by a Space
Capitalizing the First Letter after a Colon
Replacing a Colon in a Sequence
Ignoring Hyphens in Word Counts
Adding Hyphens to Phrases
Counting a Particular Word
Generating a Count of Word Occurrences
Changing Information in Multiple Documents
Quick and Dirty Paragraph Count
Checking for Words and Phrases
Replacing Multiple Spaces with Tabs
Footnotes and Endnotes
Searching for Footnote and Endnote Marks
Standardizing Note Reference Placement
Automatically Adding Tabs in Footnotes
Changing How Footnote References Appear
Brackets around Footnote References
Footnotes Don't Automatically Renumber
Moving Footnote References Using Find and Replace
Deleting All Footnotes
Changing Endnote Numbering Style
Miscellaneous
Complex Searches for Documents
Mass Search and Replace
Finding Documents Containing Multiple Occurrences of a Word
Searching for Text that Doesn't End a Paragraph
Adding Tags to Text
Find and Replace in a Column or Row
Finding and Deleting Rows
Counting Values in Table Cells
Setting Table Values to Three Decimal Places
Finding an Unknown Character
Replacing an X with a Check Mark
Bumping Numbers in a Document
Easily Changing Links in Documents
Changing Many Link Locations
Removing HTTP from URLs
Getting Rid of 'Mail To:' in E-mail Links
Replacing Plain Text with a Hyperlink
Adding Many No-Width Optional Breaks
Preserving Bookmarks During Replace Operations
Changing the Format of Existing Dates
Changing Decimal Commas to Decimal Points
Auto Creation of an Acronym List
Highlight Words from a Word List
Collecting Highlighted Text Selections
Copying Found Items to a New Document
Finding Quoted Text in VBA
Deleting Commented Text
IEEE Citation Format
Easily Spotting Found Text
Description
CD
Download
Word Find and Replace
For users of Word 2007, Word 2010, Word 2013, and Word 2016.

ISBN 978-1-61359-363-9 (234 pages)
$27.99

ISBN 978-1-61359-362-2 (2.3 MB)
$19.99
You can also order any of the Word Find and Replace titles by calling our order line: 307-200-0450.