Mail Merge Magic (Table of Contents)
Summary: The mail merge tool available in Word is powerful, allowing you to use data from a variety of sources to create hundreds or thousands of documents. Discover how you can master this tool to create the exact customized documents you need. Here is the complete table of contents for Mail Merge Magic.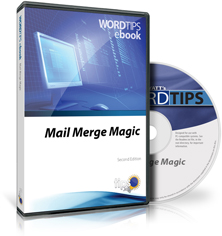 Mail Merge Magic includes lots of great information about how you can use Word's mail merge tool. The following is the Table of Contents:
Introduction
What Versions of Word are Covered?
Need More Tips?
A Special Note of Thanks
Sharing this Document
Mail Merge Basics
Beginning a Mail Merge
Creating a Mail Merge Data File
Checking Your Data File
Merging and Printing
Opening Only a Merge Document
Merging with Two Data Sources
Mail Merge and Data Source Documents become Unattached
Warning Opening Data Source File
Passing a Data File Name via Command Line to a Macro
Working with Merge Fields
Using Merge Fields
Conditional Processing During a Mail Merge
Maintaining Leading Zeroes
Can't Merge Alphanumeric Data Correctly
Getting Rid of Spaces in Merged Data
Can't Place Merge Field in Header of a Directory Merge Document
Proper Comparisons for Dates in Merge Fields
Merging Graphics into Word Documents
Grouping Records in a Mail Merge
Formatting During Merges
Formatted Merging
Merging Formatted Data
Wrong Values Merged from Excel
Rounding in a Mail Merge
Controlling Date Formats in a Mail Merge
Controlling Page Numbers in Mail-Merged Documents
Creating Labels
Printing Multiple Label Copies when Merging
Getting Rid of Blank Labels in a Filtered Merge
Sequentially Numbered Labels
Vertically Centering Labels
Left and Right Aligned on One Line in a Label
Adding Addresses to a Set of Address Labels
Changing Label Printing Order
Picking a Starting Label
Making Use of Extra Labels
Saving Money on Printing Labels
Handling Long Lines in Address Labels
Finding Long Lines
Converting WordPerfect Labels to Word
Working with a Merged Document
Maintaining Fields in a Merged Document
Printing Portions of Mail Merged Documents
Getting Rid of Mail Merge Section Breaks
Conditionally Adding a Period in a Mail Merge
Creating Files with Mail Merge
Merging to Individual Files
Merging and Printing a Series of Documents
Mail Merge Cookbook
Using Mail Merge to Complete Documents
Printing Copy Numbers
Using Unique Document Serial Numbers
Automatically Determining a Due Date
Calculated Dates
Merging Only a Date from Access
Adding Text to an Envelope
Printing Placeholders and Answers
Checkboxes in a Merged Document
Selecting Different Trays in a Mail Merge
E-mailing from a Mail Merge
Creating an E-mail Message from the Current Document
Speeding Up Mail Merges
Description
Download
CD
Mail Merge Magic

ISBN 978-1-61359-503-9 (1.3 MB)
$19.99

ISBN 978-1-61359-504-6 (69 pages)
$26.99
You can also order Mail Merge Magic by calling our order line: 307-200-0450.