WordTips: The Macros
Summary: Word includes a powerful macro programming language called Visual Basic for Applications. WordTips: The Macros can help you discover the power and capabilities of this language, and in the process extend Word in ways you never thought possible.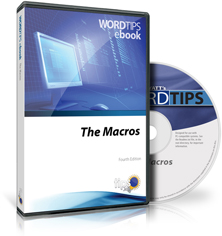 Are you trying to learn how to use and create macros in Word? If you are new to macros, the prospect of creating your own can be scary. Those who make the leap, however, find that they become much more confident and productive once they learn how to make Word do exactly what they want done.
The eleventh edition of WordTips: The Macros is updated and expanded to offer more information than ever before. At 894 pages, WordTips: The Macros is an invaluable source for learning how to finally conquer VBA macros in Word. You are introduced to the topic in bite-sized chunks, pulled from past issues of WordTips. You can learn at your own pace, exactly the way you want.
WordTips: The Macros provides both PDF and Word formats in the download, just as it does on the CD-ROM. Both formats offer the ability to view, search, and print the book quickly and easily. The book includes screen shots that illustrate exactly what you should see on your screen, as well as the macro code that you can copy and paste into your own macros.
Since WordTips: The Macros covers how to program using VBA, you can use it regardless of the version of Word you are using. Most of the macros will work with Word 97, Word 2000, Word 2002, Word 2003, Word 2007, Word 2010, Word 2013, Word 2016, Word 2019, Word 2021, and the version of Word provided with Office 365. Some macro tips in the book are designed to work with toolbars and menus, which are not supported in Word 2007 and later versions. Each tip is clearly (and helpfully) marked to indicate which versions of Word it will work with.
To get an idea of the value packed into WordTips: The Macros, take a look at the complete table of contents. The book even includes a "cookbook" section that provides complete macros that show how to achieve specific results. You can use the macros just as they are, or you can use them to learn the techniques required to do just what you want to do. WordTips: The Macros provides a valuable resource that can't be matched by any other single source or computer book.
How much does all this value cost you? You can immediately download the new info-packed edition for the low price of only $37.99! You won't find such a value anywhere else.
Description
Download
CD
WordTips: The Macros

ISBN 978-1-61359-505-3 (11.7 MB)
$37.99

ISBN 978-1-61359-506-0 (894 pages)
$46.99