Microsoft Word's Amazing Autos (Table of Contents)
Summary: Word provides several tools that can aid in developing your documents. This e-book focuses on a few of those tools. You discover how to use Building Blocks, AutoComplete, AutoCorrect, and AutoFormat to make document development a snap. Here is the complete table of contents for this book.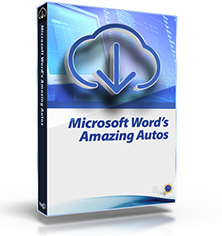 Microsoft Word's Amazing Autos includes 204 information-packed pages. The following is the Table of Contents:
Introduction
Harnessing the Power
Get More Tips
A Special Note of Thanks
Sharing this Document
Building Blocks
Understanding Building Blocks
Creating a Building Block
Editing a Building Block Entry
Deleting a Building Block
Deleting Multiple Building Blocks
Renaming a Building Block
Extra Spaces after Inserting a Building Block
Moving Building Blocks
Backing Up Building Blocks
Specifying a Default Building Block Location
Moving Building Block Templates
Replacing All Building Blocks
Synchronizing Building Blocks for a Network
Creating a Building Block List
Printing AutoText Entries
Printing a List of Building Blocks
Changing Defaults for Text Boxes and Callouts
Ensuring Consistent References with Building Blocks
Quickly Inserting the Date Your Way
Inserting Text with a Shortcut Key
Correctly Repeated Words
Adding Phrases to the Grammar Checker
Store Common Addresses in Building Blocks
Technique for Adding Text Box to Envelope
Removing Return Addresses
Creating and Using Standardized Tables
Table Borders not Stored in Building Blocks
Inconsistent Prompting to Save Normal Template Changes
QuickWords in Word
Defining Protected Sections as a Building Block
Creating Special, Compound Characters
Formatting a Company Name
Numbering with Sequence Fields
AutoComplete
Providing Helpful Tips for Easy Building Block Entry
Using AutoComplete Tips
Turning Off AutoComplete for Dates
Automatically Changing Dates
Wrong Suggested Date
Changing AutoComplete Words
AutoCorrect
Shortcut for AutoCorrect Dialog Box
Removing Confusion When Using AutoCorrect
Managing the AutoCorrect List
Toggling AutoCorrect Settings
Backing Up Your AutoCorrect Entries
Making AutoCorrect Automatically Recognize the Replace Word
AutoCorrecting from the Context Menu
Make AutoCorrect Pay Attention to Character Case
Printing AutoCorrect Entries
Printing a List of AutoCorrect Entries
Word Won't Capitalize Some Sentences
Turning Off Automatic Capitalization
Turning Off Capital Corrections
Capitalizing after a Sentence Ending with a Number
Automatic Initial Capitals in Tables
Making Sure Word Doesn't Capitalize Anything Automatically
Accepting Capitalization of a Proper Noun
Capitalizing Spring
Capitals After Colons
Automatic AutoCorrect Exceptions for Beginning Sentences
Can't Save Formatted Entries in AutoCorrect
Inserting Foreign Characters
Emoticons in Word
Inserting a Copyright Mark
Inserting a Section Mark
Entering a Degree Sign
Superscripted Registered Trademark Symbol
Getting the Proper Type of Ellipses
Automatically Capitalizing Day Names
How Word Handles Abbreviations
Meaningless Text
Replacing Random Text with Your Own Text
Ignoring Punctuation in Names
Spelling Errors Resulting from Erroneous Spaces
Adding Ampersands to Custom Dictionaries
Two Keys with the Press of One
Enforcing a Do-Not-Use Word List
AutoFormat
AutoFormatting a Document
Changing AutoFormatting Rules
AutoFormat within Form Fields
Adding Automatic Lines
Removing Automatic Lines
Controlling Automatic Indenting
Making Text Bold
The Line That Won't Go Away
AutoFormat Won't Convert a Right Arrow
Turning Off Automatic Bulleted Lists
Turning Off Automatic Numbered Lists
After Pressing Enter, Text Becomes a Heading
Compound List Formatting
Controlling URL Formatting
Making Live URLs Into Normal Text
Turning E-mail Addresses into Hyperlinks
Formatting E-mail using AutoFormat
Stopping Word from Changing Characters in an E-mail Address
Single-Character Fractions
Adding Tabs at the Beginning of a Line
Creating a Table Using the Keyboard
Shading Rows in a Table
Formatting Lots of Tables
Smart Quotes
Automatically Using Smart Quotes
Updating to Smart Quotes
Turning Off Word's Second Guessing with Quote Marks
Turning Off Smart Quotes for Specific Styles
Leading Quote Mark Generates Grammar Error
Ignoring Smart Quotes when Comparing Text
Replacing Some Smart Quotes
Smart Quotes are Replaced Incorrectly
Using Correct Apostrophes
Smart Quote after Em Dash Faces Wrong Direction
Problem Printing Quotation Marks
Adding Smart Quotes through Macro Text
Finding Quoted Text in VBA
Checking for Missing Quotation Marks
Description
Download
Microsoft Word's Amazing Autos
(for Word 2007, 2010, 2013, and 2016 users)

ISBN 978-1-61359-347-9 (2.5 MB)
$24.99
You can also order any of our products by calling our order line: 307-200-0450.