WindowsTips 2016 Archive (Table of Contents)
Summary: WindowsTips is a weekly newsletter that provides tips on how to best use the Windows operating systems. At the beginning of every year we put together an archive of all the tips published the previous year. Here is the complete table of contents for the archive for the WindowsTips newsletter for the year 2016.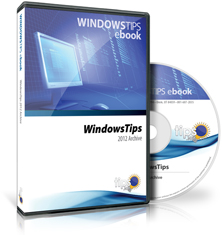 WindowsTips 2016 Archive includes 156 valuable tips. The following is the Table of Contents for the archive:
Introduction
A Word About Versions and Authors
Need More Tips?
Sharing this Document
General Tips
Switching between Program Windows
Enlarging Screen Font Size
Improving Text Sharpness with ClearType
Modifying the Size of Items in Windows
Changing a Computer's Name
Changing Regional Settings
Displaying the PC Settings Screen
Understanding Action Center
Enabling Safe Mode
Understanding Compatibility Settings
Changing a Program's Compatibility Settings
Customizing the SendTo Menu
Adding Items to the "New" Context Menu
Removing a Place from the Recent Places or Quick Access Lists
Moving Your Page File
Changing File Explorer's Default Startup Location
How to Choose between 32- and 64-bit Windows
Determining if You Have 32-bit or 64-bit Windows
Creating a New Desktop
Using Desktop Themes from Around the World
Assigning a Shortcut Key to a Desktop Shortcut
Allowing Remote Desktop
Creating a System Restore Point
Deleting All Restore Points
Increasing the Number of Restore Points
Deferring Windows Updates
Reviewing the Windows Update History
Removing an Update
Start Menu, Lock Screen, and Taskbar Tips
Understanding the Start Menu
Customizing What Appears on the Right Side of the Start Menu
Adding the Administrative Tools Option to the Start Menu
Searching From the Start Menu
Assigning a Shortcut Key to a Start Menu Item
Understanding the Lock Screen
Changing the Lock Screen's Background Picture
Pin Items to the Start Screen
Creating a Flip 3D Taskbar Shortcut
Pinning a Shortcut to the Taskbar
Pin Items to the Taskbar
Controlling the Display of System Icons in the Notification Area
Getting Rid of Notification Area Icons
Accessibility Tips
Adjusting Display Magnification
Using an On-Screen Keyboard
Using Sticky Keys
Using Toggle Keys
Using the Narrator
Tips about Accessories, Apps, and Utilities
AutoHotKeys
Introduction to PowerShell
Changing Explorer Navigation Controls
Removing a Desktop Gadget
Web and Online Tips
Moving Your Downloads Folder
Creating a Desktop Shortcut for a Favorite Web Page
Setting the Default Browser
Introduction to Microsoft Edge
Displaying the Home Button in Microsoft Edge
Microsoft Edge Extensions
Setting the Default Search Engine in Microsoft Edge
Changing Your Internet Home Page
Microsoft Edge
Microsoft Internet Explorer
Google Chrome
Mozilla Firefox
Understanding and Controlling Third-Party Cookies
Setting Up Your Wi-Fi Enabled Computer As a Hotspot
Understanding Your Hosts File
Modifying Your Hosts File
Multimedia Tips
Using Windows with a Projector
Grabbing a Screen Shot
Transferring Pictures from a Camera
Transferring Pictures from a Memory Card
Scanning Pictures with a Scanner
Using Media Player
Changing Media Player Skins
Creating a Media Player Playlist
Editing a Media Player Playlist
Deleting a Media Player Playlist
Using Media Player to Burn an Audio CD
Working with ISO Files
Stopping Windows from Creating Thumbs.db Files
Drive and File System Tips
How to Change Drive Letters
Determining If a Drive Should be Defragmented
Wiping a Drive
Understanding Storage Spaces
Combining Drives in Storage Spaces
Mapping a Network Drive
Breaking a Network Drive Mapping Association
Understanding File System Formats
Understanding the NTFS File System
File and Folder Tips
Understanding File Paths
Moving Files or Folders
Copying Files or Folders
Deleting Files or Folders
Changing User Permissions for a File
Making a File Read-Only
Renaming Multiple Files at the Same Time
What are the Limits on File Names?
Displaying File Extensions
Ways to Combine Two (or More) Text Files
Determining How Much Space the Files in a Folder Require
Searching From within File Explorer
Pin Items to File Explorer's Quick Access View
Opening a File with a Program Other than the Default
Changing the Default Program for a File
Removing a File Type Program Association
Changing a Folder's Icon
Assigning a Picture to a Folder
Understanding Compressed Folders
Understanding ZIP Folders
Seeing which Files are Compressed
Restoring from a Backup
Library Tips
Enabling Libraries in File Explorer
Getting Rid of a Built-in Windows Library
Restoring the Built-in Windows Libraries
Command Line Tips
Displaying the Command Prompt in Windows 8
Switching Between Command Line and File Explorer
Using the Sort Command
Using the Find Command
Using the Findstr Command
Printing a Process List
Tips about Devices
Finding a Device Driver's Version
Adjusting How Quickly Your Keyboard Responds
Adjusting the Mouse for Left-Handed Users
Disabling Automatic Driver Installation
Printing to a PDF File in Windows 10
System Administration and Protection Tips
How to Run a Program when Windows Starts
Starting Applications Automatically when Starting Windows
Starting Programs Automatically at Startup
Scanning and Fixing System Files
Using the ChkDsk Utility
Changing User Permissions for an Entire Drive
Hiding Folders Under This PC
Arranging Desktop Icons Automatically
Locking Icons on the Desktop
Toggling Delete Confirmation
Feeling All Powerful?
Understanding System Protection
Understanding User Account Control
Changing How User Account Control Works
Logging In with Local vs. Microsoft Credentials
Powercfg Tips
Generating a Power Efficiency Diagnostics Report
Estimating Battery Life
Using Powercfg to List Your Existing Power Schemes
Using Powercfg to Query an Existing Power Scheme
Using Powercfg to Change the Active Power Scheme
Using Powercfg to Change a Setting in the Current Power Scheme
Using Powercfg to Duplicate an Existing Power Scheme
Using Powercfg to Change the Name of a Power Scheme
Using Powercfg to Delete an Existing Power Scheme
Using Powercfg to Export and Import a Power Scheme
Event Log Tips
Understanding Event Logs
Viewing Event Logs
Filtering Event Logs
Creating a Custom View in the Event Viewer
Deleting Events in Your Event Logs
Adjusting the Size of an Event Log
Changing How Event Log Overruns are Handled
What is the Purpose of the System Event Log?
What is the Purpose of the Forwarded Events Event Log?
Tracking Down Who Installed or Removed a Program or App
Using the Event Viewer to Examine Remote Event Logs
Order Your WindowsTips Archives Today!
Each download item shown below includes the size of the download file. (When you're dealing with hundreds and hundreds of pages per archive volume, files can get large.) If you have a slow connection to the Internet, you can save precious time by ordering your archives on CD-ROM, instead of as a download.

The WindowsTips archives include PDF documents. To read these documents, you need to have either Adobe Acrobat or Adobe Reader on your system. Adobe Reader is free to download; click the link to get the latest version.
Archive Year
Dates Covered
Tips
CD
Download
WindowsTips 2016
(includes tips for users of Windows 7, Windows 8, and Windows 10)
2 Jan 16 — 26 Dec 16
160 tips

(294 pages)
$27.99

(13.9 MB)
$19.99
WindowsTips 2017
(includes tips for users of Windows 7, Windows 8, and Windows 10)
2 Jan 17 — 25 Dec 17
156 tips

(296 pages)
$27.99

(13.5 MB)
$19.99
WindowsTips 2018
(includes tips for users of Windows 7, Windows 8, and Windows 10)
1 Jan 18 — 31 Dec 18
194 tips

(434 pages)
$27.99

(15.3 MB)
$19.99
You can also order the WindowsTips archive by calling our order line: 307-200-0450.