ExcelTips Ribbon 2013 Archive (Table of Contents)
Summary: ExcelTips is a weekly newsletter that provides tips on how to effectively use Microsoft's best-selling spreadsheet program. At the beginning of every year we put together an archive of all the tips published the previous year. Here is the complete table of contents for the ExcelTips (ribbon) newsletter archive for 2013.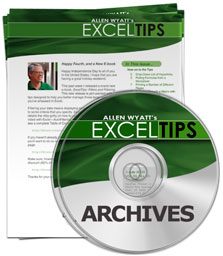 ExcelTips Ribbon 2013 Archive includes hundreds of valuable tips. The following is the Table of Contents for the archive:
Introduction
What's In This E-Book?
Need More Tips?
A Special Note of Thanks
Sharing this Document
General Tips
Understanding R1C1 References
Understanding Lists
Arranging Workbook Windows
Controlling Display of the Formula Bar
Changing the Default Font
Changing Gridline Color
Changing the Color Used to Denote Selected Cells
Displaying Excel's Developer Tab
Customizing Quick Access Toolbar Icons
Backing Up Quick Access Toolbars
Backing Up Your AutoCorrect Entries
Removing Personal Information
Displaying a Count of Zeros on the Status Bar
Slowing Down Mouse Selection
Selecting Multiple Cells by Mistake
Zooming With the Keyboard
Always Open at 100% Zoom
Getting Audible Feedback
Saving Changes in Personal.xlsb
Controlling Automatic Backups
Generating Random Testing Data
Rounding in Results
Measuring Efficiency of Formulas and Macros
Using More CPU Power when Calculating
Closing Excel when Closing the Last Workbook
Choosing Direction After Enter On a Workbook Basis
Inserting the User's Name in a Cell
Changing Your Name
Turning Off Display of Zeros for All Worksheets
Specifying the Behavior of the Enter Key
Changing Input Conventions
Fixing the Decimal Point
Controlling How Excel Interprets Percentages
Changing an Invalid Autosave Folder
Adding a Little Animation to Your Life
Turning Off Capital Corrections
Changing the Reference in a Named Range
Specifying the Number of MRU Files
Editing Tips
Shortcut for Selecting a Data Range
Removing Cells from a Selected Range
Adjusting a Range's Starting Point
Inserting Rows
Quickly Deleting Rows and Columns
Deleting Duplicate Columns
Adjusting Row Height for a Number of Worksheets
Changing Default Row Height
How Many Rows and Columns Have I Selected?
Quickly Entering Data
Recording a Data Entry Time
Using an Input Mask
Shortcut to Merge Cells
Transposing and Linking
AutoFilling with the Alphabet
AutoFilling with Weekdays
Inserting Different Dashes
Ensuring Standard Units During Data Entry
Limiting Choices in a Cell
Copying a Cell without Formatting
Copying to Very Large Ranges
Pasting Leading Zeroes
Can't Copy Data between Workbooks
Copying Between Instances of Excel
Conditional Page Breaks
Jumping to a Range
Using Go To to Jump to a Chart Sheet
Alt+Enter Stopped Working Correctly
Synchronizing Lists
Counting with Subtotals
Noting When a Workbook was Changed
Adding Spaces in Front of Capital Letters
Capitalizing Just a Surname
Default Cell Movement when Deleting
Uncovering and Removing Links
Replacing Links with Values
Simple Relative References in External Links
Deleting Everything Up to a Character Sequence
Automatically Adding 20% to an Entry
Find and Replace Tips
A Fast Find-Next
Searching by Columns, by Default
Superscripts in Find and Replace
Finding All Instances of a Value
Find and Replace in Headers
Searching for Line Breaks
Getting Rid of Spaces in Cells
Replacing Background Colors in Cells
Searching for Wildcards
Formatting Tips
Understanding Cell Indenting
Understanding Underlines
Underlining Text in Cells
Using Copy and Paste for Formatting
Understanding Monospace Fonts
Changing Character Spacing
Determining Font Formatting
Changing Font Sizes
Removing Borders
Applying Table Formats
Understanding Color and Conditional Formatting Codes
Easy Value Hiding
Hash Marks Displayed Instead of Cell Contents
Formatting Subtotal Rows
Preventing Automatic Date Formatting Changes
Copying Formats to a New Worksheet
Differentiating a Header Row
Custom Formats for Scientific Notation
Creating Two-Line Custom Formats
Adding a Custom Format to those Offered by Excel
Conditional Formatting Tips
Working with Multiple Conditions
Deleting Conditional Formatting
Conditionally Formatting an Entire Row
Applying Conditional Formatting to Multiple Worksheets
Coloring Identical Company Names
Detecting Errors in Conditional Formatting Formulas
Conditionally Formatting Non-Integers
Conditionally Formatting Cells Containing Dates
Conditional Formats for Odd and Even Columns
Conditional Formats that Distinguish Blanks and Zeroes
Conditional Formatting with Data Imported from Access
Conditional Formatting for Errant Phone Numbers
Conditionally Making a Sound
Header and Footer Tips
Copying Headers and Footers
Setting Header/Footer Margins
Specifying Date Formats in Headers
First and Last Names in a Page Header
Putting Cell Contents in Footers
Leading Zeros in Page Numbers
Specifying the Y Value in X of Y Page Numbering
Online Tips
Inserting Hyperlinks
Can't Use Hyperlinks
Adding a ScreenTip
Opening an HTML Page in a Macro
Extracting URLs from Hyperlinked Images
Converting a Range of URLs to Hyperlinks
Special Characters In Hyperlinks
Hyperlinks in Shared Workbooks
Get Rid of Web Stuff
Worksheet Tips
Picking Worksheets Quickly
Moving and Selecting Sheets with the Keyboard
Jumping to a Specific Worksheet
Jumping to Alphabetic Worksheets
Referencing a Worksheet Name
Ordering Worksheets Based on a Cell Value
Freezing Worksheet Tabs
Changing the Height of Worksheet Tabs
Protecting a Single Worksheet
Preventing Someone from Recreating a Protected Worksheet
Locking All Non-Empty Cells
Hiding and Protecting Columns
Dynamic Worksheet Tab Names
Functioning Check Boxes in a Protected Worksheet
Worksheet Function Tips
Nesting IF Worksheet Functions
Determining the Least Common Multiple
Specifying Different Weekends with NETWORKDAYS
Returning an ANSI Value
Determining a Value of a Cell
Adding Up Tops and Bottoms
Rounding to the Nearest $50
Rounding to Even and Odd Values
Using the WEEKNUM Function
Indirect References to a DSUM Parameter
Selecting Random Names
Converting Radians to Degrees
Converting to Octal
An Average that Excludes Zero Values
Making Your Formulas Check for Errors
Using COUNTIF with Colors
Returning the Left-most Characters
Returning Blanks with VLOOKUP
Formula Tips
Understanding Operators
Formulas Don't Calculate as Formulas
Incrementing References by Multiples when Copying Formulas
Referring to the Last Cell
Using a Formula to Replace Spaces with Dashes
Deriving Antilogs
Determining a State from an Area Code
Simulating Alt+Enter in a Formula
Finding Odd Values Greater Than 50
Identifying Digit-Only Part Numbers Excluding Special Characters
Calculating the Day of the Year
Calculating an Expanding Square
Randomly Assigning Names to Items
Filling Cells with Decreasing Cell References
Extracting Street Numbers from an Address
Pulling Initial Letters from a String
Indirectly Referencing a Cell on a Different Worksheet
Deleting Duplicate Text Values
Finding the Address of the Lowest Value in a Range
Combining Numbers and Text in a Cell
Alphabetic Column Designation
Applying Range Names to Formulas
Rounding Up to a Value Ending in 9
Avoiding Rounding Errors in Formula Results
Counting Asterisks in a Column
Getting a Count of Unique Names
Counting Odds and Evens
Counting Names Based on Two Criteria
Listing Combinations
Median of Selected Numbers
Deriving Monthly Median Values
Determining a Simple Moving Average
Averaging a Non-Contiguous Range
Selective Summing
Summing Only the Largest Portion of a Range
Summing Absolute Values
PivotTable Tips
Using Classic PivotTable Layout as the Default
Pointing PivotTables to Different Data
Maintaining Formatting when Refreshing PivotTables
Bogging Down with Calculated Items
Missing PivotTable Data
Updating Multiple PivotTables at Once
Easy Filtering Specifications for a PivotTable
Sorting and Filtering Tips
Sorting ZIP Codes
Sorting by Colors
Sorting for a Walking Tour
Controlling Sorting Order
Creating a Sort Order
Sorting Dates and Times
Using AutoFiltering
Advanced Filtering
Copying the Results of Filtering
Filtering Columns for Unique Values
Removing Duplicates Based on a Partial Match
Using a Filtered Value in a Formula
Separating Cells Based on Text Color
Comment Tips
Searching Comments
Changing the Comment Indicator Color
Changing Comment Color for a Single User
Pasting Into a Comment
Anchoring Comment Boxes in Desired Locations
Date and Time Tips
Unique Date Displays
Deciphering a Coded Date
Converting Coded Dates into Real Dates
Converting Mainframe Date Formats
Displaying a Number as Years and Months
Ages in Years and Months
Determining Month Names for a Range of Dates
Elapsed Days as Years, Months and Days
Calculating the Last Day in a Week Number
Leap Years and Fiscal Periods
Determining If a Date is between Other Dates
Weekdays in a Month
Finding the Previous Work Day
Date for Next Wednesday
Pulling All Fridays
ISO Week Numbers in Excel
EOMONTH Function is Flakey
Formatting for Hundredths of Seconds
Graphics Tips
Creating a Shape
Changing the Color Inside a Shape
Creating a Drawing Object
Moving Drawing Objects
Changing the Size of a Drawing Object
Understanding Fill Effects
Filling a Drawing Object
Setting the Default Fill Color for a Shape to None
Adding Drop Shadows
Moving and Copying Graphics Objects
Sending Drawing Objects to the Back or Front
Editing Graphics Objects
Capturing a Screen
Taking Pictures
Inserting a Picture in Your Worksheet
Protecting a Graphic
Watermarks in Excel
Non-Tiled Background Pictures
Pasting a Graphic to Multiple Worksheets
Deleting All Graphics
Dynamic Text Boxes
Inserting Text Boxes
Linking Text Boxes to Cells
Sizing Text Boxes and Cells the Same
Adding a Drop Shadow to a Text Box
Charting Tips
Creating a Chart
Make that Chart Quickly!
10 Commandments for Excel Charts
Changing Chart Size
Changing Chart Type
Understanding Custom Chart Templates
Excluding Some Data from a Chart
Easily Changing Chart Data Ranges
Changing the Axis Scale
Specifying the Size of Chart Objects
Putting a Chart Legend On Its Own Page
RGB Values for Automatic Colors
Exploded Pie Chart Sections
Changing Elements in Lots of Charts at One Time
Creating Sparklines
Printing Tips
Setting Default Print Margins
Printing a Range of Pages
Printing Only Selected Pages
Printing a Short Selection
Printing Selected Worksheets
Printing More than One Copy
Collating Copies
Printing Odd or Even Pages
Setting Print Quality
Working with Multiple Printers
Specifying a Paper Tray in a Macro
Using Duplex Printing
Printing a Single Column in Multiple Columns
Multiple Print Areas on a Single Printed Page
Printing Multiple Worksheets on a Single Page
Sequential Page Numbers Across Worksheets
Printing a Draft of a Worksheet
Flipping Landscape Orientation when Printing
Fitting Your Printout on a Page
Printing a Chart
Custom Page Numbers on Printouts
Hiding a Hyperlink on a Printout
Black and White Blues
Can Only Print to Default Printer
Printing a List of Named Ranges
Workbook and File Tips
How Excel Treats Disk Files
Use Filenames that Sort Properly
Opening Multiple Workbooks at Once
Merging Many Workbooks
Jumping Around Folders
Renaming a Workbook
Adding a File Path and Filename
Full Path Names in Excel
Finding the Directory Name
Saving in Multiple Locations
Protecting an Entire Workbook
Protecting an Entire Folder of Workbooks
Getting Rid of Empty Rows after Importing
Getting Rid of Extra Quote Marks in Exported Text Files
Checking for the Existence of a File
Finding the Size of a Workbook
Determining the Length of a Text File
Saving Information in a Text File
Appending to a Non-Excel Text File
Sharing Your Workbook
Remembering Workbook Settings from Session to Session
Stopping a Workbook from Persistently Auto-Loading
Problems with Default Workbook and Worksheet Templates
Selectively Importing Records
Opening a Workbook as Read-Only
Creating a CSV File
Stopping Date Parsing when Opening a CSV File
Faster Text File Conversions
Working with Lotus 1-2-3 Spreadsheets
Tools Tips
Creating Scenarios
Tracing Dependent Cells
Tracing Precedent Cells
Tracing Errors
Accessing Dependent and Precedent Information
Discovering Dependent Workbooks
Using Revision Tracking
Making Revisions
Resolving Revisions
Hiding Outline Symbols
Changing Links
Updating Links
Answering Questions in Order
Turning Off Speech Capabilities
Inserting a Sound File in Your Worksheet
Non-Printing Controls
Macro Tips
Understanding Macros
Tools on Developer Tab are Unavailable
Recording a Macro
Relative References when Recording Macros
Relative VBA Selections
Declaring Variables
Continuing Macro Lines
Renaming a Macro
Debugging a Macro
Inserting Worksheet Values with a Macro
Using InputBox to Get Data
Offering Options in a Macro
Pausing Macros for User Input
Understanding the While...Wend Structure
Clean Up Your Macro List
Adding a Macro to the Quick Access Toolbar
Self-Deleting Macros
Counting Empty Colored Cells
Skipping Hidden Rows in a Macro
Displaying the "Last Modified" Date
Finding Workbooks Containing Macros
Trimming Spaces from Strings
Triggering an Event when a Worksheet is Deactivated
Deleting Every X Rows
Reversing Cell Contents
Converting Strings to Numbers
Using Named Ranges in a Macro
Selecting the First Cell In a Row
Stepping Through a Non-Contiguous Range of Cells
Finding the Path to the Desktop
Macro for Month Name
Pulling Cell Names into VBA
Creating a String in a Macro
Dissecting a String
Replacing and Converting in a Macro
Swapping Two Numbers
Using Macros in Protected Workbooks
Checking if a Workbook is Already Open
Splitting Information into Rows
Selecting Visible Cells in a Macro
Converting Text to Numbers
Displaying a Set Column Range
Determining if Calculation is Necessary
Preserving the Undo List
Recovering Macros from Corrupted Workbooks
Reorganizing Data
Mouse Click Event in VBA
Testing if a Workbook is Open
Buttons Don't Stay Put
Creating a Directory in a Macro
Changing Directories in a Macro
Ctrl+Break Won't Work to Stop a Macro
Determining the Hour of the Day
Opening a Workbook and Suppressing Automatic Macros
Setting Row Height in a Macro
Macros Run Fine Individually, but Not Collectively
Delimited Text-to-Columns in a Macro
Playing with a Full Deck
Macros Run Slower in Newer Excel?
Understanding Add-Ins
Removing Add-ins
Installing the Date Picker
Order Your ExcelTips Archives Today!
Each download item shown below includes the size of the download file. (When you're dealing with hundreds and hundreds of pages per archive volume, files can get large.) If you have a slow connection to the Internet, you can save precious time by ordering your archives on CD-ROM, instead of as a download.

The ExcelTips archives include PDF documents. To read these documents, you need to have either Adobe Acrobat or Adobe Reader on your system. Adobe Reader is free to download; click the link to get the latest version.
Archive Year
Dates Covered
Tips
CD
Download
ExcelTips Menu 2012
(for Excel 97, 2000, 2002, and 2003 users)
7 Jan 12 — 29 Dec 12
416 tips

(455 pages)
$32.99

(5.4 MB)
$24.99
ExcelTips Ribbon 2012
(for Excel 2007 and 2010 users)
7 Jan 12 — 29 Dec 12
415 tips

(482 page)
$32.99

(8.9 MB)
$24.99
ExcelTips Menu 2013
(for Excel 97, 2000, 2002, and 2003 users)
5 Jan 13 — 28 Dec 13
415 tips

(474 pages)
$32.99

(5.5 MB)
$24.99
ExcelTips Ribbon 2013
(for Excel 2007, 2010, and 2013 users)
5 Jan 13 — 28 Dec 13
416 tips

(490 pages)
$32.99

(6.1 MB)
$24.99
ExcelTips Menu 2014
(for Excel 97, 2000, 2002, and 2003 users)
4 Jan 14 — 27 Dec 14
312 tips

(357 pages)
$32.99

(4.4 MB)
$24.99
ExcelTips Ribbon 2014
(for Excel 2007, 2010, and 2013 users)
4 Jan 14 — 27 Dec 14
415 tips

(524 pages)
$32.99

(8.2 MB)
$24.99
ExcelTips Menu 2015
(for Excel 97, 2000, 2002, and 2003 users)
3 Jan 15 — 26 Dec 15
208 tips

(205 pages)
$32.99

(3.4 MB)
$24.99
ExcelTips Ribbon 2015
(for Excel 2007, 2010, 2013, and 2016 users)
3 Jan 15 — 26 Dec 15
416 tips

(499 pages)
$32.99

(6.1 MB)
$24.99
ExcelTips Menu 2016
(for Excel 97, 2000, 2002, and 2003 users)
1 Jan 11 — 31 Dec 11
211 tips

(236 pages)
$32.99

(3.6 MB)
$24.99
ExcelTips Ribbon 2016
(for Excel 2007, 2010, 2013, and 2016 users)
1 Jan 11 — 31 Dec 11
212 tips

(259 pages)
$32.99

(3.2 MB)
$24.99
You can also order any of the ExcelTips archives by calling our order line: 307-200-0450.