ExcelTips Ribbon 2018 Archive (Table of Contents)
Summary: ExcelTips is a weekly newsletter that provides tips on how to effectively use Microsoft's best-selling spreadsheet program. At the beginning of every year we put together an archive of all the tips published the previous year. Here is the complete table of contents for the ExcelTips (ribbon) newsletter archive for 2018.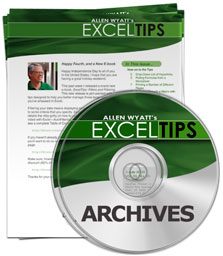 ExcelTips Ribbon 2018 Archive includes hundreds of valuable tips. The following is the Table of Contents for the archive:
Introduction
What's in This E-Book?
Need More Tips?
A Special Note of Thanks
Sharing this Document
General Tips
Office 365 and Excel Versions
Arranging Workbook Windows
Zooming with the Keyboard
Specifying the Behavior of the Enter Key
Getting Audible Feedback
Slowing Down Mouse Selection
Controlling Display of the Formula Bar
Changing Gridline Color
Controlling Automatic Backups
Modifying Error Alerts Received
Getting Stock Information into Excel
Displaying a Count of Zeros on the Status Bar
Message about a Problem with the Clipboard
Saving Changes in the Personal Workbook
Generating Random Testing Data
Removing Personal Information
Using More CPU Power when Calculating
Closing Excel when Closing the Last Workbook
Enabling Circular References by Default
Transferring Ribbon Customizations
Working with the Quick Access Toolbar
Working with the Ribbon
Creating an Add-In
Mouse Scroll Wheel Doesn't Work when Editing Formulas
Answering Questions in Order
Using Go To to Jump to a Chart Sheet
Jumping to a Range
Editing Tips
Ensuring Standard Units During Data Entry
Limiting Input to Two Decimal Places
Inserting Different Dashes
Using an Input Mask
Replacing Links with Values
Undoing Actions in Only the Active Workbook
Alt+Enter Stopped Working Correctly
Synchronizing Lists
Deleting Duplicate Columns
Deleting Everything Up to a Character Sequence
Typing a Schwa Character in Excel
Copying and Pasting Non-Contiguous Ranges of Cells
Deleting Rows Containing Struck-Through Text
AutoFilling with Weekdays
Repeating a Pattern when Copying or Filling Cells
Pasting Numeric Values in Other Programs
Splitting Sentences to Cells
A Fast Find-Next
Capitalizing Just a Surname
Formulas Don't Calculate as Formulas
Default Cell Movement when Deleting
Leading Zeros in Page Numbers
Copying Headers and Footers
Setting Header/Footer Margins
Formatting Tips
Changing Font Sizes
Determining Font Formatting
Understanding Monospace Fonts
Changing Default Row Height
Adjusting Row Height for a Number of Worksheets
Controlling Automatic Formatting of Dates
Differentiating a Header Row
Applying Table Formats
Easy Value Hiding
Wrapping Text in Merged Cells
Hash Marks Displayed Instead of Cell Contents
Adding a Custom Format to those Offered by Excel
Creating Two-Line Custom Formats
Removing Borders
Conditional Formatting Tips
Detecting Errors in Conditional Formatting Formulas
Coloring Identical Company Names
Conditional Formats that Distinguish Blanks and Zeroes
Conditionally Formatting an Entire Row
Conditionally Formatting Non-Integers
Conditionally Formatting Cells Containing Dates
Understanding Color and Conditional Formatting Codes
Conditionally Making a Sound
Online Tips
Inserting Hyperlinks
Can't Use Hyperlinks
Converting a Range of URLs to Hyperlinks
Special Characters In Hyperlinks
Get Rid of Web Stuff
Opening an HTML Page in a Macro
Extracting URLs from Hyperlinked Images
Worksheet Tips
Specifying the Number of Worksheets in a New Workbook
Making Multiple Worksheet Copies
Automatically Renaming Worksheets
Jumping to a Specific Worksheet
Picking Worksheets Quickly
Finding a Worksheet to Unhide among Many Hidden Sheets
Password Protecting Specific Columns in a Worksheet
Preventing Someone from Recreating a Protected Worksheet
Worksheet Function Tips
Using COUNTIF with Colors
Returning an ANSI Value
Nesting IF Worksheet Functions
Returning Blanks with VLOOKUP
Adding Up Tops and Bottoms
Selecting Random Names
Determining the Least Common Multiple
Converting Radians to Degrees
Formula Tips
Rounding in Results
Avoiding Rounding Errors in Formula Results
Measuring Efficiency of Formulas and Macros
Finding Odd Values Greater Than 50
Transposing and Linking
Summing Absolute Values
Rounding Up to a Value Ending in 9
Identifying Digit-Only Part Numbers Excluding Special Characters
Criteria-Based Counting in a Filtered Column
Finding the Address of the Lowest Value in a Range
Median of Selected Numbers
Filling Cells with Decreasing Cell References
Counting Odds and Evens
Averaging a Non-Contiguous Range
Randomly Assigning Names to Items
Getting a Count of Unique Names
Selective Summing
Summing Only Cells Containing Formulas
Unique Date Displays
Calculating the Day of the Year
Extracting Street Numbers from an Address
Determining a State from an Area Code
Adding Area Codes to Phone Numbers
PivotTable Tips
Easy Filtering Specifications for a PivotTable
Expanding PivotTable Rows to Sheets
Using Classic PivotTable Layout as the Default
Pointing PivotTables to Different Data
Sorting and Filtering Tips
Controlling Sorting Order
Creating a Sort Order
Separating Cells Based on Text Color
Sorting by Colors
Sorting Dates and Times
Sorting for a Walking Tour
Advanced Filtering
Comment Tips
Anchoring Comment Boxes in Desired Locations
Searching Comments
Changing the Background Color for a Comment
Pasting Into a Comment
Date and Time Tips
Displaying a Number as Years and Months
Leap Years and Fiscal Periods
Determining Month Names for a Range of Dates
Calculating the Last Day in a Week Number
Years in Which a Date Occurred on a Particular Day
Calculating the First Tuesday
Month for the Nth Sunday
Finding the Previous Work Day
ISO Week Numbers in Excel
Converting Coded Dates into Real Dates
Pulling All Fridays
Weekdays in a Month
Determining Contract Weeks
Changing How Excel Determines which Year to Use
Specifying Date Formats in Headers
Graphics and Charting Tips
Capturing a Screen
Taking Pictures
Watermarks in Excel
Understanding Fill Effects
Setting the Default Fill Color for a Shape to None
Adding Drop Shadows
Protecting a Graphic
Creating a Drawing Object
Moving Drawing Objects
Changing the Color Inside a Shape
RGB Values for Automatic Colors
Creating a Chart
Make that Chart Quickly!
Exploded Pie Chart Sections
Adjusting the Angle of Axis Labels
Creating Sparklines
Sizing Text Boxes and Cells the Same
Printing Tips
Setting Print Quality
Setting Default Print Margins
Working with Multiple Printers
Printing a Short Selection
Printing a Range of Pages
Printing More than One Copy
Printing a Single Column in Multiple Columns
Using Duplex Printing
Custom Page Numbers on Printouts
Collating Copies
Printing Gridlines by Default
Limiting Printing to a Workbook from a Set Location
Hiding a Hyperlink on a Printout
Creating Individual PDFs by Worksheet
Specifying a Paper Tray in a Macro
Showing Print Preview for the Current Page
Adding Page Borders to a Printout
Multiple Print Areas on a Single Printed Page
Workbook and File Tips
Opening a Workbook as Read-Only
Opening Multiple Workbooks at Once
Specifying the Number of MRU Files
Remembering Workbook Settings from Session to Session
Problems with Default Workbook and Worksheet Templates
Merging Many Workbooks
Who Has the Workbook Open?
Getting Rid of Empty Rows after Importing
Importing Many Files Into Excel
Full Path Names in Excel
Protecting an Entire Folder of Workbooks
Saving Information in a Text File
Getting Rid of Extra Quote Marks in Exported Text Files
Stopping Date Parsing when Opening a CSV File
Selectively Importing Records
Checking for the Existence of a File
Adding a File Path and Filename
Use Filenames that Sort Properly
Tools Tips
Tracing Dependent Cells
Tracing Precedent Cells
Tracing Errors
Sharing Your Workbook
Using Revision Tracking
Resolving Revisions
Updating Links
Inconsistent Behavior of Find and Replace Dialog Box
Superscripts in Find and Replace
Searching for Wildcards
Find and Replace in Headers
Getting a List of Matching Cells
Macro Tips
Recording a Macro
Writing a Macro from Scratch
Ctrl+Break Won't Work to Stop a Macro
Generating a List of Macros
Clean Up Your Macro List
Relative References when Recording Macros
Relative VBA Selections
Selecting the First Cell In a Row
Using R1C1 Formula References in a Macro
Using InputBox to Get Data
Displaying a Set Column Range
Mouse Click Event in VBA
Preserving the Undo List
Stepping Through a Non-Contiguous Range of Cells
Skipping Hidden Rows in a Macro
Using Macros in Protected Workbooks
Counting Empty Colored Cells
Automatically Enabling Macros for Specific Workbooks
Creating a String in a Macro
Dissecting a String
Trimming Spaces from Strings
Disabling All Function Keys Except One
Inserting Worksheet Values with a Macro
Deleting Every X Rows
Deleting Blank Rows
Using Named Ranges in a Macro
Converting HSL to RGB
Creating a Floating Macro Button
Saving an Unsavable Workbook
Adding a Macro to the Quick Access Toolbar
Reversing Cell Contents
Pulling Cell Names into VBA
Putting the Last Saved Date in a Cell
Finding the Path to the Desktop
Testing if a Workbook is Open
Selecting Visible Cells in a Macro
Determining if Calculation is Necessary
Triggering an Event when a Worksheet is Deactivated
Order Your ExcelTips Archives Today!
Each download item shown below includes the size of the download file. (When you're dealing with hundreds and hundreds of pages per archive volume, files can get large.) If you have a slow connection to the Internet, you can save precious time by ordering your archives on CD-ROM, instead of as a download.

The ExcelTips archives include PDF documents. To read these documents, you need to have either Adobe Acrobat or Adobe Reader on your system. Adobe Reader is free to download; click the link to get the latest version.
Archive Year
Dates Covered
Tips
CD
Download
ExcelTips Ribbon 2017
(for Excel 2007, 2010, 2013, and 2016 users)
1 Jan 17 — 30 Dec 17
208 tips

(276 page)
$32.99

(3.8 MB)
$24.99
ExcelTips Ribbon 2018
(for Excel 2007, 2010, 2013, 2016, 2019, and Office 365 users)
6 Jan 18 — 29 Dec 18
249 tips

(321 pages)
$32.99

(4.0 MB)
$24.99
ExcelTips Ribbon 2019
(for Excel 2007, 2010, 2013, 2016, 2019, and Office 365 users)
5 Jan 19 — 28 Dec 19
312 tips

(444 pages)
$32.99

(7.2 MB)
$24.99
ExcelTips Ribbon 2020
(for Excel 2007, 2010, 2013, 2016, 2019, and Office 365 users)
4 Jan 20 — 26 Dec 20
312 tips

(403 pages)
$32.99

(7.5 MB)
$24.99
ExcelTips Ribbon 2021
(for Excel 2007, 2010, 2013, 2016, 2019, and Microsoft 365 users)
2 Jan 21 — 25 Dec 21
312 tips

(376 pages)
$32.99

(6.6 MB)
$24.99
You can also order any of the ExcelTips archives by calling our order line: 307-200-0450.