Word 2007 Graphics (Table of Contents)
Summary: One way to enhance your documents is with Word's powerful graphics capabilities. Discover how to best utilize graphics and add them to your documents with Word 2007 Graphics. Here is the complete table of contents for this book.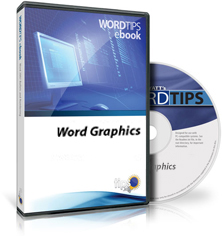 Word 2007 Graphics, Fourth Edition, includes 217 information-packed pages. The following is the Table of Contents:
Introduction
A Note on Terms
What's Your Version?
What Happened to the Equation Editor?
Need More Tips?
A Special Note of Thanks
Sharing this Document
Graphics Basics
Inserting a Picture in Your Document
Selecting a Graphic
Positioning Graphics Evenly
Placing Many Graphics in a Document
Nudging a Graphic
Rotate a Graphic Using the Keyboard
Selecting Lots of Graphics
Moving Images Behind Text
Selecting a Graphic that is Behind Text
Choosing an Insert Method for Pictures
A Picture Is Worth a Thousand Words
Hiding Graphics
Understanding Grayscale Images
Best Quality for High Resolution Graphics
Problems Pasting Large Pictures
Displaying Thumbnails and Full-Size Images
Default Picture Settings
Turning on Picture Placeholders
Can't Select and Edit Graphics Elements
Capturing a Screen
Disappearing Graphics Groups
Faster Picture Displaying
Making Pictures Show in Word
Default Picture Location
Creating a Drop Cap
Formatting and Styling Graphics
Changing the Size of a Graphic
Resize Graphics Outside of Word
Cropping Graphics
Adjusting Shadow Settings
Adding a Style to a Picture
Adding a Shape to a Picture
Securing Your Signature
Linked Graphics
Understanding Graphic Linking
Easily Changing Links in Documents
Changing Many Link Locations
Deleting Freezes Computer
Unlinking an Excel Chart Automatically
Linking to Slides in PowerPoint
Extracting Graphics
Getting Pictures Out of Word
Extracting Pictures from a Document
Extracting INCLUDEPICTURE File Names
Clip Art
Inserting Clip Art in Your Document
Displaying Clip Art Details
Inserted Clip Art Doesn't Work
Word Freezes when Working with Lots of Clip Art
Using MPF Graphic Files
Simple Shapes
Creating a Drawing Object
Moving Drawing Objects
Duplicating Drawing Objects
Rotating a Drawing Object
Flipping a Drawing Object
Changing the Size of a Drawing Object
Changing a Shape
Drawing Lines
Drawing a Curve
Grouping Drawing Objects
Filling a Drawing Object
Understanding Fill Effects
Sending Drawing Objects to the Back or Front
Adding Circles around Letters or Numbers
Strictly Text Boxes
Inserting a Text Box
Removing the Box from a Text Box
No-border Text Boxes by Default
Creating See-Through Text Boxes
Rounded Corners for a Text Box
Boxes in Boxes
Resizing a Text Box
Changing Orientation of a Text Box
Automatically Adjusting Height for Text Boxes
Finding Text Boxes
Finding an Invisible Text Box
Find and Replace in Text Boxes
Changing Defaults for Text Boxes and Callouts
Columns in a Text Box
Including Text Box Text in Word Counts
Wrapping Text around a Graphic in a Text Box
Selecting Text in Linked Text Boxes
Deleting All Text in Linked Text Boxes
Selecting a Graphic Behind a Text Box
Spell Checking with Text Boxes
Technique for Adding a Text Box to an Envelope
Comments In Text Boxes
Adding Endnotes in Text Boxes
Adding a Drop Shadow to a Text Box
Placeholders for Stamps
Creating Tent Cards
Rotating Fractions in a Text Box
Updating a Field in a Text Box
Generating a TOC that Includes Text Boxes
Counting Characters in Text Boxes
Converting a Text Box to a Frame
Removing All Text Boxes In a Document
SmartArt
Understanding SmartArt
Creating an Organization Chart
Using the SmartArt Text Pane
Controlling Display of the SmartArt Text Pane
Adding Shapes to SmartArt
Formatting Shapes within SmartArt
Changing Shapes within SmartArt
Resizing Your SmartArt
Deleting SmartArt
Changing a SmartArt Layout
Changing SmartArt Layout Orientation
Graphics and Page Layout
Using the Selection and Visibility Pane
Understanding Object Anchors
Using Object Anchors
Moving Object Anchors
Anchoring Objects by Default
Absolutely Positioning a Picture
Writing On Top of Locked Graphics
Inserting an Image On a Specific Page
Vertical Alignment of an Inline Graphic
Graphics and Line Height
Stopping Text from Jumping Around
Pictures Move on their Own
Wrapping Text Around a Graphic
Wrapping Text Around a Text Box
Understanding "Through" Text Wrapping
Editing Wrap Points
Setting the Wrapping Default for Objects
Hanging Indents in Wrapped Text
Grouping Images Changes Text Wrap to Inline
Different Layout for a Portion of a Page
Adding Sidebars
Creating Sideheads
Characters in the Margin Next to Paragraphs
Keeping Callouts Positioned
Moving Captions with Pictures
Keeping a Picture Title with the Picture
Freezing Cell Size when Inserting Pictures
Keeping an Image Centered in a Table Cell
Automatically Formatting Graphics and Shapes
Understanding Page Border Art
Grids, the Canvas, and Connectors
Using the Drawing Grid
Moving Objects without Snapping to the Grid
Understanding the Drawing Canvas
Using Connectors
Moving a Connector
Finding and Replacing Graphics
Searching and Replacing Graphics
Replacing Text with a Graphic
Replacing Graphics with Graphics
Searching for Floating Graphics
Working with WordArt
Understanding WordArt
Adding WordArt Libraries
Changing WordArt Text
Aligning Text in WordArt
Specifying a Font in WordArt
Changing Text Color in WordArt
Placing WordArt Over Graphics
Applying Text Options in WordArt
Using Different Shapes in WordArt
Getting Rid of the Jaggies in WordArt
Saving WordArt Graphics as Files
Working with Chart
Starting Microsoft Graph
Picking a Chart Type
Changing Borders for Data Series
Turning Off Borders for Data Series
Adding Titles to a Chart
Adding a Border Around Text in a Chart
Displaying a Chart Legend
Adding Data Labels to a Chart
Selecting Fonts for a Chart
Specifying Colors in Chart
Editing the Color Palette in Chart
Changing the Perspective of Your Chart
Adjusting Chart Size
Changing the Default Chart Type
Selecting a Chart Pattern
Including a Data Table with Your Chart
Selecting a Custom Chart
Controlling Display of Chart Axes in Microsoft Graph
Specifying an Axis Scale in Microsoft Graph
Picking a Number Format for an Axis
Selecting Text Orientation for an Axis in Microsoft Graph
Controlling Chart Gridlines
Changing Shapes in Microsoft Graph
Formatting Datasheet Numbers
Deleting Datasheet Rows or Columns
Changing Datasheet Column Width
Including Datasheet Rows or Columns in a Chart
Changing the Orientation of Your Chart
Inserting Datasheet Rows or Columns
Converting Tables to Charts
Importing Excel Information Into Chart
Printing Graphics
Images Won't Print
Missing Left Border
Upside-Down Printing
Printing a Document's Mirror Image
Printing Graphic Thumbnails
Selecting Printing of Color Pictures
Changing Compression Print Resolution
Only Inline Figures Can be Seen and Printed
Printing Images Based on Hidden Text Setting
Merging Graphics into Word Documents
Working with Graphics in Macros
Counting All Graphics
Scaling Graphics in a Macro
Determining Picture Size in VBA
Inserting Multiple Graphics in a Document
Removing Pictures from Multiple Files
Description
Download
CD
Word 2016 Graphics

ISBN 978-1-61359-371-4 (3.7 MB)
$24.99

ISBN 978-1-61359-372-1 (204 pages)
$29.99
Word 2013 Graphics

ISBN 978-1-61359-369-1 (4.3 MB)
$24.99

ISBN 978-1-61359-370-7 (211 pages)
$29.99
Word 2010 Graphics

ISBN 978-1-61359-367-7 (6.3 MB)
$24.99

ISBN 978-1-61359-368-4 (205 pages)
$29.99
Word 2007 Graphics

ISBN 978-1-61359-365-3 (5.8 MB)
$24.99

ISBN 978-1-61359-366-0 (217 pages)
$29.99
Word Graphics Ribbon Pack

Great deal! Four versions
(Word 2007, 2010, 2013, and 2016)
for the price of two (you get two free).

ISBN 978-1-61359-373-8 (20.1 MB)
$49.98

ISBN 978-1-61359-374-5 (837 pages)
$59.98
You can also order any of our products by calling our order line: 307-200-0450.