Word Terrific Tables
Summary: Word allows you to create and format tabular information using a powerful table editor. Discover the many ways that you can use tables to present your information in a clear, concise way.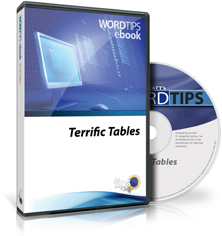 Word is great at giving you with the tools you need to present information on the printed page in a myriad of ways. Equally true is the fact that it can be frustrating to figure out how to use some of those tools. Other tools seem easier to use, but we often use just a small portion of their true capabilities.
One such Word tool allows you to create a document element that you may take for granted: tables. Word allows you to easily create, modify structure, edit contents, and format tables in a huge number of ways. In fact, the many ways in which tables can be used often makes it difficult for some people to "get their heads around" all that tables can do.
Tables, within Word, can be used in so many ways and can do so much that it is easy to misunderstood them and not use them to their full potential (and your ultimate benefit). That's where the Word Terrific Tables e-books come into play. I've created and updated four individual e-books, each focusing on mastering tables in different versions of Word:
Inside each version of Word Terrific Tables you'll find more than you ever thought possible about the topic of tables. How much more? Consider for a moment that each version of the e-book is packed with over 175 pages on various aspects of creating, changing, formatting, and working with tables. That's way too much to detail here, but you can review the full TOC for each version by clicking one of the version titles, above.
Can't decide which version to get? Perhaps you use multiple versions of Word or you are responsible for users who have different versions. If this describes you, then you really could benefit by having copies of Word Terrific Tables for each of the Word versions you work with. You're in luck! If you purchase two versions of the e-book, we'll give you the other two versions for free! (See the ordering information, below, for information on our Ribbon Pack.)
Word Terrific Tables includes every tip ever published about tables in past issues of WordTips, all updated to make sure they work with the appropriate versions of Word. Whether you are a user of Word 2007, Word 2010, Word 2013, or Word 2016 you'll find something here to make your use of Word better than ever before.
Word Terrific Tables goes way beyond the introductory material that is found in most other sources. It includes advanced and sometimes esoteric information, such as how to work with the data contained in your tables, how to effectively use table captions, and even how to apply macros to tables. There is so much information, you can't help but improve your knowledge level and enhance the way you create documents.
Regardless of which version of Word Terrific Tables you choose, you get the e-book in two formats—Microsoft Word and Adobe Acrobat—and you automatically get them both. Including both formats allows you to easily use the information in whatever format you desire. Both formats allow you to enjoy the following features:
The ability to view, search, and print the book.
Screen shots that illustrate what you see in Word as you follow the step-by-step instructions.
The ability to select and copy sections of text, such as macro code.
Hyperlinks to internal content (in the book itself) and referenced resources on the Web.

To use the Microsoft Word version of the e-book, you just need to have Word installed on your system. If you want to use the Adobe Acrobat (PDF) version, you need to either have Acrobat or the free Adobe Acrobat Reader. Many computer systems already have the reader installed. If you do not, you can get it free, directly from Adobe.
There is no better source anywhere than our version-specific editions of Word Terrific Tables. (If you find such a source, I'd love to know about it; I don't think one exists.) And our Ribbon Pack provides the absolute best breadth of information that you can find.
How much does this valuable resource cost you? You can download your own copy of Word Terrific Tables, in the version that is right for you, for the low price of only $19.99. Place your order today!
Description
CD
Download
Word 2016 Terrific Tables

ISBN 978-1-61359-382-0 (180 pages)
$24.99

ISBN 978-1-61359-381-3 (2.3 MB)
$19.99
Word 2013 Terrific Tables

ISBN 978-1-61359-380-6 (180 pages)
$24.99

ISBN 978-1-61359-379-0 (2.3 MB)
$19.99
Word 2010 Terrific Tables

ISBN 978-1-61359-378-3 (177 pages)
$24.99

ISBN 978-1-61359-377-6 (3.7 M)
$19.99
Word 2007 Terrific Tables

ISBN 978-1-61359-376-9 (177 pages)
$24.99

ISBN 978-1-61359-375-2 (3.7 MB)
$19.99
Word Terrific Tables Ribbon Pack

Great deal! Four versions
(Word 2007, 2010, 2013, and 2016)
for the price of two (you get two free).

ISBN 978-1-61359-384-4 (714 pages)
$49.98

ISBN 978-1-61359-383-7 (11.9 MB)
$39.98
You can also order any of our products by calling our order line: 307-200-0450.