ExcelTips: Powerful Lookup Functions (Table of Contents)
Summary: Want to access your data indirectly? The answer is to use Excel's lookup function. ExcelTips: Powerful Lookup Functions is a key resource in discovering how to use those functions. Here is the complete table of contents for this resource.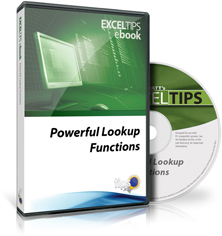 ExcelTips: Powerful Lookup Functions, fourth edition, includes 131 information-packed pages that will help you discover and master the power behind the lookup functions provided by Excel. The following is the Table of Contents:
Introduction
A Word about Versions
Macros and Array Formulas
Need More Tips?
Sharing this Document
Lookup Function Basics
Understanding the CHOOSE Function
Understanding the MATCH Function
Understanding the INDEX Function
Understanding the OFFSET Function
Understanding the VLOOKUP Function
Understanding the HLOOKUP Function
Understanding the LOOKUP Function
Maintaining Text Formatting in a Lookup
Errors when Copying References to External Cells
Addresses and Cell References
Cell Address of a Maximum Value
Finding the Address of the Lowest Value in a Range
Referring to the Last Cell
Referencing the Last Cell in a Column
Relative References within Named Ranges
Non-adjusting References in Formulas
Stopping a Formula from Updating References
Incrementing References by Multiples when Copying Formulas
Where Is that Text?
Finding Duplicate Values or Unique Values
Synchronizing Lists
Comparing Lists for Duplicates
Cleaning Up Lists
Ensuring Unique Values in a Column
Counting Unique Values
Getting a Count of Unique Names
Finding Differences Between Lists
Getting Rid of Everything Except Numbers
Deleting All Names but a Few
Grabbing Info from a List
Returning a Weight and a Date
Retrieving the Last Value in a Column
Last Non-Zero Value in a Row
Extracting Numbers within a Range
Highlighting Cells Containing both Letters and Numbers
Determining a State from an Area Code
Figuring Out the Low-Score Winner
Determining Winners, by Category
Determining "Highest Since" or "Lowest Since"
Returning Blanks or Asterisks from a Lookup
Returning Item Codes Instead of Item Names
Looking Backward through a Data Table
Pulling a Phone Number with a Known First and Last Name
Looking Up Names when Key Values are Identical
Reversing Integer Values
Compiling a List of Students in a Course
Displaying Letter Grades
Determining a Name for a Week Number
Adjusting Formulas for Top-Added Rows
Complex Lookup Formulas
Using Lookup Functions with Dates
Macro for Month Name
Automatically Advancing by a Month
Adding Ordinal Notation to Dates
Date for Next Wednesday
Calculating Future Workdays
Calculating the First Business Day of the Month
Determining Business Quarters from Dates
Specifying Different Weekends with NETWORKDAYS
Finding the Dates for Minimums and Maximums
Deciphering a Coded Date
Finding the Date Associated with a Negative Value
Looking Up Random Data
Picking Different Random Numbers from a Range
Selecting Random Names
Generating Random Strings of Characters
Calculations Involving Lookups
Calculating the Interval between Occurrences
Adding Dashes between Letters
Inserting Dashes between Letters and Numbers
Breaking Up Variable-Length Part Numbers
Finding the First Non-Digit in a Text Value
Calculating the Median Age of a Group of People
Determining a Simple Moving Average
Averaging the Last Numbers in a Column
Referencing the Last Six Items in a Formula
Engineering Calculations
Adjusting the Way VLOOKUP Works
Making VLOOKUP Trigger a Macro
Adjusting the VLOOKUP Function
Making VLOOKUP Case Sensitive
Returning Blanks with VLOOKUP
Using VLOOKUP to Access Information to the Left
Concatenating Values from a Variable Number of Cells
Using Lookup Functions to Enhance Charts
Easily Changing Chart Data Ranges
Automatically Updating Charts for Additional Data
Automatically Creating Charts for Individual Rows in a Data Table
Creating a Year-to-Date Comparison Chart
To celebrate the release of the fourth edition of ExcelTips: Powerful Lookup Functions, for a limited time (through November 7, 2016) you can download your own copy of this valuable e-book for 30% off the regular price. Get your discount; place your order today!
Description
Download
ExcelTips: Powerful Lookup Functions

ISBN 978-1-61359-364-6 (1.7 MB)


$24.99

$17.49