ExcelTips: Times and Dates (Table of Contents)
Summary: Excel is great at storing all types of data, including times and dates. ExcelTips: Times and Dates provides the details you need to effectively work with this type of data; this is the complete table of contents.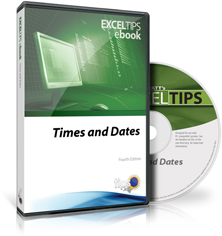 ExcelTips: Times and Dates includes 239 information-packed pages that will help you learn exactly how to work with dates and times in Excel. The following is the Table of Contents for the seventh edition:
Introduction
Versions and Functions
Need More Tips?
A Special Note of Thanks
Sharing this E-Book
General Date and Time Information
How Excel Stores Dates and Times
Changing Excel's Starting Date
Inserting the Date and Time
Entering Dates in Excel
Quickly Entering Dates and Times
Inserting the Current Time with Seconds
Using Early Dates
AutoFilling with Weekdays
Using an Input Mask
Defeating Automatic Date Parsing
Inserting Tomorrow's Date
Entering the Current Time
Shortcut to Enter GMT
Converting Text to Values
Backwards Date Parsing
Stopping Date Parsing when Opening a CSV File
Worksheet Functions Related to Times and Dates
Using the EOMONTH Function
EOMONTH Function is Flakey
Using the WEEKNUM Function
The EDATE Function
Checking for Time Input
Calculating Fractions of Years
Calculating Months of Tenure
Specifying Different Weekends with NETWORKDAYS
Parsing Non-Standard Date Formats
Setting a Default Date Format
Time Calculations
Dealing with Small Time Values
Entering Large Time Values
Dealing with Large Numbers of Seconds
Counting Times within a Range
Working with Elapsed Time
Calculating Elapsed Time with Excluded Periods
Rounding Time
Rounding to the Nearest Quarter Hour
Adjusting Times for Time Zones
Taking the Time into Account in a Formula
Calculating Time Differences between Two Machines
Calculating TV Time
Date Calculations
Calculating Averages by Date
Calculating Future Workdays
Finding the Previous Work Day
Calculating Week-Ending Dates
Calculating Weekend Dates
Calculating the Last Day in a Week Number
Using a Week Number as One Criterion in a Formula
End-of-Month Calculations
Calculating the First Business Day of the Month
Calculating a Date Five Days before the First Business Day
Leap Years and Fiscal Periods
Calculating Business Days
Calculating Months for Billing Purposes
Determining Business Quarters from Dates
The Last Business Day
Forcing Dates Forward
Calculating the Day of the Year
Days Left in the Year
Counting Dates in a Range
Determining Month Names for a Range of Dates
Weekdays in a Month
Monthly Close-Out Dates
Every Second Tuesday
Date for Next Wednesday
Incrementing Months in Dates
Noting Inactivity within a Timeframe
Counting Jobs Completed On a Date
Determining If a Date is between Other Dates
Finding the Dates for Minimums and Maximums
Returning a Weight and a Date
Determining a Name for a Week Number
Finding the Date Associated with a Negative Value
Averaging Values for a Given Month and Year
Elapsed Days as Years, Months and Days
Including Weeks in Elapsed Time
Calculating an Age on a Given Date
Ages in Years and Months
Calculating the Median Age of a Group of People
Calculating a Group Retirement Date
Tombstone Date Math
Deriving Monthly Median Values
Determining "Highest Since" or "Lowest Since"
Alerts for Approaching Due Dates
Latitude and Longitude
Displaying Latitude and Longitude
Exporting Latitude and Longitude
Calculating the Distance between Points
Date and Time Conversions
Converting UTC Times to Local Times
Converting UNIX Date/Time Stamps
Converting European Dates to US Dates
Converting Between Buddhist and Gregorian Calendar Systems
ISO Week Numbers in Excel
Unique Military Date Format
Converting Coded Dates into Real Dates
Deciphering a Coded Date
Converting an Unsupported Date Format
Converting Mainframe Date Formats
Converting Numeric Values to Times
Converting Time Notation to Decimal Notation
Formatting and Sorting Times and Dates
Using Custom Number Formats
Understanding Date and Time Formatting Codes
Unique Date Displays
Dates with Periods
Displaying a Number as Years and Months
Specifying a Language for the TEXT Function
Preventing Automatic Date Formatting Changes
Working with Minutes
Combining and Formatting Times
Displaying a Result as Minutes and Seconds
Formatting for Hundredths of Seconds
Adding Ordinal Notation to Dates
Automatically Capitalizing Day Names
Conditionally Formatting Cells Containing Dates
Conditional Formatting Based on Date Proximity
Conditionally Formatting for Multiple Date Comparisons
Formatted Dates Appear Differently on Different Systems
Filtering to a Date Range in the Past
Sorting Dates and Times
Sorting Dates by Month
Displaying Negative Times
Plotting Times of Day
Creating Two-Line Custom Formats
Times and Dates in Headers and Footers
Header and Footer Data Codes
Header and Footer Formatting Codes
Multiple Line Headers and Footers
Putting a Different Date in a Header
Inserting the Saved Date in a Header or Footer
Last Saved Date in a Footer
Date Last Edited
Specifying Date Formats in Headers
Using Times and Dates in Macros
Recording a Data Entry Time
Limiting Entry of Prior Dates
Entering Dates without Separators
Adjusting Date Values by Keypress
Entering or Importing Times without Colons
Determining the Day of the Month
Determining the Hour of the Day
Determining Differences between Dates
Automatically Converting to GMT
Displaying the "Last Modified" Date
Noting the Workbook Creation Date
Noting When a Workbook was Changed
Expiration Date for Excel Programs
Using Excel for Timing
Hiding Columns Not within a Date Range
Flashing Cells
Deleting Old Data from a Worksheet
Automatically Printing a Range
Automatically Advancing by a Month
Macro for Month Name
Naming Tabs for Weeks
Sheets for Days
Changing Months in a Workbook
Sheets for Months
Referencing Worksheet Tabs
Pulling All Fridays
Generating Random Testing Data
Modifying Default Year for Dates
Is Daylight Savings Time in Effect?
Getting Excel Dates into Outlook's Calendar
Self-Deleting Macros
Automatically Closing a Workbook
Forcing a Workbook to Close after Inactivity
Installing the Date Picker
Description
CD
Download
ExcelTips: Times and Dates

ISBN 978-1-61359-236-6 (239 pages)
$29.99

ISBN 978-1-61359-235-9 (2.6 MB)
$24.99
You can also order ExcelTips: Times and Dates by calling our order line: 307-200-0450.