ExcelTips Ribbon 2017 Archive (Table of Contents)
Summary: ExcelTips is a weekly newsletter that provides tips on how to best use Microsoft's word processing software. At the beginning of every year we put together an archive of all the tips published the previous year. Here is the complete table of contents for the archive for the ExcelTips (ribbon) newsletter for the year 2017.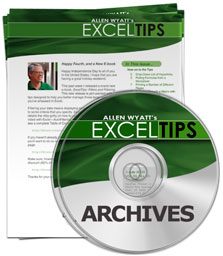 ExcelTips Ribbon 2017 Archive includes hundreds of valuable tips. The following is the Table of Contents for the archive:
Introduction
What's In This E-Book?
Need More Tips?
A Special Note of Thanks
Sharing this Document
General Tips
Starting in Safe Mode
Changing the Default Font
Changing Your Name
Turning Off Capital Corrections
Relative Worksheet References
Weird Actions for Arrow Keys and Enter
Odd Arrow Key Behavior
Making Pane Settings Persist
Shortcut to Merge Cells
Identifying Merged Cells
Working with Record Numbers
Problem with Missing Context Menu Option
Personal Workbook Fails to Load
Excluding a Specific Add-In at Startup
Working with Huge Datasets
Selecting Multiple Cells by Mistake
Disabling Page Layout View
Turning Off Display of Zeros for All Worksheets
Sizing Columns and Rows Using the Keyboard
Using the Ribbon Commands
Using the Legacy Shortcut Keys
Using the Context Menu
Displaying Excel's Developer Tab
Editing Tips
Creating Selections
Picking a Group of Cells
Adjusting a Range's Starting Point
Quickly Entering Data
Enhanced Filling
Using the Fill Handle from the Keyboard
Defeating Date Parsing when Pasting Information
Copying to Very Large Ranges
Quickly Deleting Rows and Columns
Deleting Rows before a Cutoff Date
Closing Up Cut Rows
Combining Multiple Rows in a Column
Reference Shortcut
Entered Values are Divided by 100
Fixing the Decimal Point
Entering Dates in Excel
Converting to ASCII Text
Swapping Two Cells
Activating the Formula Bar with the Keyboard
Using the Same Range Name on Different Worksheets
Getting Rid of Spaces in Cells
Trimming Off All Spaces
Limiting Entry of Names
Using Slashed Zeroes
Showing Text when a Cell is Empty
Searching by Columns, by Default
Formatting Tips
Accurate Font Sizes
Creating 3-D Formatting for a Cell
Increasing Row Height for Printing
Locking the Background Color
Adjusting Center Across Selection with a Cell Value
Formatting Currency
Unhiding a Single Column
Mimicking Small Caps in Excel
Superscripts in Custom Formats
Underlining Text in Cells
Enforcing a Desired Font
Saving a Custom Table Style
Using Copy and Paste for Formatting
Changing Character Spacing
Conditional Formatting Tips
Working with Multiple Conditions
Protecting Conditional Formatting
Shading Rows with Conditional Formatting
Conditional Format that Checks for Data Type
Changing Typeface with Conditional Formatting
Returning a Value Based on Text Color
Online Tips
Automatic Text in an E-mail
Opening Sites in a Browser
Worksheet Tips
Retrieving Worksheet Names
Dynamic Worksheet Tab Names
Unlocking a Worksheet with an Unknown Password
Ordering Worksheets Based on a Cell Value
Telling which Worksheets are Selected
Renaming Worksheets Based On a List
Resetting Default Names for New Worksheets
Worksheet Function Tips
Ways to Concatenate Values
Using the COLUMN Function
Rounding to the Nearest $50
Making Your Formulas Check for Errors
Making VLOOKUP Case Sensitive
An Average that Excludes Zero Values
Using the WEEKNUM Function
Specifying Different Weekends with NETWORKDAYS
Formula Tips
Understanding Operators
Getting Rid of Everything Except Numbers
Referring to the Last Cell
Grabbing the Second-to-Last Value in a Column
Last Non-Zero Value in a Row
Summing Based on Formatting in Adjacent Cells
Summing Based on Part of the Information in a Cell
Returning Item Codes Instead of Item Names
Returning Zero When a Referenced Cell is Blank
Counting String Occurrences in Odd Rows
Extracting a Pattern from within Text
Identifying Values that Don't Follow a Specific Pattern
Identifying Missing Numbers in a Consecutive Series
Using a Formula to Replace Spaces with Dashes
Determining a Simple Moving Average
Calculating an IRR with Varying Interest Rates
Separating Names into Individual Columns
Deriving Antilogs
PivotTable Tips
Text Truncated in PivotTable
Weighted Averages in a PivotTable
Sorting and Filtering Tips
Understanding Ascending and Descending Sorts
Sorting an Entire List
Sorting ZIP Codes
Preventing Jumbled Sorts
Forcing Excel to Sort Cells as Text
Sorting Text as Numbers
Setting Up Custom AutoFiltering
Copying the Results of Filtering
Using AutoFiltering
Removing Duplicates Based on a Partial Match
Comment Tips
Automatically Placing Text in a Comment
Viewing Comments
Date and Time Tips
Automatically Converting to GMT
Calculating Elapsed Time with Excluded Periods
Calculating Business Days
Calculating a Date Five Days before the First Business Day
End-of-Month Calculations
Counting Month Ends
Converting Numeric Values to Times
Tombstone Date Math
Deciphering a Coded Date
Formatting for Hundredths of Seconds
Determining If a Date and Time is within Working Hours
Counting Times within a Range
Graphics and Charting Tips
Inserting a Picture in Your Worksheet
Cropping Graphics
Moving and Copying Graphics Objects
Sending Drawing Objects to the Back or Front
Creating a JPG File from a Chart
Pop-Up Comments for Graphics
Inserting Video into Worksheets
Deleting Graphics when Deleting a Row
Adding and Formatting a Shape via Macro
Specifying Chart Sizes
Excluding Some Data from a Chart
Using Chart Titles
Setting Grid Line Intervals for a Radar Chart
Colorizing Charts
Moving Objects with a Chart
Specifying the Size of Chart Objects
Changing Elements in Lots of Charts at One Time
Printing Tips
Setting Up Your Printer
Scaling Your Printing
Using Multiple Print Settings
Protecting Print Settings
Printing Based on Cell Contents
Printing Selected Cells by Default
Specifying the Y Value in X of Y Page Numbering
Sequential Page Numbers Across Worksheets
Can Only Print to Default Printer
Preparing a Chart Sheet for Printing
Workbook and File Tips
Converting PDF to Excel
Shrinking Workbook Size
Saving in Multiple Locations
Removing Protection from a Protected Workbook
Workbook not Saving
Automatically Hiding the Personal Workbook
Limiting Who Can Delete Data
Understanding Scope for Named Ranges
Printing a List of Named Ranges
Creating Individual Workbooks
Inserting Workbook Comments Into a Cell
Loading Unwanted Files at Startup
Accessing Old Excel Data
Avoiding Scientific Notation on File Imports
Backing Up Quick Access Toolbars
Faster Text File Conversions
Tools Tips
Changing Links
Specifying a Data Validation Error Message
Stopping Validated Data from being Overwritten
Protecting Formulas in Control-Linked Cells
Using Stored Views
Deleting a View
Independent Radio Buttons
Discovering Dependent Workbooks
Macro Tips
Declaring Variables
Understanding the If ... End If Structure
Continuing Macro Lines
Renaming a Macro
Debugging a Macro
Delaying in a Macro
Determining the Length of a String
Pulling Apart Characters in a Long String
Converting Strings to Numbers
Highlighting Pattern Violations
Summing Only Visible Values
Replacing Some Formulas with the Formula Results
Page Numbers in VBA
Inserting a Page Break Every X Rows
Separating Evens and Odds
Automating the Importing of Macros
Automating Copying Macros
Naming Tabs for Weeks
Displaying the Selected Cell's Address
Putting an X in a Clicked Cell
Cropping Graphics in a Macro
Deleting Unwanted Styles
Automatically Loading Add-ins
Understanding the While...Wend Structure
Making Sure Cells are Filled In before Saving
Macro for Month Name
Controlling Window Size when Opening Additional Workbooks
Calculating the Distance between the Top of the Window and Row 1
Finding Workbooks Containing Macros
Creating a Function Inventory for a Workbook
Order Your ExcelTips Archives Today!
Each download item shown below includes the size of the download file. If you have a slow connection to the Internet, you can save precious time by ordering your archives on CD-ROM, instead of as a download.

The ExcelTips archives include PDF documents. To read these documents, you need to have either Adobe Acrobat or Adobe Reader on your system. Adobe Reader is free to download; click the link to get the latest version.
Archive Year
Dates Covered
Tips
CD
Download
ExcelTips Ribbon 2017
(for Excel 2007, 2010, 2013, and 2016 users)
1 Jan 17 — 30 Dec 17
208 tips

(276 page)
$32.99

(3.8 MB)
$24.99
ExcelTips Ribbon 2018
(for Excel 2007, 2010, 2013, 2016, 2019, and Office 365 users)
6 Jan 18 — 29 Dec 18
249 tips

(321 pages)
$32.99

(4.0 MB)
$24.99
ExcelTips Ribbon 2019
(for Excel 2007, 2010, 2013, 2016, 2019, and Office 365 users)
5 Jan 19 — 28 Dec 19
312 tips

(444 pages)
$32.99

(7.2 MB)
$24.99
ExcelTips Ribbon 2020
(for Excel 2007, 2010, 2013, 2016, 2019, and Office 365 users)
4 Jan 20 — 26 Dec 20
312 tips

(403 pages)
$32.99

(7.5 MB)
$24.99
ExcelTips Ribbon 2021
(for Excel 2007, 2010, 2013, 2016, 2019, and Microsoft 365 users)
2 Jan 21 — 25 Dec 21
312 tips

(376 pages)
$32.99

(6.6 MB)
$24.99
You can also order any of the ExcelTips archives by calling our order line: 307-200-0450.