ExcelTips Ribbon 2019 Archive (Table of Contents)
Summary: ExcelTips is a weekly newsletter that provides tips on how to effectively use Microsoft's best-selling spreadsheet program. At the beginning of every year we put together an archive of all the tips published the previous year. Here is the complete table of contents for the ExcelTips (ribbon) newsletter archive for 2019.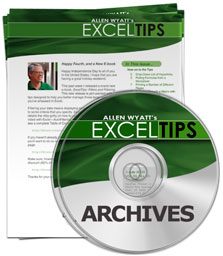 ExcelTips Ribbon 2019 Archive includes hundreds of valuable tips. The following is the Table of Contents for the archive:
Introduction
What's in This E-Book?
Need More Tips?
A Special Note of Thanks
Sharing this Document
General Tips
Seeing Excel's Program Window
Zooming In On Your Worksheet
Always Open at 100% Zoom
Understanding R1C1 References
Moving Between and Selecting Sheets with the Keyboard
Changing Excel's Background Color
Choosing Direction After Enter On a Workbook Basis
Different Cell Movement in a Single Worksheet
Editing the Custom Spelling Dictionaries
Backing Up Custom Dictionaries
Accessing Stock Information
Inserting the User's Name in a Cell
Empty Cells Triggers Error
Maintaining the Active Cell
Freezing Both Rows and Columns
Excel Refuses to Put Page Breaks between Subtotal Groups
Changing the Reference in a Named Range
Going to the Corners of a Selected Range
Countering Compressed Columns
Not Enough System Resources
Editing Tips
Displaying Row and Column Labels
Displaying a Hidden First Column
Switching Editing Location
Forcing Editing to Be Done in a Cell
Inserting Rows
Changing the Default Paste Mode
Pasting and Matching Destination Formatting
Problems Pasting Information into a Worksheet
Separating Text by Color
Working in Feet and Inches
Understanding Auto-Population of Cells
Setting an Upper Threshold for a Cell
Limiting Choices in a Cell
How Many Rows and Columns Have I Selected?
Shortcut for Selecting a Data Range
Counting with Subtotals
Can't Empty the Clipboard
Searching for Line Breaks
Searching for All
Finding and Replacing in Text Boxes
Replacing Characters at the End of a Cell
Copying from the Task Bar
Copying Subtotals
Copying a Cell without Formatting
Can't Copy Data between Workbooks
Relative Worksheet References when Copying
Incrementing References by Multiples when Copying Formulas
Pasting Leading Zeroes
Adding Spaces in Front of Capital Letters
Proper Case Conversion with Exceptions
Segregating Numbers According to Their Sign
Automatically Capitalizing Day Names
Displaying Letter Grades
Automatically Adding 20% to an Entry
Getting Rid of All Rows Except the One for the Latest Date
Clearing Everything Except Formulas
Getting Rid of 8-Bit ASCII Characters
Easily Changing Links
Identifying Unused Named Ranges
Changing References in a Lot of Defined Names
Checking for Proper Entry of Array Formulas
Formatting Tips
Copying Formats to a New Worksheet
Understanding Cell Indenting
Replacing Background Colors in Cells
Changing the Color of a Cell Border
Checking All Cell Formatting in VBA
Matching Formatting when Concatenating
Understanding Underlines
Automatic Lines for Dividing Lists
Shortcuts to Hide Columns
Formatting Subtotal Rows
Moving Custom Formats to Number Formatting Categories
Exporting Latitude and Longitude
Getting Rid of Leading Zeros in a Number Format
Controlling Display of Page Breaks
Conditional Formatting Tips
Conditional Formats for Odd and Even Columns
Applying Conditional Formatting to Multiple Worksheets
Conditionally Formatting for Multiple Date Comparisons
Noting Inactivity within a Timeframe
Conditional Formatting for Errant Phone Numbers
Conditional Formatting with Data Imported from Access
Online Tips
Adding a ScreenTip
Pulling Apart a URL
Links to Hyperlinks
Hyperlinks in Shared Workbooks
Specifying Default Hyperlink Text
Unwanted Hyperlinks
Hyperlink Doesn't Match Cell Contents
References to Hyperlinks aren't Hyperlinks
Uncovering and Removing Links
Worksheet Tips
Properties for Worksheets
Changing the Color of Worksheet Gridlines
Freezing Worksheet Tabs
Using Very Long Worksheet Tab Names
Dynamically Changing Worksheet Tab Color
Sorting Worksheets According to Region
Locking Worksheet Names
Locking All Non-Empty Cells
Stopping the Deletion of Cells
Hiding and Protecting Columns
Worksheet Function Tips
Determining a Value of a Cell
Cleaning Text
Counting Displayed Cells
Phantom Counts
Using a Week Number as One Criterion in a Formula
Determining a Name for a Week Number
Calculating Fractions of Years
Returning the Left-most Characters
Returning Values to the Left of a VLOOKUP
Converting to Octal
Indirect References to a DSUM Parameter
Custom Formats for Scientific Notation
Rounding to Even and Odd Values
Exact Matches with DSUM
Using the XIRR Function
Formula Tips
Starting Out Formulas
Formula Shows Instead of Formula Result
Saving Common Formulas
Strange Formula Conversions
Changing the Cycling Sequence for the F4 Cell Reference Shortcut
Applying Range Names to Formulas
Using Named Formulas Across Workbooks
Functions that Can Access Closed Workbooks
Quickly Adding Formulas Referencing Multiple Worksheets
Indirectly Referencing a Cell on a Different Worksheet
Combining Numbers and Text in a Cell
Strange Value Results in a Cell
Deriving Monthly Median Values
Ages in Years and Months
Calculating Months of Tenure
Adjusting Times for Time Zones
Converting Mainframe Date Formats
Converting UNIX Date/Time Stamps
Finding the Directory Name
Extracting File Names from a Path
Listing Combinations
Adding Dashes between Letters
Deleting Duplicate Text Values
Alphabetic Column Designation
Deriving a Secant and Cosecant
Calculating the Distance between Points
Adding a Missing Closing Bracket
Finding the Smallest Even Value
Breaking Up Variable-Length Part Numbers
Generating Double-Digit Random Numbers
Solving a Quadratic Equation
Iterating Circular References
Finding Circular References
Counting Asterisks
Counting Cells According to Case
Counting Asterisks in a Column
Counting Names Based on Two Criteria
Summing Based on Part of a Control Cell
Using a Helper Column
Using SUMPRODUCT
Using SUMIF Directly
Summing Only the Largest Portion of a Range
Limiting a Calculated Value to a Range
Finding the Sum of a Sequential Integer Range
Rounding to the Nearest Half Dollar
Totaling Across Worksheets
Concatenating Values from a Variable Number of Cells
PivotTable and PivotChart Tips
Rows in a PivotTable
Missing PivotTable Data
Counting Ports of Call with a PivotTable
Updating a PivotChart Automatically
Sorting and Filtering Tips
Sorting Letters and Numbers
Sorting Data Containing Merged Cells
Too Many Formats when Sorting
Filtering Columns
Displaying Multiple Filtered Colors
Filtering Columns for Unique Values
Comment Tips
Pasting a Comment into Your Worksheet
Changing the Comment Indicator Color
Adding Comments to Protected Worksheets
Date and Time Tips
Defeating Automatic Date Parsing
Understanding Date and Time Formatting Codes
Using a Two-Character Day of the Week in a Date Format
Determining If a Date is between Other Dates
Preventing Automatic Date Formatting Changes
Formatted Dates Appear Differently on Different Systems
Hiding Columns Not within a Date Range
Unique Military Date Format
Adding Ordinal Notation to Dates
Calculating Weekend Dates
EOMONTH Function is Flakey
Changing to a Non-US Date Format
Including Weeks in Elapsed Time
Days Left in the Year
Copying Dates a Year Into the Future
Taking the Time into Account in a Formula
Dealing with Large Numbers of Seconds
Calculating TV Time
Rounding to the Nearest Quarter Hour
Graphics and Charting Tips
Creating a Shape
Editing Graphics Objects
Deleting All Graphics
Changing the Size of a Drawing Object
Filling a Drawing Object
Styles for Lines, Dashes, and Arrows
Changing Line Color in a Drawing Object
Setting a Transparent Color for an Image
Adding a Drop Shadow to a Text Box
Pictures inside Shapes
Images Pile Up when Filtering
Non-Tiled Background Pictures
Pasting a Graphic to Multiple Worksheets
Using Graphics to Represent Data Series
Changing Chart Size
Deleting a Chart
Formatting Axis Patterns
Changing the Axis Scale
Plotting Times of Day
Understanding Custom Chart Templates
Easily Changing Chart Data Ranges
Adjusting Your View of 3-D Graphs
Excel Charts in PowerPoint
Printing Tips
Printing a Number of Different Pages
Printing Odd or Even Pages
Fitting Your Printout on a Page
Flipping Landscape Orientation when Printing
Specifying Print Quantity in a Cell
Printing without Opening
Printing a Draft of a Worksheet
Printing a Draft Watermark
Printing Selected Worksheets
Printing Individual Worksheets for Vendors
Setting Print Ranges for Multiple Worksheets
Printing a Chart
Black and White Blues
First and Last Names in a Page Header
Moving Part of a Footer Down a Line
Conditional Printing
Executing a Macro After Printing is Done
Workbook and File Tips
Renaming a Workbook
Limiting Where a Workbook is Used
Protecting an Entire Workbook
Always Opening a Workbook that is Editable
Opening a Workbook with Two Windows
Opening Two Workbooks at Once
Using File Explorer
Configuring Windows for Automatic Starting
Using a Batch File
Using the Open Dialog Box
Using the XLSTART Folder
Configuring Excel to Open the Workbooks
Using a Macro
Using a Workspace
Closing a Read-Only Workbook
Protecting a Workbook from Opening in Other Programs
Incorrect In-Use Message
Stopping a Workbook from Persistently Auto-Loading
Embedding Your Phone Number in a Workbook
Saving Movement on Enter with a Workbook
Jumping to the Real Last Cell
Making Ribbon Customizations Apply to All Workbooks
Using a Single Password for Multiple Workbooks
Creating a Dated Backup File
How Excel Treats Disk Files
Different CSV Formats
Creating a CSV File
Appending to a Non-Excel Text File
Determining the Length of a Text File
Jumping Around Folders
Setting the AutoRecover Directory
Changing an Invalid Autosave Folder
Tools Tips
Evaluating Formulas
Understanding Auditing
Accessing Dependent and Precedent Information
Leaving Trace Precedents Turned On
Tracing Precedents and Dependents Clears Undo Stack
Creating Scenarios
Creating Scenario Summaries
Hiding Outline Symbols
Adjusting Spell Check for Internet Addresses
Allowing for Words that Contain Numbers
Prohibiting Single-Digit Entries in a Cell
Controlling How Excel Interprets Percentages
Complex Data Input Limitations
Single-Use Drop-Down List
Using Check Boxes
Macro Tips
Understanding Macros
Tools on Developer Tab are Unavailable
Storing Macros in Templates
Running a Macro when a Worksheet is Deactivated
Checking if a Workbook is Already Open
Deriving an Absolute Value in a Macro
Converting Numbers to Strings
Worksheet Events
Unhiding Multiple Worksheets
Copying Worksheet Code Automatically
Changing Macro Cell References Based on Edits
Pausing Macros for User Input
Offering Options in a Macro
Setting Column Width in a Macro
Creating a Plus/Minus Button
Counting Atoms in a Chemical Formula
Playing with a Full Deck
Pulling First Letters from Parenthetical Text
Swapping Two Numbers
Setting Row Height in a Macro
Splitting Information into Rows
Delimited Text-to-Columns in a Macro
Enforcing Moving Cells Up
Engineering Calculations
Adjusting Values with Formulas
Searching Very Large Strings in a Macro
Determining Differences Between Dates
Removing Pictures for a Worksheet in VBA
Replacing Commas with Periods
Positioning a Column on the Screen
Changing Section Headers
Understanding Add-Ins
Using Seek In a Macro
Creating a Directory in a Macro
Determining the Current Directory
Changing Directories in a Macro
Removing a Directory
Opening a Workbook and Suppressing Automatic Macros
Self-Deleting Macros
Out of Memory Errors for Macros
Recovering Macros from Corrupted Workbooks
Macros Run Fine Individually, but Not Collectively
Order Your ExcelTips Archives Today!
Each download item shown below includes the size of the download file. (When you're dealing with hundreds and hundreds of pages per archive volume, files can get large.) If you have a slow connection to the Internet, you can save precious time by ordering your archives on CD-ROM, instead of as a download.

The ExcelTips archives include PDF documents. To read these documents, you need to have either Adobe Acrobat or Adobe Reader on your system. Adobe Reader is free to download; click the link to get the latest version.
Archive Year
Dates Covered
Tips
CD
Download
ExcelTips Ribbon 2018
(for Excel 2007, 2010, 2013, 2016, 2019, and Office 365 users)
6 Jan 18 — 29 Dec 18
249 tips

(321 pages)
$32.99

(4.0 MB)
$24.99
ExcelTips Ribbon 2019
(for Excel 2007, 2010, 2013, 2016, 2019, and Office 365 users)
5 Jan 19 — 28 Dec 19
312 tips

(444 pages)
$32.99

(7.2 MB)
$24.99
ExcelTips Ribbon 2020
(for Excel 2007, 2010, 2013, 2016, 2019, and Office 365 users)
4 Jan 20 — 26 Dec 20
312 tips

(403 pages)
$32.99

(7.5 MB)
$24.99
ExcelTips Ribbon 2021
(for Excel 2007, 2010, 2013, 2016, 2019, and Microsoft 365 users)
2 Jan 21 — 25 Dec 21
312 tips

(376 pages)
$32.99

(6.6 MB)
$24.99
ExcelTips Ribbon 2022
(for Excel 2007, 2010, 2013, 2016, 2019, 2021, and Office 365 users)
1 Jan 22 — 31 Dec 22
208 tips

(403 page)
$32.99

(6.5 MB)
$24.99