WordTips Ribbon 2015 Archive (Table of Contents)
Summary: WordTips is a weekly newsletter that provides tips on how to best use Microsoft's word processing software. At the beginning of every year we put together an archive of all the tips published the previous year. Here is the complete table of contents for the archive for the WordTips (ribbon) newsletter for the year 2015.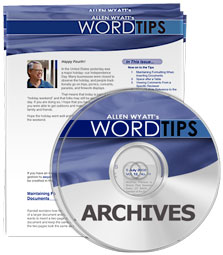 WordTips Ribbon 2015 Archive includes hundreds of valuable tips. The following is the Table of Contents for the archive:
Introduction
What's In This E-Book?
Need More Tips?
A Special Note of Thanks
Sharing this Document
General Tips
Making Suggestions to Microsoft about Word
Minimizing the Ribbon for a Document
Resetting Ribbons
Displaying the Ruler
Ruler Disappears when Entire Document Selected
Word Won't Maximize
Splitting the Window
Controlling How Documents Stack when Opened
Keyboard Shortcuts for Zooming
Potential Shortcut Key Problems
Jumping to a Relative Page
Jumping to a Specific Page
Jumping to a Page within a Section
Switching between a Dialog Box and the Document
Understanding the Clipboard
Missing Page Break Indicator
Changing Characters on Keyboard Keys
Keeping Word Open after Closing Documents
Alternative Ways of Creating Random Text
Viewing Document Statistics
Displaying a Single Page
Text Doesn't Wrap at Margin in Draft View
Turning Off Background Repagination
Removing Author Information
Getting Word to Remember the Default Date and Time Format
Selecting a Language for Text
Customizing the Quick Access Toolbar
Copying the Quick Access Toolbar
Displaying ScreenTips
Helpful Pop-up Screen Tips
Changing ToolTips for a Macro Button
Editing Tips
Quickly Selecting Text
Selecting a Word
Automatically Selecting Words
Selecting a Line of Text
Selecting a Sentence
Selecting an Entire Paragraph
Changing Paragraph Order
Understanding Click and Type
Default Click and Type Paragraph Style
Understanding Smart Cut and Paste
Quickly Moving Text with the Mouse
Using the Spike to Edit
Collecting Highlighted Text Selections
Capitals after Colons
Sticking with the Dashes
Smart Quote after Em Dash Faces Wrong Direction
Turning Off Word's Second Guessing with Quote Marks
Unable to Edit Document with Embedded Fonts
Putting a Bullet In the Middle of a Sentence
Inserting a Copyright Mark
Inserting a Special Symbol
Inserting a Non-Breaking Hyphen
Shortcut Key for Non-Breaking Space
Deleting a Page
Strip Trailing Spaces
Creating Traditional Forms
Two Keys with the Press of One
Inserting the Date and Time
Sharing Headings with Others
Getting the Proper Type of Ellipses
Transposing Two Characters
Keyboard Changes to Unwanted Foreign Language
Creating Special, Compound Characters
Added Spaces when Dragging and Dropping Paragraphs
Changing Many Link Locations
Getting Rid of Manual Paragraph Numbering
Selective Undo
Finding an Invisible Text Box
Using Manual Line Breaks with Justified Paragraphs
Navigating Your Document Using Outline View
Changing Outline Heading Level
Searching Tips
Initiating a New Search
Keeping a Replace Operation Displayed
Searching for Paragraph Formatting
Searching for a Specific Field
Searching for Text with a Certain Format
Searching for Text that Does Not Have a Certain Format
Finding Documents Containing Multiple Occurrences of a Word
Replacing an X with a Check Mark
Searching for Multi-Byte Hex Codes
Ignoring Accented Characters in Searches
Replacing Highlighted Words
Replacing Spaces in Part Numbers with Dashes
Changing Decimal Commas to Decimal Points
Special Differences when Searching
Finding Formatted Bulleted Paragraphs
Searching for Borders
Searching for ASCII and ANSI Characters
Replacing Text with a Graphic
Replacing and Formatting at the Same Time
Saving Find and Replace Operations
Keyboard Control of the Find and Replace Dialog Box
Understanding Pattern Matching
Searching for Characters
Special Characters in Pattern Matching
Matching at the Beginning or End of a Word
Specifying a Number of Matches
Searching for Periods Not Followed by a Space
Replacing Text and Capitalizing a Letter in One Step
Markup Tips
Setting Default Options for Track Changes
Accepting Only Formatting Changes
Track Changes Thinks the Editor Has Changed
Displaying Edits by Date
Select All Changes by a Particular Reviewer
Hiding Formatting Changes in Track Changes
Printing without Track Changes Marks
Removing the Time Stamp from Tracked Changes
Deleting Commented Text
Converting Paragraphs to Comments
Numbering Comments
Getting Rid of "Comment" in Comments
Comments Only Visible When Hovering Over a Word or Phrase
Jumping To a Comment
Copying, Moving and Deleting Comments
Comments in Text Boxes
Building Block and AutoCorrect Tips
Shortcut for AutoCorrect Dialog Box
Formatting a Company Name
Defining Protected Sections as a Building Block
Bookmark Tips
Shortcut to Display Bookmarks
Making Bookmarks Bold
Printing a Bookmark List
Character Formatting Tips
Quickly Increasing Point Size
Making Text Bold
Creating Custom Underlines
Underlining Quoted Text
Using the Highlighter
Turning Off Highlighter Display
X-ing Out Text
Adding a Hidden Tool in Word
Consistent Spacing
Missing Fonts in a Letterhead
Superscript and Subscript at the Same Place
Understanding Nonprinting Characters
Engraving Text
Moving Breaks Quickly
Strikethrough Shortcut Key
Paragraph Formatting Tips
Paragraph Formatting Shortcuts
Understanding Single Line Spacing
Hanging Indents in Wrapped Text
Removing Shading from Many Paragraphs
Creating a Double Hanging Indent
Double Indenting
Keeping Part of a Paragraph with the Next Block of Text
Changing Text Orientation
Changing Paragraph Borders
Adding a Border around Multiple Paragraphs
Deleting Paragraph Borders
Removing Automatic Lines
Mysterious Boxes around Paragraphs
After Pressing Enter, Text Becomes a Heading
Changing Tabs Using the Ruler
Understanding Decimal Tabs
Deleting All Tab Stops
Section and Document Formatting Tips
Precise Ruler Adjustments
Quickly Displaying the Page Setup Dialog Box
Positioning Headers and Footers
Odd & Even Headers and Footers
Adding Page Numbers in Headers or Footers
Changing the Type of Page Numbers Used in Headers or Footers
Changing the Starting Page Number
Formatting Page Numbers
Changing Sections
Getting Rid of Section Breaks, but Not Section Formatting
An Exact Number of Lines Per Page
Positioning Line Numbers
Chopped Off Page Borders
Formatting a Cover Page
Creating a Full-Page Border
Creating Point Pages
Mixing Column Formats On a Page
Using a Single-Column Heading in a Multi-Column Layout
Changing the Number of Columns in the Middle of a Document
Setting Up Multi-page Columns
Watermarks in Columns
Disappearing Column Formatting
Using Parallel Columns
Styles and Templates Tips
Understanding Styles
Understanding Style Sets
Applying Styles
Changing Styles
Preventing Styles from Changing
Retaining Explicit Formatting after Applying Styles
Inserting a Cross-Reference to the First Style on a Page
Printing a List of Custom Styles
Working with Other People's Files
Viewing Your Custom Styles
Duplicating Styles without Dependency
Minimizing and Correcting Propagation of Similar Styles
TOC Heading Numbers Always Show in Bold
Deleting Styles
Getting Rid of Modify Style Message
Making Language Changes Apply to Text in Footnotes and Text Boxes
Working on Shared Templates
Understanding Templates
Changing the Attached Template
Opening a Template
Determining Which Template is Attached to a Document
Lists Tips
Understanding and Creating Lists
Creating a Numbered List
Removing a List
Converting Automatic Numbering to Manual Numbering
Underlining Tabs In Numbered Lists
Compound List Formatting
Lining Up Numbered List Numbers
Tables Tips
Working with Table Columns and Rows
Quickly Inserting Table Rows
Inserting Cells in a Table
Deleting Cells
Jumping to a Table Row
Heading Changes for Multi-page Tables
Repeating Rows for a Table Footer
Repeating Table Rows with Manual Page Breaks
Splitting a Table
Centering Information in Table Cells
Centering a Table
Quickly Inserting Tables that Don't Go From Margin to Margin
Adjusting Column Width from the Keyboard
Overriding Automatic Numbering of Tables
Aligning Positive and Negative Whole Numbers in a Column
Creating a Split Page
Finding an Optimal Table Height
Adjusting Column Widths on Joined Tables
Rounded Table Edges
Selecting a Column or Row in a Table
Changing Table Cell Text Direction
Creating and Using Standardized Tables
Spacing Table Rows Vertically
Drop Shadows for Tables
Viewing Formulas in Table Cells
Adding Table Columns to Columns with Merged Cells
Using Outline Numbering in a Table
Odd Sorting
Sorting a Text Selection
Footnotes and Endnotes Tips
Understanding Footnotes and Endnotes
Inserting Footnotes
Inserting and Deleting Footnotes
Viewing Footnotes
Viewing Footnotes and Endnotes
Changing the Way Footnotes Are Numbered
Formatting Footnote and Endnote References
Copying and Moving Footnotes and Endnotes
Continuous Formatting for Footnotes
Inserting Endnotes
Returning to Your Document after Adding an Endnote
Jumping to a Relative Endnote
Converting to Automatic Endnotes
Controlling Endnote Placement
Where Do You Want Your Endnotes?
Header and Footer Tips
Pulling Headers and Footers from Other Files
Entering a Name in the Header of a Locked Form
Changing the Link to Previous Default for Headers and Footers
Word Count for Headers and Footers
Deleting All Headers and Footers
Fields and Forms Tips
Inserting Fields
Getting Information About Fields
Inserting the User's Name
Inserting the User's Initials
Inserting the User's Address
Inserting Today's Date
Inserting the Date Your Document Was Last Saved
Date Last Edited
Inserting the Edit Time
Inserting the Total Number of Characters in Your Document
Inserting the Document Revision Number
Inserting the Template Name in Your Document
Inserting the Document Title in Your Document
Inserting the Total Number of Pages in Your Document
Inserting a Document's Size
Finding Fields
Using RD Fields with Chapter Headings
Cross-referencing to an Automatic Number
Getting Rid of All TA Fields
Getting Rid of Fields Inserted by Third-Party Programs
Referencing a Page Number In Another Document
Stopping Automatic Changes from Being Tracked
Unwanted Page Breaks in Cross-References
Undesired Font in Form Fields
Converting Forms to Regular Documents
Calculating Form Fields
Allowing Only Form Field Changes
Safely Relocking Forms
Printing Tips
Specifying the Exact Pages to Print
Printing a Short Selection
Printing More than One Copy
Multiple Pages per Sheet
Fitting to a Single Page
Discovering Printer Drift
Doubling Your Money
Using Duplex Printing
Printing a Full Style Sheet
Printing Images Based on Hidden Text Setting
Reversing Print Order
Controlling Where a Full-page Border is Printed
Printing Hidden Text
Two Page Numbers per Physical Page
Using Sequential Document Serial Numbers
Printing AutoText Entries
Correct Line Numbers when Printing Selections
Remembering Copies to Print
Printing without Footnotes
Printing Very Large Paper Sizes
Printing Summary Information
Upside-Down Text with PostScript
Adding a Diagonal Watermark with a PostScript Printer
Using Crop Marks with a PostScript Printer
Maintaining Leading Zeroes
Checking Your Data File
Speeding Up Mail Merges
Printing Multiple Label Copies when Merging
Adding Addresses To a Set of Address Labels
Handling Long Lines in Address Labels
Removing Return Addresses
Technique for Adding a Text Box to an Envelope
Saving an Envelope for Future Use
Graphics Tips
Using the Selection and Visibility Pane
Default Picture Location
Using Object Anchors
Pictures Move on their Own
Stop Graphics and Text from Jumping Around
Hiding Graphics
Adjusting Shadow Settings
Images Won't Print
Grouping Drawing Objects
Capturing a Screen in Word
Inserting from the Clip Art Gallery Doesn't Work
Displaying Thumbnails and Full-Size Images
Best Quality for High Resolution Graphics
Replacing Graphics with Graphics
Rotating a Drawing Object
Vertical Alignment of an Inline Graphic
Getting Pictures Out of Word
Adding Sidebars
Removing the Box from a Text Box
Rotating Fractions in a Text Box
Counting All Graphics
Creating Usable Figure Captions
Keeping a Picture Title with the Picture
Easily Changing Links in Documents
Files Tips
Inserting a File
Renaming a Document
Changing the Default File Name
Setting a Default Document Format
Size Limit for Documents
Saving All Open Documents
Saving Everything
Saving and Closing All Open Documents
Saving Your Work Automatically
Specifying a Location to Save Automatic Backup Files
Modifying the Backup Copy File Name
A Real AutoSave
Grabbing the MRU List
Embedding Fonts In a Document
Read-Only Embedded Fonts
Printing a File List
Finding Duplicate Documents
Keeping the Flash Drive Occupied
Periodically Delete TMP Files
Understanding PDF/A Format
Page Counts for Many Documents
Opening a Document as Read-Only
Viewing Files of a Certain Type
Making Backup Copies
Saving Form Data for a Database
Dates Updating when Converting
Confirming File Conversions
Setting the AutoRecover Directory
Online and Other Programs Tips
Hyperlink Formatting
Associating a Name with a Position
Creating a Hyperlink to a Specific Page
Working with E-mailed Documents
Getting Rid of the Ctrl+Click Message
Spelling and Grammar Tips
Editing While Spell-Checking
Turning Off Spell Checking
Spell-Checking Abbreviations
Spellchecking Words with Superscripts
Word Marks Mixed Case Acronyms as Incorrect
Ignoring the Spelling of Proper Nouns
Updating the Spelling Exclusion List Automatically
Symbols in Words Added to the Dictionary
Normal Words Flagged by Spell Check
Making Spell Check Ignore Characters
Spell-Checking from the Keyboard
Changing Between English Variants
Spell-checking Uppercase Words
Avoiding the "Check Remainder" Dialog Box
Saving Grammar Preferences with a Document
Tools Tips
Fixing Word
Word Count in Multiple Selections
Including Footnotes and Endnotes in Word Counts
Automatic Scrolling
Comparing Document Versions
Turning off Figure Caption Numbering
Condensing Figure Caption References
Saving AutoText Entries with Each Document
Page Ranges in a TOC
Paragraph Numbers instead of Page Numbers in a TOC
Creating a Table of Contents Involving Multiple Documents
Headings in Tables Not Showing in TOC
Inconsistent Formatting in an Index
Specifying a Collating Sequence for Indexes
Putting Bold Words in an Index
Formatting Issues with Indexing Levels
Improper Index Page Numbers
Chapter Numbers in Indexes and TOAs
Using Dot Leaders in Special Tables
Setting Defaults in Cross-reference Dialog Box
Macros Tips
Bypassing the Startup Macro
Finding and Changing Word's Internal Commands
Finding Long Lines
Accessing the Dirty Flag
Toggling Font Assignments in a Macro
Formatting Text Files with VBA
Detecting the Beginning of a Sentence in a Macro
Restoring a Keyboard Shortcut
Batch Template Changes
Order Your WordTips Archives Today!
Each download item shown below includes the size of the download file. If you have a slow connection to the Internet, you can save precious time by ordering your archives on CD-ROM, instead of as a download.

The WordTips archives include PDF documents. To read these documents, you need to have either Adobe Acrobat or Adobe Reader on your system. Adobe Reader is free to download; click the link to get the latest version.
To celebrate the release of the WordTips archives for 2019, for a limited time (through January 22, 2020) you can download your own copy of the archives for any of the following years at 30% off the regular price. Get your discount; place your order today!
Archive Year
Dates Covered
Tips
CD
Download
WordTips Menu 2015
(for Word 97, 2000, 2002, and 2003 users)
3 Jan 15 — 26 Dec 15
208 tips

(217 pages)


$32.99

$23.06

(3.3 MB)


$24.99

$17.49
WordTips Ribbon 2015
(for Word 2007, 2010, 2013, and 2016 users)
3 Jan 15 — 26 Dec 15
416 tips

(526 pages)


$32.99

$23.09

(7.2 MB)


$24.99

$17.49
WordTips Menu 2016
(for Word 97, 2000, 2002, and 2003 users)
2 Jan 11 — 31 Dec 16
212 tips

(248 pages)


$32.99

$23.09

(3.8 MB)


$24.99

$17.49
WordTips Ribbon 2016
(for Word 2007, 2010, 2013, and 2016 users)
2 Jan 11 — 31 Dec 16
207 tips

(294 pages)


$32.99

$18.49

(4.6 MB)


$24.99

$12.49
WordTips Menu 2017
(for Word 97, 2000, 2002, and 2003 users)
7 Jan 17 — 30 Dec 17
208 tips

(221 pages)


$32.99

$23.09

(3.3 MB)


$24.99

$17.49
WordTips Ribbon 2017
(for Word 2007, 2010, 2013, and 2016 users)
7 Jan 17 — 30 Dec 17
208 tips

(301 pages)


$32.99

$23.09

(4.6 MB)


$24.99

$17.49
WordTips Menu 2018
(for Word 97, 2000, 2002, and 2003 users)
6 Jan 18 — 29 Dec 18
208 tips

(258 pages)


$32.99

$23.09

(4.4 MB)


$24.99

$17.49
WordTips Ribbon 2018
(for Word 2007, 2010, 2013, 2016, 2019, and Office 365 users)
6 Jan 18 — 29 Dec 18
248 tips

(341 pages)


$32.99

$23.09

(5.9 MB)


$24.99

$17.49
WordTips Menu 2019
(for Word 97, 2000, 2002, and 2003 users)
5 Jan 19 — 28 Dec 19
208 tips

(226 pages)


$32.99

$23.09

(4.0 MB)


$24.99

$17.49
WordTips Ribbon 2019
(for Word 2007, 2010, 2013, 2016, 2019, and Office 365 users)
5 Jan 19 — 28 Dec 19
311 tips

(467 pages)


$32.99

$23.09

(8.3 MB)


$24.99

$17.49
You can also order any of the WordTips archives by calling our order line: 307-200-0450.