WordTips Ribbon 2020 Archive (Table of Contents)
Summary: WordTips is a weekly newsletter that provides tips on how to best use Microsoft's word processing software. At the beginning of every year we put together an archive of all the tips published the previous year. Here is the complete table of contents for the archive for the WordTips (ribbon) newsletter for the year 2020.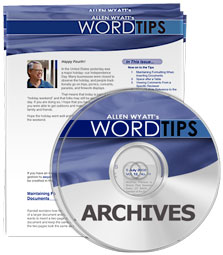 WordTips Ribbon 2020 Archive includes hundreds of valuable tips. The following is the Table of Contents for the archive:
Introduction
What's in This E-Book?
Need More Tips?
A Special Note of Thanks
Sharing this Document
General Tips
Using Function Keys
Resetting a Function Key
Word Won't Maximize
Displaying Nonprinting Characters
Changing the Startup Directory
Replacing Text Selections
Incorrect Last Modified Date on E-mailed Documents
Printing a Screen without the Print Screen Key
Changing Dialog Box Pull-Down List Item Order
Fonts Missing in Word
Factory Default Settings for Word
Jumping to the End of Page after Enter
Ribbon Acting Strangely
Missing Top and Bottom Margins
Missing Page Break Indicator
Turning Off the Automatic Help that Word Offers
Turning Off the 'Welcome Back' Notice
Turning Off ScreenTips
Getting Rid of ScreenTips
Using Alt to Switch Language Keyboards
Adjusting Navigation Pane Font Size
Controlling the Heading Levels Displayed in the Navigation Pane
How Many Items Can be Added to the Quick Access Toolbar?
Editing Tips
Differences between Deleting, Clearing, and Cutting
Selecting a Word
Repeating Actions
Plain Text Pasting as the Default
Too Many Edits Prevent Pasting
Moving Text without Affecting the Clipboard
Inserting a Dynamic Line Count
Moving an Entire Page
Deleting a Page
Automatically Identifying Repeated Words
Emoticons in Word
Adding Half Spaces to Punctuation
Comparing Documents Top and Bottom
Deletions Don't Work as Expected
Transposing Letters
Transposing Two Characters
Transposing Two Words
Locking Paragraphs So They Cannot be Edited
Talking to Yourself
Removing a Bulleted or Numbered List
Applying Bullets from the Keyboard
Turning Off Automatic Capitalization in Lists
Restarting a Numbered List Easily
Converting Automatic Numbering to Manual Numbering
Jumping to a Line Number
Symbols for Non-Printing Characters
Inserting Different Dashes
Selecting a Text Block
Changing Smart Quotes to Primes
Sticking with the Dashes
An Easy Way to Count Items
Smart Quote after Em Dash Faces Wrong Direction
Two Keys with the Press of One
Creating Special, Compound Characters
Seeing Where Bookmarks Are
Deleting a Bookmark
Removing All Bookmarks
Condensing and Expanding Headings
Changing a Heading to Body Text
Searching Tips
Searching for Special Characters
Searching for Special Hyphens
Searching for Formatting
Searching for Character Formatting
Returning to Where You Were Before Finding Something
Easily Finding Superscripts
Count of Underlined or Struck-Through Words
Removing HTTP from URLs
Complex Searches for Documents
Replacing an X with a Check Mark
Replacing a Colon in a Sequence
Replacing Multiple Spaces with Tabs
Ordering Search and Replace
Searching for Borders
Markup Tips
Producing Cleaner Markup
Accepting Only Formatting Changes
Showing Only Added Text with Track Changes
Making Simple Markup the Default for Track Changes
Word Tracks Changes to Changes
Deleting Commented Text
Viewing Comments From a Specific Reviewer
Comments in Headers and Footers
Turning Off the Date and Time Shown in a Comment
Displaying Highlights for Commented Text
Formatting Comments
Printing Comments from a Macro
Building Block Tips
Moving Building Blocks
Deleting an AutoText Building Block
Moving Building Block Templates
Extra Spaces after Inserting a Building Block
Character Formatting Tips
Changing the Default Font
Resetting Default Character Formatting
Applying Formatting to Words
Finding Missing Fonts
Moving the Underline Position
Adding Horizontal Lines at the Sides of a Word
Changing the Color of a List of Words
Updating to Smart Quotes
Reversed Bolding
Using a Macro to Change the Formatting of All Instances of a Word
Changing Text Case Many Times
Using Two Characters as a Drop Cap
Adjusting Small Caps Text
Paragraph Formatting Tips
Put Your Space Before or After?
Controlling Widows and Orphans
Typing Beyond the Right Margin
Indent and Justify Command
Centering a Paragraph with the Keyboard
Double-Spacing Your Document
Hanging Indents in Wrapped Text
Turning Off Automatic Bulleted Lists
Turning Off Paragraph Hyphenation
Creating an Inline Heading
Mysterious Blue Line between Paragraphs
Adding Drop-Shadows to Paragraphs
Automatic Question Numbering
Combining First and Second Numbered Levels on One Paragraph
Adding Line Numbers
Making a Signature Line that Doesn't Disappear
Quickly Displaying the Tabs Dialog Box
Changing Default Tab Stops
Setting Tab Stops Using the Tabs Dialog Box
Removing Tabs Used to Indent a Paragraph
Section and Document Formatting Tips
Unable to Set Margins in a Document
Noting Formatting Inconsistencies
Chopped Off Page Borders
Avoiding a Section Break Booby Trap
Getting Identical Margins
Aligning Borders with the Page Margins
An Exact Number of Lines Per Page
Different Layout for a Portion of a Page
Printing A4 on Letter Size Paper
Determining a Column Width
Making Columns the Same Length
Changing the Number of Columns
Using Chapter Numbers with Page Numbers
Odd Page Numbers Disappearing
Automatic Page Numbers in New Documents
Styles and Templates Tips
Renaming a Style
Moving All Headings Down One Level
Shortcuts for Basic Style Formatting
Reformatting a Document with Messed-Up Styles
Putting Style Names Next to Paragraphs on a Printout
Preserving Style Formatting when Combining Documents
Hyperlink Formatting
Using the Format Painter with Editing Restrictions in Place
Where Are Templates Stored?
Best Way to Create a Document Template
Tables Tips
Applying Borders to Tables
Adding Diagonal Borders
Tables within Tables
Displaying Table Gridlines
Underlining Cells, Not Space Between Cells
Moving Rows and Columns With the Mouse
Copying Rows and Columns With the Mouse
Quickly Accessing the Column Tab
Precisely Adjusting Table Column Widths
Setting a Standard Column Width
Selecting Individual Cells in a Table
Converting Tables to Charts
Space after a Table
Line Numbering and Tables
Headings On Your Printout
Cannot Combine Two Tables
Filling Table Cells with a Macro
Putting Something in Every Cell of a Table
Converting Tables to Text
Copying All Tables to a New Document
Sorting Text
Footnotes and Endnotes Tips
Converting Hyperlinks to Footnotes
Heavy-Duty Footnotes
Combining Footnotes
Footnotes Don't Automatically Renumber
Automatically Adding Tabs in Footnotes
Automatically Applying Custom Styles to Footnotes
Creating Endnotes
Converting Footnotes to Endnotes
Converting to Automatic Endnotes
Adding Footnotes to Endnotes
Multiple References to an Endnote
Header and Footer Tips
Odd & Even Headers and Footers
Inserting the Date in a Header or Footer
Making Wider Footer Margins
Automatically Changing Tab Stops in the Footer
Fields and Forms Tips
Inserting Fields
Jumping Between Fields
Finding Fields
Removing Specific Fields
Inserting the User's Name
Inserting the Name of the Last Person to Save the Document
Inserting a Document's Location
Inserting a Document's File Location
Inserting the Current Month
Indicating the Date Changes were Last Made
Setting Up an Array with Fields
Formatting Text in Custom Document Properties
Field Calculations in Locked Forms
Fields Won't Update when Printing
Displaying Blanks when Summing to Zero
Forcing the Date to the Next Wednesday
Numbering with Sequence Fields
Understanding the COMPARE Field
Using the SYMBOL Field
Controlling the Format of Cross-References
Inserting a Cross-Reference to the Last Style on a Page
Finding Cross-References to Specific Bookmarks
Creating Traditional Forms
Valid Numbers in Form Fields
Printing Tips
Duplex Printing from Multiple Trays
Duplex by Default
Transferring Fonts
Using Only Odd Page Numbers
Printing the Navigation Pane
Selecting a Paper Source
Printing Outside the Boundaries All the Time
Discovering Printer Drift
Generating a Font Sample Sheet
Printing Hidden Text
Fitting to a Single Page
Printing Copy Numbers
Envelope, Label, and Mail Merge Tips
Formatting Labels
Creating One-time Labels
Sequentially Numbered Labels
Changing Label Printing Order
Opening Only a Merge Document
Getting Rid of Spaces in Merged Data
Graphics Tips
Understanding SmartArt
Changing the Size of a Drawing Object
Cropping Graphics
Dragging and Dropping Pictures in a Document
Understanding "Through" Text Wrapping
Placing Many Graphics in a Document
Using Connectors with Shapes
Replacing an Image Filename with the Actual Image
Inserting an Image On a Specific Page
Vertically Aligning Text and an Image
The Changing Relationship of WordArt and Text Boxes
Boxes in Boxes
Selecting Text in Linked Text Boxes
Removing Text Boxes but Saving the Text
Files Tips
Viewing Files of a Certain Type
Opening a Document as Read-Only
Document is Too Large for Word to Handle
Recovering Password-Protected Documents
Last Document Saves Not Saved
Inserting a File
Using a Standard Format in a Suggested File Name
Searching for a Document
Combining Word Documents
Mass Search and Replace
Keeping the Flash Drive Occupied
Online and Other Programs Tips
Weird Hyperlink Behavior
Replacing Plain Text with a Hyperlink
Getting Rid of Many Hyperlinks
Changing How Links are Activated
Clearing Lists in the Insert Hyperlink Dialog Box
Embedding an Excel Worksheet
Maintaining Destination Formatting on a Linked Excel Table
Saving a Document as a Web Page
Specifying Monitor Resolution
Spelling and Grammar Tips
Forcing a Complete Spelling and Grammar Check
Checking Just the Selected Text
Editing While Spell-Checking
Ignoring Words Containing Numbers
Ignoring the Spelling of Proper Nouns
Spellcheck for Two Languages
Merging Custom Dictionaries
Backing Up Your Custom Dictionaries
Leading Quote Mark Generates Grammar Error
Saving Grammar Preferences with a Document
Marking Gender-Specific Grammar
Tools Tips
Displaying the Navigation Pane
Introducing the Organizer
Controlling Automatic Capitalization
Word Won't Capitalize Some Sentences
Hyphenating a Selection
Word Count is Zero
Word Counts for a Group of Documents
Can't Save Formatted AutoCorrect Entries
AutoCorrecting Non-Typed Text
Saving AutoText Entries with Each Document
Creating Categories for Your Table of Authorities
Customized Tables of Contents
Adding Column Headings to a Table of Contents
Two Types of Page Numbers in a TOC
Adding Quoted Words to an Index
Specifying Index Section Dividers
Including Section Numbers in an Index
Cross-Referencing Index Entries
Macros Tips
Passing Parameters to Functions
Changing Directories in a Macro
Inserting a Paragraph from within a Macro
Creating a New Document in VBA
Printing the Active Document from a Macro
Trimming Spaces from Strings
Converting Text to Uppercase in a Macro
Moving the Insertion Point to the End of a Line
Controlling Repagination in Macros
Repaginating Your Document in a Macro
Determining the Number of Pages in Your Document
Macro Won't Limit Replacements to a Selection
Saving Search and Replace Information in a Macro
Jumping to the Top of a Page
Accessing a Footnote Number in VBA
Printing a List of AutoCorrect Entries
Locating the My Documents Folder
Adding Hyphens to Phrases
Determining if Num Lock is On
Selecting a Bookmark in a Macro
Changing Pronoun Gender
Order Your WordTips Archives Today!
Each download item shown below includes the size of the download file. If you have a slow connection to the Internet, you can save precious time by ordering your archives on CD-ROM, instead of as a download.

The WordTips archives include PDF documents. To read these documents, you need to have either Adobe Acrobat or Adobe Reader on your system. Adobe Reader is free to download; click the link to get the latest version.
Archive Year
Dates Covered
Tips
CD
Download
WordTips Ribbon 2018
(for Word 2007, 2010, 2013, 2016, 2019, and Office 365 users)
6 Jan 18 — 29 Dec 18
248 tips

(341 pages)
$32.99

(5.9 MB)
$24.99
WordTips Ribbon 2019
(for Word 2007, 2010, 2013, 2016, 2019, and Office 365 users)
5 Jan 19 — 28 Dec 19
311 tips

(467 pages)
$32.99

(8.3 MB)
$24.99
WordTips Ribbon 2020
(for Word 2007, 2010, 2013, 2016, 2019, and Office 365 users)
4 Jan 20 — 26 Dec 20
312 tips

(402 pages)
$32.99

(8.5 MB)
$24.99
WordTips Ribbon 2021
(for Word 2007, 2010, 2013, 2016, 2019, and Microsoft 365 users)
2 Jan 21 — 25 Dec 21
312 tips

(409 pages)
$32.99

(8.5 MB)
$24.99
WordTips Ribbon 2022
(for Word 2007, 2010, 2013, 2016, 2019, 2021, and Office 365 users)
1 Jan 22 — 31 Dec 22
208 tips

(402 pages)
$32.99

(7.9 MB)
$24.99