Excel Custom Formats
Summary: The fundamental building block to displaying your data is the feature known as custom formats. Here is the definitive guide to mastering the formatting power in Excel.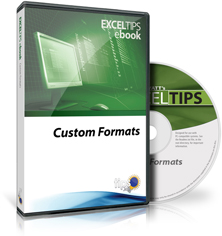 One of the things that makes Excel so fun (and challenging) to work with is that you can do so much with it. In essence, Excel provides a wide range of individual building blocks that you can arrange in almost any way you desire to create your end result.
One of the building blocks that is easy to overlook is custom formatting. This feature has been around since the earliest days of Excel, and it provides some amazing ways that you can affect the appearance of your data in a worksheet. Custom formats are the basis for all the cell-level formatting that takes place in Excel; custom formats are combined in common ways and presented as the regular cell formats you know and use every day.
You can really extend your use of Excel, however, if you take the time to understand how custom formats are implemented. Once you understand them, you are no longer limited to the common cell formats that you know and love. All of a sudden you've discovered a new set of building blocks that you can use to present your data in just the way you want.
The power of this elemental building block is the impetus behind the Excel Custom Formats e-book. Here you'll discover a wide range of tips that can help you get a handle on how you can use custom formats in your workbooks.
Regardless of the version of Excel you use (all the way through Excel 2019 and the version provided with Office 365), you'll benefit by understanding the information in Excel Custom Formats. To get an idea of the value packed into Excel Custom Formats, take a look at the complete Tables of Contents.
If you purchase Excel Custom Formats either as a download or on a CD-ROM, it is provided in two formats—Microsoft Word and Adobe Acrobat—and you automatically get them both. Including both formats allows you to easily use the information in whatever format you desire. Both formats allow you to enjoy the following features:
The ability to view, search, and print the book.
Screen shots that illustrate what you see in Excel as you follow the step-by-step instructions.
The ability to select and copy sections of text, such as macro code.
Hyperlinks to internal content (in the book itself) and referenced resources on the Web.

To use the Microsoft Word version of the e-book, you just need one of the common versions of Word. If you want to use the Adobe Acrobat (PDF) version, you need to either have Acrobat or the free Adobe Acrobat Reader, version 5.0 or later. Many computer systems already have the reader installed. If you do not, you can get it free, directly from Adobe.
How much does this valuable resource cost you? You can download your own copy of this valuable information for the low price of only $19.99. Place your order today!
Description
Download
CD
Excel Custom Formats

ISBN 978-1-61359-487-2 (1.1 MB)
$19.99

ISBN 978-1-61359-488-9 (85 pages)
$26.99
You can also order Excel Custom Formats by calling our order line: 307-200-0450.