Excel Serious Sorting
Summary: Sorting data means that you organize it in whatever order you desire. Excel's sorting feature can be used in a variety of ways, depending on the data you are working with.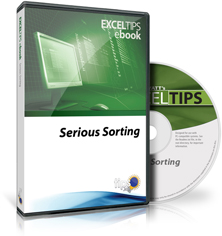 Excel is the most widely used and best-selling spreadsheet program of all time. Part of the reason behind its success is its ability to manage data in a variety of ways with a number of tools. One commonly used Excel tool is embodied within its sorting capabilities. Excel allows you to easy and quickly sort data in just about any manner you can conceive.
Even though sorting data is a routine task in Excel, many people still don't have a firm grasp on how to use the program's sorting capabilities fully. Even those who have been using the program for years and years often get into a rut and fail to recognize or take advantage of the full sorting power inherent in Excel.
To make matters even worse, Excel's sorting tools can sometimes produce confusing results. You can banish the confusion by using the second edition of Excel Serious Sorting to uncover all the nooks and crannies of sorting with Excel. These e-books discuss how you can use all the sorting capabilities provided in Excel, perhaps in ways you've never before considered.
There are three versions of Excel Serious Sorting available, depending on which version of Excel you are using. You can choose the version that is right for you:
To get an idea of the value packed into Excel Serious Sorting, be sure you take a look at the complete tables of contents for each version. (To see a TOC, just click on one of the four versions listed above.)
Regardless of which version of Excel Serious Sorting you choose, you'll find that each e-book is organized into a collection of bite-sized "tips," many of which have appeared in various issues of ExcelTips. These editions are new (in the case of the Excel 2013 version) or updated with new tips and new information.
Can't decide which version to get? Perhaps you use multiple versions of Excel or you are responsible for users who have different versions. If this describes you, then you really could benefit by having the Excel Serious Sorting Ribbon Pack. It includes three versions of the e-books, for users of Excel 2007, 2010, and 2013. This special provides three versions of the e-book for the price of two versions. (See additional information below, in the ordering area.)
The Excel Serious Sorting e-books come in two formats—Microsoft Word and Adobe Acrobat—and you automatically get them both. Including both formats allows you to easily use the information in whatever format you desire. Both formats allow you to enjoy the following features:
The ability to view, search, and print the book.
Screen shots that illustrate what you see in Excel as you follow the step-by-step instructions.
The ability to select and copy sections of text, such as macro code.
Hyperlinks to internal content (in the book itself) and referenced resources on the Web.

If you want to use the Adobe Acrobat (PDF) version, you need to either have Acrobat or the free Adobe Acrobat Reader, version 5.0 or later. Many computer systems already have the reader installed. If you do not, you can get it free, directly from Adobe.
Excel Serious Sorting provides a valuable resource for focused information that can't be matched by any other single source or computer book. And our Ribbon Pack provides the absolute best breadth of information that you can find.
Description
CD
Download
Excel 2013 Serious Sorting

ISBN 978-1-61359-288-5 (70 pages)
$24.99

ISBN 978-1-61359-287-8 (1.1 MB)
$19.99
Excel 2010 Serious Sorting

ISBN 978-1-61359-286-1 (68 pages)
$24.99

ISBN 978-1-61359-285-4 (1.6 MB)
$19.99
Excel 2007 Serious Sorting

ISBN 978-1-61359-284-7 (68 pages)
$24.99

ISBN 978-1-61359-283-0 (1.6 MB)
$19.99
Excel Serious Sorting Ribbon Pack

Great deal! Three versions
(Excel 2007, 2010, and 2013)
for the price of two (you get one free).

ISBN 978-1-61359-290-8 (206 pages)
$49.98

ISBN 978-1-61359-289-2 (4.2 MB)
$39.98
You can also order our Excel Serious Sorting titles by calling our order line: 307-200-0450.