WordTips Ribbon 2021 Archive (Table of Contents)
Summary: WordTips is a weekly newsletter that provides tips on how to best use Microsoft's word processing software. At the beginning of every year we put together an archive of all the tips published the previous year. Here is the complete table of contents for the archive for the WordTips (ribbon) newsletter for the year 2021.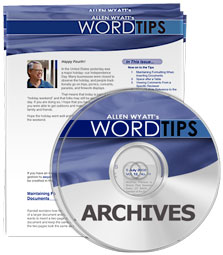 WordTips Ribbon 2021 Archive includes hundreds of valuable tips. The following is the Table of Contents for the archive:
Introduction
What's in This E-Book?
Need More Tips?
A Special Note of Thanks
Sharing this Document
General Tips
Understanding Views
Creating New Windows
Arranging Document Windows
Meaningless Text
Shortcut for Show/Hide
Turning on Picture Placeholders
Understanding Point Sizes
Understanding Picas
Viewing Your Entire Document Width
Hiding and Displaying Hidden Text
Automatically Saving Changes to Defaults
Unwanted Font in Draft View
Adding Common Line Spacing Options
Typing in Boxes
Setting User Information
Setting Your Default Document Directory
Resetting Ribbons
Leaving Bullet Point Items Lowercase
Making the Paste Options Button Option Persistent
Editing Tips
Repeating Your Typing
Jumping to a Specific Page
Jumping to a Relative Page
Jumping to a Relative Section
Jumping to a Relative Line Number
Inserting Special Spaces
Inserting a Non-Breaking Space
Inserting a Special Symbol
Inserting a Copyright Mark
Inserting the Date and Time
Using Correct Apostrophes
Getting the Proper Type of Ellipses
Selecting a Sentence
Not Selecting Images when Selecting Text
Ctrl+V No Longer Works
Unable to Edit Document with Embedded Fonts
Copying and Pasting without Affecting the Clipboard
Extra Space after Quotation Mark when Pasting
Removing Breaks
Removing Entire Paragraphs from Your Document
Replacing Quoted Text with Italics
Adding Quotes
Using Overtype Mode
Controlling Overtype Mode
Highlighting Buried Verbs
Added Spaces when Dragging and Dropping Paragraphs
Typing Pronunciations of Words
Single-Character Fractions
Generating a List of Dates
Highlighting Duplicate Words
Removing Duplicates in Word
Collecting Highlighted Text Selections
Making the 'Welcome Back' Message Consistent and Permanent
Capitalizing the First Letter after a Colon
Capitals After Colons
Capitalizing the First Letter after a Quote Mark
Changing Strikethrough Lines
Using Manual Line Breaks with Justified Paragraphs
Viewing More of the Left Margin Area
Transposing Two Paragraphs
Default Click and Type Paragraph Style
Making Managerial Titles Lowercase
Changing Existing Highlighting
Preventing the Insertion of Non-Breaking Spaces
Jumping to the End of the Document in Error
Squeezing Everything In
Searching Tips
Initiating a New Search
Controlling Case in Find and Replace
Special Characters in Pattern Matching
Searching for Text that Doesn't End a Paragraph
Searching for Text Not Using a Certain Style
Finding Missing Spaces before Numbers
Replacements Use an Incorrect Foreign Language Character
Replacing with Plain Text
Deleting Regular Text between Bold Text
Replacing with a Subscript
Finding All Camel-Case Words
Finding and Deleting Rows
Searching for ASCII and ANSI Characters
Searching for Items in an Automatically Numbered List
Searching for Optional Hyphens
Searching for Periods Not Followed by a Space
Find and Replace in a Column or Row
Searching for Breaks
Searching and Replacing Graphics
Replacing Text with a Graphic
Replacing Graphics with Graphics
Markup Tips
Getting a Change and Comment Count by Author
Accepting All Formatting Changes
Accepting All Deletions in a Document
Adding Comments to Your Document
Displaying Document Comments
Hiding Individual Comments
Character Formatting Tips
Understanding Font Styles
Making Text Bold
Changing the Height of a Font
Superscript and Subscript at the Same Place
Using the Highlighter
Underlining Quoted Text
Changing the Underline Color
Paragraph Formatting Tips
Resetting Paragraph Formatting
Paragraph Formatting Shortcuts
Understanding Paragraph Alignment
Understanding At Least Line Spacing
Double Indenting
Understanding and Creating Lists
Creating a Numbered List
Aligning Numbered Lists on the Period
Removing a List
Understanding Default Tab Stops
Setting the Starting Line Number
Numbering Only Certain Lines
Removing Line Numbering
Borders Surround Lines Instead of Paragraphs
Mysterious Boxes around Paragraphs
Adjusting Bottoms of Pages
Copying Paragraph Formatting with the Mouse
Format Painter Messes Up Ordinals
Section and Document Formatting Tips
Determining Page Layout
Selecting a Paper Size
Changing Page Margins
Understanding the Gutter Margin
Mixing Column Formats On a Page
Changing the Number of Columns in the Middle of a Document
Using a Single-Column Heading in a Multi-Column Layout
Watermarks in Columns
Moving Section Breaks
Making Sure a Document Always Has an Even Number of Pages
Styles and Templates Tips
Quickly Copying Styles
Changing the Names of Multiple Styles
Remembering a Custom Color
Deleting a Large Number of Styles
Automatically Update Document Styles Setting
Stepping Through Head Formats
Creating a Boilerplate Document
Making Templates Available to Word
Changing the Attached Template
Protecting the Normal Template During an Update
Tables Tips
Jumping to Tables
Jumping to a Table Row
Jumping to the Ends of Table Rows
Jumping to the Ends of Table Columns
Putting Tables within Margins
Quickly Inserting Tables that Don't Go From Margin to Margin
Working with Table Columns and Rows
Converting a Table Into Text
Entering Tabs in a Table
Table Rows Truncated in Printout
Splitting Table Cells
Centering Information in Table Cells
Changing Spacing Between Table Cells
Quickly Inserting Table Rows
Moving Table Rows Quickly
Centering a Table
Setting a Default Table Border Width
Hiding Gridlines
Unwanted Vertical Lines in a Table
Table Header Rows after a Manual Page Break
Seeing the Height of a Row
Merging Table Cells
Last-Row Border Formatting
Differing Column Widths when Pasting
Table Won't Flow to Second Page
Aligning Positive and Negative Whole Numbers in a Column
Adjusting Column Width from the Keyboard
Locking Table Contents
Footnotes and Endnotes Tips
Inserting Footnotes
Inserting and Deleting Footnotes
Inserting Endnotes
Formatting Footnote and Endnote References
Viewing Footnotes and Endnotes
Copying and Moving Footnotes and Endnotes
Copying and Moving Footnotes
Jumping to a Footnote
Jumping to a Relative Endnote
Footnotes in Two Columns
Footnote Numbers Missing on Printout
Moving Footnote Text into the Document
Removing Spaces before Footnote References
Changing the Way Footnotes Are Numbered
Brackets around Footnote References
Controlling Endnote Placement
Where Do You Want Your Endnotes?
Endnotes in a Separate Document
Header and Footer Tips
Creating Page Footers and Headers
Positioning Headers and Footers
Deleting a Header or Footer
Deleting All Headers and Footers
Changing the Type of Page Numbers Used in Headers or Footers
Multiple Footers on a Page
Fields and Forms Tips
Getting Information About Fields
Copying and Pasting Field Codes
Inserting the Document Creation Date
Inserting a Document's Size
Inserting the User's Initials
Inserting the Author Name
Understanding the Advance Field
Creating an AutoText List
Understanding DATE Field Formatting
Using RD Fields with Chapter Headings
Getting Rid of All TA Fields
Calculating Page Count for a Range of Sections
Age Calculation with Fields
Printing Tips
Specifying the Exact Pages to Print
Using Duplex Printing
Reversing Print Order
Changing Focus when Starting to Print
Remembering Copies to Print
Printing without Headings
Controlling the Printing of Highlighting
Getting a Double-Spaced Printout
Printing AutoText Entries
Generating a PDF that Uses CMYK Colors
Printing Show/Hide Characters
Printing a Key Assignment List
Limiting Document Page Count
Printing Images Based on Hidden Text Setting
Making Banners in Word
Envelope and Mail Merge Tips
Removing Return Addresses
Printer Won't Print Envelope Font
Rounding in a Mail Merge
Merging and Printing a Series of Documents
Graphics Tips
Drawing a Curve
Moving Drawing Objects
Stop Graphics and Text from Jumping Around
Grouping Drawing Objects
Selecting a Graphic that is Behind Text
Hiding Graphics
Flipping a Drawing Object
Keeping an Image Centered in a Table Cell
Making Resize to Fit Text the Default
Files Tips
Determining if a Document is Corrupt
Changing the Default Location for Saving a Document
Saving Your Work Automatically
Creating Documents that Don't Use Embedded Fonts
Extra Document File Being Saved
Grabbing the MRU List
Can't Save Edited Document
Limiting the Options when Saving as a Copy
Online and Other Programs Tips
Differences in Behavior of Links
Changing Many Link Locations
Pasting a Hyperlink
Adding a ScreenTip
ScreenTips without Hyperlinks
Changing from Absolute to Relative Hyperlinks
Associating a Name with a Position
Spelling and Grammar Tips
Spell Checking Your Document
Setting Spell-Checking Options
Updating the Spelling Exclusion List Automatically
Spelling Errors Resulting from Erroneous Spaces
Keeping Words in the Custom Dictionary
Spell-checking Uppercase Words
Turning Off Error Checking for a Specific Word
Accepting Capitalization of a Proper Noun
Adding Phrases to the Grammar Checker
Tools Tips
Automatically Adding Captions
Changing the GoTo Default
AutoFormatting a Document
After Pressing Enter, Text Becomes a Heading
Vertical Lines in Word
Drawing a Line
Using Bar Tab Stops
Using Borders
Lines between Columns
Using Tables
Changing AutoFormatting Rules
Importing AutoCorrect Entries
Getting Rid of an Unwanted AutoCorrect
Correcting Capitalization with AutoCorrect
Making Bookmarks Bold
Printing a Bookmark List
Changing Fonts for AutoText Entries
Changing Sort Order
Odd Sorting
Hyperlinks from Headings to the TOC
Creating a Custom TOC that Includes Portions of Paragraphs
The Manual Method
Using Style Separators
Formatting Issues with Indexing Levels
Putting Bold Words in an Index
Macros Tips
Understanding Functions
Understanding Variables
Understanding Precedence
Understanding the If ... End If Structure
Repeating In a Macro
Continuing Macro Lines
Finding and Changing Word's Internal Commands
Using Message Boxes
Comparing Strings
Dissecting a String
Hiding Macros
Deleting a Macro
Protecting Macros in a Corporate Environment
Formatting Text Files with VBA
Using Sequential Document Serial Numbers
Calculating a Future Date
Cleaning Up Text in a Macro
Can't Edit Macros
Determining the Week of the Year
Moving to the Start or End of the Real Document
Moving Through a Table in a Macro
Jumping to the Start or End of a Document
Changing the Default Drive
Creating a Directory
Turning Off Screen Updating
Aligning a Paragraph in a Macro
Setting the Left Indent of a Paragraph in a Macro
Repaginating in a Macro
Accessing the Dirty Flag
Determining the Current Page Number
Determining the Day of the Month
Determining if Overtype Mode is Active
Determining the Horizontal Position of the Insertion Point
Determining If a Number is Odd or Even
Determining How Many Styles are Available
Determining the Size of a File
Printing Summary Information from a Macro
Printing a Macro List
Printing the Code for a Macro Procedure
Printing Shortcut Key Assignments from a Macro
Order Your WordTips Archives Today!
Each download item shown below includes the size of the download file. If you have a slow connection to the Internet, you can save precious time by ordering your archives on CD-ROM, instead of as a download.

The WordTips archives include PDF documents. To read these documents, you need to have either Adobe Acrobat or Adobe Reader on your system. Adobe Reader is free to download; click the link to get the latest version.
Archive Year
Dates Covered
Tips
CD
Download
WordTips Ribbon 2017
(for Word 2007, 2010, 2013, and 2016 users)
7 Jan 17 — 30 Dec 17
208 tips

(301 pages)
$32.99

(4.6 MB)
$24.99
WordTips Ribbon 2018
(for Word 2007, 2010, 2013, 2016, 2019, and Office 365 users)
6 Jan 18 — 29 Dec 18
248 tips

(341 pages)
$32.99

(5.9 MB)
$24.99
WordTips Ribbon 2019
(for Word 2007, 2010, 2013, 2016, 2019, and Office 365 users)
5 Jan 19 — 28 Dec 19
311 tips

(467 pages)
$32.99

(8.3 MB)
$24.99
WordTips Ribbon 2020
(for Word 2007, 2010, 2013, 2016, 2019, and Office 365 users)
4 Jan 20 — 26 Dec 20
312 tips

(402 pages)
$32.99

(8.5 MB)
$24.99
WordTips Ribbon 2021
(for Word 2007, 2010, 2013, 2016, 2019, and Microsoft 365 users)
2 Jan 21 — 25 Dec 21
312 tips

(409 pages)
$32.99

(8.5 MB)
$24.99