WordTips Ribbon 2012 Archive (Table of Contents)
Summary: WordTips is a weekly newsletter that provides tips on how to best use Microsoft's word processing software. At the beginning of every year we put together an archive of all the tips published the previous year. Here is the complete table of contents for the archive for the WordTips (ribbon) newsletter for the year 2012.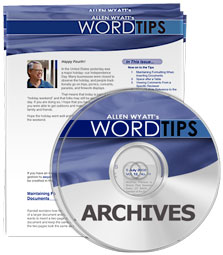 WordTips Ribbon 2012 Archive includes hundreds of valuable tips. The following is the Table of Contents for the archive:
Introduction
What's In This E-Book?
Need More Tips?
A Special Note of Thanks
Sharing this Document
General Tips
What Happened to the Options Dialog Box?
Getting Windows to Recognize Word 2010
Displaying the File Tab of the Ribbon by Default
Resetting a Single Shortcut Key
Resetting All Shortcut Keys
Finding Default Shortcut Keys
Changing the Maximum Undo Levels
Changing the Insertion Point Cursor
Getting Rid of Blue Squiggly Underlines
Controlling Scroll Bars
Understanding ASCII and ANSI Characters
Understanding Unicode Characters
Unwanted Graph Paper Effect
Word's Native Measurement Unit
Letters Turn Into Squares
Direction Arrows Confused
Getting Audible Feedback
Turning Off a Startup Sound
Avoiding the Update Links Message
Updating Automatic Links
Accessing the Source of a Document Link
Meaningless Text
Modifying Behavior of the Open Dialog Box
Slowing Down Mouse Selection
Setting the Return Address Used in Word
Editing Tips
Using the Insert Key to Insert Text
Inserting Text with a Shortcut Key
Selecting a Group of Words
Deleting Words
Deleting a Range of Pages
Selecting the Entire Document with the Mouse
Putting Character Codes to Work
Automatic Non-breaking Spaces in Dates
Compound Page Numbering
Turning Off Paste Options
Turning Off Capital Corrections
Adding Parentheses
Using Optional Hyphens
Creating Compound Characters
Inserting a Section Mark
Displaying Spaces in a Document
Replacing the Last Comma
Pasting a Comment into Your Document
Deleting All Comments
Hyperlinks Not Found
Pasting a Hyperlink
Searching Tips
Making Ctrl+F Work Traditionally
A Fast Find-Next
Using Search Text in the Replacement
Searching for Styles
Searching for Comment Marks
Removing All Comments
Adding an Ellipsis to the Beginning of Some Paragraphs
Setting Table Values to Three Decimal Places
Replacing Two Tabs with a Space in Limited Situations
Replacing Some Smart Quotes
Searching for Adjectives and Adverbs
Searching for Non-Black Text
Quickly Changing Tab Alignment
Erratic Behavior of Ctrl+PgDn
Finding Text Boxes
Replacing Hidden Text
Counting a Particular Word
Copying Found Items to a New Document
Pay Attention to Case when Searching for ASCII Codes
Markup Tips
Protecting Your Revisions
Protecting Tracked Changes
Pasting Text with Track Changes
Counting Changed Words
Building Block and AutoCorrect Tips
Deleting Multiple Building Blocks
QuickWords in Word
Store Common Addresses in Building Block Entries
Editing a Building Block Entry
How Word Handles Abbreviations
Automatically Capitalizing Day Names
AutoFormat Won't Convert a Right Arrow
Managing the AutoCorrect List
Automatic AutoCorrect Exceptions for Beginning Sentences
Bookmark Tips
Preserving Bookmarks During Replace Operations
Printing a Bookmark List with Contents
Determining the Number of Bookmarks Defined in a Document
Getting the Names of Defined Bookmarks
Using Multiple References to a Single Comment
Character Formatting Tips
Understanding Monospace Fonts
Changing Text Case
Applying the All Caps Format
Understanding Underlines
Underlining Section References Automatically
Adjusting the Width of Characters
Reversing Type
Adding Vertical Lines at the Sides of a Word
Applying Bold Italics
Automatically Using Smart Quotes
Paragraph Formatting Tips
Adjusting Space Before
Adjusting Spacing After a Paragraph
Preventing Straggling Heads
Keeping Paragraphs on the Same Page
Cut and Paste Formatting
Decreasing a Paragraph's Indent
Extending a Paragraph into the Left Margin
Hanging Indent Shortcut
Understanding Lists
Creating a List
Converting List Types
Applying Formatting in Lists
Skipping Numbering
Continuing Your Numbering
Applying Numbers from the Keyboard
Changing the Bullet Type
Using Leaders with Tab Stops
Clearing All Tab Stops
Clearing All Tabs in a Document
Accurately Setting Tabs Using the Ruler
Aligning Plus/Minus Symbols
Aligning Text on a Specific Character
Triple-Spacing Your Document
Adding Automatic Lines
Borders on Multiple Paragraphs with Differing Indents
Setting the Distance between Text and Borders
The Line that Won't Go Away
Formatting All Headings At Once
Section and Document Formatting Tips
Understanding Sections
Understanding Mirror Margins
Vertical Alignment of Sections
Section Breaks Changing On Their Own
Formatting Line Numbers
Default Font for Page Numbers
Spelling Out Page Numbers
Automatic Page Numbers across Multiple Documents
Creating Sideheads
Sign-in Sheets
Rotating a Page of Text
Maintaining Formatting when Inserting Documents
Styles and Templates Tips
How Word Applies Styles
Assigning a Shortcut Key to Styles
One Change Affects Everything
Noting the Current Style
Changing the Default Font for Envelopes
Default Envelope Margins
Turning Off Automatic Hyphenation for Parts of a Document
Turning Off Smart Quotes for Specific Styles
Deploying Standard Styles through an Organization
Finding Where Templates Are Stored
Protect Your Document Templates
Updating Many Template References
Opening a Text File and Template from the Command Line
Template Changing On Its Own
What Changes Did I Make In that Template?
Templates and Page Setup
Creating a Boilerplate Document
Listing the Settings in a Template
No Ribbon on New Documents
Inconsistent Prompting to Save Normal Template Changes
Tables Tips
Drawing a Table
Erasing Table Lines
Quickly Moving Your Table
Nudging a Table
Deleting a Table
Indenting a Table
Expanding Width of All Tables
Putting Tables within Margins
Pulling Tables Back Into View
AutoFitting Tables
Automatic Initial Capitals in Tables
Quick Recall of Table Formats
Blank Page Printing after Table at End of Document
Moving a Table Row
Noting Table Rows Containing a Character
Keep Your Headings in View
Cannot Set Heading Rows in a Table
How to Stop a Table Row from Splitting Over Two Pages
Moving a Table Column
Summing a Table Column
Setting Consistent Column Widths in Multiple Tables
Adding Borders to Cell Contents
Fitting Text Into Cells
Fitting Your Text In a Cell
Footnotes for Tables
Changing Cell Alignment
Counting Values in Table Cells
Setting Decimal Tabs in a Table Using the Keyboard
Aligning Decimal Numbers in Tables
Repeating Column Information on Each Page
Applying Consistent Shading to a Table
Formatting an ASCII Table with Spaces
Sorting Tabular Tables
Formatting Lots of Tables
Automatically Referencing Info Entered in a Table
Footnotes and Endnotes Tips
Jumping to a Relative Footnote
Changing How Footnote References Appear
Formatting Footnote Reference Marks
Changing the Footnote Continuation Separator
Positioning the Footnote Separator
Changing the Footnote Continuation Notice
Changing the Way Footnotes Are Numbered
Deleting All Footnotes
Using Multiple References to the Same Footnote
Creating a Bibliography from Footnotes
Problems Using the Footnote Pane
Jumping to an Endnote
Default Numbering Format for Endnotes
Creating Unnumbered Endnotes
Selectively Changing Endnotes to Footnotes
Converting Endnotes to Regular Text
Converting Individual Endnotes and Footnotes
Header and Footer Tips
Editing Headers and Footers
Copying Headers and Footers
Protecting Headers and Footers
Preventing the Left Margin of a Footer from Moving
Quickly Formatting Footers in Documents with Many Sections
Fields and Forms Tips
Tools to View Field Codes
Controlling Field Shading
Converting Field Results to Text
Printing Field Codes
Inserting the Subject in Your Document
Using the INFO Field
Standard Text before a Sequence Number
Understanding Default DATE Field Formatting
Formatting Currency
Adding a Dynamic Total in Your Document
Auto-incrementing Form Fields
Inserting a Cross-Reference to Text
Inserting Page Number Cross-References
Inserting a Page Number Field
Entering a "Slashed Zero" in Your Document
Counting Fields in a Document
Including Headers and Footers when Selecting All
Field in Footer Won't Update
Updating a Field in a Text Box
Signing a Protected Form
Turning Off Document Protection
Printing Tips
Opening and Printing a Document
Setting Up Your Printer
Easily Changing Print Order
Understanding Background Printing
Multi-Page Print Preview
Printing Documents in a Folder
Reducing the Curl in Printed Documents
Printing Color Separations with VBA
Printing Document Properties
Printing Custom Properties
Printing Documents without Markup
Automatic Font Color Won't Print Properly
Forcing Printouts to Black and White
Non-Printing Hyperlinks
Creating Custom Labels
Specifying a Label Stock for Saved Documents
Making Use of Extra Labels
Saving Money on Printing Labels
Left and Right Aligned on One Line in a Label
Automatically Printing an Envelope
Printing Post Office Permits on Envelopes
Maintaining Delivery Address Information for Envelopes
Printing Unwanted Blank Envelopes
Printing an Extra Blank Envelope
Removing Blank Pages at the End of Your Document
Always Printing Drawing Objects
Margins On the Screen Don't Match Printout
Errors while Printing
Printing in White
Printing Close to the Edge
Mail Merge Tips
Formatted Merging
Controlling Date Formats in a Mail Merge
Maintaining Fields in a Merged Document
Creating Files with Mail Merge
Getting Rid of Blank Labels in a Filtered Merge
Vertically Centering Labels
Graphics Tips
Creating a Drawing Object
Drawing Lines
Filling A Drawing Object
Understanding Fill Effects
Flipping a Drawing Object
Duplicating Drawing Objects
Sending Drawing Objects to the Back or Front
Changing a Shape
Wrapping Text Around a Graphic
Using Object Anchors
Placeholders for Stamps
Understanding Grayscale Images
Making Pictures Show in Word
Keeping Callouts Positioned
Resizing a Text Box
Automatically Adjusting Height for Text Boxes
Linking Text Boxes
Embedding an Excel Chart in a Word Document
Files Tips
Files Opening Slowly If Many Files Exist
Understanding Background Saving
Confirming File Conversions
Document Shows as 'In Use' by Another User
Creating Multiple Blank Documents in One Step
Using Seek In a Macro
Read-Only Files
Read-Only Documents without a Password
Saving Documents as Read-Only by Default
Problems Saving as PDF
Inserting Only Part of a File
Setting a Document Naming Convention
Leading Spaces in Document File Names
Linking Word Documents
Deleting the Open Document File
Copying Custom Properties
Removing All File Properties
Controlling Names of Backup Files
Importing a Text File and Inserting after a Bookmark
Turning Off HTML Conversions
Converting Files to Word 2007 Format
Working with Master and Subdocuments
Online and Other Programs Tips
Adding Hyperlinks
Editing a Hyperlink
Creating Hyperlinks from E-mail Addresses
Closing Documents after a Hyperlink
Breaking Lines in E-mail
Formatting E-mail using AutoFormat
Pop-up Windows in Word
Tools Tips
Updating Document Links
Enforcing a Do-Not-Use Word List
Ensuring Proper Page Numbers for a Table of Authorities
Looking Up Antonyms
Adding Captions
Turning Off Automatic Captioning
Hyphenating Your Document
Creating a Table of Authorities
Generating a Table of Authorities
Displaying Quick Document Statistics
Spell Check Misses Misspelled Words
Making Ignore All Work for a Document on All Systems
Spell Checking Only Checking Grammar
Limiting Spell Checking
Ignoring Punctuation in Names
Hiding Spelling Errors
Hiding Errors
Spell-checking Uppercase Words
Fast Spelling Corrections
Rechecking Spelling and Grammar
Changing How Word Flags Compound Words
Spelling Errors on Internet Addresses
Configuring Spell Check for Internet Addresses
Hiding Grammar Errors
Editing Custom Dictionaries
Adding Ampersands to Custom Dictionaries
Spell-Check Won't Work
Turning Off Proofing for Superscripts
Understanding Outlining in Word
Changing Outline Structure
Controlling How Body Text is Displayed
Creating a Table of Contents from Heading Levels
Creating a TOC that Includes Specific Styles
Insert a TOC without Upsetting Pagination
Locking Lines in a TOC
Jumping Back to the TOC
Creating a Normal Index
Deleting Index Entries
Indexing a Range of Pages
Indexing Based on a Range of Letters
Improper Index References
Multiple Indexes in a Document
Sorting by Headings
Controlling Sorting Order
Sorting Comments by Date
Sorting an Album List
Setting a Default for the Object Browser
Macros Tips
Writing a Macro from Scratch
Changing a Macro Description
Defining a Shortcut for a Macro
Removing Shortcuts for Macros
Macros On the Quick Access Toolbar
Declaring Variables
Editing Word's Built-in Commands
Running Macros from Macros
Using Call to Run VBA Macros
Running Macros Based on Keywords
Understanding Subroutines
Understanding the For ... Next Structure
Understanding the While...Wend Structure
Determining the Upper Bounds of an Array
Creating a String
Determining the Length of a String
Reversing a String
Swapping Two Strings
Moving the Insertion Point in a Macro
Accessing Paragraphs in a Macro
Checking for a Text Selection Length
Occurrences of a Text String within a Document
Adding Smart Quotes through Macro Text
Finding Quoted Text in VBA
Finding Long Sentences
Ignoring Smart Quotes when Comparing Text
Converting Strings to Numbers
Deriving an Absolute Value
Swapping Two Numbers
Bumping Numbers in a Document
Printing via Macro without Messages
Processing Information Pasted from a PDF File
Extracting INCLUDEPICTURE File Names
Determining If a File Exists
Determining if Caps Lock is On
Determining the Current Directory
Aligning Paragraphs in a Macro
Automatically Inserting Brackets
Getting Bookmark Information in VBA
Converting Inches to Points
Determining the Number of Fonts Available
Determining an ANSI Value
Resetting Character Formatting in a Macro
Selecting to the Next Punctuation Mark
Saving a Document in a Macro
Counting Words the Old Fashioned Way
Determining How Many Windows are Open
Detecting an Open Dialog Box
Changing What Is Pasted in a Dialog Box
Adding Automatic Time Stamps
Determining the Month of the Year
Changing the Format of Existing Dates
Determining Differences Between Dates
Order Your WordTips Archives Today!
Each download item shown below includes the size of the download file. If you have a slow connection to the Internet, you can save precious time by ordering your archives on CD-ROM, instead of as a download.

The WordTips archives include PDF documents. To read these documents, you need to have either Adobe Acrobat or Adobe Reader on your system. Adobe Reader is free to download; click the link to get the latest version.
Archive Year
Dates Covered
Tips
CD
Download
WordTips Menu 2012
(for Word 97, 2000, 2002, and 2003 users)
7 Jan 12 — 29 Dec 12
415 tips

(499 pages)
$32.99

(6.8 MB)
$24.99
WordTips Ribbon 2012
(for Word 2007 and 2010 users)
7 Jan 12 — 29 Dec 12
414 tips

(485 pages)
$32.99

(9.6 MB)
$24.99
WordTips Menu 2013
(for Word 97, 2000, 2002, and 2003 users)
5 Jan 13 — 28 Dec 13
416 tips

(478 pages)
$32.99

(6.8 MB)
$24.99
WordTips Ribbon 2013
(for Word 2007, 2010, and 2013 users)
5 Jan 13 — 28 Dec 13
416 tips

(553 pages)
$32.99

(8.0 MB)
$24.99
WordTips Menu 2014
(for Word 97, 2000, 2002, and 2003 users)
4 Jan 14 — 27 Dec 14
312 tips

(346 pages)
$32.99

(5.7 MB)
$24.99
WordTips Ribbon 2014
(for Word 2007, 2010, and 2013 users)
4 Jan 14 — 27 Dec 14
415 tips

(482 pages)
$32.99

(6.5 MB)
$24.99
WordTips Menu 2015
(for Word 97, 2000, 2002, and 2003 users)
3 Jan 15 — 26 Dec 15
208 tips

(217 pages)
$32.99

(3.3 MB)
$24.99
WordTips Ribbon 2015
(for Word 2007, 2010, 2013, and 2016 users)
3 Jan 15 — 26 Dec 15
416 tips

(526 pages)
$32.99

(7.2 MB)
$24.99
WordTips Menu 2016
(for Word 97, 2000, 2002, and 2003 users)
2 Jan 11 — 31 Dec 16
212 tips

(248 pages)
$32.99

(3.8 MB)
$24.99
WordTips Ribbon 2016
(for Word 2007, 2010, 2013, and 2016 users)
2 Jan 11 — 31 Dec 16
207 tips

(294 pages)
$32.99

(4.6 MB)
$24.99
You can also order any of the WordTips archives by calling our order line: 307-200-0450.