WordTips Ribbon 2017 Archive (Table of Contents)
Summary: WordTips is a weekly newsletter that provides tips on how to best use Microsoft's word processing software. At the beginning of every year we put together an archive of all the tips published the previous year. Here is the complete table of contents for the archive for the WordTips (ribbon) newsletter for the year 2017.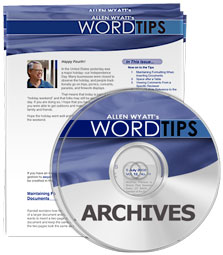 WordTips Ribbon 2017 Archive includes hundreds of valuable tips. The following is the Table of Contents for the archive:
Introduction
What's In This E-Book?
Need More Tips?
A Special Note of Thanks
Sharing this Document
General Tips
Changing the Document Window Background Color
Understanding Unicode Characters
Updating Automatic Links
Unwanted Graph Paper Effect
Default Units that Change
Calculating Average Word Length
Page Layout Zoom Settings
Selecting Tabs in Dialog Boxes
Understanding Default Insert Date Formatting
Resetting All Shortcut Keys
Shortening Word's Font List
Resetting a Single Shortcut Key
Editing Tips
Quickly Changing Document Windows
Arranging Paragraphs
Jumping Back in a Long Document
Creating Compound Characters
Checking for Matching Parentheses
Better Ways to Insert Symbols
Copying Red Text to a New Document
Selecting an Entire Section
Overlining Characters
An Automatic Two Spaces After a Period
Generating a Count of Word Occurrences
Font Changes when Pasting to Another Document
Inserting Dashes between Letters in Words
Using Optional Hyphens
Using an En Dash, by Default
Putting Character Codes to Work
Searching Tips
Changing the Formatting of All Instances of a Word
Finding and Replacing Text Boxes
Changing the Position of the Dollar Sign
Replacing Some Smart Quotes
Adding an Ellipsis to the Beginning of Some Paragraphs
Applying Styles and Removing Characters using Find and Replace
Finding and Replacing Table Cell Color
Getting Rid of Trailing Spaces in Footnotes and Endnotes
Quickly Changing Tab Alignment
Markup Tips
Pasting Text with Track Changes
Turning Track Changes Off for Selected Areas
Converting Text to Comments
Changing the User Name in Existing Comments
Auto Tips
Adding Automatic Lines
Backing Up Your AutoText Entries
Automatically Using Smart Quotes
Punctuation Marks that Don't End Sentences
Smart Quotes in AutoCorrect Entries
Removing Confusion When Using AutoCorrect
Bookmark Tips
Random OLE Bookmarks
Detecting if the Insertion Point is Inside a Bookmark
Automatically Referencing Info Entered in a Table
Character Formatting Tips
Quickly Displaying the Font Dialog Box
Changing Text Case
Intelligent Title Case
Using Very Large Font Sizes
Letters Turn Into Squares
Creating Thin Spaces
Shortcuts to Change Text Colors
Changing the Color of a Tab's Leader Character
Discovering the RGB Value of a Custom Text Color
Changing the Default Highlighting Color
Highlighting Information Using Shading
Paragraph Formatting Tips
Extending a Paragraph into the Left Margin
Margins Automatically Move to Indent
Borders on Multiple Paragraphs with Differing Indents
Clearing All Tabs in a Document
Triple-Spacing Your Document
The Line that Won't Go Away
Getting Rid of Choppiness in Justified Text
Keep with Previous
Ensuring Standardized Numbering
Randomly Resetting Numbering
Changing the Bullet Type
Section and Document Formatting Tips
Maintaining Formatting when Inserting Documents
Margins for All Documents Changing
Styles and Templates Tips
How Word Applies Styles
One Change Affects Everything
Copying Styles
Using Copy and Paste
Using the Format Painter
Saving As a Template
Using the Organizer
Using a Macro
Making Sure Styles Don't Update Automatically
Bold Turning On by Itself
Keeping the Styles Pane Open by Default
Changing the Style Gallery
Problems with TOC Styles
Stopping Styles from Changing with Multiple Users
Finding Where Templates Are Stored
Listing the Settings in a Template
Quick Access Toolbars and Templates
Tables Tips
Erasing Table Lines
Deleting a Table
AutoFitting Tables
Formatting Lots of Tables
Removing Leading Spaces in a Table
Distributing Table Rows Evenly
Aligning Decimal Numbers in Tables
Filling Table Cells with Sequential Numbers
Fitting Your Text In a Table Cell
Setting Decimal Tabs in a Table Using the Keyboard
Counting Values in Table Cells
Printing Only Selected Rows from a Table
Creating Tables with Specific Column Widths
Suppressing a Zero In a Calculated Sum
Copying Fill Color in a Table
Preventing a Frame when Converting a Table to Text
Footnotes and Endnotes Tips
Deleting All Footnotes
Deleting Footnotes and Endnotes
Changing the Footnote Continuation Notice
Footnotes for Tables
Getting Rid of Hyperlinks in Footnotes
Header and Footer Tips
Keyboard Shortcut to Access Header and Footer
Protecting Headers and Footers
Placing the First Two Words from the Following Page In the Footer
Including a Printer's Name in a Footer
Fields and Forms Tips
Inserting a Document's Path
Inserting the Text of a Cross-Reference
Deleting All Fields
A Quick-and-Dirty Word Count
Field Reference to Number of Prior Pages
Using the GotoButton Field
Printing Field Codes
Implementing a Dynamic Document Control Table
Updating Calculated Fields in a Form
Conditional Calculations in Word
Copying Form Field Contents
Filling Forms and Editing Documents
Referencing Fields in Another Document
Printing Tips
Removing Blank Pages at the End of Your Document
Printing Odd or Even Pages
Easily Changing Print Order
Printing Style Sheets
Printing a Font List
Automatic Font Color Won't Print Properly
Non-Printing Hyperlinks
Using Unique Document Serial Numbers
Selecting Printing of Color Pictures
Two Printed Copies to Different Paper Trays
Shortcut Key to Make Print Preview Active
Shortcut to Save as a PDF
Preparing Files for a Commercial Printer
Printing Personalized Copies of a Document
Getting Rid of Mail Merge Section Breaks
Printing Portions of Mail Merged Documents
Conditionally Adding a Period in a Mail Merge
Merging Only a Date from Access
Proper Comparisons for Dates in Merge Fields
Checkboxes in a Merged Document
Printing Return Address Labels
Creating Custom Labels
Saving Money on Printing Labels
Adding Text to an Envelope
Delivery Address Won't Print on Envelopes
Setting the Return Address Used in Word
Graphics Tips
Understanding Grayscale Images
Duplicating Drawing Objects
Changing a Shape
Sending Drawing Objects to the Back or Front
Wrapping Text Around a Graphic
Resizing a Text Box
Finding and Removing Stubborn Graphics
Problems Pasting Large Pictures
Turning Off Borders for Data Series
Files Tips
Combining Documents
Converting Many DOC Files to DOCX
Opening a Text File and Template from the Command Line
Jumping Around Folders
Limits on Path Length in Word
Use Filenames that Sort Properly
Finding Out the Folder for an Open Document
Online and Other Programs Tips
Making Hyperlinks from Coded Text
Smart Quotes with Dragon Naturally Speaking
Word Link to Create a New Excel Workbook
Spelling and Grammar Tips
Hiding Errors
Resetting Spelling and Grammar Checking on Multiple Documents
Limiting a Spelling Check
Changing How Word Flags Compound Words
Ignoring Punctuation in Names
Catching Single-Letter Spelling Errors
Spell Checking Forms
Tools Tips
Sorting Single-Column Addresses
Hyphenating Your Document
Turning Off Hyphenation for Individual Words
Creating a Table of Contents from Heading Levels
Creating a TOC that Includes Specific Styles
Using Multiple Tables of Contents
Multiple Indexes in a Document
Finding Related Words
Correcting Student Papers
Only Showing Readability Statistics
Macros Tips
Editing Word's Built-in Commands
Creating a String
Reversing a String
Automatically Running a Macro
Assigning a Macro to a Button in Your Text
Making Macros Available without Using the Normal Template
Saving in a Macro Using a Desired File Name
Saving in Document Format from a Macro
Determining Differences Between Dates
Adding Smart Quotes through Macro Text
Temporarily Changing the Printer in a Macro
Getting Input from a Text File
Character Frequency Count
Determining the Number of Bookmarks Defined in a Document
Counting Open Document Windows
Reversing All the Paragraphs in a Document
Finding a Change in Typeface
Automatically Inserting Tomorrow's Date
Order Your WordTips Archives Today!
Each download item shown below includes the size of the download file. If you have a slow connection to the Internet, you can save precious time by ordering your archives on CD-ROM, instead of as a download.

The WordTips archives include PDF documents. To read these documents, you need to have either Adobe Acrobat or Adobe Reader on your system. Adobe Reader is free to download; click the link to get the latest version.
Archive Year
Dates Covered
Tips
CD
Download
WordTips Ribbon 2017
(for Word 2007, 2010, 2013, and 2016 users)
7 Jan 17 — 30 Dec 17
208 tips

(301 pages)
$32.99

(4.6 MB)
$24.99
WordTips Ribbon 2018
(for Word 2007, 2010, 2013, 2016, 2019, and Office 365 users)
6 Jan 18 — 29 Dec 18
248 tips

(341 pages)
$32.99

(5.9 MB)
$24.99
WordTips Ribbon 2019
(for Word 2007, 2010, 2013, 2016, 2019, and Office 365 users)
5 Jan 19 — 28 Dec 19
311 tips

(467 pages)
$32.99

(8.3 MB)
$24.99
WordTips Ribbon 2020
(for Word 2007, 2010, 2013, 2016, 2019, and Office 365 users)
4 Jan 20 — 26 Dec 20
312 tips

(402 pages)
$32.99

(8.5 MB)
$24.99
WordTips Ribbon 2021
(for Word 2007, 2010, 2013, 2016, 2019, and Microsoft 365 users)
2 Jan 21 — 25 Dec 21
312 tips

(409 pages)
$32.99

(8.5 MB)
$24.99
You can also order any of the WordTips archives by calling our order line: 307-200-0450.