WordTips Ribbon 2014 Archive (Table of Contents)
Summary: WordTips is a weekly newsletter that provides tips on how to best use Microsoft's word processing software. At the beginning of every year we put together an archive of all the tips published the previous year. Here is the complete table of contents for the archive for the WordTips (ribbon) newsletter for the year 2014.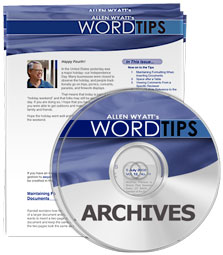 WordTips Ribbon 2014 Archive includes hundreds of valuable tips. The following is the Table of Contents for the archive:
Introduction
What's In This E-Book?
Need More Tips?
A Special Note of Thanks
Sharing this Document
General Tips
Understanding Views
Making Draft View the Default View
Hiding and Displaying Hidden Text
Shortcut for Show/Hide
Viewing More of the Left Margin Area
Viewing Your Entire Document Width
Arranging Document Windows
Missing Top and Bottom Margins
Canceling a Command
Quickly Displaying the Tabs Dialog Box
Clicking to Scroll Down Freezes
Setting User Information
Automatically Saving Changes to Defaults
Making Word Remember My Settings
Displaying Shortcut Keys in ScreenTips
Ribbon Acting Strangely
Adjusting the Size of Ribbon Icons
Adding Common Line Spacing Options
Controlling Document Properties
Quickly Customizing the Keyboard
Resetting Ribbons to Their Default
Unwanted Font in Draft View
Jumping to the End of Page after Enter
Setting Your Default Document Directory
Turning on Picture Placeholders
Changing Built-in Word Commands
Editing Tips
Using Extend Mode
Selecting a Text Block
Creating New Windows
Repeating Your Typing
Talking to Yourself
Moving Text without Affecting the Clipboard
Different Layout for a Portion of a Page
Jumping to a Relative Line Number
Jumping to a Relative Section
Jumping between Columns
Using Go To with a Percentage
Using Overtype Mode
Controlling Overtype Mode
Quickly Finding Synonyms
Capitalizing the First Letter after a Colon
Repeating Actions
Inserting Special Spaces
Inserting a Non-Breaking Space
Making Managerial Titles Lowercase
Single-Character Fractions
Extra Space after Quotation Mark when Pasting
Deleting Freezes Computer
Differences between Deleting, Clearing, and Cutting
Plain Text Pasting as the Default
Replacing Random Text with Your Own Text
Generating a List of Dates
Typing Pronunciations of Words
Changing Strikethrough Lines
Checking for Words and Phrases
Removing Entire Paragraphs from Your Document
Too Many Edits Prevent Pasting
Highlighting Duplicate Words
Changing Existing Highlighting
Adding Quotes
Using Correct Apostrophes
Replacing Quoted Text with Italics
Transposing Letters
Transposing Two Words
Transposing Two Paragraphs
Multiple Document Users
An Easy Way to Count Items
Entering a Page Break from the Keyboard
Searching Tips
Easily Spotting Found Text
Searching for Special Characters
Searching for Optional Hyphens
Searching for Special Hyphens
Searching for Breaks
Searching for Formatting
Searching for Text Not Using a Certain Style
Searching for Text that Doesn't End a Paragraph
Complex Searches for Documents
Replacing with Plain Text
Replacing a Colon in a Sequence
Replacing with a Subscript
Quicker Multiple Replace Operations
Adding Tags to Text
Count of Underlined or Struck-Through Words
Easily Finding Superscripts
Removing HTTP from URLs
Find and Replace in a Column or Row
Ordering Search and Replace
Mass Search and Replace
Markup Tips
Accepting All Formatting Changes
Rejecting Changes in a Document
Adding Comments to Your Document
Displaying Document Comments
Formatting Comments
Printing Comments
Comments Use Tiny Font when Printed
Comments in Headers and Footers
Changing Revision Bar Thickness
Building Block and AutoCorrect Tips
Extra Spaces after Inserting a Building Block
Changing Fonts for AutoText Entries
Providing Helpful Tips for Easy AutoText Entry
Moving Building Block Templates
Word Won't Capitalize Some Sentences
Can't Save Formatted AutoCorrect Entries
AutoCorrecting from the Context Menu
Bookmark Tips
Seeing Where Bookmarks Are
Removing All Bookmarks
Character Formatting Tips
Understanding Point Sizes
Understanding Picas
Understanding Font Styles
Changing the Height of a Font
Squeezing Everything In
Changing the Highlighting Color
Highlighting Information Using Shading
Stubborn Highlighting
Using a Macro to Change the Formatting of All Instances of a Word
Reversed Bolding
Adjusting Small Caps Text
Updating to Smart Quotes
Controlling URL Formatting
Changing Text Case Many Times
Paragraph Formatting Tips
Understanding Paragraph Alignment
Understanding Leading
Understanding At Least Line Spacing
Making All Lines in a Paragraph the Same Height
Indenting a Paragraph to the Next Tab Stop
Selecting Default Paragraph Formatting
Precisely Adjusting Tab Stops
Understanding Default Tab Stops
Borders Surround Lines Instead of Paragraphs
Copying Paragraph Formatting with the Mouse
Combining First and Second Numbered Levels on One Paragraph
Adding Horizontal Lines at the Sides of a Word
Centering a Paragraph with the Keyboard
Aligning Borders with the Page Margins
Adding Drop-Shadows to Paragraphs
Fixing Mismatched Bullets and Numbers
Underlining a Number in a Numbered List
Automatic Question Numbering
Adding Line Numbers
Setting the Starting Line Number
Numbering Only Certain Lines
Removing Line Numbering
Adding Paragraph Numbering
Section and Document Formatting Tips
Determining Page Layout
Selecting a Paper Size
Changing Page Margins
Getting Identical Margins
Moving Section Breaks
Removing Breaks
Avoiding a Section Break Booby Trap
Making a Customized Theme Available to Others
Understanding the Gutter Margin
Adjusting Bottoms of Pages
Making Sure a Document Always Has an Even Number of Pages
Double-Spacing Your Document
Letters and Numbers in Page Numbers
Changing the Number of Columns
Changing Column Width
Self-Adjusting Column Widths
Determining a Column Width
AutoFormatting a Document
Changing AutoFormatting Rules
Styles and Templates Tips
Quickly Copying Styles
Resetting Paragraph Formatting
Preserving Style Formatting when Combining Documents
Saving Styles in a Macro
Preventing Changes to Styles in Documents
Removing Styles from the Quick Access Toolbar
Turning Off a Dictionary for a Style
Automatically Update Document Styles Setting
Stepping Through Head Formats
Reformatting a Document with Messed-Up Styles
Putting Style Names Next to Paragraphs on a Printout
Printing a Style Sheet
Deleting a Large Number of Styles
Put Your Space Before or After?
Following a Number with Different Characters
Best Way to Create a Document Template
Managing Corporate Templates
Formatting Multiple Documents
Tables Tips
Entering Tabs in a Table
Merging Table Cells
Splitting Table Cells
Moving Rows and Columns With the Mouse
Copying Rows and Columns With the Mouse
Moving Table Rows Quickly
Finding and Deleting Rows
Applying Borders to Tables
Quickly Removing Table Borders
Keeping Tables on One Page
Unwanted Vertical Lines in a Table
Jumping to Tables
Space after a Table
Converting a Table Into Text
Setting a Default Table Border Width
Hiding Gridlines
Blank Lines Before Tables
Finding a Cell Reference
Table Header Rows after a Manual Page Break
Freezing a Table
Turning Off the Insert Column and Insert Row Tools
Jumping to the Ends of Table Rows
Filling Table Cells with a Macro
Putting Something in Every Cell of a Table
Transposing Table Contents
Changing Spacing Between Table Cells
Underlining Cells, Not Space Between Cells
Jumping to the Ends of Table Columns
Differing Column Widths when Pasting
Last-Row Border Formatting
Table Won't Flow to Second Page
Table Borders Won't Print
Picking a Contiguous Range of Table Cells
Quickly Accessing the Column Tab
Freezing Cell Size when Inserting Pictures
Tables within Tables
Converting Tables to Text
Copying All Tables to a New Document
Stopping Row Breaking for Many Tables
Footnotes and Endnotes Tips
Converting Footnotes to Endnotes
Copying and Moving Footnotes
Automatically Adding Tabs in Footnotes
Moving Footnote Text into the Document
Brackets around Footnote References
Footnotes in Two Columns
Reference to a Range of Endnotes
Footnotes Don't Automatically Renumber
Mixing Note Numbering
Jumping to a Footnote
Using Cross-References in Footnotes
Comments in Endnotes
Endnotes in a Separate Document
Header and Footer Tips
Creating Page Footers and Headers
Multiple Footers on a Page
Making Wider Footer Margins
Deleting a Header or Footer
Using a Portion of a Document's Filename in a Header
Fields and Forms Tips
Displaying Fields
Jumping Between Fields
Copying and Pasting Field Codes
Removing Specific Fields
Understanding the ADVANCE Field
Understanding the COMPARE Field
Understanding DATE Field Formatting
Limiting Directories in the FILENAME Field
Using the SYMBOL Field
Inserting the Author Name
Inserting a Document's Location
Inserting the Document Creation Date
Inserting a Cross-Reference to the Last Style on a Page
Creating an AutoText List
Age Calculation with Fields
Controlling the Format of Cross-References
Including Section Numbers in an Index
Inserting a Cross-Reference to an Item in a List
Numbering with Sequence Fields
Setting Up an Array with Fields
Fields Won't Update when Printing
Displaying Blanks when Summing to Zero
Forcing the Date to the Next Wednesday
Valid Numbers in Form Fields
Printing Tips
Selecting a Paper Source
Getting a Double-Spaced Printout
Duplex by Default
Sending Printer Commands
Printer Won't Print Envelope Font
Limiting Document Page Count
Printing a Document's Mirror Image
Making Banners in Word
Printing Copy Numbers
Printing without Headings
Controlling the Printing of Highlighting
Printing a Key Assignment List
Printing Show/Hide Characters
Printing Multiple Documents in a Sorted Order
Merging and Printing a Series of Documents
Grouping Records in a Mail Merge
Wrong Values Merged from Excel
Getting Rid of Spaces in Merged Data
Creating One-time Labels
Sequentially Numbered Labels
Changing Label Printing Order
Formatting Labels
Graphics Tips
Understanding the Drawing Canvas
Understanding Object Anchors
Changing the Size of a Graphic
Moving Drawing Objects
Drawing a Curve
Selecting a Graphic that is Behind Text
Selecting a Graphic Behind a Text Box
Dragging and Dropping Pictures in a Document
Inserting an Image On a Specific Page
Placing Many Graphics in a Document
Graphics and Line Height
Wrapping Text Around a Graphic
Keeping an Image Centered in a Table Cell
Moving Captions with Pictures
Permanent Watermarks in a Document
Searching and Replacing Graphics
Changing Orientation of a Text Box
Selecting Text in Linked Text Boxes
Boxes in Boxes
The Changing Relationship of WordArt and Text Boxes
Files Tips
Combining Word Documents
Recovered Document becomes Default
Determining if a Document is Corrupt
Can't Save Edited Document
Extra Document File Being Saved
Saving Documents Locally and on OneDrive
Using a Standard Format in a Suggested File Name
Converting to Word 6.0 Format
Making Common Information Accessible
Erroneous Out of Space Messages
Using Tags with Document Files
Formatting Text in Custom Document Properties
Online and Other Programs Tips
Differences in Behavior of Links
Adding a ScreenTip
ScreenTips without Hyperlinks
Changing from Absolute to Relative Hyperlinks
Replacing Plain Text with a Hyperlink
Getting Rid of Many Hyperlinks
Incorrect Last Modified Date on E-mailed Documents
Specifying Your Target Monitor
Embedding an Excel Worksheet
Spelling and Grammar Tips
Spell Checking Your Document
Spellcheck for Two Languages
Spelling Errors Resulting from Erroneous Spaces
Setting Spell-Checking Options
Keeping Words in the Custom Dictionary
Merging Custom Dictionaries
Backing Up Your Custom Dictionaries
Adding Phrases to the Grammar Checker
Accepting Capitalization of a Proper Noun
Ignoring Words Containing Numbers
Marking Gender-Specific Grammar
Turning Off Error Checking for a Specific Word
Setting Grammar-Checking Options
Checking for Missing Quotation Marks
Forcing a Complete Spelling and Grammar Check
Tools Tips
Vertical Lines in Word
Customized Tables of Contents
Hyperlinks from Headings to the TOC
Two Types of Page Numbers in a TOC
Two-Line Headings in a TOC
Creating Categories for Your Table of Authorities
Creating a Single Index from Multiple Documents
Adding Quoted Words to an Index
Changing Sort Order
Sorting by Highlighting
Word Counts for a Group of Documents
When to Hyphenate Your Document
Hyphenating a Selection
Automatically Adding Captions
Formatting Captions
Adding Caption Labels
Deleting Caption Labels
Changing Existing Captions
Changing Caption Numbering Styles
Automatic Periods after a Caption
Using the Organizer to Manage Macros
Macros Tips
Understanding Variables
Understanding Precedence
Understanding Functions
Passing Parameters to Functions
Understanding the If ... End If Structure
Repeating In a Macro
Turning Off Screen Updating
Hiding Macros
Continuing Macro Lines
Using Message Boxes
Can't Edit Macros
Deleting a Macro
Clean Up Your Macro List
Printing a Macro List
Cleaning Up Text in a Macro
Dissecting a String
Comparing Strings
Trimming Spaces from Strings
Converting Text to Uppercase in a Macro
Jumping to the Top of a Page
Jumping to the Start or End of a Document
Moving to the Start or End of the Real Document
Repaginating in a Macro
Repaginating Your Document in a Macro
Determining the Current Page Number
Determining the Number of Pages in Your Document
Inserting a Paragraph from within a Macro
Aligning a Paragraph in a Macro
Setting the Left Indent of a Paragraph in a Macro
Displaying a Message in the Status Bar
Displaying the User Name in the Status Bar or Title Bar
Determining the Horizontal Position of the Insertion Point
Adding Hyphens to Phrases
Determining If a Number is Odd or Even
Displaying Properties Dialog Box in a Macro
Determining if Overtype Mode is Active
Clearing the Undo Stack in a Macro
Determining How Many Styles are Available
Moving Through a Table in a Macro
Determining the Size of a File
Locating the My Documents Folder
Changing the Default Drive
Determining if Num Lock is On
Selecting a Bookmark in a Macro
Calculating a Future Date
Determining the Week of the Year
Determining the Day of the Month
Using the Format Painter with Editing Restrictions in Place
Changing Pronoun Gender
Creating a Document Font List
Printing Summary Information from a Macro
Printing a List of AutoCorrect Entries
Printing Shortcut Key Assignments from a Macro
Printing Graphic Thumbnails
Passing a Data File Name via Command Line to a Macro
Order Your WordTips Archives Today!
Each download item shown below includes the size of the download file. If you have a slow connection to the Internet, you can save precious time by ordering your archives on CD-ROM, instead of as a download.

The WordTips archives include PDF documents. To read these documents, you need to have either Adobe Acrobat or Adobe Reader on your system. Adobe Reader is free to download; click the link to get the latest version.
Archive Year
Dates Covered
Tips
CD
Download
WordTips Menu 2012
(for Word 97, 2000, 2002, and 2003 users)
7 Jan 12 — 29 Dec 12
415 tips

(499 pages)
$32.99

(6.8 MB)
$24.99
WordTips Ribbon 2012
(for Word 2007 and 2010 users)
7 Jan 12 — 29 Dec 12
414 tips

(485 pages)
$32.99

(9.6 MB)
$24.99
WordTips Menu 2013
(for Word 97, 2000, 2002, and 2003 users)
5 Jan 13 — 28 Dec 13
416 tips

(478 pages)
$32.99

(6.8 MB)
$24.99
WordTips Ribbon 2013
(for Word 2007, 2010, and 2013 users)
5 Jan 13 — 28 Dec 13
416 tips

(553 pages)
$32.99

(8.0 MB)
$24.99
WordTips Menu 2014
(for Word 97, 2000, 2002, and 2003 users)
4 Jan 14 — 27 Dec 14
312 tips

(346 pages)
$32.99

(5.7 MB)
$24.99
WordTips Ribbon 2014
(for Word 2007, 2010, and 2013 users)
4 Jan 14 — 27 Dec 14
415 tips

(482 pages)
$32.99

(6.5 MB)
$24.99
WordTips Menu 2015
(for Word 97, 2000, 2002, and 2003 users)
3 Jan 15 — 26 Dec 15
208 tips

(217 pages)
$32.99

(3.3 MB)
$24.99
WordTips Ribbon 2015
(for Word 2007, 2010, 2013, and 2016 users)
3 Jan 15 — 26 Dec 15
416 tips

(526 pages)
$32.99

(7.2 MB)
$24.99
WordTips Menu 2016
(for Word 97, 2000, 2002, and 2003 users)
2 Jan 11 — 31 Dec 16
212 tips

(248 pages)
$32.99

(3.8 MB)
$24.99
WordTips Ribbon 2016
(for Word 2007, 2010, 2013, and 2016 users)
2 Jan 11 — 31 Dec 16
207 tips

(294 pages)
$32.99

(4.6 MB)
$24.99
You can also order any of the WordTips archives by calling our order line: 307-200-0450.