WordTips Ribbon 2019 Archive (Table of Contents)
Summary: WordTips is a weekly newsletter that provides tips on how to best use Microsoft's word processing software. At the beginning of every year we put together an archive of all the tips published the previous year. Here is the complete table of contents for the archive for the WordTips (ribbon) newsletter for the year 2019.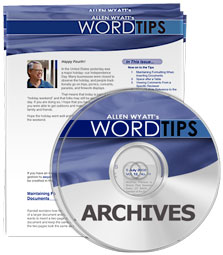 WordTips Ribbon 2019 Archive includes hundreds of valuable tips. The following is the Table of Contents for the archive:
Introduction
What's in This E-Book?
Need More Tips?
A Special Note of Thanks
Sharing this Document
General Tips
Displaying the Full Ribbon
Speeding Up Document Display
Speeding Up Cursor Movement
Nifty Zooming with the Mouse
Cascading Document Windows
Shortcut for Full Screen Reading View
Viewing Multiple Pages
Increasing the Size of the Draft Font
Formatting In Your Outline
Making Save As Display the Save As Dialog Box
Allowing Only Comments In a Document
Creating Custom Document Properties
Using Document Properties to Ensure Consistent References
Editing Tips
Jumping to the End of a Word
Selecting Just the Word
Inconsistent Availability of Drag and Drop Editing
Inserting Foreign Characters
Adding an Inverted A
Inserting a Bullet
Capitalizing after a Sentence Ending with a Number
Capitalizing the Word "I"
Forcing a Word to Lowercase
Using the Copy or Move Text Keys
Getting Rid of the Paste Options Box
Unknown Non-Printing Characters
Using Non-Printing Notes
Changing Measurement Units
Adding an Optional Break
Adding Tabs at the Beginning of a Line
Counting Document Lines
Dealing with Run-On Sentences
Breaking Into Sentences
Changing the Maximum Undo Levels
Searching Tips
Finding an Unknown Character
Quick and Dirty Paragraph Count
Searching for Tabs
Searching for Paragraph Marks and Line Breaks
Using Find and Replace to Change Text Case
Changing Formatting for a Portion of Found Text
Smart Quotes are Incorrectly Replaced
Applying a Character Style to Bracketed Text
Moving Footnote References Using Find and Replace
Changing European Dates to US Dates
Removing All Comments
Markup Tips
Changing How Changes are Noted in Word
Specifying How Changes are Marked
Turning Off Track Changes Change Bars
Permanently Turning Off the Tracking of Formatting Changes
Tracked Changes Won't Go Away
Disabling Track Changes Completely
Consolidating Changes under a Single User
Finding Changes Made by Two People
Using Different Colors with Tracked Changes
Getting a Warning for Markup
Viewing Comments
Inserting Initials and Date in a Comment
Building Block Tips
Understanding Building Blocks
Creating a Building Block
Reloading Building Blocks
Specifying a Default Building Block Location
Synchronizing Building Blocks for a Network
Backing Up Building Blocks
Character Formatting Tips
Accurate Font Sizes
Finding Word's Font Substitutes
Font Substitution Problems
Adjusting Text Pitch
Reducing the Size of Spaces in a Selection
Smushing Text Together
Making a List of Words Italic
Understanding Strikethrough Formatting
Changing One of Three Fonts
Changing All Text of a Particular Color
Controlling the Bold Text Attribute
Paragraph Formatting Tips
Indenting a Paragraph
Controlling Automatic Indenting
Creating a Hanging Indent
Quickly Adjusting Paragraph Spacing
Getting the Expected Space Before a Heading
Applying Formatting in Lists
Changing the Types of Numbers in a Numbered List
Turning Off Automatic Numbered Lists
Adding Borders to Paragraphs
Quickly Displaying Formatting Specs
Last Paragraph Line Strung Out Incorrectly
Squeezing Lines Together
Reducing Leading without Cutting Off Text
Characters in the Margin Next to Paragraphs
Turning Off Line Numbering
Tabbing Beyond the Right Margin
Deleting Tab Stops
Using Dot Leaders in a Paragraph
Strange Tab Settings in Bulleted Items
Section and Document Formatting Tips
Starting a New Section on an Odd Page Number
Automatic Blank Pages at the End of a Section
Incorrect Page Counts Shown in Status Bar
Making Bottoms of Pages Line Up
Same Number of Lines per Page
Lining Up Bottoms
Publishing Manuscripts
Non-printing Page Borders
Detailed Measurements
Adding Columns to Your Page Layout
Quickly Changing Columns
Adding Vertical Lines Between Columns
Making Columns the Same Length
Losing All Formatting in a Document
Absolutely Getting Rid of Formatting
Embedding TrueType Fonts
Embedding TrueType Fonts by Default
Styles and Templates Tips
Using the Style Area
Displaying the Styles You Want Displayed
Automatically Updating Styles
Reapplying Styles Seamlessly
Cleaning Up a Document that Mixes Styles with Direct Formatting
Getting Rid of Variant Styles
Using Hidden Styles
Making Custom Heading Styles Appear in the Navigation Pane
Ensuring that Spell Checking is Enabled in All Styles
Intelligently Starting a New Paragraph
Using Alternating Styles
Editing a Template
Adding Individual Styles to the Template
Tracking Changes to Templates
Saving a Preview with Your Template
Putting Template Macros in a Document
Examining Styles and Macros in a Template
Create a Template that Stops Styles from Being Added to a Document
Tables Tips
Creating a Table Using the Keyboard
Converting Text Into a Table
Adjusting Column Width Using the Ribbon
Resizing Table Columns with the Mouse
Squaring Table Cells
Clearing the Contents of a Table
Limiting Lines in a Table Cell
Formatting an ASCII Table with Tabs
Keeping Table Rows Together
Hiding Table Rows on a Printout
Inconsistent Repeating of a Table Header Row
Check for Multiple Tables
Check the Text Wrapping Setting
Don't Set All Rows to be Header Rows
Don't Work with Nested Tables
Cannot Set Heading Rows in a Table
Getting Rid of Background Color in All Tables
Hiding Table Gridlines, by Default
Expanding Width of All Tables
Resizing Very Large Tables
Preventing Overlapping Tables
Alphabetizing By Last Name
Controlling How Word Sorts Text
Footnotes and Endnotes Tips
Formatting Footnotes and Endnotes
Inserting Footnotes Using Custom Footnote Marks
Changing What Follows a Footnote Number
Sequentially Numbering Footnotes
Restarting Footnote Number after Page Breaks
Footnotes for Chapters
Formatting Endnote Reference Marks
Endnotes by Chapter
Putting Your Index after Your Endnotes
Header and Footer Tips
Changing Headers and Footers
Changing Body Text to a Heading
Moving Headings to the Next Page
Putting Document Names in Headers or Footers
Paragraph Numbers in Headers or Footers
Adding Page Numbers
Using Last-page Headers and Footers
Floating Footer
Fields and Forms Tips
Controlling Field Shading
Protecting Fields
Locking a Field
Locating Locked Fields
Inserting Custom Properties with Fields
Calculating Dates with Fields
Fields in Footnotes Won't Update Automatically
Starting Chapters on Odd-Numbered Pages
Using Continued Lines
Getting a Proper Total Page Count
Different Ways of Inserting Dates
Understanding Forms
Saving and Using a Form
Working with Form Fields
Using Mandatory Form Fields
Handling Returns in Form Data
Lines that Don't Change When You Type
Protecting Parts of a Document
Printing Tips
Understanding Page Sizes
Collating Copies
Saving Print Specifications with a Document
Defining Default Printers On a Document Level
Unwanted Cover Pages with Print Jobs
Leaving Even Pages Blank
Printing AutoCorrect Entries
Problem Printing Quotation Marks
Booklet Printing in Word
Forcing a Final Blank Page
Changing Label Sizes
Return Address Isn't Saved
Calculated Dates
Using Merge Fields
Using Mail Merge to Complete Documents
Creating Files with Mail Merge
Conditional Processing During a Mail Merge
Creating Labels
Graphics Tips
Resize Graphics Outside of Word
Using the Drawing Grid
Nudging a Graphic
Positioning Graphics Evenly
Absolutely Positioning a Graphic
Keeping Callouts Positioned
Writing On Top of Locked Graphics
Moving Object Anchors
Anchoring Objects by Default
Disappearing Graphics Groups
Securing Your Signature
Adding Lines to a Document
Missing Left Border
Gradient Prints as Stripes
Understanding WordArt
Unlinking an Excel Chart Automatically
Saving Embedded Images to Individual Files
Only Inline Figures Can be Seen and Printed
Turning Off Overlapping, by Default
Rounded Corners for a Text Box
Columns in a Text Box
Creating See-Through Text Boxes
Changing Defaults for Text Boxes and Callouts
Determining Picture Size in a Macro
Scaling Graphics in a Macro
Files Tips
Opening a Word Document when Starting the Computer
Opening Multiple Documents at Once
Limiting What is Shown in the Open Dialog Box
Default Sort Order in the Open Dialog Box
Cannot Open Multiple Word Documents
Understanding MRU Files
Creating Two Versions of the Same Document
Saving Personalized Copies of a Document
Mirroring Documents
Creating a Document Clone
Setting a Document Naming Convention
Inserting a File Name without an Extension
Removing All File Properties
Blocking the First Sentence from File Info
Getting a List of Folder Contents
Saving Information in a Non-Document Text File
Using Seek In a Macro
Online and Other Programs Tips
Making Live URLs Into Normal Text
Creating an E-mail Message from the Current Document
Turning E-mail Addresses into Hyperlinks
Embedding Linked Documents
Breaking a Document Link
Unexpected Error Exporting a PDF
Embedded MP4 Files in a PDF Document
Creating an Excel Workbook from within Word
Very Slow Document Opening with Excel Links
Spelling and Grammar Tips
Spell Checking when Closing Documents
Disappearing Readability Statistics
Creating a Spelling Exclusion List
Allowing Passive Voice in Writing
Tools Tips
Multiple Envelopes in One Document
Making Sure Word Doesn't Capitalize Anything Automatically
Make AutoCorrect Pay Attention to Character Case
Backing Up Your AutoCorrect Entries
Using Text Boundaries
Automatic Italics of Newspaper Names
Translating Text
Creating a List of Cross-References
Specifying a Table of Contents Entry
Using TC Fields for Notes
Creating a Table of Contents from TOC Fields
Creating an Index Entry
Creating an Index Entry for a Range of Pages
Creating Many Index Entries at Once
Using Subentries in an AutoMark File
Specifying an Index Entry Separator
Specifying an Index Page-Range Separator
Creating a Normal Index
Ignoring Hyphens in Word Counts
Calculating Expressions
Understanding and Using Bookmarks
Reusing a Bookmark
Protecting Bookmarks
Understanding Master and Subdocuments
Creating a Master Document Using Existing Subdocuments
Tools to Boost Motivation and Productivity
Macros Tips
Displaying the Developer Tab
Renaming a Macro
Assigning a Macro to a Shortcut Key
Removing a Macro from a Shortcut Key
Adding a Macro to the Quick Access Toolbar
Automating a Manual Process with a Macro
Understanding the Select Case Structure
Understanding Document Variables
Setting a VBA Variable From a Bookmark
Quickly Clearing Array Contents
Converting Strings to Numbers
Converting Numbers to Strings
Converting Numbers to Text
Protecting Macros in the Normal Template
Running Macros from Macros
Using Call to Run VBA Macros
Determining If a File Exists
Renaming a File
Removing a Directory
Determining a Random Value
Determining a Paragraph's Style in VBA
Determining the Number of Paragraphs in a Document
Determining an Integer Value
Determining the Hour of the Day
Selecting to the Next Punctuation Mark
Moving the Insertion Point to the Beginning of a Line
Controlling the Hidden Text Attribute
Highlighting Every Thousandth Character
Changing Roman Numerals to Arabic
Updating an Entire TOC from a Macro
Examining Tracked Changes in a Macro
Inserting a Break with a Macro
Displaying a Column Number
Managing the AutoCorrect List
Order Your WordTips Archives Today!
Each download item shown below includes the size of the download file. If you have a slow connection to the Internet, you can save precious time by ordering your archives on CD-ROM, instead of as a download.

The WordTips archives include PDF documents. To read these documents, you need to have either Adobe Acrobat or Adobe Reader on your system. Adobe Reader is free to download; click the link to get the latest version.
Archive Year
Dates Covered
Tips
CD
Download
WordTips Ribbon 2017
(for Word 2007, 2010, 2013, and 2016 users)
7 Jan 17 — 30 Dec 17
208 tips

(301 pages)
$32.99

(4.6 MB)
$24.99
WordTips Ribbon 2018
(for Word 2007, 2010, 2013, 2016, 2019, and Office 365 users)
6 Jan 18 — 29 Dec 18
248 tips

(341 pages)
$32.99

(5.9 MB)
$24.99
WordTips Ribbon 2019
(for Word 2007, 2010, 2013, 2016, 2019, and Office 365 users)
5 Jan 19 — 28 Dec 19
311 tips

(467 pages)
$32.99

(8.3 MB)
$24.99
WordTips Ribbon 2020
(for Word 2007, 2010, 2013, 2016, 2019, and Office 365 users)
4 Jan 20 — 26 Dec 20
312 tips

(402 pages)
$32.99

(8.5 MB)
$24.99
WordTips Ribbon 2021
(for Word 2007, 2010, 2013, 2016, 2019, and Microsoft 365 users)
2 Jan 21 — 25 Dec 21
312 tips

(409 pages)
$32.99

(8.5 MB)
$24.99
You can also order any of the WordTips archives by calling our order line: 307-200-0450.